Guitar strings are a crucial part of playing the instrument. But, unfortunately, they're also one of its most neglected components.
Not cleaning your guitar strings on a regular basis can lead to greater problems over time. For instance, you can face corrosion and decreased sound quality.
However, keeping those strings squeaky clean is quite simple. In this post, we'll break down 7 easy steps for cleaning your guitar strings. By following these steps, you will be able to keep them in good shape for years to come.
Why Should You Clean Guitar Strings?
Cleaning your guitar strings after playing will keep them in good shape. If you don't clean them, the natural oils on your fingers will corrode the strings over time. This will ultimately reduce their lifespan.
It's a good idea to clean your guitar strings every few plays to maintain their quality. By taking the proper steps and spending a little time, you'll enjoy better performance.
Your guitar will thank you for taking care of it, and you'll get the most out of your instrument's playability.
60% Off Guitar Tricks Full Access! Use coupon code: JOIN60

When You Should Clean Your Guitar Strings?
If you want your guitar to always sound its best and be easy to play, you need to clean the strings regularly. After every time you play, you should clean them.
When you play your guitar, your skin produces oils that mix with dust, dirt, and other tiny things. These things stick to the strings and make your guitar dirty and harder to play.
To stop this from happening, you can do some simple things. After playing, you can use a dry cloth to wipe the strings clean.
This will help prevent things from building up on the strings. The more often you do this, the easier it will be to keep your guitar clean.
Some experts also recommend other cleaning agents. We'll discuss these further in this post.
Types of Guitar Strings:
Guitar strings are essential in determining the sound and feel of your instrument. They are made of various materials. Moreover, they come in different gauges and construction styles.
The table below provides intel into the types of guitar strings and their properties. By understanding their materials, gauges, and purposes, you will be able to choose the best strings for your playing style and desired sound.
Types
Characteristics
Best for Genres

  Electric Guitar Strings

Steel wires with the three thickest strings being plated in nickel.

Pure nickel and pure steel strings.

Nickel-plated steel strings.

Modern rock, pop, and similar styles.

Blues and rhythm work.

Between an aggressive lead tone and a warm tone.

Acoustic Guitar Strings

Brass plated (80/20 bronze) strings. Made from 80% copper and 20% zinc.

Phosphor bronze strings.

Full-sounding acoustic guitars like OM guitars, dreadnoughts, jumbos, and other big-body variations.

Genres that benefit from a mellower tone like folk or finger-style work.

Nylon Guitar Strings

Generally made of composite materials combining nylon with silver-plated copper or tungsten.

Classical and flamenco guitar music, and modern genres like Pop, Latin, RnB.
Note: The best for genres column is just a general guide. This may vary depending on individual preferences.
Check out this video guide for better understanding.
Factors Affecting Guitar Strings Tone:
The way guitar strings are made can make a big difference in the sound they produce. The thickness of the strings, called gauge, can affect how they vibrate and the tone they produce. The type of core used, whether round or hexagonal, can also make a difference in the sound.
The winding of the strings can be flat or round, and the material used for winding can impact the sound. For example, nickel-wound strings have a warm and mellow tone. While stainless steel strings have a bright and punchy sound.
Some strings also come with a coating, which can help them last longer and produce a smoother tone.
By understanding the different factors that influence the sound of guitar strings and experimenting with different brands and types, guitarists can find the perfect strings to match their playing style and desired tone.
| | |
| --- | --- |
| Construction Factors | Description |
| Gauge | Thickness of the string. Thicker strings produce a warmer tone and more volume. While thinner strings are generally brighter and easier to play. |
| String Core | The shape of the wire. Hex core strings are brighter and louder. While round core strings have a more mellow tone and more sustain. |
| Winding Type | Flatwound strings have a smooth surface and produce a mellow, warm tone. Half-round strings are a combination of both. With a smoother surface than round wounds and a brighter tone than flat wounds. |
| Coating | Coated strings are coated with a plastic polymer. This makes them last longer but cuts high-end response. |
How to Clean Your Guitar Strings at Home?
If you don't have access to top-notch products at home, then don't worry. Cleaning your guitar strings at home is pretty easy. However, it's only possible if one follows the right instructions.
For instance, all you need is a few simple items like hand sanitizer, olive oil, or baby oil. These items can be used to remove your strings over time.
It only takes a few minutes and regularly doing it can make sure that your sound will stay true.
It's important to clean your guitar strings to keep them sounding good, but you don't want to hurt them when you do. You can use things around your house to help clean your guitar strings. Boiling water can help remove dirt while mixing water and dish soap can also work well.
If you need to disinfect your strings, you can use isopropyl alcohol. It is one of the best guitar string cleaner. Be careful not to use cleaners with ammonia, alcohol, or rough stuff. This is because they can damage your strings over time.
Cleaning your strings with household products regularly will make them last longer.
How to Clean Acoustic Guitar Strings with Lemon?
Lemon juice is good if you want a natural and cost-effective way to keep your guitar strings clean. Lemon juice won't damage the strings unlike pure lemon oil so there's no need to worry about using it.
All you have to do is spray some fresh lemon juice onto your strings. After that, rub it gently with a dry cloth and you'll have clean strings in no time. Not only the strings will look new but they'll sound better as well.
Also, adding some lemon juice to the neck can isolate the instrument from humidity.
>How to clean Guitar Strings Rubbing Alcohol?
In order to clean guitar strings, it is tempting to reach for a bottle of rubbing alcohol. However, using isopropyl alcohol on a regular basis, may lead to a dried-out fretboard. which could potentially damage your instrument in the long run.
But, there are other options available that can still help to keep your strings clean.
With cleaning and light maintenance, your guitar strings should remain in top form.
Cleaning Guitar Strings with WD-40:
We understand it can be tempting to grab a can of WD-40 and give your guitar strings a good cleaning. However, this isn't the best choice if your guitar has a wooden body or fingerboard.
While the WD-40 will likely clean the strings, it could leave behind a residue on your guitar. This can corrode parts over time or ruin the finish.
It's best to avoid using any type of petroleum-based cleaner or lubricant on your strings. Instead, choose an authorized clear specially designed for use with stringed instruments.
Rust from Guitar Strings:
Cleaning rust from guitar strings can be a hectic task, but luckily there are easy ways to get it done. One easy way is to grab a soft cloth, apply some white vinegar, and softly rub the cloth over the strings.
Repeat this a few times then rinse off with clean hot water. In this way, you will get results that will leave your strings feeling good as new.
If white vinegar isn't working for you, then try baking soda. Grab a toothbrush and start by applying some baking soda directly onto the strings. Scrub the guitar strings gently until all the traces of rust are gone.
At last, don't forget to rinse them off with clean water afterward.
Cleaning Guitar Strings with Water:
Cleaning your guitar strings is important for maintaining the instrument's sound quality.
While this is a task that can often slip in importance, it should be noted that taking the correct cleaning steps can extend the lifespan of the strings and optimize their performance.
It is important not to use soap and water on guitar strings, as this could cause dryness or corrosion issues. 
Instead, using a damp cloth lightly dampened in water can help to remove dirt, oxidation build, and fingerprints without damaging the strings.
Additionally, always make sure they are completely dry before putting them back onto your guitar to prevent any rust buildup or other issues. 
Taking a few moments to clean your strings correctly with a damp cloth will keep them sounding their best for longer.
Top 5 Products to Help You Clean Your Guitar Strings
Here's a list of products that you can use to clean your guitar strings without breaking the bank:
Fender Guitar Super Care Kit Bundle:
With a Fender Custom Shop kit of Guitar Care products, you can keep your guitar in top playing condition.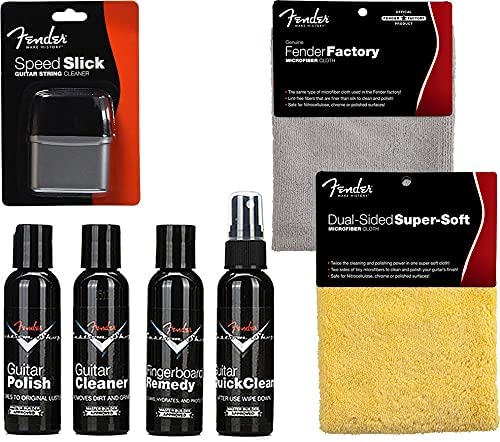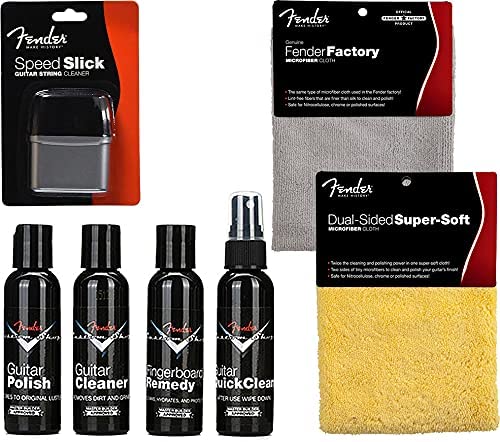 The kit is made with high-grade carnauba formulations. It is free of silicones, resins and polymers. That is why these products will maintain the integrity of your instrument. So, they'll reduce the debris build-up and cut the fingerprints of black finishes.
For protection, the Fender cleaner is included to increase the lifespan of strings. The two super-soft microfiber cloths are dual-sided for precision cleaning and polishing. One will restore factory luster. While the other helps with meticulous care to keep your guitar looking like new.
The String Cleaner by Tone Gear:
The Tone Gear's String Cleaner is breaking new ground in the Guitar community. Its design provides unprecedented 360 Degrees of string cleaning to extend their life. It also helps to preserve their tone.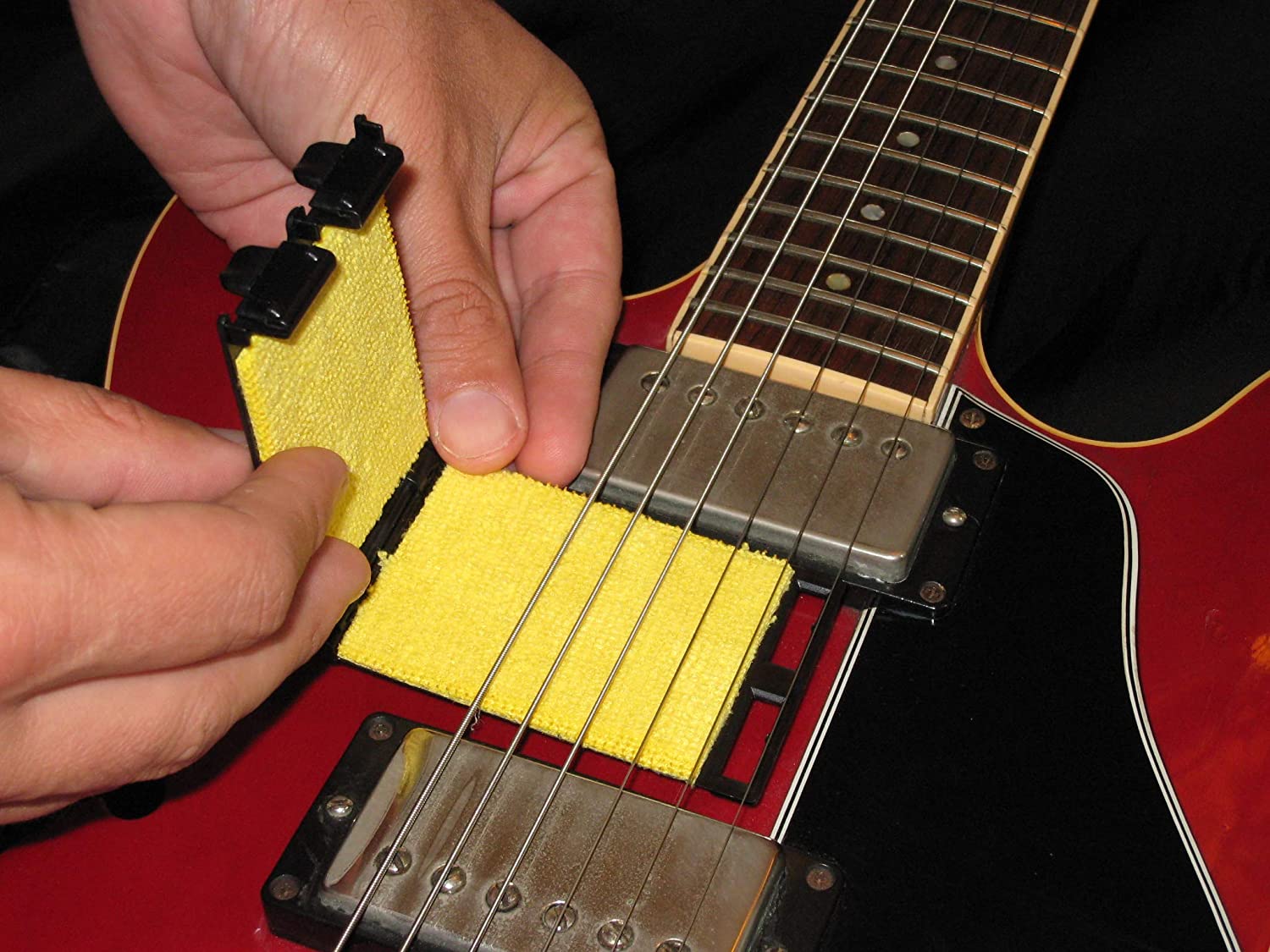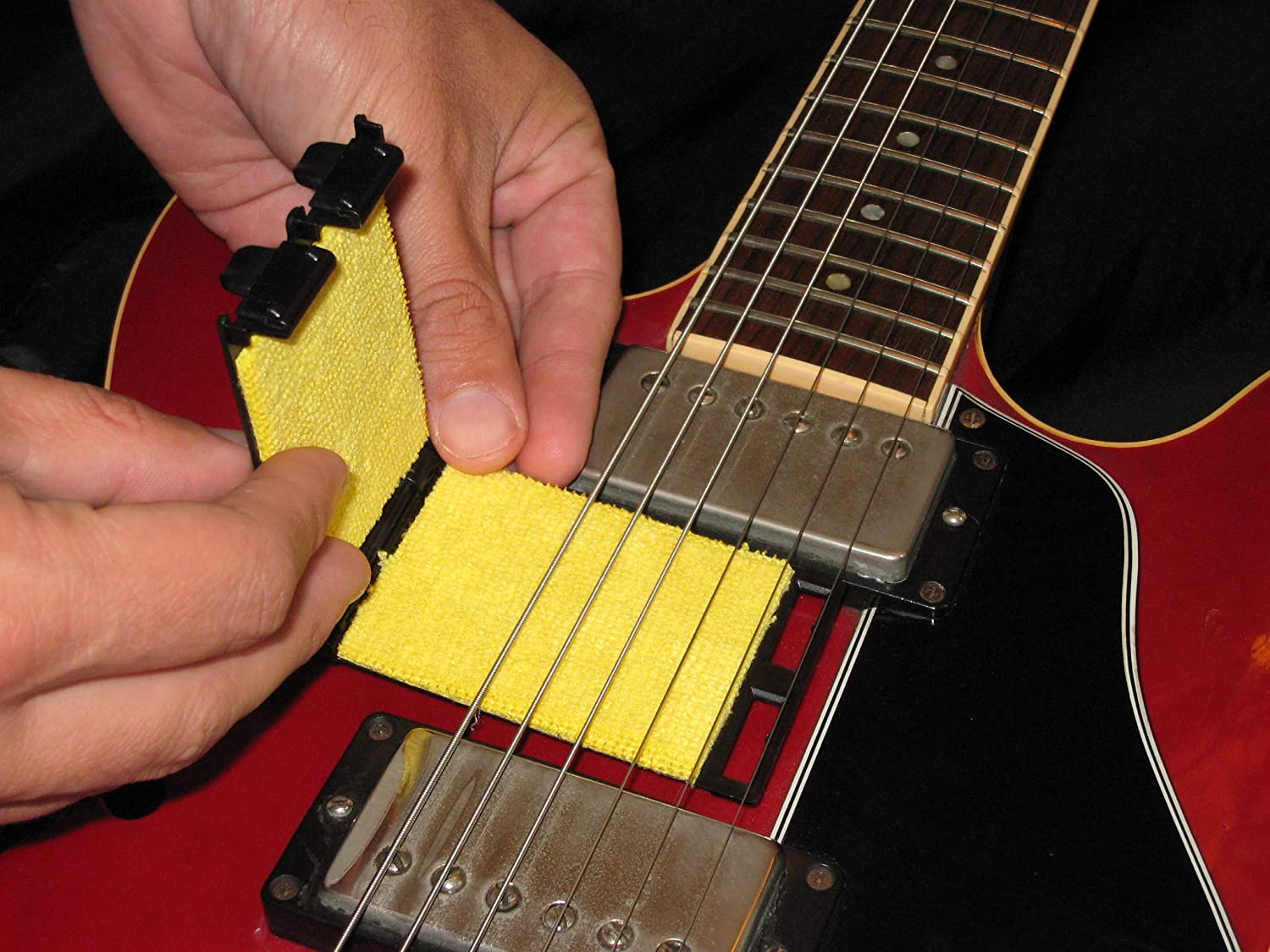 It doesn't even need any solution to work. There are two cleanable microfiber pads that make it long-term and low maintenance.
This remarkable device can even revitalize used, old, and damaged strings to keep them sounding like they were brand new.
Fast Guitar Strings Cleaner Eraser Rust Remover:
Fast Guitar Strings is a beneficial tool for those who own string instruments.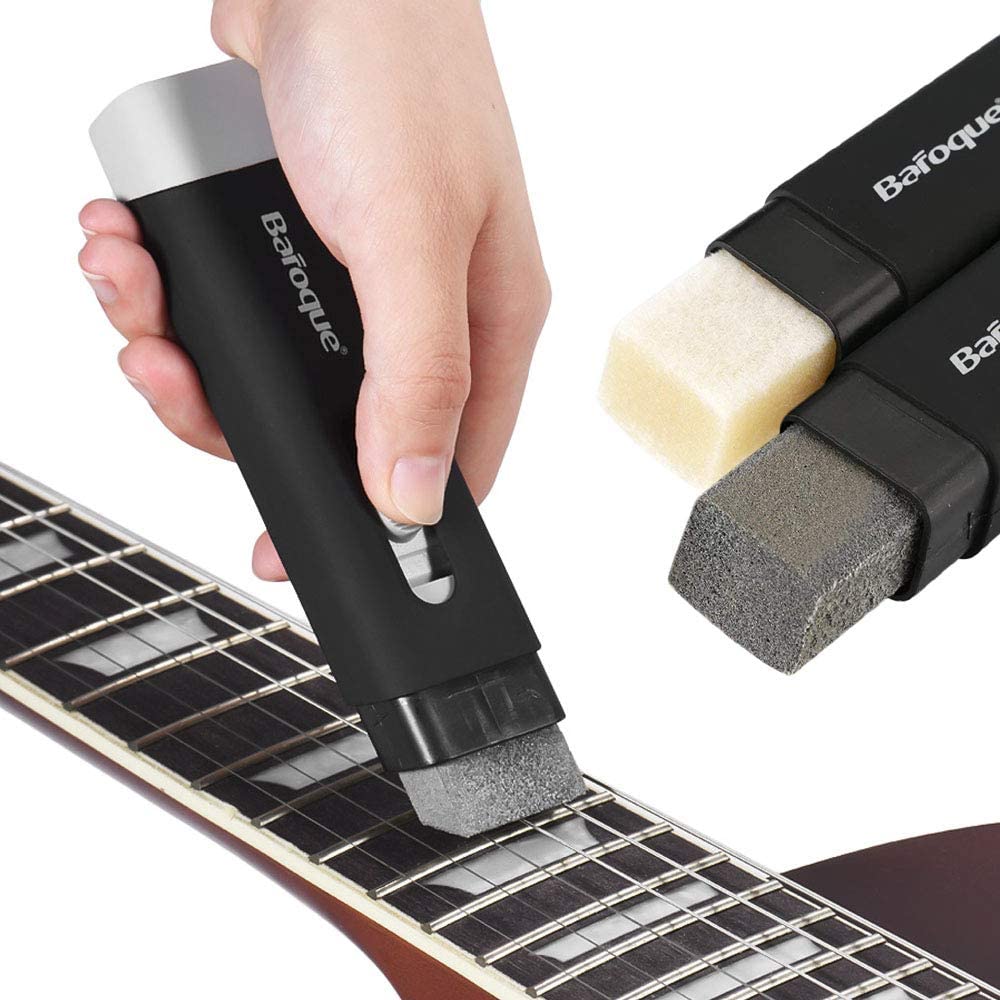 It is made of high-quality plastic material that makes it durable. It has a double-ended design with each end serving different functions. This includes de-rusting the strings plus applying lubricating oils that prevent rust.
After use, you can feel the difference in the strings. Because they become smoother and give more comfort while playing.
Moreover, it is lightweight. This makes it easy to store in pockets or bags so you can take them by yourself when needed. Thus it ensures your stringed instrument is free of rust anytime and anywhere.
SAPHUE Guitar String Cleaner Clean Fretboard:
The SAPHUE Guitar String Cleaner is the perfect tool for any guitar player. It preserves the tone of the strings while they are being played. It also keeps your strings clean and extend their lifespan.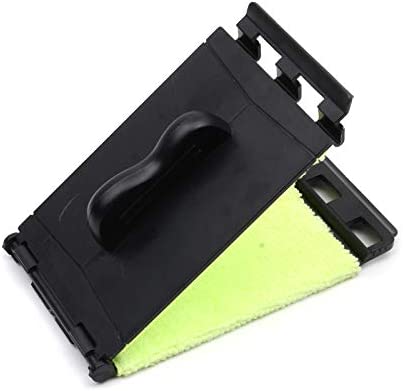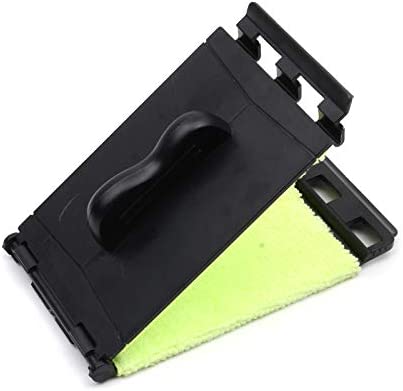 It is indeed a great asset in any guitarist's arsenal. It comes with an ergonomic handle and is light and practical enough to be carried around easily.
It is made from durable microfiber that can be used again without losing its abilities. With such a handy gadget, you can keep your frets and fretboard pristine, with no extra tools required.
D'Addario Waves XLR8 String Lubricant/Cleaner
The D'Addario brand offers a complete line of award-winning musical accessories. Which means the Planet Waves XLR8 string lubricant/cleaner is no different.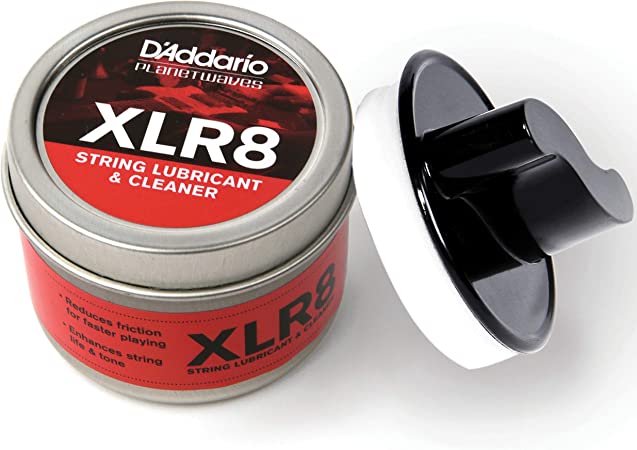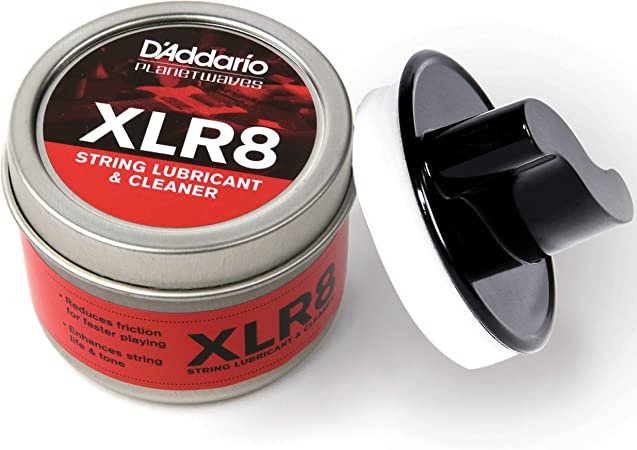 This lubricant provides an incredibly frictionless feel for your strings. Thus, it allows you to play faster with less finger noise and an enhanced tone.
All these benefits come in an airtight metal tin. The packing ensures your active ingredients are never exposed to the elements.
Guitar Cleaning Kit, FOLLOWIN Guitar Care System 7 Pack:
The Guitar Care System is perfect for any guitar player. As it offers a comprehensive 7 system pack.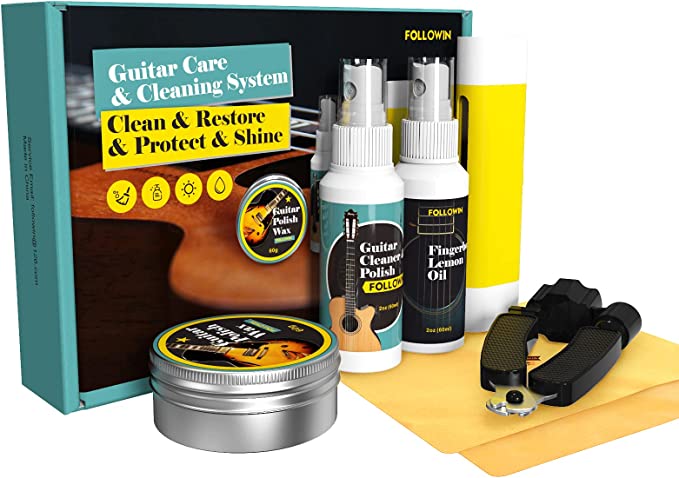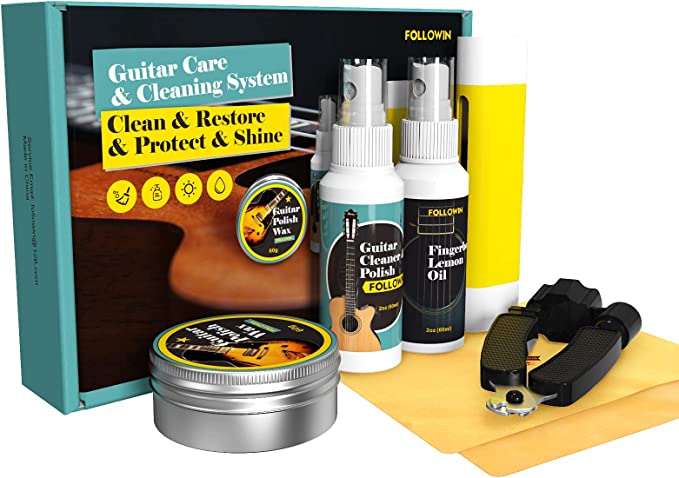 This kit has everything you need to keep your guitar looking shiny and new. It includes cleaner, polish, and wax for use on glossy finishes, as well as a string cleaner and lubricant.
Also, the kit comes with an advanced-grade lemon oil. Which is used to condition and protect your guitar's fingerboard from dirt and debris.
The guitar cleaner and polish spray is free of waxes, petroleum distillates, and water. As a result, it is easy to get your guitar shining.
The kit also includes two microfiber cloths and a 3-in-1 string winder. This ultimately makes the cleaning process more efficient. The instruction manual is easy to follow as well.
Things You Need to Know Before Cleaning Guitar Strings
Cleaning guitar strings is an essential maintenance task for guitar players. Regular cleaning can improve the tone of the guitar, prolong the life of the strings, and prevent the buildup of dirt and grime. 
However, there are some important things to know before cleaning guitar strings.
Type of Strings:
The first thing to consider is the type of strings you have on your guitar. Different types of strings require different cleaning methods. For example, coated strings require gentler cleaning compared to uncoated strings.
Coated strings have a protective layer that can be easily damaged by harsh cleaning solutions or techniques. If you are unsure of what type of strings you have, check the packaging or consult with a professional guitar technician.
Choosing the Cleaning Solution:
The next step is to choose the right cleaning solution for your strings. Using the wrong cleaning solution can damage the strings or the guitar. Avoid using abrasive or acidic cleaners, as they can damage the strings and the fretboard.
Instead, use a mild cleaning solution made specifically for guitar strings. There are many commercially available guitar string cleaning solutions that are safe to use and effective at removing dirt and grime.
Type of Cloth:
When cleaning guitar strings, always use a soft cloth. Avoid using steel wool, paper towels, or any other abrasive materials, as they can scratch the strings and cause damage.
A microfiber cloth or a soft cotton cloth is ideal for cleaning guitar strings. It's essential to clean each string individually to avoid cross-contamination.
Use a separate section of the cloth for each string, and clean the entire length of the string. Be sure to remove any dirt or grime that may have accumulated between the frets.
Cleaning the Fretboard:
Cleaning the fretboard is just as important as cleaning the strings. Use a separate cloth to clean the fretboard, and be sure to remove any dirt or grime that may have accumulated between the frets.
If the fretboard is particularly dirty or has accumulated grime, use a soft-bristled brush to gently scrub the fretboard. Be sure to dry the fretboard thoroughly after cleaning it.
Don't overdo it:
It's essential to avoid overdoing it when cleaning guitar strings. Cleaning guitar strings too frequently or using harsh cleaning methods can cause damage to the strings or the guitar.
As a general rule, clean the strings whenever they start to feel sticky or grimy, or when the tone starts to degrade.
If you're not sure if your strings need cleaning, check them for dirt or grime, or consult with a professional guitar technician.
Use a String Conditioner:
After cleaning the strings, it is a good idea to use a string conditioner to help prolong the life of the strings. String conditioners help to protect the strings from rust and corrosion, and can also improve the tone of the guitar.
There are many commercially available string conditioners that are easy to apply and safe to use.
Does Cleaning Guitar Strings Make Them Sound Better?
Regularly cleaning your guitar strings should be part of your regular maintenance routine as a guitarist.
Not only does keeping them clean make the instrument look aesthetically pleasing, but it also strikes a beautiful chord when it comes to the sound quality you can get out of it.
Clean strings help ensure that dirt and grime are not building up and clouding the clarity of your sound. It's even more important if you play in particularly dusty or muddy environments. That kind of build-up can reduce the life of your strings and ultimately lead to them breaking on stage.
Whether you're a beginner or professional, clean guitar string maintenance is an undisputed part of an acoustic musician's practice.
Should I Oil My Guitar Strings?
Oiling your guitar strings can be a great way to help ensure that your instrument remains in its best possible shape for years to come.
Taking the time to oil them will keep the metal from corroding and cracking, keeping them from sounding dead and dull when you strum.
Not only that, but it'll also help maintain their feel, after all, no one wants crumbly strings.
It won't cost much to get the job done either, just make sure you are using a guitar-safe oil for the job, as some oils may damage or disfigure the strings themselves.
Can you clean and reuse guitar strings?
Reusing old strings after cleaning is not a good idea. Even if you clean them well, they won't sound as good as new strings. 
They might have dirt stuck in them or be stretched out in some places, which will affect the sound.
It's better to buy new strings so you can be sure your guitar sounds great.
Conclusion:
Cleaning and maintaining your guitar strings is essential to keep it in shape. Cleaning guitar strings ensures that they will last longer, and sound better. The cleaning process also helps you to avoid costly repairs and replacements.
However, make sure to use separate cloths for each string, as well as a soft brush for cleaning the fretboard.
Don't forget to oil your strings, this can also help prolong their life and keep them sounding great. In short, be sure to replace old or worn-out strings with new ones when necessary. By taking care of your guitar strings, you'll be able to enjoy playing the instrument for years to come.
Let us know in the comments if you have any other questions or queries.
---
Related Posts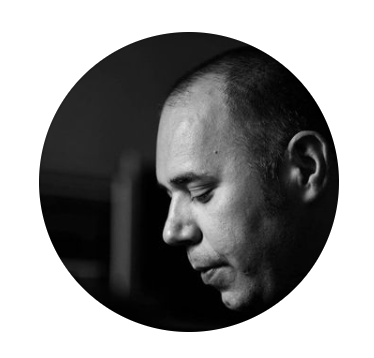 Marko is a passionate composer, producer, and multimedia artist with a Master of Music degree. His career involves performing, creating, and producing his own music in his home studio using digital and analogue equipment. Marko is a multi-instrumentalist (he plays guitar, bass, piano, theremin, and other instruments). performs live acts and DJ sets, and works on feature and short films, documentaries, festivals, theaters, and government initiatives.