Led Zeppelin has reshaped the landscape of the entire music industry, redefining blues and enriching the growing rock genre with beautiful melodies and masterful solos.
For the band's fans, music enthusiasts, as well as professionals who've always wondered how Jimmy Page's guitar sounded so great on Stairway to Heaven, Kashmir, and any other Zeppelin song, we've prepared a comprehensive list of his gear, so let's start with the axes.
Guitars
Selmer Grazioso '57
Although Jimmy said that a Stratocaster was the first guitar he truly liked, he first used a Grazioso '57. A well-built copy of a Strat without the staple tone, Selmer Grazioso helped Jimmy develop his early tone. He mainly used it during band rehearsals and home practice.
Fender Telecaster '58
The '58 Telecaster was one of Jimmy Page's first electric guitars, with which he recorded Led Zeppelin's debut album. It was a gift from Jeff Beck, with whom Jimmy played in the Yardbirds. Despite setting the tone for Led Zeppelin, Jimmy soon moved away from the Telly to Les Paul guitars.
Les Paul Black Beauty
As soon as he picked up the infamous Black Beauty, Jimmy realized that he had found his workhorse. He bought this Les Paul in 1962 and used it for a couple of years during sessions, and then more notably while touring on the Led Zeppelin I record. The original featured the '50s-style pickup covers, a double-carved top, a double carved-neck, mahogany back and neck, and a fingerboard made of top-quality ebony.
Sadly, BB was stolen during the final leg of the tour and was never found to this day, despite Jimmy's best efforts to find it. As Page attained world-class renown and fame, several guitar companies honored his stolen Les Paul, with the most notable ones being Epiphone and Gibson.
Gibson Les Paul '59
Page owned several Gibson Les Paul Standard models between 1969 and 1971 before transitioning to the 1275 Double-neck. He bought the first Gibson LP Standard from the famous Joe Walsh, who was then playing with the James Gang (several years later, he joined Barnstorm, and then Eagles).
Jimmy played the Fillmore shows with the LP '59, but he frequently used it on Led Zeppelin's second record. The Gibson LP Standard that Jimmy bought from Walsh was a single-cutaway mahogany-made guitar with two humbuckers. The second LP Standard had a Cherry Sunburst finish, the same specs, and unique artwork with the painted buttons.
Gibson EDS 1275 Double-neck
Jimmy has been using the EDS 1275 Double-neck for more than half a century. He began using it for live performances in 1971 and continues to perform with it. It's a mahogany-made guitar with a rosewood fretboard and two pairs of Alnico-magnet pickups (490R on one neck, 490T on the other).
Many agree that this guitar was popularized by Page, especially during various performances of the iconic Stairway to Heaven. The bottom neck features six strings while the top neck features twelve, so Jimmy would use the first to open the song and later play the solo while the 12-string neck was used for the sections in between.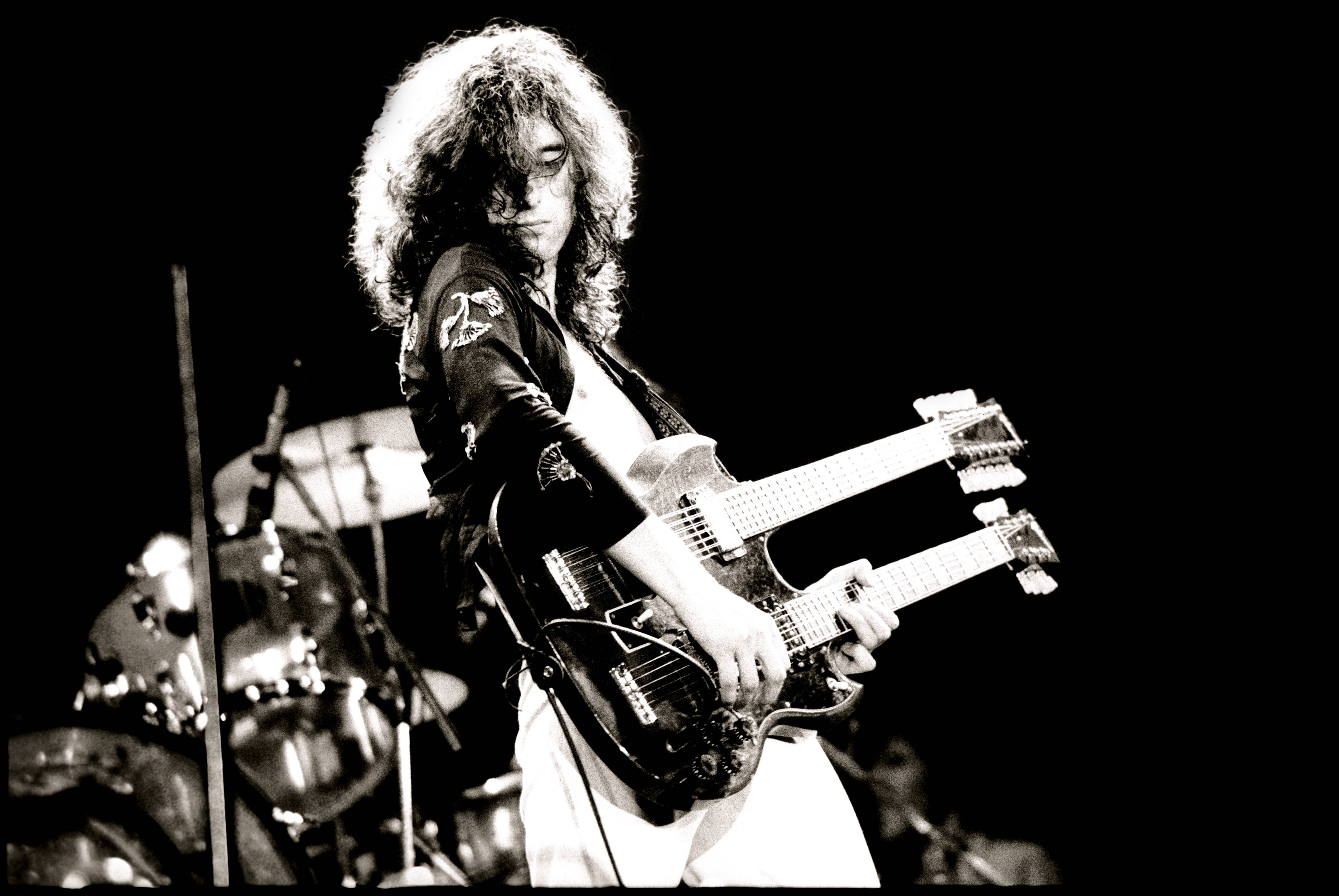 Gretsch Chet Atkins 6120 '56
Jimmy owns/owned The Country Gentleman's signature 6120 '56 single-cutaway Gretsch. However, there aren't many pictures or videos of sufficient quality to be entirely sure whether it was that particular model or something else.
This guitar features a rosewood fingerboard, a maple body, and Filter'Tron pickups. Sonically, it's significantly different from most guitars Page was using during that period; it is an excellent guitar with a formidable sound, though.
Fender Stratocaster '57
Led Zeppelin used to frequent Sol Studios in Berkshire, England, where they wrote several tracks, including Poor Tom, as well as We're Gonna Groove. Page used Fender Strat '57 during those sessions, but he also produced these tracks featured on Coda.
Page later bought the Sol Studios and used it as practice/recording space. He recorded a soundtrack for Death Wish II in this studio, where his band also recorded their debut album in 1984. During various sessions and rehearsals at The Sol, Page was filmed with a Strat '57, among other guitars.
Danelectro '59
A double-cutaway body with a plywood frame, a maple neck, and rosewood fretboard made Danelectro '59 irresistible to Jimmy Page and his R&R peers. Jimmy used this guitar while playing with the Yardbirds on White Summer, but he also continued to use it in Led Zeppelin. In My Time of Dying, as well as Kashmir, featured Jimmy playing Danelectro's '59.
A little-known fact about Jimmy and this particular guitar is that he performed White Summer live in a unique sitar tuning on several occasions.

Gibson LP Standard '73
Gibson LP Standard '73 is one of the few guitars Jimmy Page kept using even decades after Led Zeppelin broke up. He started using this guitar for live performances in 1973 and continues playing his unmodified, vintage-style LP '73 today.
In terms of specs, LP Standard '73 features a mahogany-made body and neck, a fretboard made of rosewood, and two Seymour Duncan pickups. It was a groundbreaking ax of its time, most notably because it offered excellent tone customization options and some of the finest tuners of its age.
Fender Telecaster '66
Page used the '66 Telly during Led Zeppelin's tour of Europe in 1980 for specific songs, particularly ballad-type tunes. This guitar features a body made of slab ash, while the rest of the construction is made of maple. Simple controls and a wider neck allowed Jimmy to feel at home while performing with Telecaster '66, even if he hadn't actively practiced with it for years.
Fender Stratocaster '64
Jimmy had said on several occasions that Fender Stratocaster was the guitar he fell in love with first. The '64 Strat was one of the main guitars he used on one of the last Led Zeppelin tours in Europe. This guitar features a fingerboard made of Brazilian rosewood, a body made of quality ash, and a metallic blue finish.
Acoustic and Semi-acoustic Instruments
Martin D28 '71
A Sitka-spruce acoustic with Indian Rosewood on its sides and back, equipped with ebony fingerboard and Chrome tuners, Martin's D28 was arguably one of the best acoustic instruments made in the early 70s. Page's model was modified with DISQOS Soundboard pickup, making it more versatile for live performances. He has used it for both recordings and shows since 1971.
Gibson Everly Brothers '62 Acoustic
Jimmy received this guitar from Ron Wood, although he was never photographed while using it during live performances. The EB '62 Acoustic features a spruce top with a maple back and sides and a mahogany neck.
Gibson A2
Although Page only used his A2 mandolin on several occasions, it made The Battle of Evermore sound the way it did. This is a beautifully-designed instrument made of mahogany, rosewood, and ebony, offering a unique blend of tones and aesthetics.
Amplifiers
Vox AC 30
While playing with the Yardbirds, Jimmy Page's tone was powered by Vox's AC 30 amplifier. According to his interviews during the early '80s, he praised the amp's reliability and consistent tone. It is believed that Page used classic, unmodified AC 30. Given that he mainly relied on Maestro's fuzz effect, he would spice up his tone with AC 30's treble booster feature to get closer to his original tone when switching guitars. He used this amp barely over a year before moving over to Dual Showman.
Fender Dual Showman
Jimmy used Dual Showman with Fender cabinets throughout 1967, right before founding Led Zeppelin. An exceptional amp for rehearsals, the Dual Showman proved its worth during Page's time with Yardbirds in terms of live gigs as well.
Supro 1690 T Coronado
Supro didn't reach the fame of Marshall or Fender, but many would argue that it should have, for the sole reason of Jimmy using it on Stairway to Heaven. Namely, one of the most well-recognized songs in the history of music, or more specifically, several segments of it, were recorded through Supro Coronado.
According to some, Jimmy used Supro Thunderbolt, which looks pretty similar but sounds distinctly different. These speculations were mainly spreading before Jimmy divulged that he modified his Supro Coronado with 12-inch speakers
SEE ALSO: Learn Guitar With Apps: The 13 Best Ones To Use Today
Marshall SLP 1959
While the original SLP 1959 is a 100-watt amp, Jimmy used a modified one that packed 180 watts during the mid-80s. He paired this amplifier with Marshall cabinets equipped with Celestion speakers. Even if he would alternate between different cabinets, Page would stick with SLP 1959 and its outstanding power.
Fender SuperReverb '65
It is believed that Page owned several Super Reverb amps, as they came with both 6L6 tubes and 12AX7 ones. He could spice his tone with extra reverb and tremolo on the fly through the amp's footswitch, although its modest power of 40 watts was probably the reason why he transitioned to more powerful amps.
Hiwatt Custom 50 '66
Hiwatt's Custom 50 is a robust 100-watt amp with four inputs, individual volume settings, and separate controls for bass for other channels. Page seemed to like its straightforwardness and stuck with the Custom 50 before moving over to Hiwatt DR118 that offered more versatile controls.
Pedals
Maestro FZ 1 Fuzztone
This was the only effect pedal Jimmy Page used during his session days before joining the Yardbirds. Plain, reliable, and among the best of its kind (at that time), the FZ 1 bolstered Page's tonal versatility and helped him find a myriad of different sonic shapes while recording for other artists.
Univox UD 50 Unidrive
Page used the Unidrive on multiple occasions during Led Zeppelin's 1971 tour. He used the pedal to amplify the treble of his Marshall amps.
Vox Grey Wah
Jimmy used several Vox Wah pedal versions, but he seemed to favor the Grey Wah pedal made by Thomas Organ Company. He would pick and choose his wah effects depending on the guitars he would play on particular dates. The Grey Wah was among his go-to choices for both club gigs and more significant events.
Maestro Echoplex EP 3
Jimmy still uses EP 3, which speaks volumes about this pedal's quality and reliability. It's an exquisite delay pedal with a rich vintage tone that perfectly fits Page's playing style and tone. With only three control knobs and a small footprint, it has an almost permanent slot in Jimmy's pedalboard.
Eventide H949
The H949 Harmonizer was among the most versatile effect pedals of its time, and it helped Jimmy arrange a myriad of different sonic landscapes between 1977 and 1979. It is believed that Jimmy also used Eventide H949 on Bonzo's Montreux.
MXR M 101 Phase 90
Page used a variety of MXR pedals, but it was M 101 Phase 90 that remained in his pedalboard for more than a few years. He most notably used it in the Achilles Last Stand track.
MXR Blue Box
The Fool in the Rain wouldn't sound the same without the Blue Box. Jimmy seemed to like the synergy this effect pedal had with the remainder of his pedalboard, although he wouldn't use it as frequently as the Phase 90.
Roger Mayer Fuzzbox
Aside from modifying his Vox Wah-Wah effect pedal, Roger Maye made the Fuzz Box for Page alongside a couple of other effect pedals. Its unique design and custom sound made Page's recognizable sound even more distinct.
Boss CE 2 Chorus
Boss's CE-2 chorus pedal helped Jimmy expand his tone whenever he felt like the room's acoustics stifled it. Easy to use and even easier to integrate into an eclectic pedalboard, Page could trust CE 2 to enrich his sound on the fly.
https://www.amazon.com/CE-2W-Chorus-Special-Extended-Warranty/dp/B074QMBJFH
Final Words
Jimmy Page is among the handful of guitar legends that can use hundreds of guitars, amplifiers, and effect pedals and still have an authentic, recognizable sound. We've made sure to cover his most widely used gear and hope that you've enjoyed this bit of rock history.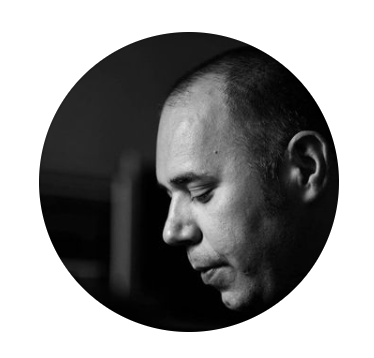 Marko is a passionate composer, producer, and multimedia artist with a Master of Music degree. His career involves performing, creating, and producing his own music in his home studio using digital and analogue equipment. Marko is a multi-instrumentalist (he plays guitar, bass, piano, theremin, and other instruments). performs live acts and DJ sets, and works on feature and short films, documentaries, festivals, theaters, and government initiatives.