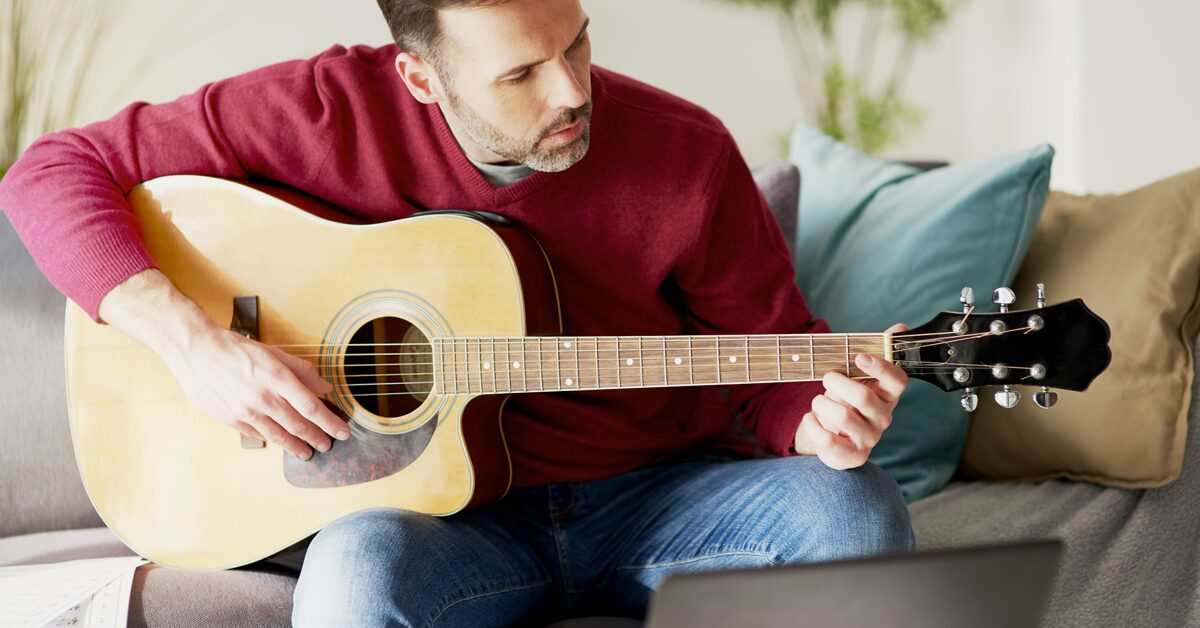 Here's the truth:
The majority of people who want to learn guitar GIVE UP.
Want to know why?
It's not that they don't have the right skills.
It's not that they don't have the right instrument.
It's not that they don't have the right mindset.
They just never had the RIGHT GUITAR LESSONS.
Without the right lessons, you get frustrated and stuck with sore fingertips (ouch).
Or, you feel like the whole process is routine, boring, and you just can't get anywhere with it.
In the end, you lose confidence and wonder if it's really all worth the time and effort.
But guess what:
❌  It doesn't have to be boring or overwhelming.
❌  You do NOT have to be a natural-born musician to learn guitar.
❌  You don't have to scrape together a bunch of random YouTube video lessons.
❌  And you don't have to spend thousands of dollars on private instruction.
If you have the desire to play, you can do it with the best ONLINE guitar lessons.
The right curriculum and instruction can turn anyone into an amazing guitar player.
How great would it be to play real songs for your friends and family, or jam with other musicians?
If I can, anyone can, and here's what I did.
A few months ago, the world shut down with the pandemic.
I thought, what now?
One of the things I never had time to do, but always wanted to, was…
Play the guitar.
Ever since I was 14 and started listening to grunge rock bands, I've wanted to taste the feeling of being able to make music.
To hold this kick-ass 6-stringed instrument like it was an extension of my arm, and just know where to move my fingers without even thinking!
Fast forward almost 30 years later and I finally gave it a chance.
(Don't do the math, it makes me feel really old.)
Luckily during a quarantine, there's nothing but time on your hands.
And it was time for me to put my hands on a guitar!
Shockingly, I was strumming away with ease and faster than I thought–like a time warp.
I'm so happy with my progress that I even started a whole blog called Play Guitars!
Wanna know how I got to this place?
Introducing a secret I keep in my back pocket:
Guitar Lessons by Guitar Tricks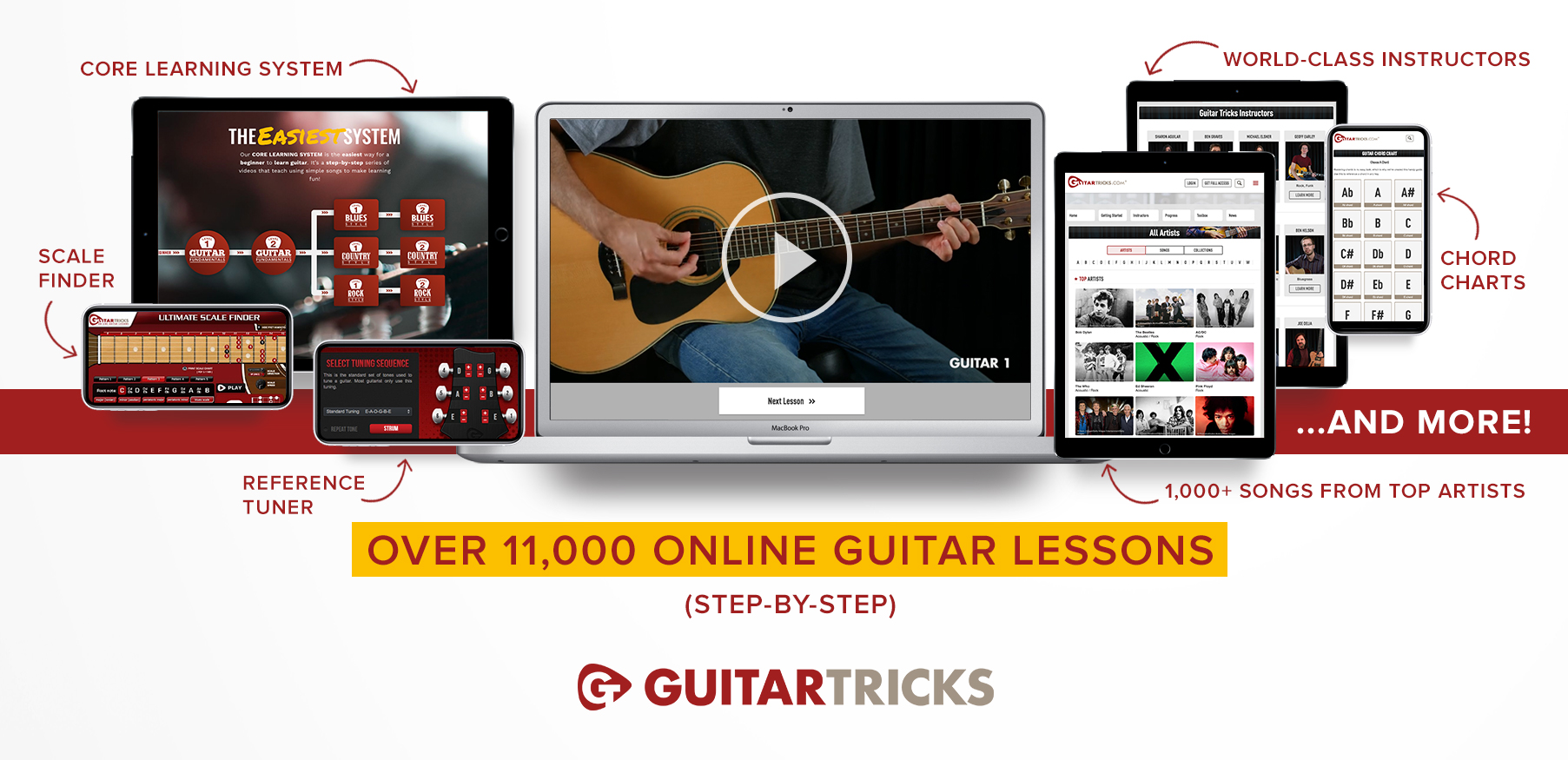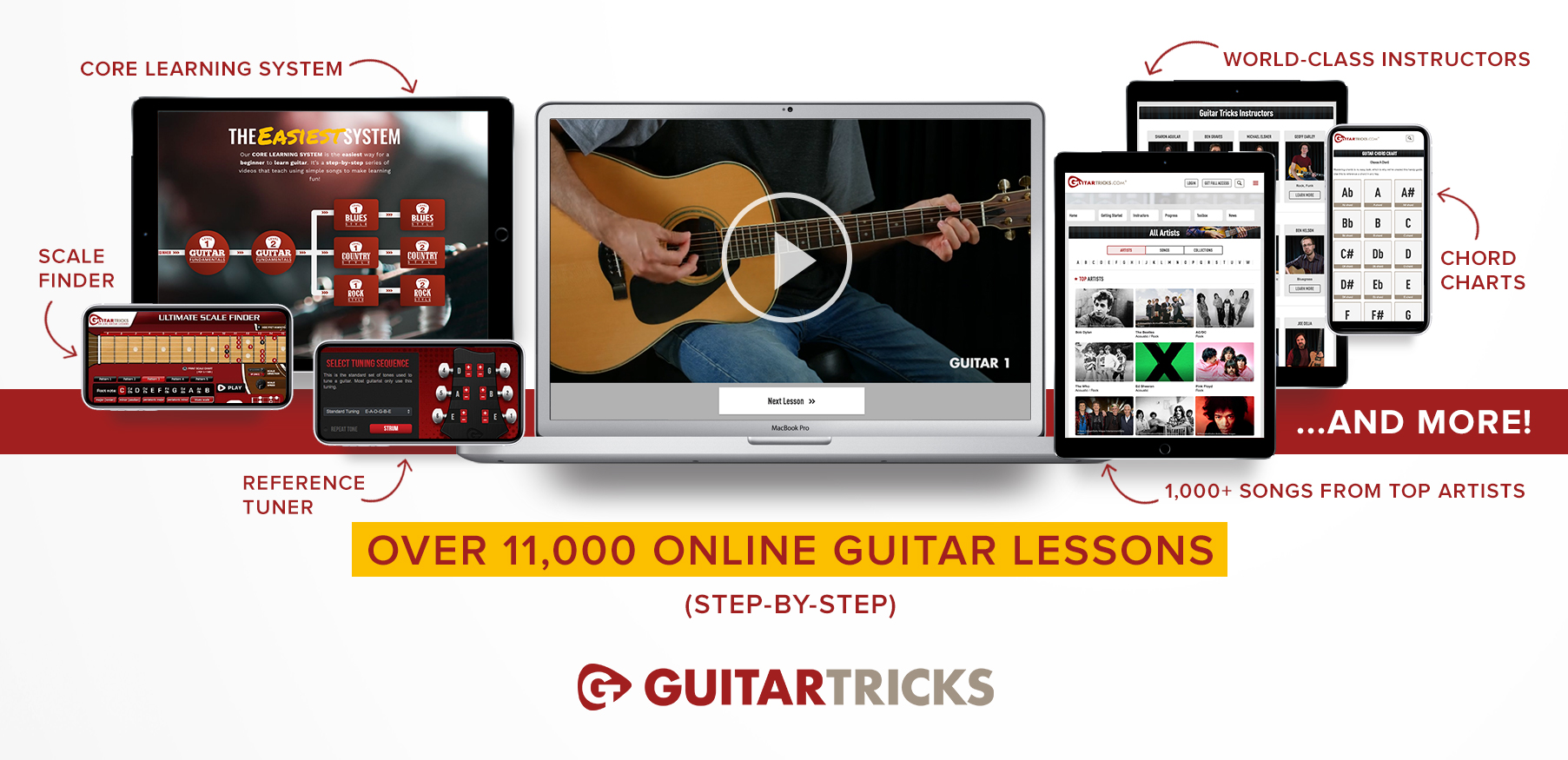 "The lessons started me from point zero and in 4 days I'm playing melodies and have 4 chords under my belt. I'm amazed! I'm 41 and never played in my life! I have lots of confidence about learning to play now."
– KEVIN
I believe these are the RIGHT online guitar lessons to launch anyone's guitar-playing into musical outer space.
The best part is that Guitar Tricks has lessons for everyone, whether you're an absolute beginner or an advanced guitar player looking to improve your technique.
There's a ton of material to master with your guitar.
(Warning: you'll clearly see progress with this program, and fast.)
You can jump right into playing actual hit songs by artists like The Beatles, Ed Sheeran, The Rolling Stones, and so many other popular artists.
I learned Knockin' on Heaven's Door in 1 day!
Why are online guitar lessons different with Guitar Tricks?
It's because of their Core Learning System.
This program is 8 full-length courses is divided into two sections, Guitar Fundamentals and Intermediate Style Courses.
Each self-paced course runs between one and eight weeks.
You go from pure basics like learning to identify the B string…
To playing all the major chords…
All the way to playing guitar at an advanced intermediate level in Blues, Country, and Rock.
Since each guitar style requires different techniques, each Style Course carefully walks you through the learning process for the techniques applicable to that style.
Guitar Tricks teaches you from the ground up, covering every genre of guitar.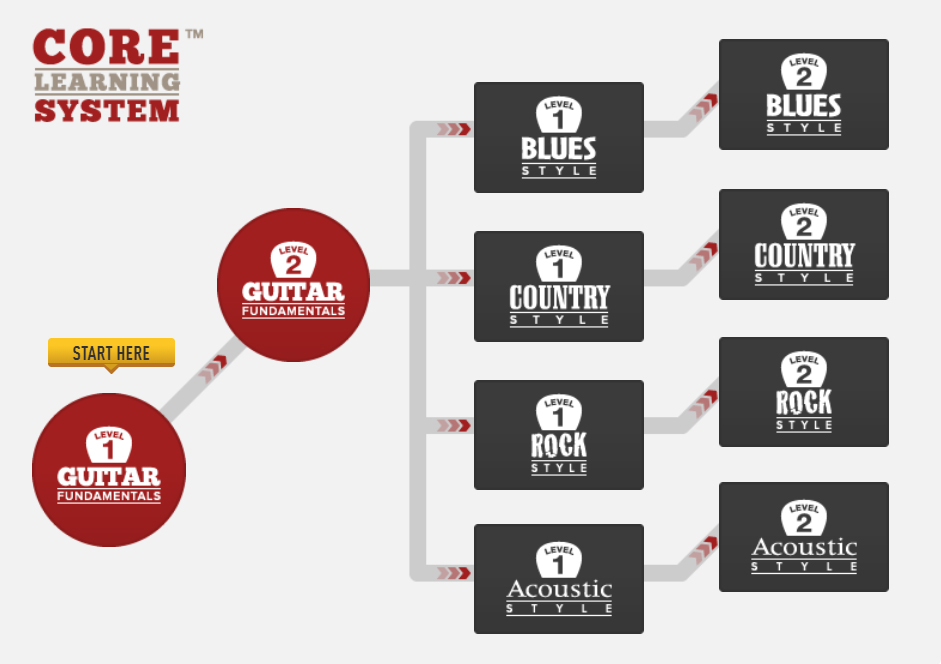 There are plenty of guitar learning apps on the market.
Trust me, I've looked at a lot of them.
And most take you down a long road of frustrating practice or music theory.
But with Guitar Tricks, you'll actually practice less and PLAY MORE!
You won't get bored or lost with repetitive lessons.
Or waste time cramming confusing theory into your mind.
And you can forget about practicing chords until your fingers bleed.
You'll get immediate results from your guitar.
(without letting it gather dust in your closet!)
What membership to Guitar Tricks gets you:
✅  Over 11,000 lessons, with 4k multi-camera video
✅  Over 1,000 songs with new releases weekly
✅  Core Learning System, the easiest beginner course ever created
✅  Advanced technique lessons, from slide to sweep picking
✅  Artist studies breaking down techniques of famous guitarists
✅  Step-by-step lessons for the most popular songs
This is as good as in-person guitar lessons can be if you want to learn guitar the fast, easy, and fun way.
You'll feel confident learning with easy-to-follow lessons that build skills so that moving on to the next level is effortless.
Along with world-class instructors, Guitar Tricks provides you with many useful tools to speed up the learning process:
Full tabs and notation (downloadable)
Scale finder
Chord finder
Reference tuner
Fretboard trainer
Advanced video playback and quality settings
And so much more!
---
The Best Way to Learn Guitar Online
Join the 3 million other Guitar Tricks students with results and rave reviews:
"I have always wanted to play guitar. Not learn it, just play it. My first experience with Guitar Tricks was amazing. Within a few minutes, I was playing a song on my guitar, by myself…and it sounded GOOD."
– ME!
"True to their word! They are awesome for beginners and intermediate learning! Love that there are sooo many options for learning vast parts about playing the guitar! IT'S GENUINE! WORTH THE MONEY!"
– CELESTE
"Really liking how easy the lessons are to follow. I also like that there is so much material I can work on. One day theory, one day finger picking, one day strumming, and scales and songs. So worth it, should of done this years ago!"
-JERRY
"This the most wonderful site I have ever encountered. I am a 65-year-old female and have been playing the guitar for 50 years, (self-taught, and not very well). I spent the first few days just looking at the site, too excited to even pick up my guitar. I've started from scratch, which is not easy but am trying to do everything by the book! This online program is my go-to!"
-PAULINE
"Within a week I've overcome one of the biggest obstacles I was experiencing, strumming and maintaining time and rhythm. The lessons are short and very detailed. Wished I had signed up sooner. Looking through the site I have been impressed with the various styles of music available and also the way the tunes are taught. I'll even be recommending Guitar Tricks to my grandkids!"
-DOUGLAS
---

60-Day Money-Back Guarantee
If you sign up and for some reason regret doing so, tell Guitar Tricks in the first 60 days and they'll give you a FULL refund with no questions asked. I don't think there's any way you can lose here!
---
FREE Full Access Guitar Lessons
You can sign up today and get Full Access to all the lessons, instructors, materials, and tools for 14 days. And if you're like me, you won't look back or think twice about staying on.
Remember: Guitar Tricks teaches you how to play by actually making music, rather than with drills and boring exercises. You get to learn simple guitar songs from the beginning, building confidence and skill quickly.
It's time to pick up that guitar.
---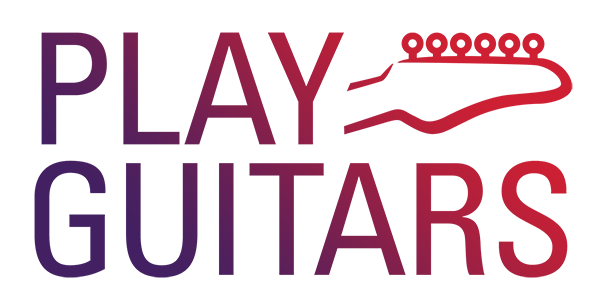 ©2021 Play Guitars.