How do you play electric guitar? If you're trying to learn to play electric guitar, you probably know that it can be a daunting prospect. There is definitely a lot to consider, so we are giving you the ultimate guide to playing electric guitar for beginners.
There is nothing cooler than rocking out on the electric guitar but it is not as easy as it looks. All the masters have gone through the process of picking out a guitar, amp and some pedals and sitting down to practice.
It is important to follow some expert guidance before you make an expensive mistake or pick up any bad habits. If you are wondering what do you need to play electric guitar, you have arrived at the right place.
Whether you are just looking to dip your toes into the world of playing the electric guitar or wanting to become an expert, our tips will help you get you where you need to be.
---

1. Get the Necessary Equipment
Before you actually get started, there are a few items you will need to learn to play electric guitar efficiently.
Guitar Amp
In order to actually play the guitar, you need a decent amp. Now as a beginner, you don't need to spend thousands of dollars on something top of the line, but you should have something that sounds halfway decent.
Not sure where to look? Here's a list of some of the best amps for electric guitar novices.

Instrument Cable
You will also need an instrument cable to go with your new amp. This is to connect your new electric guitar to the amplifier in order to create the best sound.

Guitar Tuner
As a beginner to playing guitar, you will need to learn to tune your springs. This is made much easier if you have a good tuner to help you out.
You can find these at a local music store or online.

Strap
To make your guitar playing experience as comfortable as possible, we definitely recommend getting yourself a guitar strap. They come in all kinds of colors and sizes, so you should have no trouble finding one you like.

Picks
Guitar picks are essential when you learn to play electric guitar. These come in all kinds of shapes and sizes, but it's prudent for beginners to start out using a thickness between 0.65-0.73.

Capo
Last but certainly not least, you should make sure to purchase a guitar capo.
This tool is essentially a clamp that tightens the strings when used, meaning you can change the key you are playing in.

---

2. Find Your Perfect Starter Electric Guitar
In addition to all of the equipment we just discussed, you will, of course, have to choose the best starter electric guitar for yourself.
Know Your Budget
So how much should you spend on a good beginner electric guitar?
It is really going to depend on what you can afford to spend, and how decent of a guitar you want to start out with. You will have to spend a bit to ensure you get a good product, but you also want an affordable electric guitar for beginners.
If you are serious about succeeding at playing, you can expect to spend around $200-300 at least to learn to play electric guitar. This is on the lower end as far as cost is concerned, but this will get you a decent enough instrument to practice on and play regularly.
Do Your Research
Before purchasing anything, you will want to make sure you do some research on the best beginner electric guitar options and their features.
Most importantly, you should consider the options for electric guitar body styles.
You can go with a solid-body guitar, which includes a few different options:
If you are looking for something other than a solid-body electric guitar, you can also take a look at hollow and semi-hollow bodied options as well. These are electric guitars that have hollow bodies, like acoustic guitars.
Semi-hollow guitars also have a center block that is completely solid, which helps cut down on their feedback.
Hollow and semi-hollow guitars are typically used with jazz music, as well as some blues, rock, and country as well.
If you are looking for a guitar that can do funk as well as jazz and rock it may be worth picking up a Fender Telecaster starter pack.
When looking at the top body options, make sure you consider the best options for your preferences when it comes to pickups and bridges as well. For most people, the easiest electric guitar to play and practice on is a double-cutaway body.
---
3. Learn Basic Chords and Scales
Regardless of the type of music you want to play with your electric guitar, you should make sure you take the time to learn your chords and practice scales.
As a beginner, some chords like B or F are going to be more difficult to learn until you build your finger strength. However, you can learn simplified versions of any chords you have difficulty with, making it much easier to learn to play electric guitar.
Once you have most of the basics down, try learning some really easy tunes. Picking out some of the best electric guitar beginner songs will motivate you to practice harder.
---

4. Learn to Use an Amp
Obviously, with an electric guitar, you will want to be familiar with your amp. The amp is simply taking the noise from your guitar and making it louder. Knowing the ins and outs of your amp will make playing your starter electric guitar easier.
Typically, an amplifier will have different channels, which can make huge adjustments to the sound that the amp is creating.
All of them will have what is known as a "clean" channel, which is the pure tone that comes from your guitar and the speaker inside of the amp. Then most amps will also have another channel that gives you a more distorted, "dirtier" sound. This is commonly known as distortion or overdrive.
Some amps have even more than one gain channel, which offers you several different, distinct sounds that you can switch between with a foot pedal.
If you are brand new and just starting to learn to play electric guitar, you may want to use a standard clean tone as a default. To do this, we are going to talk about how you can EQ your amp.
You are going to want to set your three EQ controls (low, mid, and high, or they could be labeled bass, mid, and treble) at 5. They should have a range from 0-10. Then turn off any onboard effects that the amp has, like chorus, delays, etc.
After that step, you will want to select your clean channel, and then turn your volume on the guitar up to 10. Then turn the tone control to the midpoint.
With the guitar and amp set up this way, you will have a standard setup that allows you to play with a predictable and consistent tone.
5. Get Some Lessons
Once you familiarize yourself with the technical elements of the electric guitar you may want to get some proper lessons.
There is only so much you can do on your own. This is especially true for electric guitarists because the possibilities are so wide and almost overwhelming for a beginner.
A professional will help you learn notes, chords, and progressions. A teacher will also help you set up your guitar properly.
It is important to treat your guitar, amp and other accessories right. A tutor will be able to give this guidance so that you can learn quickly and efficiently.
A pro will help you achieve clean or distorted sounds and will show you the best way to deploy your pedals.
Additionally, playing with another electric guitarist is a great way of becoming inspired and remaining vigilant with your practice. It is easy to become ill-disciplined if you only practice on your own.
An electric guitar usually sounds the best when it is played alongside other instruments like the drums or bass guitar. Taking lessons will help you learn how you can use your electric guitar to complement the song and band as a whole.
It is a no-brainer really! It should be easy to get some electric guitars lessons for beginners in your local area.
Getting some form of guidance will make you a better guitarist. Find a tutor that suits your personality and skill level if you truly want to improve your electric guitar skills You won't regret it!
6. Learn Online
Thankfully there are now several ways to develop your skills without ever leaving your home. There are so many online resources for guitarists that it is almost overwhelming.
There are several guitar-centered websites that can offer help. There is also plenty of guidance that can be found on Youtube. If you want to be a great electric guitar player there are several online teachers that can help you do just that.
Online tutorship may be the perfect solution if you are not keen on taking lessons in person. A range of musical educators like Adam Neely, GuitarJamz and Andy Guitar all provide guidance on how to develop as an electric guitarist. Their advice is free and informative.
Obviously, there are some techniques and avenues that while available to electric guitarists are not possible for acoustic guitarists. There are plenty of online videos that show you exactly how to use pedals, amps and other electric guitar accessories.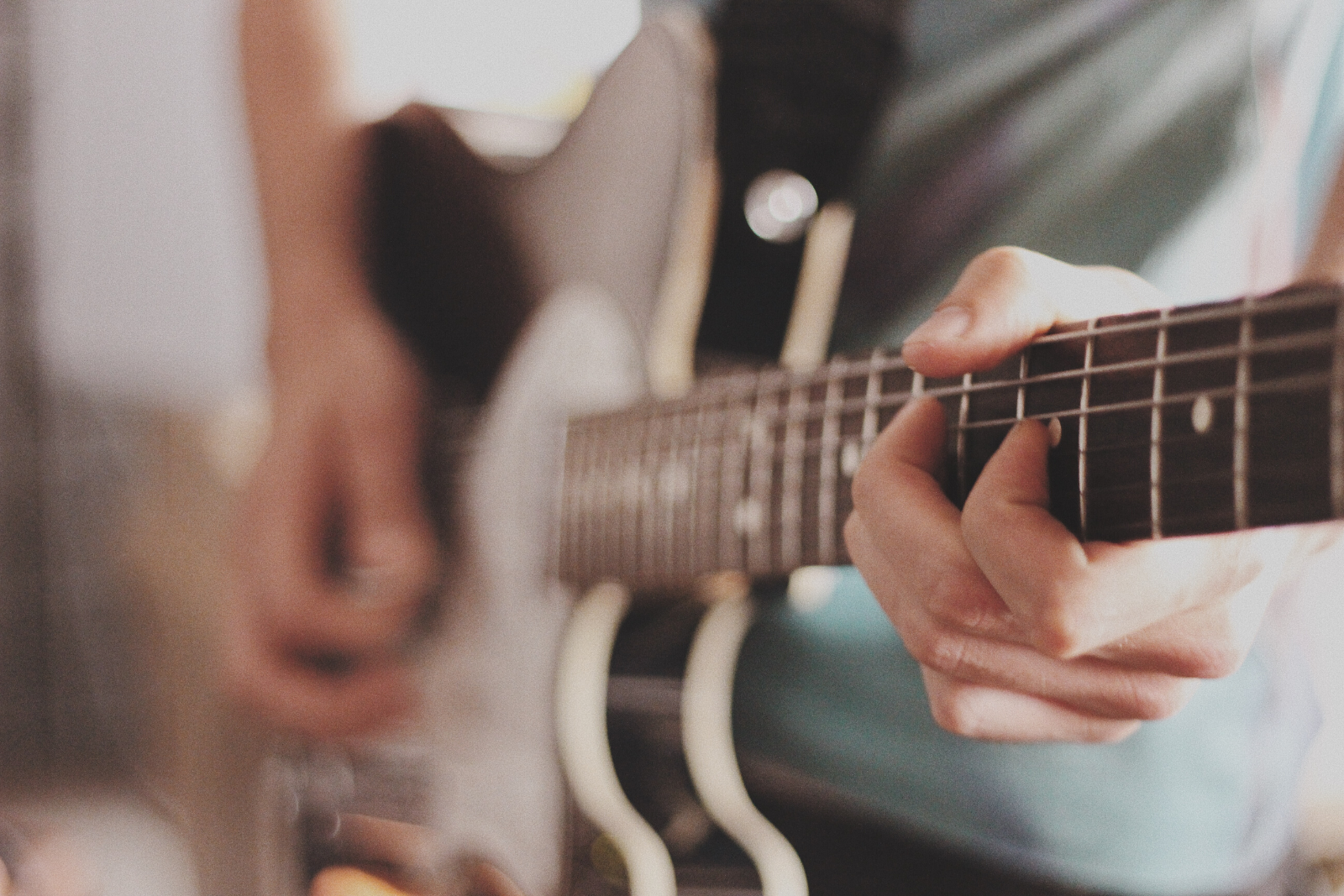 7. Listen To Your Favorite Electric Guitarists
The best way to develop a style is by listening to some of your favorite guitarists. By knowing the sound you like to listen to it will be easier to determine how you want to play. While it may be difficult to sound like Jimi Hendrix or Jonny Greenwood it is always helpful to feel inspired.
As a beginner electric guitar can seem daunting. There are so many knobs and effects to mess around with. You can become distracted from what is important.
Listening to a pro will show that practice is the key. Owning all the pedals in the world won't make you a great electric guitarist. You can buy the most expensive amp and still sound bad.
A loud amp can make you feel vulnerable. You can hear every imperfection. Listen to how your favorite guitarists use their amp to make them sound better not just louder.
Even some seasoned acoustic guitarists struggle to get the best out of an electric. It is all about using each tool at your disposal in the service of the song or piece of music.
By listening to a variety of your favorite guitarists you will be able to hear how each person uses their amps and pedals differently. Sometimes you want to rock out. Other times an electric guitar can be used exclusively for rhythm.
The electric guitar is also capable of many things. Every electric guitar beginner guide should advise you to use and train your ears as much as possible. Sometimes an electric guitar solo is the best thing in the world but sometimes it is inappropriate. This is something you will become more aware of as you listen to more music featuring electric guitars.
Learn how to play guitar online with Fender Play: Free 14-day trial!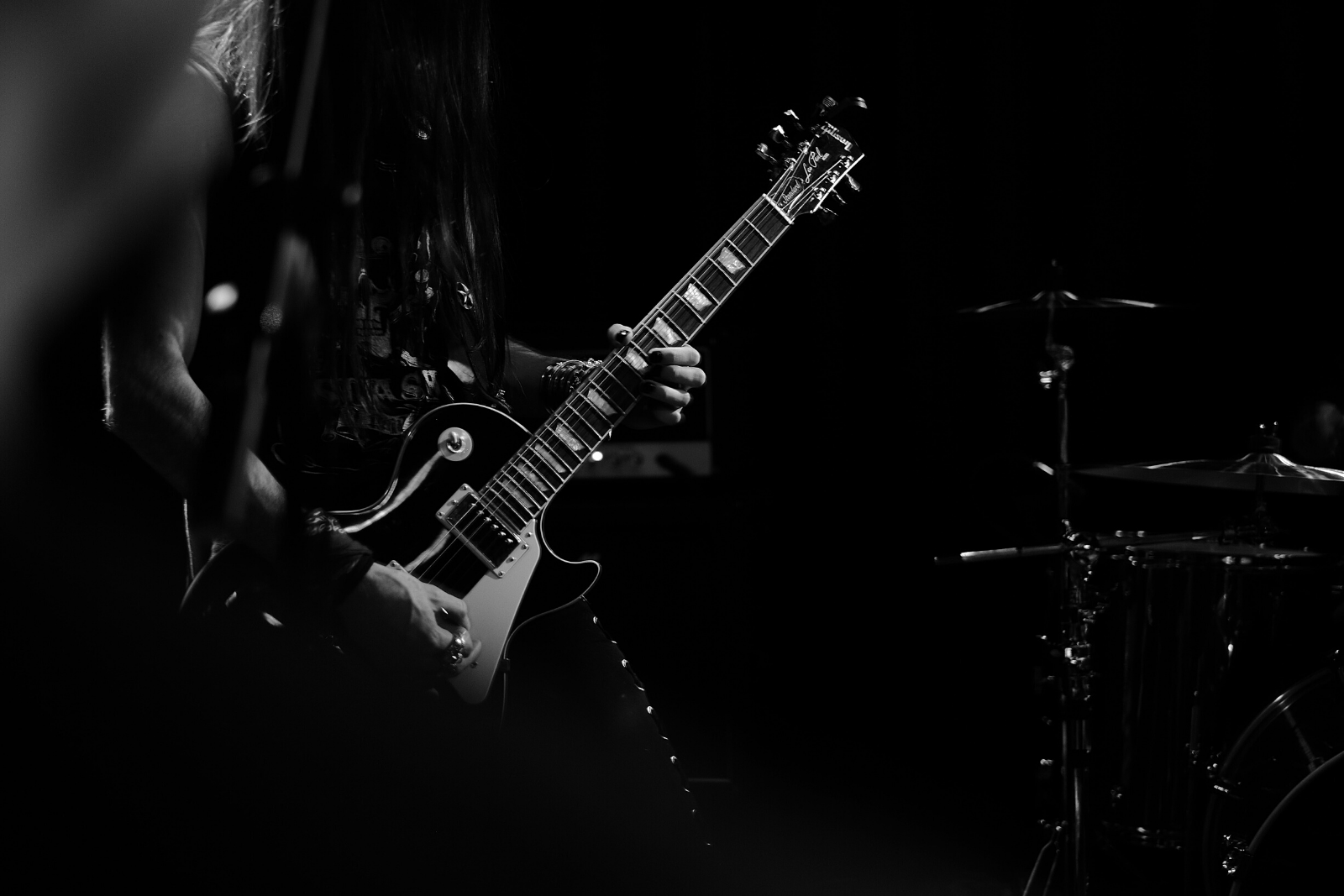 8. Practice as Much as Possible
Practice makes perfect! Our final tip to start the process of helping you learn to play electric guitar is simply to advise that you practice as much as you possibly can. Whether it's 20 minutes a day or 2 hours, making sure that you consistently take out your guitar daily will make you a good player.
Once you have assembled all the necessary equipment and accessories it is time to start playing. There is no substitute for good practice. This involves finding a good teacher, making use of online resources and listening to lots of electric guitar music.
Inspiration can be found in many places. If you truly want to succeed you will become excited and not disheartened when listening to masters like Hendrix and Clapton.
So get your guitar out, plug your amp in, arrange your pedals and start playing!
For those of you just starting out with electric guitar for beginners, what is your biggest struggle in getting started? What aspect are you working the hardest to master?
Share with us in the comments below!