Mastering major scales guitar is a fundamental skill that every guitarist should learn. Not only does this technique open up a whole new world of music for you, but it also makes playing songs easier and more enjoyable.
Understanding and practicing it will greatly enhance your playing ability and expand your musical vocabulary. So, today, we will explore the basics of major scales on the guitar, including their structure, how to play them in different positions and octaves, and their importance in various musical genres. 
60% Off Guitar Tricks Full Access! Use coupon code: JOIN60
Let's dive into the world of major scales guitar and unlock the key to musical versatility!
The Mechanics of a Major Scale
All major scales guitar are made up of a specific pattern of whole steps and half steps, which gives them their distinctive sound. To construct it on any instrument, including the guitar, follow these 5 steps:
Formula 
A major scale on guitar follows a consistent method of whole steps (W) and half steps (H). The formula for a major scale is W-W-H-W-W-W-H. W represents a whole step or two frets on the guitar and H represents a half step or one fret on the guitar. This formula remains the same for all beginner guitar scales, regardless of the starting note or key.
2.Starting Note
Choose the starting hue or the root note for the major scale. This tone determines the key of that scale. For example, if you start on note C, you will need to form a C scale.
3. Step-by-Step Construction
Using the formula of whole steps and half steps, apply it to the starting note to construct the major scale. Start from the root note and follow the pattern until you reach the octave. It is the same note as the starting one but 1 octave higher.
4. The Pattern on the Guitar
On the guitar, you can apply the formula by navigating the fretboard. 
For whole steps, move two frets up on the same string, or jump to the next adjacent string on the same fret. 

For half steps, do the same thing as before but only move one fret.
5. Major Scale Positions
Major scales can be played in multiple positions on the guitar, which allows for different fingerings and techniques. Common positions include the open position and movable positions. In the first one, the scale starts from the open strings while it can be played in different locations on the fretboard in the moveable position.

How Many Major Scales Are There?
The major scale is a fundamental one in Western music, and it serves as the bedrock for many tunes, and chords. Each one of the scales consists of seven notes, labeled with the letters: A through G. It is played in multiple positions and octaves on the guitar.
Guitarists often practice major scales to develop their
Finger dexterity, 

Fretboard knowledge, and 

Ear training. 
By memorizing the patterns and positions, they can better understand the relationships between notes and chords. It allows them to create melodies, solos, and improvisations in different musical styles.
Each major scale has its distinct sound and character. You can use them in various musical genres, including rock, jazz, blues, country, and more. Learning and mastering the major scales on guitar is crucial to be a skilled musician. It provides a solid foundation for further exploration and creativity in music playing.
These are the 12 major scales guitar:
C Major 
G Major 
D Major 
A Major 
E Major 
B Major 
F# Major 
C# Major 
F Major 
Eb Major 
Ab Major 
Db Major 
Before we dive into all of them, it is important to know how to read the tablature.
How Do You Read the Tablature?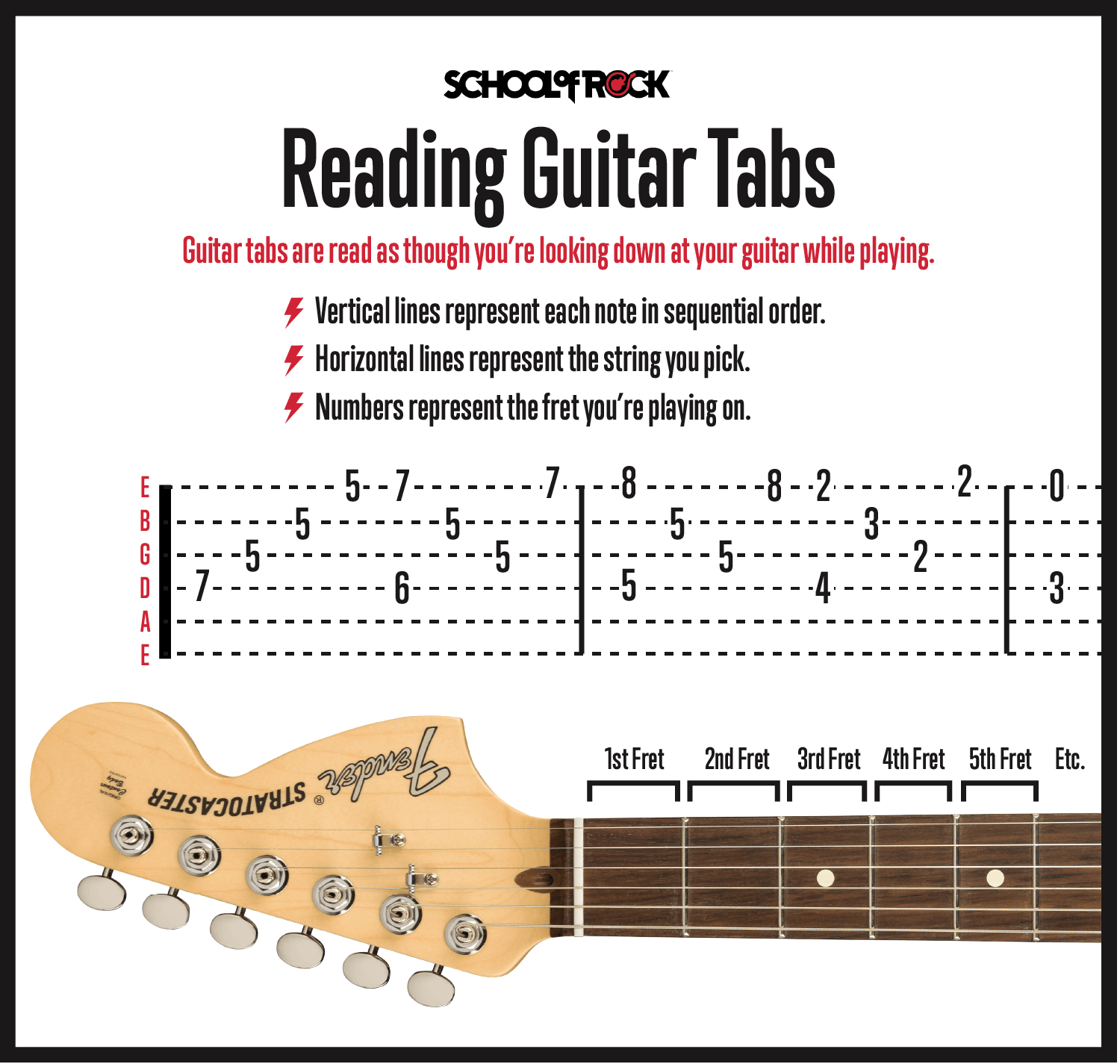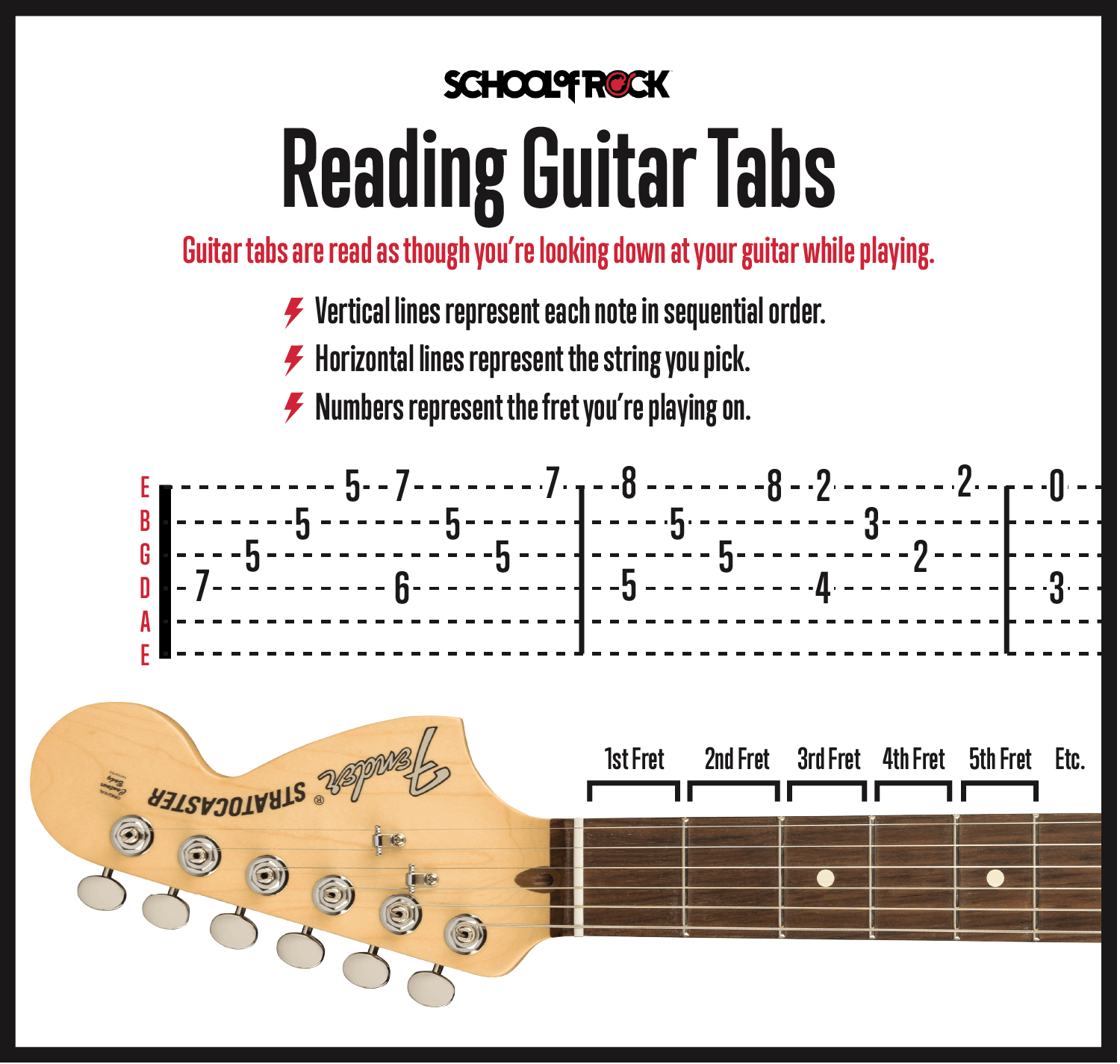 Reading tablature, commonly referred to as "tabs," is a popular method used by guitarists to learn and play music on the guitar. They provide a visual representation of the guitar fretboard, with numbers indicating which frets to press and which strings to pluck.
Why is it important to read the tab?
When learning key scales, tabs can be a helpful tool to:
Understand the fingering and positioning of the scales. 

They typically show the strings and fret numbers to play in a horizontal format. 

This allows musicians to quickly visualize. 

To play the major scales in different positions and octaves.
It is important to note that labels may not always provide detailed information on techniques, timing, and musical notation. A guitar major scales chart will greatly assist in learning and mastering major scales. 
Developing a proper technique and posture while practicing major scales is also crucial to avoid any potential injuries or bad habits.
Follow this video for further information on how to read the guitar tabs.

C Major


The C major scales guitar is an essential scale for guitarists to learn, as it forms the infrastructure for many popular rhythms and tunes. This scale consists of the notes C, D, E, F, G, A, and B, and it has a bright and uplifting sound. 
As one of the most commonly used major scales on guitar, mastering the C Major Scale allows guitarists to play in different positions and octaves, creating versatility and flexibility in their playing.
Pro-Tips: You can experiment with picking, plucking, or sliding, to create different qualities when playing c major scales guitar. You can also explore different fretboard positions and fingerings to expand your understanding of the scale and its applications in different musical styles.
G Major


Known for its warm and bright tonal quality, the G major scales guitar is a widely used scale. This scale consists of the notes G, A, B, C, D, E, and F#, and it is a popular choice for many guitarists due to its versatility and melodic possibilities. 
The G major scales guitar also serves as a groundwork for understanding music theory concepts, such as scale degrees, intervals, and diatonic chords. All of these are crucial for playing and composing music on the guitar.
D Major 


If you are keen on playing pop or folk music then the D major scale guitar is going to be useful for you. You can also improvise over the D major scale guitar as well. It has the following notes D, E, F#, G, A, B, and C#. You can easily play the root note of the scale by striking the third string. There is no need to hold any frets in the process.
A Major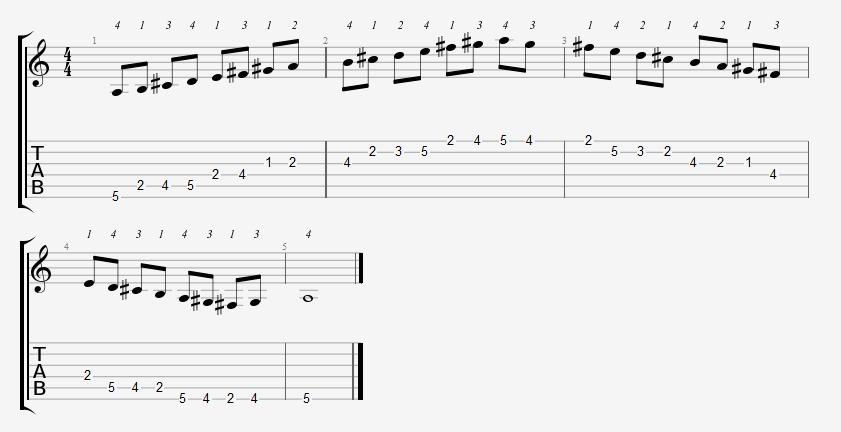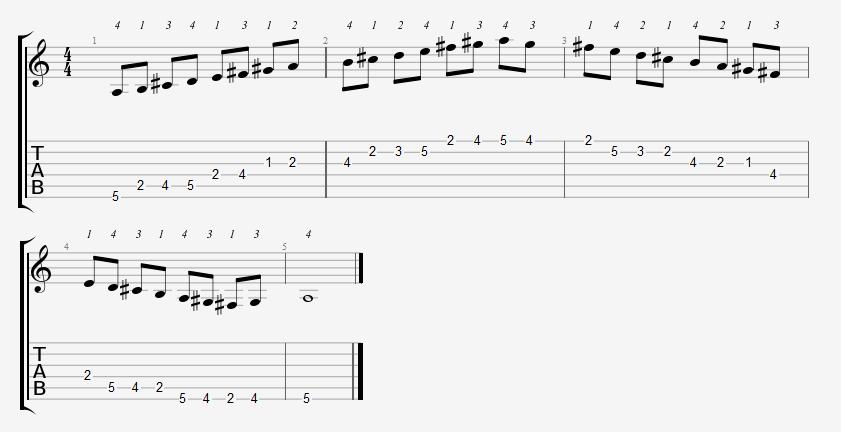 This is where the world of sharps begins. It is quite wonderful but sometimes a bit frustrating as well. If you want to get good at playing the A major scale guitar then focus more on the tablature. You shouldn't worry about the notation. 
It is also quite similar to the d major as you don't need to hold any frets. These are the A major notes: A, B, C#, D, E, F#, G#, A. 
E Major


E major scale guitar tab is the first one that most guitarists learn. In this scale, you need to find the root note. It is done by playing on the lower E string. You should first get comfortable in playing the first bar then it is best to move on to other sections. 
These are the notes in E major scale guitar tab: E, F#, G#, A, B, C#, and D#.
B Major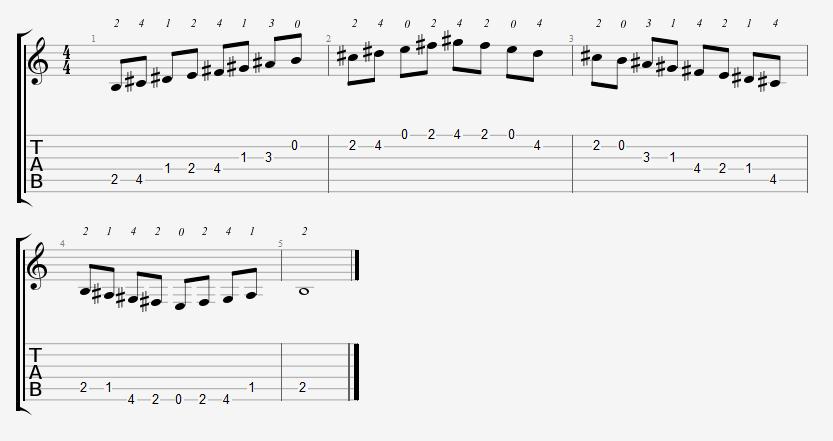 It is the last scale that originates with an open string. The root note is present on the 2nd fret of the 2nd string. It is also best for beginners to only focus on the first guitar scale tabs. Once you get good at it then move on to other tabs accordingly. 
This natural major scale guitar has the following notes: B, C#, D#, E, F#, G#, and A#.
F# Major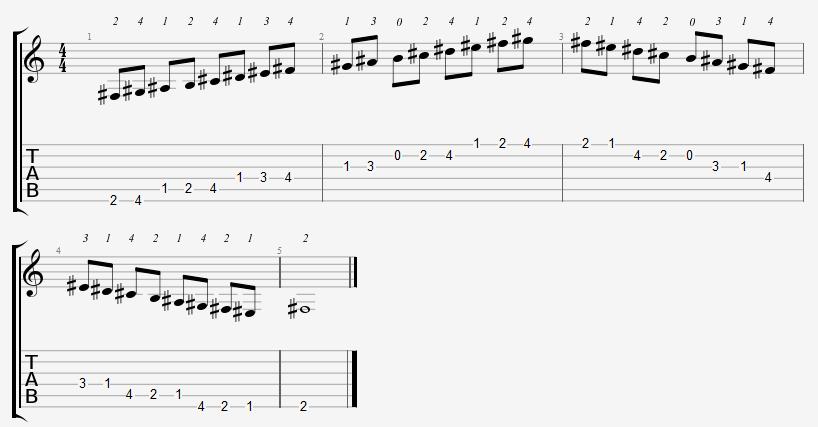 It is a challenging yet rewarding scale for guitarists to master. In the F# major, the root is located on the 2nd fret of the lower e string. F# and GB major are the same key so don't get confused about them. The F# major scale on guitar has the following notes: F#, G#, A#, B, C#, D#, E#.
C# Major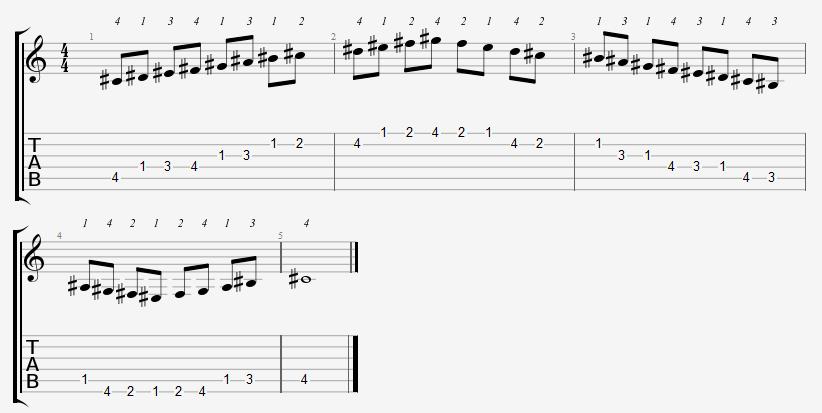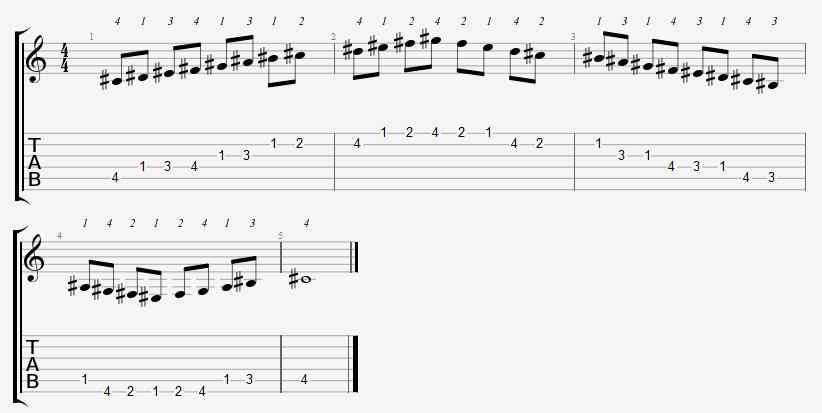 This scale becomes harder as you keep playing beside the fretboard. But it is nevertheless important to master the basics. Playing the 9th fret allows you to find the root note on the lower e string. Then you will need to use your knowledge to build the rest of the major scales. 
Here are the notes: C#, D#, E#, F#, G#, A#, and B#.
F Major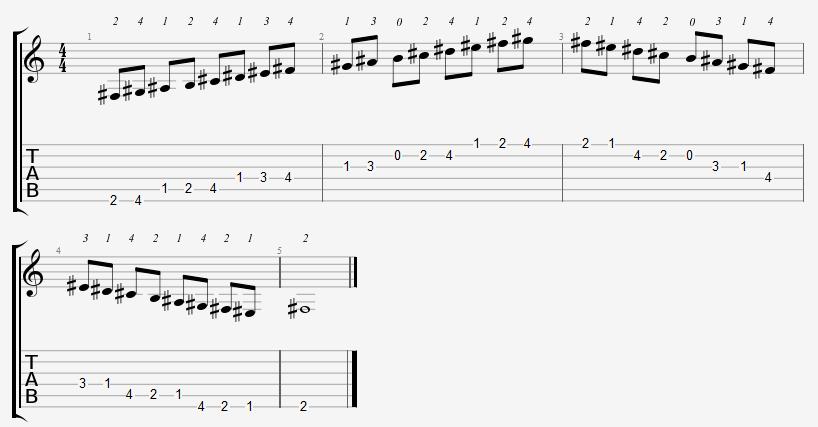 The F major scale guitar is your first opening to flat notes. It is essentially a tone lower than the ones present on the page. On the lower e string, the first fret gives you the root note.
 It has the following notes: F, G, A, Bb, C, D, and E.
Eb Major


It is a nightmare to play a flat note like the Eb major. It is quite a tricky one but you need to remember the rules of building a scale. It doesn't matter how sharp or flat, the notes are. If you know the rules, you can easily play it. The root is present on the 11th fret on the E string. 
Here are the notes: Eb, F, G, Ab, Bb, C, and D.
Ab Major


This scale is not used in most rock and pop music; therefore, it is not necessary to master it right away. But if you are looking to become a versatile guitarist, then it is important to remember this critical scale. Play the 4th fret to find the root note.
 These are the notes of this major: Ab, Bb, C, Db, Eb, F, and G.
Db Major


This is the final major scale in the guitar. To start the Db, you need to play the 9th fret. You don't need to stretch your fingers too far to play this scale. 
It has the following notes: Db, Eb, F, Gb, Ab, Bb, and C.
Here is a video that allows you to learn all the major scales easily.
Importance of Majors in Various Musical Genres
Major scales play a crucial role in various musical genres. Here are some examples of how major scales are important in different musical genres:
Pop and Rock:

Major scales are widely used in pop and rock music to create catchy melodies and uplifting chord progressions. They often convey a sense of positivity and joy, making them ideal for creating anthemic choruses and memorable hooks. They are also commonly used in power chords, which are fundamental to the distorted guitar-driven sound of rock music.

Jazz:

They are also essential in jazz music for improvisation, soloing, and comping. Such musicians often use major scales as a framework for creating complex and intricate melodies and harmonies. 

Classical Music:

These scales form the basis of classical music compositions, from the Baroque to Romantic eras. They are used to create melodies, harmonies, and modulations, and are often combined with other scales and modes to create intricate and expressive compositions.

Funk and R&B:

They create groovy and soulful melodies. Major scales are often used to create melodic bass lines, horn lines, and vocal melodies in these genres, adding a sense of rhythm and groove to the music.

Country and Folk:

You can also use these scales to create melodic and storytelling songs. They are often used to create catchy and memorable melodies on acoustic guitars, and banjos.
FAQs
Why do we need major scales in the guitar?
Major scales are fundamental to guitar playing as they provide the basis for creating melodies, harmonies, and chord progressions. They are essential for improvisation, soloing, and composing music on the guitar.
How many major scales are formed in the guitar?
There are a total of 12 major scales that can be formed on the guitar, one for each note in the chromatic scale.
What can you use the major scale for on guitar?
You can use the major scales to create a wide variety of music. It provides the foundation for various musical genres and styles, making it a fundamental tool for guitar players.
Conclusion
As a guitarist, you need to master all of these 12 major scales. Whether you are a beginner or an experienced guitarist, delving into the world of key scales is an important step toward becoming a well-rounded musician. 
Some are easier to learn than others but, in the end, all of it comes down to dedication and hard work. Embrace the significance of major patterns in your guitar-playing journey and take your skills to new heights!
 Which one of the scales is your favorite? Share your thoughts in the comments below!
Related Posts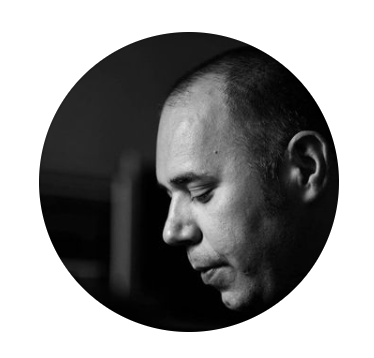 Marko is a passionate composer, producer, and multimedia artist with a Master of Music degree. His career involves performing, creating, and producing his own music in his home studio using digital and analogue equipment. Marko is a multi-instrumentalist (he plays guitar, bass, piano, theremin, and other instruments). performs live acts and DJ sets, and works on feature and short films, documentaries, festivals, theaters, and government initiatives.