The guitar has evolved throughout history and serves various musical roles in cultures around the world. It is one of the most ubiquitous instruments in the world and is prevalent in almost every genre of music.
It's important to understand what distinguishes one guitar from another. For example, a multitude of sounds can be achieved on the electric guitar that can't be replicated on the ukulele despite the fact that they are both guitars.
Each guitar has its own nuances and quirks that make it unique and valuable. Whether six-stringed, twelve-stringed, nylon or steel, the guitar continues to be one of the most diverse and interesting instruments on the planet. The evolution of the guitar has enabled splendorous music to be made in a variety of genres.
Learn more about the most popular types of guitar.
1. Acoustic Guitar
Let's start with the acoustic. When most people think of a guitar, an acoustic is probably what comes to mind. It is the most common type of guitar and often the most accessible. Traditionally an acoustic guitar has a hollow wooden body and six fretted strings. There are too many variations on the traditional acoustic guitar to mention. One can find acoustic guitars with twelve strings, plastic bodies and in all shapes and sizes.
The acoustic guitar is a descendant of the ancient lute and is now used in almost every genre of music. When strummed or plucked, the six strings tuned to EADGBE resonate through the body to produce a warm and whole sound. Of all the types of guitar the acoustic is the most instantly recognisable and ubiquitous.

2. Electric Guitar
Without a doubt the electric guitar is the coolest instrument on the list. The electric guitar is played similarly to the acoustic. Its sound is amplified by converting the vibrations of the six strings into electric signals via pickups.
The electric guitar began in jazz and was then key to development of the blues, rock and heavy metal. It is perhaps the defining instrument of the twentieth century. As with the acoustic guitar there are countless variations on the traditional model.
If you are struggling to decide between acoustic and electric it may be worth having a look at semi-acoustic or electro-acoustic guitars.
See Also: How to Tune an Electric Guitar


3. Electro-acoustic Guitar
An electro-acoustic guitar is exactly what is sounds like. It is probably more appropriate to call it an acoustic-electric guitar because is made by fitting an acoustic guitar with a pick-up.
It is a simple variation on the acoustic that allows you to amplify your sound without going straight electric. It is a popular member of the guitar family that is often used to strum anthemic pop and country hits at concerts and festivals.
See Also: Milestones to Shoot for When Learning to Play Guitar

4. Semi-acoustic Guitar
A semi-acoustic guitar is a type of electric guitar often used in jazz and blues throughout the twentieth century. It is also referred to as a hollow-body electric guitar because of its construction. It is unique because it has pickups like a normal electric guitar but it also has a soundbox.
The semi-acoustic guitar allows for a great amount of experimentation with tone and dynamics. You can get the warm feel of an acoustic with the amplification and style of an electric. It was the guitar of choice for blues legend B.B. King and has therefore secured a place in the pantheon of great guitars.

5. Classical Guitar
The classical guitar predates the acoustic and the electric and can be distinguished by its strings made of gut or nylon. The modern classical guitar is an acoustic wooden instrument that evolved in the nineteenth century. Although similar to the acoustic there are some key differences.
The classical guitar has a wide fretboard and often has a smaller body. The nylon strings are thick and produce a warmer and mellower sound than the steel acoustic strings. You will often find the classical guitar in Flamenco and Spanish music.


6. Lap Steel Guitar
The lap steel guitar is a member of the steel guitar family that is a variant on the traditional acoustic guitar. The guitar is traditionally placed horizontally and played with a bar against the fret rather than your fingers.
As the name suggests it is designed to be placed on the lap. There are both acoustic and electric lap steel guitars. They can often be heard in blues, country, bluegrass, and Hawaiian music. They carry a melody well but because of the methods used to play, it is difficult to play complex chords.
See Also: Steel Guitars: What types are there and what defines them?

7. Bass Guitar
The bass is the backbone of any band. Only a few musicians have been courageous enough to bring it center-stage like Jaco Pastorius. It often plays an integral part in driving the groove in funk and soul music. The bass is similar in appearance to a classical guitar but often has a longer neck and varies from four to six strings.
There is a certain meaty and substantial sound that the bass guitar brings that no other guitar is capable of producing. The electric bass is more widely used than the double bass in popular music. When amplified you can feel the bass deep in your chest and a song will often sound hollow without it.
See Also: Vulfpeck – Dean Town

8. Banjo
The banjo is almost the polar opposite of the bass when it comes to guitars. It is like a traditional guitar but over a drum-like resonator instead of a hole. This serves to give the instrument a twangy and trebly sound. It is widely used in folk and country music.
The modern banjo usually has five strings with an open G chord tuning. Each pluck on a banjo string is loud and vibrates heavily. Although traditionally used in folk, jazz and country the banjo's metallic, twangy sound has attracted musicians from other genres like Led Zeppelin and The Eagles.

9. Ukulele
The ukulele is a small four-stringed instrument that originated in Hawaii. Due to the sound of the ukulele and because it only has four strings, it has become popular around the world. It is often the instrument of choice for children who are interested in guitars because it is relatively cheap and simple to play.
Traditionally, the ukulele is made of wood with a figure-eight body shape. The size and trebly tone of the ukulele makes it a great tool for songwriters and beginners. It also plays a crucial role in traditional Hawaiian music and has cemented its place in the family of guitars around the world.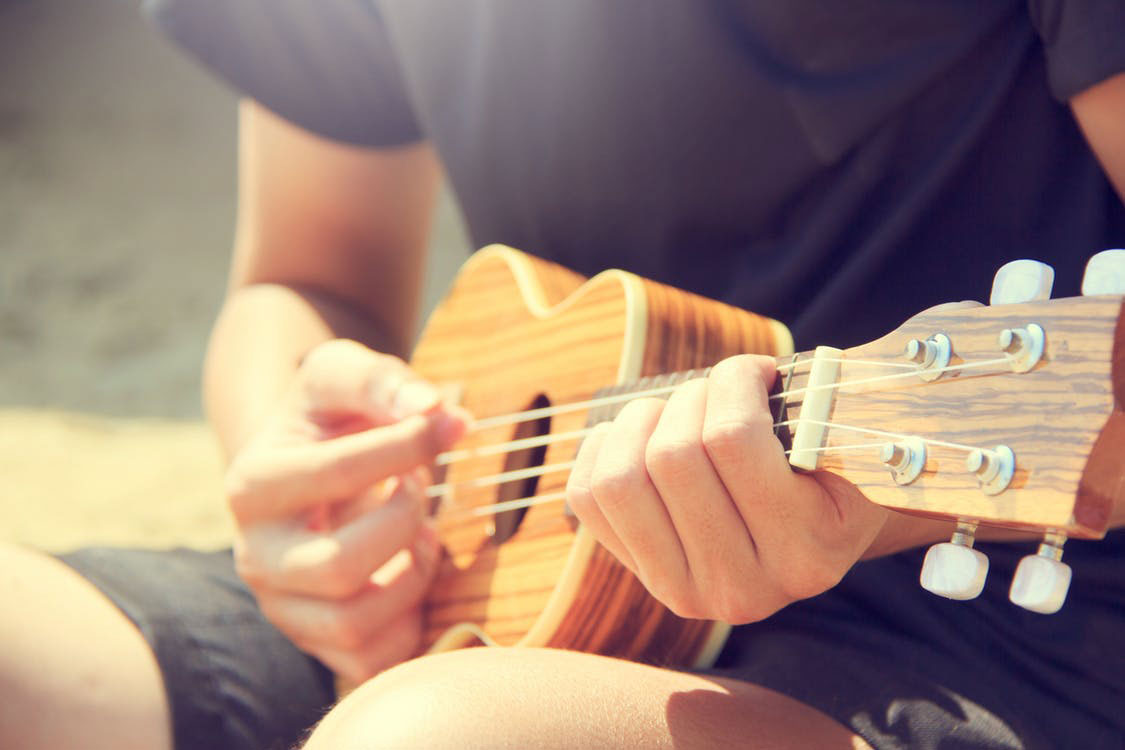 10. Mandolin
The mandolin owes more to the lute than it does to the traditional guitar. The mandolin often has eight metal strings with a small, almost round, wooden body. It has a trebly tone similar to a violin that can be used to pluck complex and beautiful melodies.
It is often used in folk music and traditional European and classical music. To a large extent, the mandolin is the most marginalized instrument on this list. It rarely plays a part in pop music and is often too specialist for beginners.
Thankfully there are still great mandolinists like Chris Thile play the mandolin in a variety of genres like folk, classical and bluegrass. Its lute-like nature makes it a challenging but rewarding instrument to play.

---
Finding the Guitar for You
Choosing the right guitar is equally as important as knowing the different types. There are so many options when it comes to string instruments that it may seem overwhelming. Finding the best guitar is about choosing which guitar fits your style of play and your musical ambitions.
Each and every guitar discussed has its own unique shape and sound. Some guitars are ideal for certain genres of music and totally useless in others. Most people start on the acoustic guitar because it is easily available and it sounds great when you play it right. Equally, many children begin with smaller guitars like the ukulele and then graduate to the heavier sound of the electric guitar as they get older.
Although there are certain nuances to each guitar once you have picked up an acoustic guitar you should feel comfortable playing a steel guitar as well and vice versa. It is important to embrace the differences between the guitars and challenge yourself by giving each one a go!

Shop New Guitar Arrivals at Guitar Center!
What is your favorite type of guitar?
Share in the comments below!