The guitar has evolved throughout history and serves various musical roles in cultures around the world. It comes with its own set of ancient origin stories. But of course, that depends on exactly who you ask. Some might tell you that it was born in any one of the regions within the ancient world. This stretches from the Gods and Goddesses of Greece to the hands of the Princes in Persia.
Nobody has ever been able to pinpoint its exact place of origin. Perhaps it was born in all of them? Let's be honest; variations of stringed and plucked instruments are found all over the world. This alone indicates that there is a common human ingenuity and creativity that transcends all cultures. In fact, when you think about it, it's all really beautiful how creative minds can intertwine through the power of musical art. Almost as beautiful as the sweet sound you receive when plucking the strings of a shimmery hardwood acoustic guitar.
In today's world, we now know that different guitar types make up to form one of the most ubiquitous instruments globally, and they are all prevalent in almost every genre of music.
However, it is essential to understand what distinguishes one guitar from another. For example, many sounds can be achieved on the types of electric guitars that can't be replicated on the acoustic even though they are both guitars.
Each guitar type has its nuances and quirks that make it unique and valuable. While many of them may have six strings, all these different types of guitars require other skills and sensibilities for them to be played well.
Types of Guitar
Whether six-stringed, twelve-stringed, nylon, or steel, the guitar continues to be one of the most diverse and interesting instruments on the planet. The evolution of the guitar has enabled splendorous music to be made in a variety of genres.
What kind of guitar do you like the most? Most of our audience starts with acoustic and we recommend that too.
Whether you're playing your acoustic guitar on your own with the help of blog posts or with an app that has online guitar lessons you can always improve technique and proficiency through concerted practice. If you are someone who prefers a guitar app to help you while learning to play guitar, then see our list of guitar apps that we have reviewed.
Let's learn more about the most popular types of guitar.
Whether you're reaping the benefits when learning guitar on your own with the help of blog posts or with an app that has online guitar lessons you can always improve technique and proficiency through concerted practice.
60% Off Guitar Tricks Full Access! Use coupon code: JOIN60
If you are someone who prefers a guitar app to help you while learning to play guitar, then see our list of guitar apps that we have reviewed.
---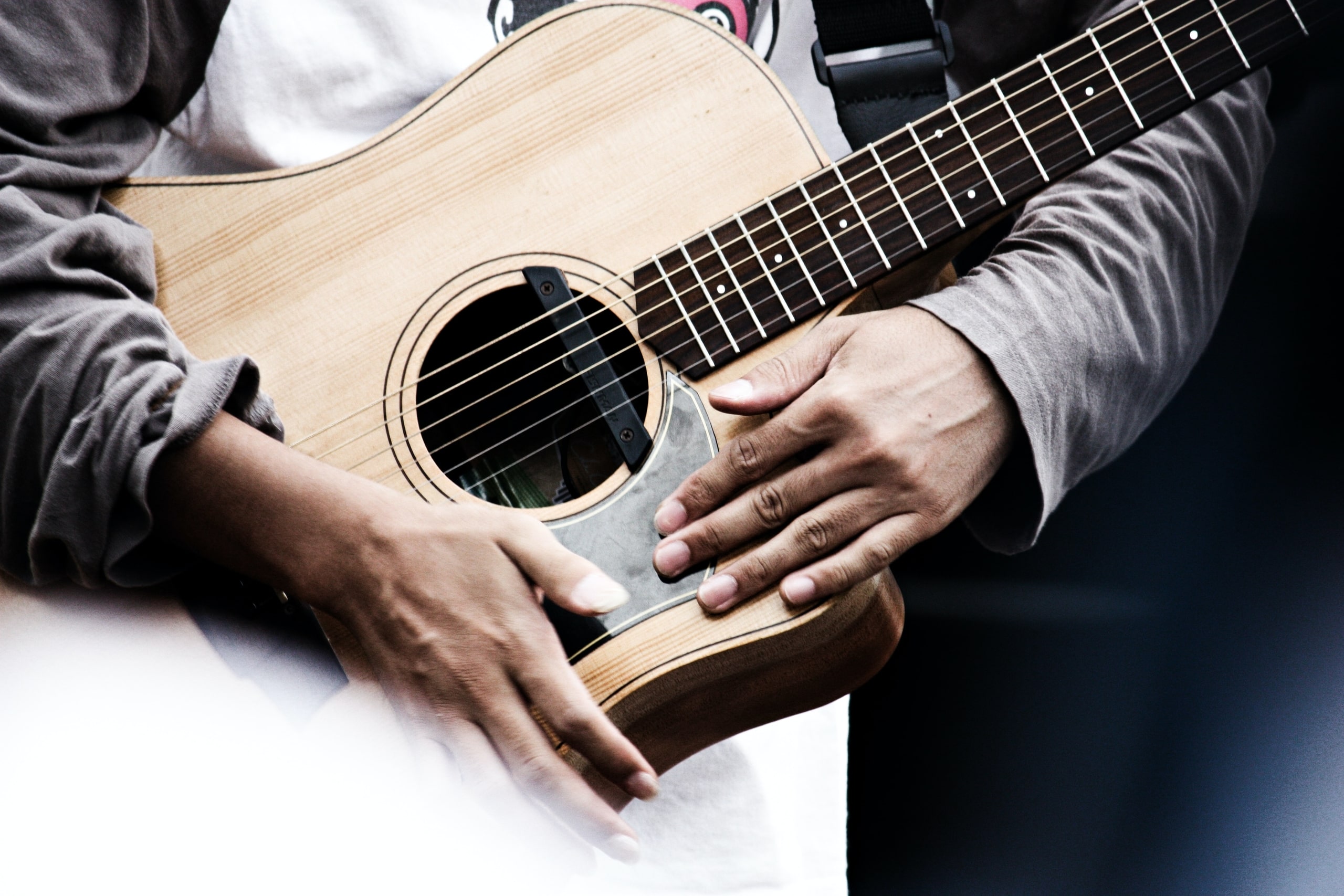 1. Acoustic Guitar
Let's start with the acoustic. When most people think of a guitar, an acoustic is probably what comes to mind. It is the most common type of guitar and often the most accessible. Traditionally an acoustic guitar has a hollow wooden body and six fretted strings. There are too many variations on the traditional acoustic guitar to mention. One can find acoustic guitars with twelve strings, plastic bodies, and in all shapes and sizes.
The acoustic guitar is a descendant of the ancient lute and is now used in almost every music genre. When strummed or plucked, the six strings tuned to EADGBE resonate through the body to produce a warm and whole sound.
Of all the types of guitar, the acoustic is the most instantly recognizable and ubiquitous. It is the instrument of choice for singer/songwriters and is often the center stage when you see popular music live.
This staple of campfire songs is where most, if not all, musicians get their start on multiple acoustic guitar types. These magical instruments are perfect for children looking to learn a new skill or hobby, from classical to the dreadnought. This is because, in some cases, depending on the acoustic guitar type you go for, they don't usually break a beginner's bank.
For children, they come in 1/2, 3/4, and 4/4, aka full-size, er sizes. Also, it's probably best to choose a low-tension nylon string acoustic guitar as it can be easier on a beginner's fingers, rather than the steel examples loaded onto some acoustic and all types of electric guitars.
However, you should bear in mind that although looked at as a guitar type for beginners and children – acoustic nylon-strung guitars are not to be messed with. Don't forget that these guitars were associated with serious classical artists like Segovia and Julian Bream. However, in their case, they were full-size and costly.
Are you interested in learning to play guitar? If so, the teachers at Guitar Tricks can help.
60% Off Guitar Tricks Full Access! Use coupon code: JOIN60
2. Electric Guitar
Without a doubt, the electric guitar is the coolest instrument on the list. The electric guitar is played similarly to the acoustic. Its sound is amplified by converting the vibrations of the six strings into electric signals via pickups.
The electric guitar began in jazz and was then key to the development of the blues, rock, and heavy metal. It is perhaps the defining instrument of the twentieth century. As with the acoustic guitar, there are countless variations on the traditional model.
The different types of electric guitar result from a guitarist's desire to play at a much louder volume. This became so much more important during the big band era due to the hollow body acoustic guitars struggling to be heard and the other instruments producing a louder sound.
The Different Types of Electric Guitars
Suppose you are struggling to decide between the different types of guitars from the acoustic and electric range. In that case, it may be worth having a look at semi-acoustic or electro-acoustic guitars.
SEE ALSO: A Beginner's Guide On How To Tune An Electric Guitar


3. Electro-acoustic Guitar
An electro-acoustic guitar is exactly what it sounds like. It is probably more appropriate to call it an acoustic-electric guitar because it is made by fitting an acoustic guitar with a pick-up.
The electro-acoustic guitar is a simple variation on the acoustic that allows you to amplify your sound without going straight electric. It is a popular member of the guitar family often used to strum anthemic pop and country hits at concerts and festivals.
Once you have managed to find your very own electro-acoustic unique guitar, you're able to decide then whether you would like to invest in an acoustic DI or an acoustic amplifier. There are so many companies out there that take the time to make great acoustic guitar amplifiers; just two to check out would be Line 6 and, of course, Fender. The different types of guitar amplifiers will allow you to plug in and get a killer sound that is sure to inspire you to get on stage.
Out of all the types of acoustic guitars, the electro-acoustic guitar may be one of the models that have, experienced the most significant rise in popularity in recent times. Guitarists want to be able to fill arenas while maintaining clear and crisp acoustic resonance.
SEE ALSO: Top 9 Milestones To Shoot For When Learning To Play Guitar

4. Semi-acoustic Guitar
A semi-acoustic guitar is a type of electric guitar often used in jazz and blues throughout the twentieth century. It is also referred to as a hollow-body electric guitar because of its construction. It is unique because it has pickups like a normal electric guitar, but it also has a soundbox.
The semi-acoustic guitar allows for a great amount of experimentation with tone and dynamics. You can get the warm feel of an acoustic with the amplification and style of an electric. It was the guitar of choice for blues legend B.B. King and has therefore secured a place in the pantheon of great guitars.

5. Classical Guitar
The classical guitar predates the acoustic and the electric and can be distinguished by its gut or nylon strings. The modern classical guitar is an acoustic wooden instrument that evolved in the nineteenth century. Although similar to the acoustic, there are some key differences.
The classical guitar has a wide fretboard and often has a smaller body. The nylon strings are thick and produce a warmer and mellower sound than the steel acoustic strings. You will often find the classical guitar in Flamenco and Spanish music.
You can tell the difference between a classical guitar and a standard acoustic by the way they are played. A classical guitar will often be propped on the leg of the player but slanted more vertically.
This posture ensures the player will have free and unrestricted access to the fretboard. The classical guitar is a truly unique guitar that has a rich and beautiful tone.


6. Lap Steel Guitar
The lap steel guitar is a member of the steel guitar family that is a variant of the traditional acoustic guitar. The guitar is traditionally placed horizontally and played with a bar against the fret rather than your fingers.
As the name suggests, it is designed to be placed on the lap. There are both acoustic and electric lap steel guitars. They can often be heard in blues, country, bluegrass, and Hawaiian music. They carry a melody well, but it isn't easy to play complex chords because of the methods used to play.
SEE ALSO: Steel Guitars: What types are there and what defines them?

7. Bass Guitar
The bass is the backbone of any band. Only a few musicians have been courageous enough to bring it center-stage, like Jaco Pastorius. It often plays an integral part in driving the groove in funk and soul music. The bass is similar in appearance to a classical guitar but often has a longer neck and varies from four to six strings.
There is a certain meaty and substantial sound that the bass guitar brings that no other guitar can produce. The electric bass is more widely used than the double bass in popular music. When amplified, you can feel the bass deep in your chest, and a song will often sound hollow without it.
The playing style for a bass guitar is also markedly different than the acoustic or the classical guitar. With the bass guitar, it is all about plucking rather than strumming. If you try strumming a bass guitar, you will likely get a muddled mess. Of course, the bass can produce chords, and when used creatively, they can sound full and rich.
SEE ALSO: Vulfpeck – Dean Town


8. Resonator
A resonator guitar is another member of the acoustic guitar family. They can be intimidating to play if you are a beginner, but the differences between a resonator and standard guitar are not huge.
Even within the resonator section, there are different guitar types to consider. Do you want to go for a round neck resonator or a square neck resonator?
If you go for a round neck, you can fret and play it like a normal acoustic. However, the action is so high on the square neck that it is difficult to fret like you would on a normal acoustic. The square neck can be played on the lap and usually with a slide.
The nature of a resonator guitar's body and strings makes it the perfect instrument for blues and folk music. As the name suggests, there is a resonator system within the guitar that makes the strings ring.
The tone and texture of this unique guitar may not be for everybody. And if you go for a square neck resonator, you will have to spend some time getting used to it. Different types of guitars demand different expertise. Learning how to make a resonator sing truly is a worthwhile challenge.
SEE ALSO: Quickstart Guide to Resonator Guitars

---

Finding the Guitar for You
Choosing the right guitar is equally as important as knowing the different types. There are so many options when it comes to string instruments that it may seem overwhelming. Finding the best guitar is about choosing which guitar fits your style of play and your musical ambitions.
Every guitar discussed has its own unique shape and sound. Some guitars are ideal for certain genres of music and totally useless in others.
Most people start on the acoustic guitar because it is easily available, and it sounds great when you play it right. There are many different types of acoustic guitars, so it is easy to find one that suits you and your playing style.
Equally, many children begin with smaller guitars like the acoustic nylon string and then graduate to the electric guitar's more massive sound as they get older. And once they've got hold of the electric, they don't often go back to the nylon string, but instead, upgrade to the sweet sound of steel!
As well as playing style, it is worth considering price and size. This is particularly important when you are starting. Although you might want to buy an electric guitar immediately, that is not always the best path to go.
Although there are certain nuances to each guitar, once you have picked up an acoustic guitar, you should feel comfortable playing a steel guitar and vice versa. It is important to embrace the differences between the guitars and challenge yourself by giving each one a go!
What is your favorite type of guitar?
Share in the comments below!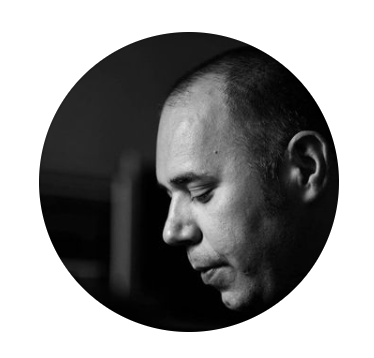 Marko is a passionate composer, producer, and multimedia artist with a Master of Music degree. His career involves performing, creating, and producing his own music in his home studio using digital and analogue equipment. Marko is a multi-instrumentalist (he plays guitar, bass, piano, theremin, and other instruments). performs live acts and DJ sets, and works on feature and short films, documentaries, festivals, theaters, and government initiatives.