If you're new to the banjo or simply curious about this popular stringed instrument, you might be wondering: how many strings does a banjo have? The answer might surprise you, as there are several different types of banjos with varying numbers of strings.
In this guide, we will go through the various kinds of banjos and their respective string configurations, and tuning as well as provide tips for playing them effectively.  So, let's dive in and explore the fascinating world of banjos!

How Many Strings on a Banjo?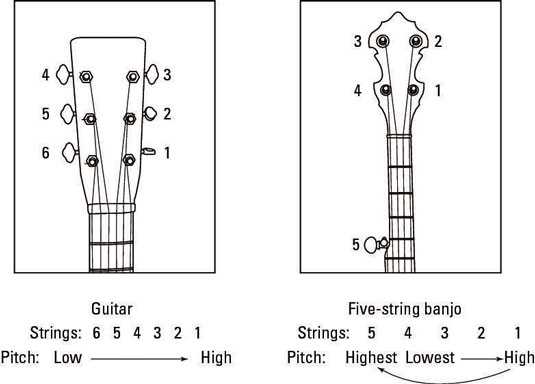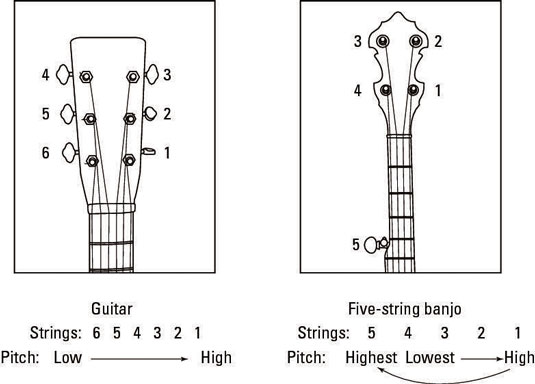 Understanding the basics of how many string on a banjo and how they work is essential to making beautiful music on this unique and versatile instrument. 
Typically the banjo has anywhere from four to six strings.

The traditional five-string banjo, which is the most common type, has four long strings and one short drone string that sits at the side of the fingerboard.
You can tune the drone string to the same note as the highest-pitched long one, also known as the fifth string. This configuration allows for a unique sound that's instantly recognizable as banjo music.
You also have a choice between four-string and six-string banjos. 
Guitarists who want to experiment with the banjo's unique sound often play the six-string banjo. 

The four-string banjo is popular among musicians who are more familiar with guitar playing.

 
Banjo strings notes play a crucial role in determining the sound and overall feel of the instrument. Each note has its unique tonality and texture, which are used to create intricate melodies and rhythms.
Note: It's important to note that not all banjos have strings that are the same length. The plectrum model has four long and no drone strings. Jazz musicians often use this type of banjo due to its tuning, which allows for more complex chords and melodic playing.
Types of Banjos and Their String Configurations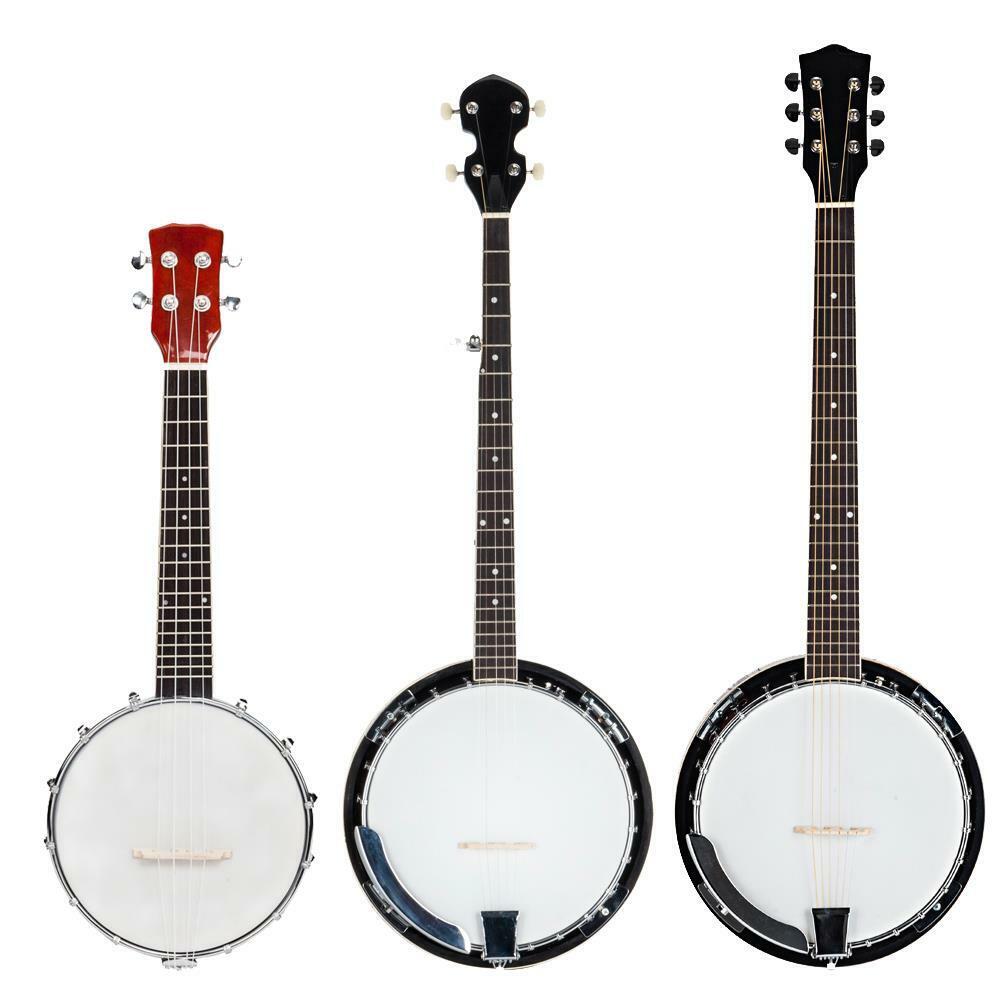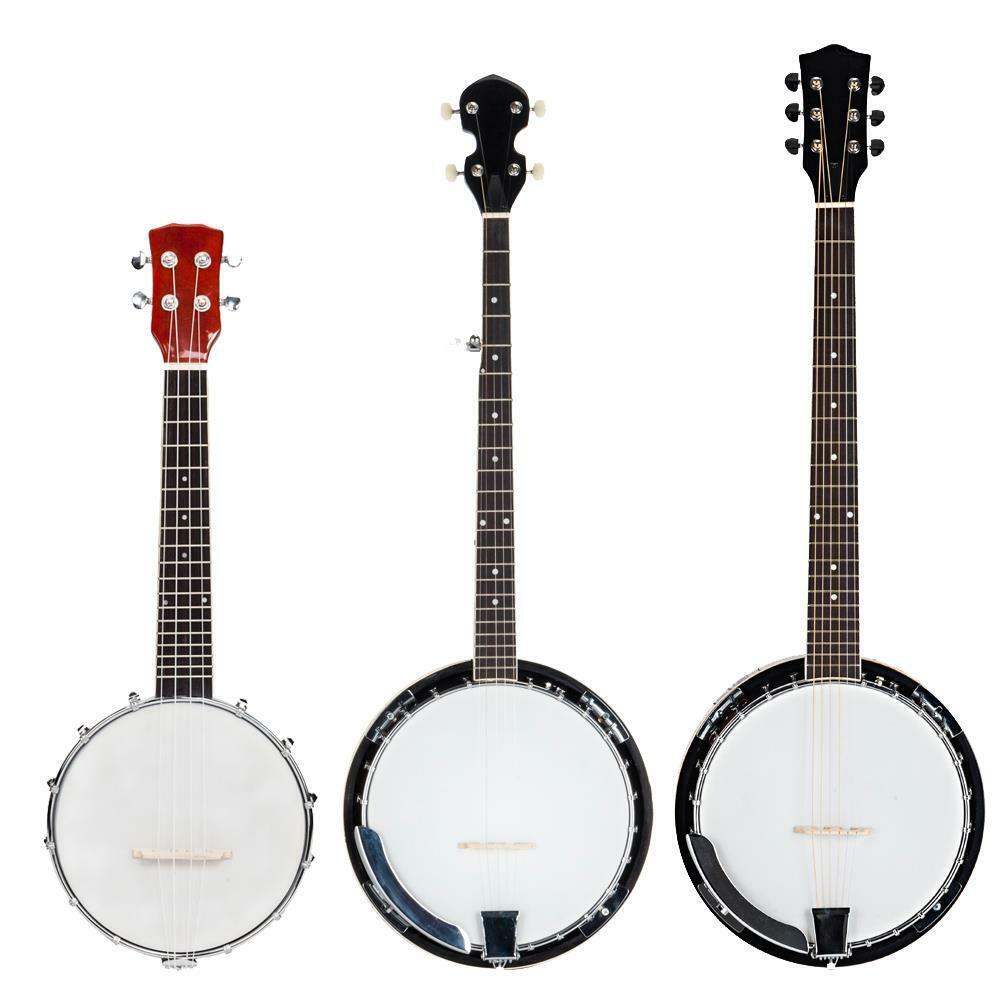 Banjos are versatile and unique instruments with a wide range of styles and sounds. One of the primary factors that contribute to the different types of banjos is the number of strings on a banjo. Here are the various types:
4 String Banjos
These banjos have four strings, which are often tuned to the same notes as the top four of a guitar. The 4 string banjo is popular among jazz and Dixieland musicians, as well as those who prefer a simpler playing style.
5 String Banjos
The 5-string banjo is the most common type and features four long strings and one short drone string. The drone string sits at the side of the fingerboard and is often tuned to the same note as the highest-pitched long string. The 5-string banjo is a popular choice for bluegrass, folk, and old-time music.
6 String Banjos
The 6-string banjo is essentially a guitar with a banjo body. It has six strings that are tuned like a guitar, making it an ideal choice for guitarists who want to experiment with the banjo's unique sound. It is also quite popular among country and rock musicians.
Tenor Banjos
Tenor banjos have four strings and a shorter scale length than other types of banjos. This type of banjo is often used in jazz music and is tuned to CGDA, the same tuning as a mandolin.
Plectrum Banjos
Plectrum banjos have four strings and no drone string. They are often used in jazz music and have a longer neck than a tenor. This makes it easier to play complex chords and melodies.
The number of strings on a banjo is a crucial factor in determining the type and sound of the instrument. Each different type has its unique sound and playing style. Aspiring banjo players should consider the different types and their string configurations to choose the one that best suits their playing style and musical preferences.
Why is the 5-String Banjo Popular?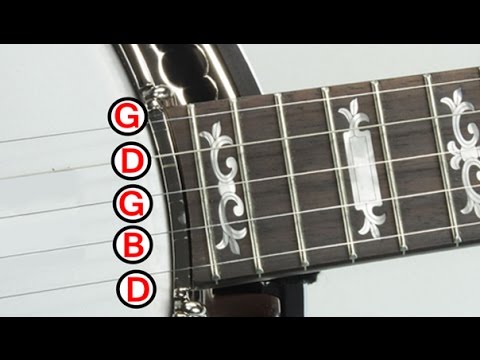 The 5-string banjo is the most common type of banjo and has been popular in bluegrass, folk, and old-time music for decades:
It features one short drone string and four longer ones.

The

banjo string orde

r is typically tuned to G, D, G, B, and D. You get a recognizable sound due to such an arrangement.

One of the defining features of the 5-string banjo is its tuning.

Unlike other stringed instruments, the banjo's strings are not tuned in a standard order.

The

banjo string order

is a unique tuning system that's specific to the instrument, allowing for a range of complex and varied sounds.
Versatile the 5-string banjo
The 5-string banjo is a versatile instrument that is used to play a variety of genres, from traditional folk and bluegrass to modern pop and rock music. It's often played with fingerpicks, which allow for greater precision and speed when playing intricate melodies and fast-paced rhythms.
There are several variations of the 5-string banjo, each with its unique features and characteristics. 
The open-back 5-string banjo has a hollow body 

The resonator 5-string banjo has a closed back. 

Due to such a unique design, it produces a louder, more projecting sound.
Understanding Banjo Strings: Gauge, Material, and Tuning
As a banjo player, understanding the gauge, material, and tuning of your banjo strings is crucial to achieving the desired sound and playability.
Gauge
The strings on the banjo come in a range of gauges, which refers to the thickness of the string. The gauge of the string affects the tone, volume, and playability of the instrument. Lighter gauge strings produce a brighter, crisper sound and are easier to play.
Heavier gauge strings have a fuller, more resonant tone but are more challenging to play. When buying new strings, it is really important to pay attention to banjo strings names and the gauge.
Material
The strings on a banjo are made from a variety of materials, including steel, nickel, bronze, and silk. Each material has its unique sound and characteristics.
Steel strings are the most common and produce a bright, crisp sound.

Nickel strings offer a warmer tone than steel and are less harsh on the fingers.

Bronze strings are warmer still and are often used for playing bluegrass music.

Silk strings are the least common and produce a soft, mellow sound.
Tuning
The banjo standard tuning system is known as G tuning. This tuning is commonly used in bluegrass, old-time, and folk music and is the most common tuning for 5-string banjos. The standard G tuning is GDGBD, with the strings tuned to the notes G, D, G, B, and D, respectively. 
There are also a couple of other banjo standard tuning systems but it depends on personal preference and the type of music.
If you are looking for a more detailed tuning guide, then follow the steps in this video:
Choosing the Right Banjo for Your Playing Style
Choosing the right banjo for your playing style is crucial to your enjoyment and success as a musician. With so many types and variations of banjos available, it can be challenging to know which one is right for you. Here are some factors that you should consider when choosing a banjo:
The Range
One of the primary factors to consider is the banjo range. The range refers to the range of notes that the banjo can play. If you are playing more complex or varied music, it is best to consider one with a wider range.
A 6-string one would be the optimal choice in such a case. The 5-string banjo range is between G2 to C7, which is typically more than enough for most styles of music.
Type of Music
Another crucial factor to consider when selecting a banjo is the type of music you intend to play. If you're a fan of traditional bluegrass, folk, or old-time, a 5-string is an excellent choice. However, if you're interested in playing jazz or Dixieland music, a plectrum or tenor banjo is a better fit. 
The type of music you play also determines the tuning of your banjo.
Weight & Size
The weight and size of the banjo are also essential considerations. For people who like to take theirs on the road, a lightweight and compact model is the right choice. 
On the other hand, if you're playing in a studio or at home, a heavier, more substantial banjo should be the obvious pick.
Skill Level
Finally, consider your skill level and playing style when choosing a banjo:
A simpler one is great for beginners who are just starting to learn this instrument.

As you progress, you can upgrade to a more complex and advanced model.

For the more advanced players, a banjo with more strings and a wider range is the best choice. It is because it will allow them to play fast and create more complex and intriguing melodies.
Mastering the Art of Banjo Playing
The banjo is a fun and versatile instrument to play. But it takes some time and effort to learn how to play it efficiently. These are some of the best tips that will help you in mastering your banjo:
Proper Posture and Hand Placement
Proper posture is crucial to playing the banjo efficiently and so is hand placement. The best technique is to:
Sit up straight with your shoulders relaxed and your banjo resting comfortably on your lap.

Your left hand should be positioned correctly on the fretboard, with your fingers spaced apart and your thumb behind the neck.

Your right hand should be positioned over the strings, with your fingers in a claw shape to pluck the strings on the banjo.
Fingerpicking Techniques
Fingerpicking is a crucial technique for playing the banjo efficiently. The most common fingerpicking technique is known as the "three-finger picking" or "Scruggs-style picking."
In this technique, the thumb picks the fifth string, while the index and middle fingers pluck the others in a repetitive pattern. Other fingerpicking techniques, such as clawhammer are also widely used but it depends upon the type of music that you are playing.
For more information, check out this video.
Practicing Tips
Practice is key to playing the banjo efficiently and any other instrument:
Start with basic chords and simple songs, then gradually move on to more complex pieces.

You should spare some time each day for practicing.

Use a metronome to help you keep time and gradually increase the tempo as you become more proficient.

Try to focus on playing with good technique and accuracy rather than speed or complexity
 It is the technique that will help you become a better banjo player.
FAQ
Do banjos use 4 or 5 strings?
Banjos use either 4 or 5 strings, depending on the type. Some banjos, like tenor and plectrum, have 4 strings. The most common type of banjo, the 5-string, comes with a total of 5 strings.
What is an 8-string banjo called?
An 8-string banjo is typically called an octave banjo, as it is tuned an octave higher than a standard 5-string one.
How often should I change my banjo strings?
You should change banjo strings every few months. It mainly depends on how frequently you play and how much wear and tear is there on the strings. This helps maintain the quality of sound and playing experience.
How do I clean and maintain my banjo?
To clean and maintain your banjo, use a soft cloth to wipe down the instrument after playing and store it in a cool, dry place. Consider using a specialized cleaner or polish and protect it from extreme temperatures and humidity.
Conclusion
The banjo is a unique and dynamic instrument that offers a wide range of playing styles and sounds. It is important to understand what are the banjo strings, and their different configurations, and choose the right product for your kind of music.
We have provided you with an in-depth look into banjos. If you are keen on learning a new instrument then it is a great choice. It is not that hard to get into and by using the mastering techniques that we've mentioned above, you'll be playing it in no time.  
What inspired you to pick up the banjo? What's your favorite song or style to play on the banjo? Share your thoughts and experiences in the comments below!
---
Related Posts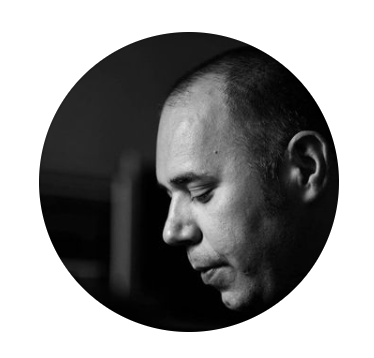 Marko is a passionate composer, producer, and multimedia artist with a Master of Music degree. His career involves performing, creating, and producing his own music in his home studio using digital and analogue equipment. Marko is a multi-instrumentalist (he plays guitar, bass, piano, theremin, and other instruments). performs live acts and DJ sets, and works on feature and short films, documentaries, festivals, theaters, and government initiatives.