If you're starting on the guitar, you may have yet to decide what type of guitar you'd like to learn.
You may have some guitars in mind based on your favorite players and musical heroes.
Ultimately, when you start to learn to play, you want to have a guitar that is suited to your level of playing.
Now is not the time to be busting out the Gibson Flying V!
Most beginners learn to play on an acoustic guitar to get used to the instrument's superficial aspects before moving on to the tricky stuff.
In the end, it comes down to personal preference. The guitar that you find comfortable and enjoyable to play will be the best.
The real key to learning to play any instrument is a consistent and regular practice. Furthermore, playing will be easier if you find it comfortable and fun to keep returning to your instrument.
Once you've found the right guitar, it is time to start practicing. As well as highlighting the best starter guitars, we will be exploring how to play acoustic guitar for beginners.
Whether you're reaping the benefits when learning guitar on your own with the help of blog posts or with an app that has online guitar lessons you can always improve technique and proficiency through concerted practice.
60% Off Guitar Tricks Full Access! Use coupon code: JOIN60
If you are someone who prefers a guitar app to help you while learning to play guitar, then see our list of guitar apps that we have reviewed.
Also, it is essential to determine what kind of guitarist you want to be. This will help you know if you wish to get a classical guitar for beginners or an electric guitar.
Different genres require different instruments, pedals, and other accessories. And we want to help you get the right guitar for you!
Below are a few essential tips to help you choose an easy guitar for beginners. Not everyone will agree on the easiest guitar to learn for beginners, but we will try our best to recommend a few good ones!

Acoustic or Electric?
Is the acoustic or the electric the right guitar for you? The electric may be more visually appealing in many cases. Still, the guitar's aesthetics should not be top of your list of priorities when it comes to buying the right beginner's guitar.  It should be all about the sound, not looks!
Suppose you are looking for the most basic guitar for beginners. You probably will want to use an acoustic guitar. A simple acoustic is often the starting point for most guitarists as you don't have to worry about plugging it in or troubling yourself with amplification. Also, they are very accessible instruments that are often cheaper than their electric brothers.
One size does not fit all in this situation. There are even more distinctions within the acoustic and electric brackets that will have you scratching your chin. Do you want steel or nylon string on your acoustic? Do you want a semi-acoustic? Six strings, four strings, or twelve strings?
SEE ALSO: 6 Differences in Learning to Play Electric Guitar Vs. Acoustic
Guitars come in many shapes and sizes. Do you need to get a guitar string tool? Should I invest in an expensive amp? How many picks should I have? Often the questions for a beginner guitarist are endless.
In most cases, it will come down to the type of music you want to play. However, the guitar is a universal instrument which can accommodate different styles.
Alternatively, it may be unorthodox, but you can rock out on a mandolin, and you can play classical tunes on an electric guitar. But it all comes down to what you want to listen to and what you want to play.
We will assume that you want to be a guitarist and not a bass guitarist, so the most uncomplicated requirement is that the guitar should have six strings. Beyond that, it is mostly personal preference, as you will see below!
Types of Guitar:
Acoustic

Steel Stringed
Nylon Stringed

Semi-Acoustic (Hollow-body)
Electric
---

Steel Stringed Acoustic
A steel-stringed guitar is usually the safest bet for a beginner. A classical or flamenco guitar is not ideal for a beginner because their necks make it tricky for a novice to form chord shapes.
A standard steel-stringed acoustic is a guitar made for playing blues, rock, and pop songs. It has a thinner neck, which makes it easier for beginners to practice chords and melodies. Steel stringed acoustic is one of the most common types of guitar for beginners. It is comfortable to hold, and even as a beginner. It won't feel awkward as you try to reach for your first few chords.
An acoustic guitar has a consistent tone. It is easy to get lost in all the fun things you can do on an electric and forget to begin learning. A steel-stringed acoustic is comfortable to hold and play and will produce a consistent tone that you can use to measure your progress. You will be able to hear the incremental improvements you make as your technique progresses.
Acoustic guitars are usually the least expensive option and are commonly used worldwide for teaching in classrooms. There is a reason steel-stringed guitars are so ubiquitous in beginners' circles. Moreover, they require very little extra work to sound great; no errors amplified.
Acoustic steel guitars are commonly the staple instrument in school music rooms. They are usually an affordable option for music schools and parents. Even if you lose interest initially, having an excellent steel-stringed acoustic guitar around the house is a good thing. It is a reliable musical companion.
Easy rock guitar songs and super easy guitar songs for beginners played on a steel-stringed acoustic. If you don't fancy this route, there are other options!
SEE ALSO: The Top 9 Ways To Practice Acoustic Guitar Techniques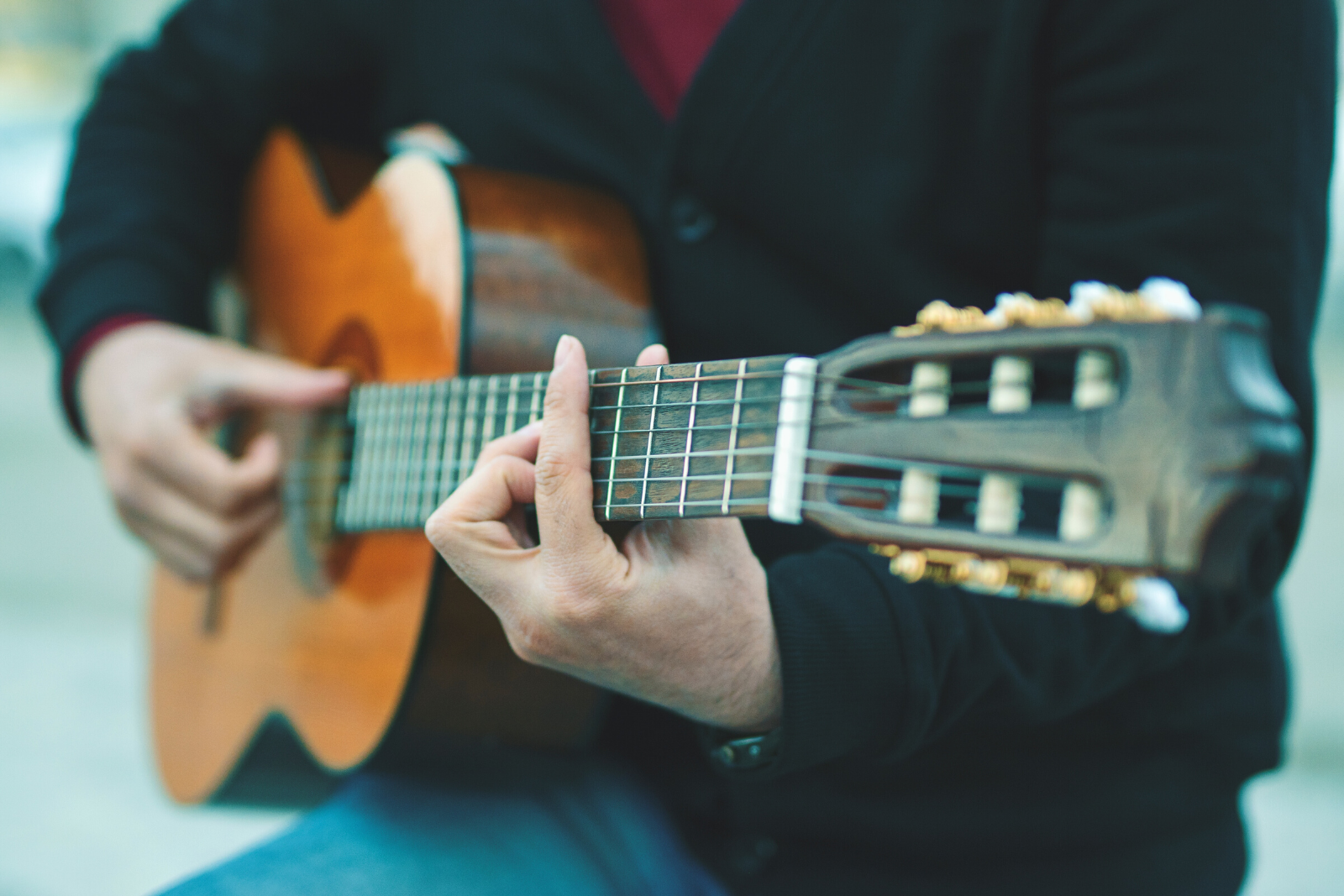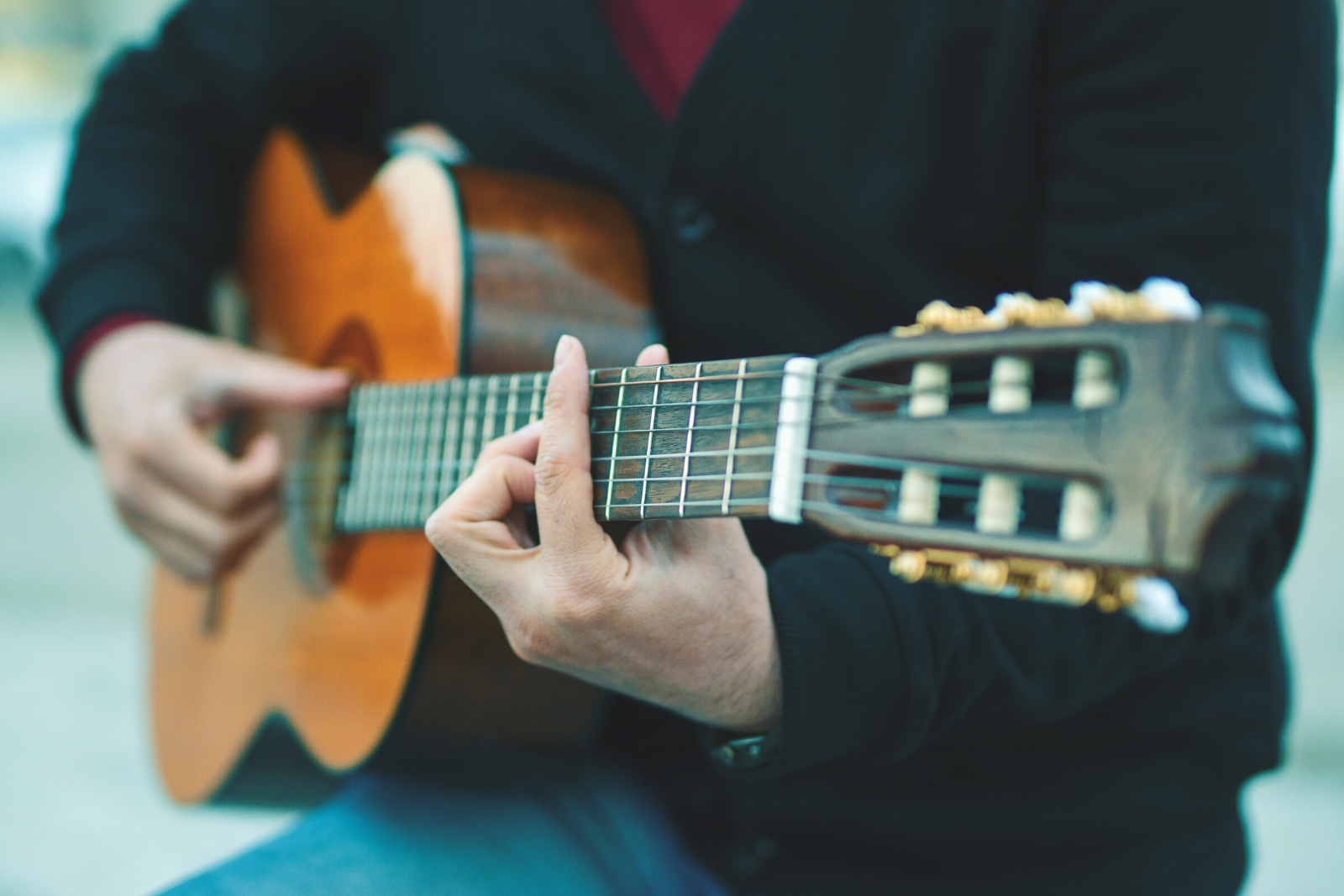 Pros
The acoustic is the popular choice for beginners, and therefore there is a wealth of knowledge and experience tailored for the acoustic guitar that has built up over the years. As a beginner, it is good to know that there is plenty of help out there if you need it. There are plenty of resources for learning the acoustic guitar, so you don't need to worry!
A steel-stringed acoustic guitar is often the cheaper option. This is especially helpful for a beginner who is tentative about the guitar playing ambitions. You don't have to make a substantial financial commitment to get a good steel-stringed acoustic. This is often the reason you find acoustic guitars at music schools. It is a ubiquitous instrument that should be available for all beginners.
There are very few additional materials that need to be purchased to play an acoustic. Unlike the electric guitar, the acoustic is perfect for the beginner who wants to get on with playing the guitar. You don't need to worry about pedals or amps! The limited amount of accessories ensures that you can get a pure guitar learning experience. This is ideal for a beginner.
Cons
It may take some time for your fingers to get used to the strings. The relatively high playing action is not always easy for beginners. In the beginning, pressing the strings will be painful. Over time you will build up firmer skin, and it won't be painful. Don't worry. This is something every guitarist has had to contend with at some point!
You may not like the sound of the acoustic guitar if your ultimate aim is to be an electric guitar playing rock god! The acoustic is still a Rock'n'Roll instrument, but you may get more satisfaction from playing an electric. The sound of an acoustic can be quiet, and it can be a while before you develop the ability to get a bold sound like a beginner.
If you purchase a cheap acoustic guitar, it may be difficult to tune and may not stand the test of time. It can be quite frustrating for a beginner if your guitar does not obey you. Before you purchase anything, make sure you get some advice from a guitarist or any pro musician. You can find plenty of advice online, and you can usually trust the people that work at local guitar stores too!
SEE ALSO: 15 Helpful Tips That Will Guide You When Buying A Guitar
---

Nylon-Stringed Acoustic
The other type of acoustic guitars is the nylon-stringed guitars. Nylon stringed acoustics can be separated into two categories/disciplines: Classical and Flamenco.
What is the best guitar to learn on? There is a greater degree of specialism when it comes to nylon-stringed guitars. If you are a fan of classical or flamenco music, nylon-string acoustics are your best bet. Nowadays, they are designed with these genres in mind. They are wonderful guitars to learn for a beginner if you are interested in sounding like your flamenco or classical guitar heroes.
A beginner needs to start on a guitar that suits their musical interests. Getting the right guitar is key to staying enthusiastic when it comes time to practice. If you are looking for the lush and flexible sound found in jazz, bossa nova, and classical music, you should begin training on nylon strings. They are versatile instruments that allow for proper percussive and expressive sounds. Also, even as a beginner, you will tell the difference in sound between nylon and steel strings.
"Nylon-string guitars are usually smaller and often don't have electronics, cutaways, or fretboard markers. They also have wider necks, which add more space between the strings, and bodies that start at the 12th fret, not the 14th fret like most steel-string guitars." (Fender)
Pros
Perfect if you are aiming to play Classical, Jazz, or Flamenco on an acoustic guitar. The soft nylon strings can be used to create a punchy effect on the Flamenco guitar. In the Classical version, the strings can create a wide range of sounds and textures.
Nylon-string guitars sound fantastic when amplified.
The soft strings mean that it is easier for beginner guitarists. What is the easiest acoustic guitar to play? If you are starting, the nylon strings could be the answer you are looking for.
It is probably the perfect guitar for smooth and melodic soloing. The steel-stringed guitar has gained popularity over the years, but the classical nylon strings still take the cake when it comes to the pure sound of the guitar.
Cons
You will have to tune your guitar more frequently than for steel-string acoustic or electric guitars. The strings are made from a softer material, but this means that it is easier for the pitch to change over time as you play.
Not as versatile as the traditional steel-stringed acoustic. However, this is not always a bad thing. Correctly adjust the guitar, and it will sound good in several genres.
Ultimately, any beginner's guide to playing guitar will recommend that you start on the acoustic. The differences between steel and nylon strings are not huge.
There is an incredible amount of versatility in the acoustic guitar. Moreover, the relatively low price, accessibility, and playability make any acoustic guitar a good place to start!

SEE ALSO: 10 Best Nylon-String Acoustic Guitars For Beginners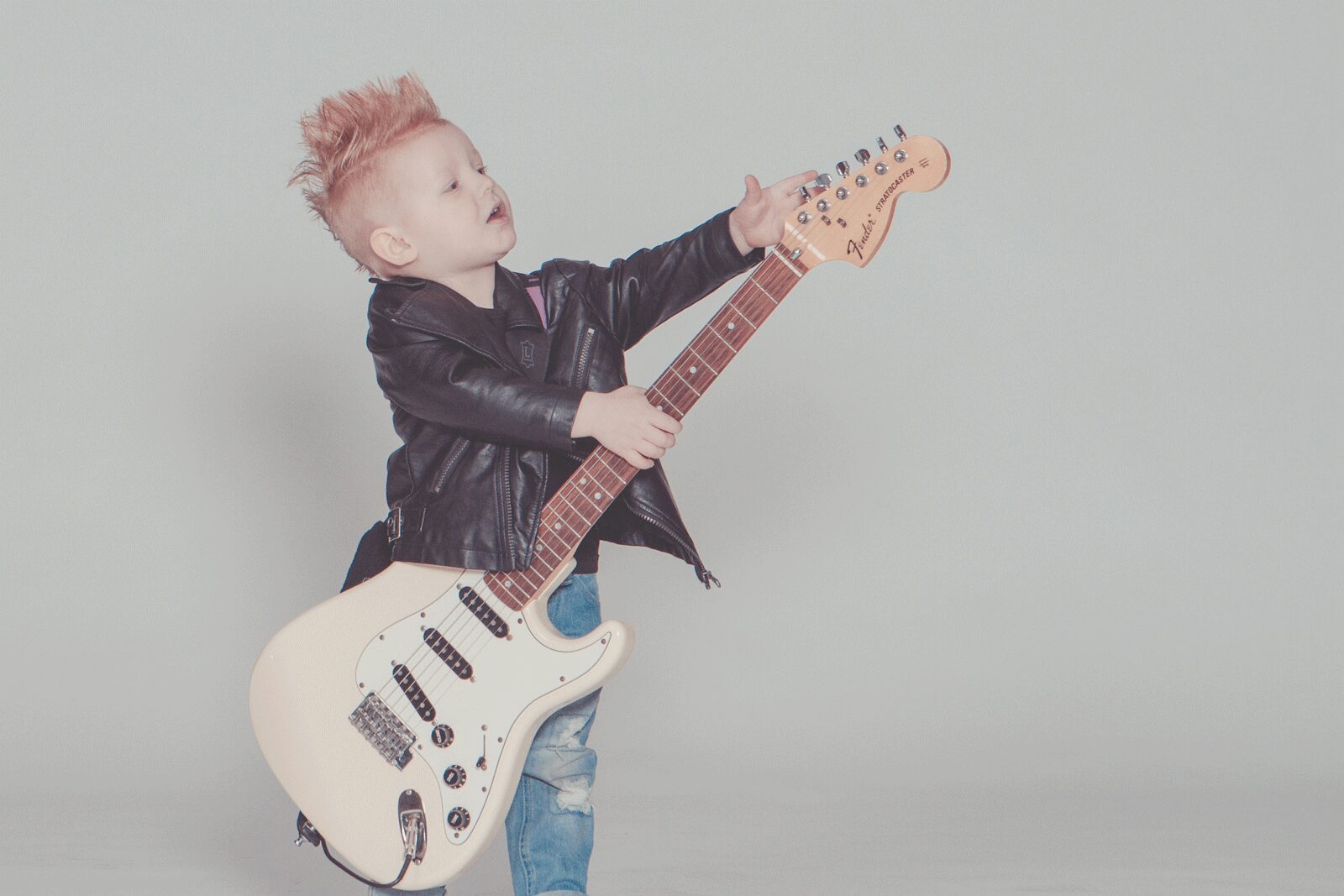 Electric
There are several plus sides to learning on an electric guitar. Aside from the fact that the electric guitar is undeniably cooler! The sound of the electric guitar through an amp is usually the sound people think about learning the guitar.  Likewise, an electric guitar is a fantastic instrument in some genres ranging from Jazz to Blues to Indie to Rock.
Electric guitars work via the "use of magnetic pickups. There are magnets with coils of wire wrapped around them, which sit beneath the strings. When the strings vibrate, it causes a disturbance in the magnetic field around the pickup, in which the coil of wire turns into an electrical signal. This is transferred down a cable to an amplifier, which reverses the process, changing the signal back to sound." (Source: Dawsons).
Electric guitars have a fantastic utility in a variety of genres of music. Whether you are looking to blow minds with heavy chords, jazz licks, or classic blues riffs, an electric guitar can be used in various ways even by a beginner.

It is an incredibly versatile instrument that allows a beginner to try out many different techniques. Conversely, unlike the acoustic, the electric sounds great in the hands of a beginner because the amplification provides a new element to the instrument's musicality. It is a great instrument for learning and experimentation.
As a beginner, learning on an electric guitar is also a great way of gaining knowledge about the guitar's technical side. The tone of an electric guitar can enhance easy guitar chords. Even a basic guitar for a beginner can imitate famous rock sounds and strange riffs with a bit of practice. Using pedals to create strange ambient or atmospheric effects is one of many electric guitarists' most enjoyable pastimes.

As with the acoustic, there are thousands of variations. In addition, perhaps even more so than the acoustic guitar, there is plenty of ingenuity from various guitar manufacturers to create the best sounding and most appealing instrument.
If you are looking for a specific guitar to buy, then have a look at The Hub's article for the 6 Best Beginner Acoustic and Electric Guitars.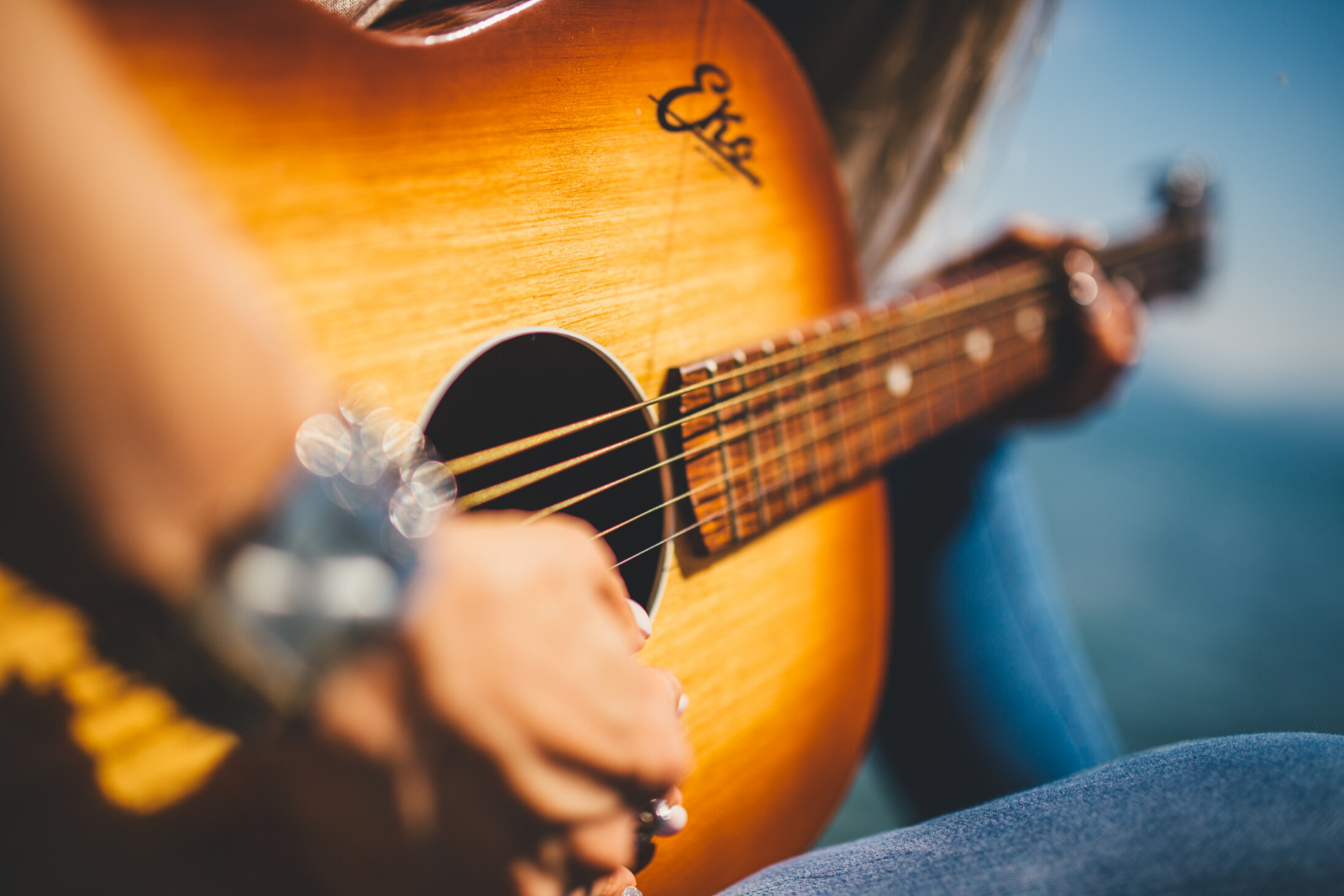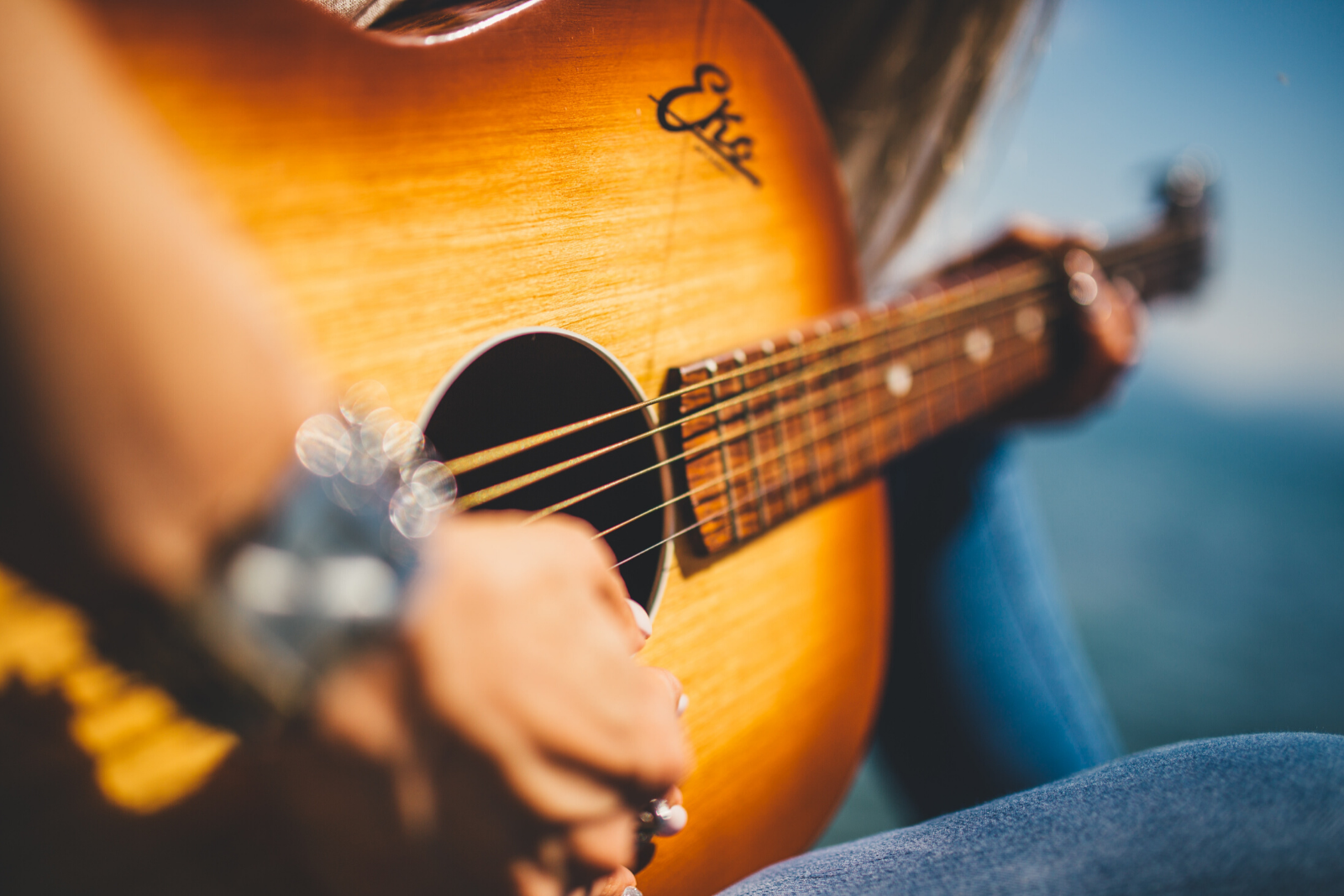 Pros
The electric guitar is a fun instrument to play. Ultimately you will gain the most if you practice often. If an electric guitar keeps you coming back to the instrument, then it could be the choice for you. The joy you can get from rocking out on the electric guitar is difficult to match any other instrument. As a beginner having fun is the most important thing!
The sound of an electric guitar at full force is arguably more satisfying. The rumble and ringing of an electric guitar can fill a stadium and make the hairs on the back of your neck stand up like no other instrument.
An electric guitar can be easier on the fingers due to the lower playing action and slimmer neck. In the beginning, it will still hurt, but it is considerably easier to get a good sound, especially if you hook your guitar up to an amp. You will be able to produce a full and satisfying sound without drawing blood from your fingertips!
Cons
Electric guitars are often more expensive, and purchasing one as a beginner represents a large investment. People often opt to begin on a cheap acoustic for this very reason. Only buy an electric guitar if you know you are going to play it!
The overall set up to get the right sound out of an electric guitar is more complicated.
If you don't already have one, you will have to purchase a good amp.
There is an abundance of accessories made for the electric guitar. As a  beginner, it is difficult to understand which accessories are essential and which are superfluous.
If you purchase a cheap electric guitar, as with an acoustic, it may not be easy to get it to stay in tune.
Warn your neighbors! Obviously, the electric guitar can be quite loud (which is probably part of the reason you are thinking about getting one). However, noise can be an issue. You should definitely think about how much disturbance you could be causing before you make your purchase.
SEE ALSO: 13 Easy to Find Guitar Accessories You Will Absolutely Benefit From

---

The Easiest Guitar for Beginners
Which one is your favorite? If you are a beginner and have never touched a guitar, we recommend visiting a few guitar shops before making your first purchase. While you can buy guitars online, it will give peace of mind to know exactly which guitar you are buying and who it is coming from.
Also, a guitar store is also a great place to get more specific advice from musicians and music enthusiasts. It is always helpful to receive expert advice in person.
Is learning guitar easy? Not really!
Once you have your guitar, the real work begins. We recommend finding some easy guitar song tabs and starting from there. Also, as you begin to memorize a few chords, riffs, and licks, you will start feeling like a real guitarist. Furthermore, once you know how to play Best Part on the guitar, you will already be able to enjoy the intricacies and nuances the guitar has to offer.
Having a few songs to sing-a-long to is a good starting point! As you learn how to play more songs, you will be able to expand your musical vocabulary. Moreover, this is all necessary if you want your journey towards guitar mastery to be successful!
There a host of fantastic apps that are tailor-made to assist beginners learn the guitar. Hours and hours of practice will make even the humblest of guitars sing. Maybe check out a Gibson or a Teton guitar review before you make any serious purchase.
You will be surprised at how it sounds within a few weeks on your first guitar. The more you play, the more you will understand how to get a great sound out of your instrument. Also, you will hear when it goes out of tune, and you will be able to feel when your strings need replacing or when your guitar needs maintenance.
Whichever guitar you acquire, you must take care of your guitar by learning to tune and maintain it.  An expensive guitar is useless if it is not adequately cared for. Cleaning guitar strings is an important part of maintenance. Moreover, make sure you replace the strings, keep the body polished, store your guitar carefully.
Finally, while a steel-stringed acoustic guitar may be the easiest guitar to learn on for beginners, it is important to remember that it is all about you. The guitar that you have to hand and feel most comfortable with will be the best one to play.
Get yourself a good teacher, listen to other musicians, and practice regularly. Before you know it, you will be a seasoned guitarist!

What is your guitar of choice?
Please share it with us in the comments below!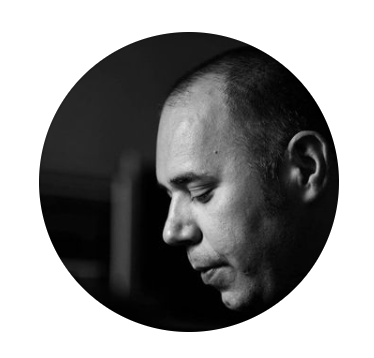 Marko is a passionate composer, producer, and multimedia artist with a Master of Music degree. His career involves performing, creating, and producing his own music in his home studio using digital and analogue equipment. Marko is a multi-instrumentalist (he plays guitar, bass, piano, theremin, and other instruments). performs live acts and DJ sets, and works on feature and short films, documentaries, festivals, theaters, and government initiatives.