Guitar thumb-picking is a versatile technique that can elevate your playing to new heights. Whether you're a beginner or an experienced guitarist, understanding the basics of thumb picking and its benefits will empower you to explore new musical territories.
In this blog post, we'll delve into the world of thumb picking, covering everything from thumb pick basics to choosing the right approach for your playing style.
Thumb Pick Basics
At its core, a thumb pick is a small, plectrum-like device that fits over your thumb, extending beyond the tip. It is commonly made of materials such as plastic, metal, or acrylic.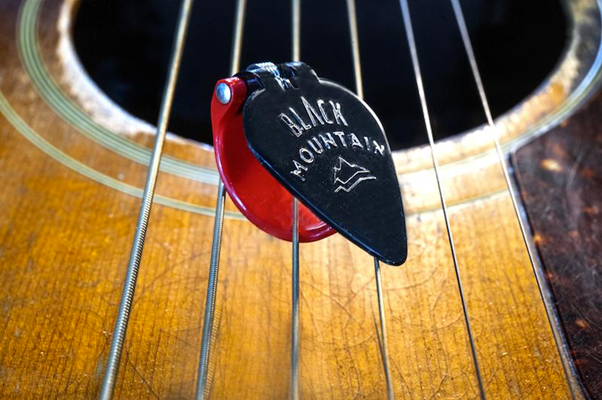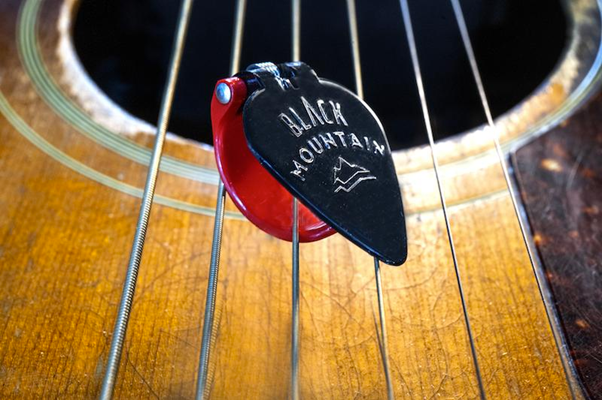 The purpose of a thumb pick is to provide greater precision and control when striking the strings, resulting in a consistent attack and enhanced sound quality. 
By using a thumb pick, you can achieve a brighter and more articulate tone compared to using just your bare thumb.
Thumb picks come in various shapes and sizes, allowing guitarists to find the one that suits their playing style and preferences. Some thumb picks have a flat pick-shaped blade, while others have a curved or angled blade, catering to different strumming techniques and string gauges.
Choosing the Right Thumb Pick:
When it comes to selecting a thumb pick, it's crucial to consider factors such as material, size, and shape. Experimentation is key to finding the thumb pick that feels most comfortable and produces the desired tone for your playing style.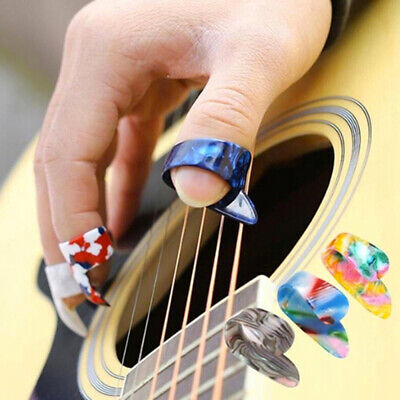 Material: 
Thumb picks are available in different materials, each with its own tonal characteristics. Plastic picks are commonly used due to their affordability, flexibility, and wide range of options. Metal picks provide a brighter tone with increased projection, while acrylic picks offer a balanced sound with durability.
Size: 
Thumb picks come in various sizes to accommodate different thumb widths. Finding the right size ensures a snug fit and promotes better control and comfort while playing. It's important to try out different sizes to determine the best fit for your thumb.
Shape: 
Thumb picks can have different blade shapes, including flat, curved, or angled. Each shape affects how the pick strikes the strings and influences the tone produced. Experiment with different blade shapes to find the one that complements your playing style.
Placement and Technique:
Proper placement of the thumb pick on your thumb is crucial for achieving the best sound and ease of use. Follow these guidelines for optimal placement:
Positioning: 
Place the thumb pick on the side of your thumb, just past the tip. The pick should extend slightly beyond your thumb to allow for contact with the strings.
Angle: 
Experiment with the angle at which the pick contacts the strings. Slight adjustments can significantly impact your tone and technique.
Grip: 
Find a comfortable grip that allows you to maintain control and precision. Avoid gripping the pick too tightly, as it can restrict your thumb's natural movement.
Technique: 
Explore different thumb-picking techniques, such as alternate thumb picking, Travis picking, or hybrid picking, to expand your repertoire and incorporate the thumb-pick effectively into your playing style.
Thumb Pick vs. Bare Thumb – How Do They Compare?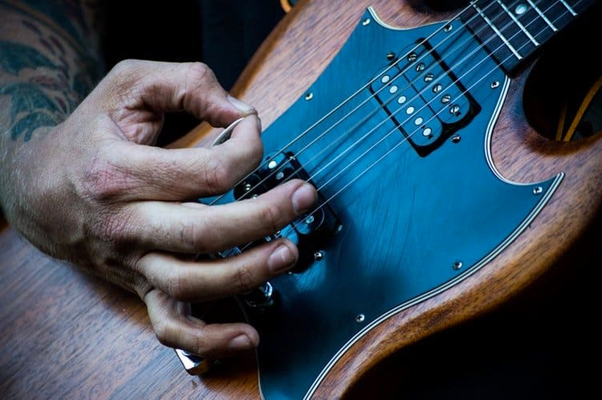 Sound and Tone:
One of the primary considerations when deciding between a thumb pick and a bare thumb is the difference in sound and tone produced.
Thumb Pick Sound: 
Using a thumb pick tends to result in a brighter, more focused tone. The pick's contact with the strings creates a precise attack, allowing for clear articulation and increased volume. 
The enhanced projection and definition provided by a thumb pick make it well-suited for genres that require a strong, rhythmic foundation, such as country, bluegrass, and blues.
Bare Thumb Sound: 
Playing with a bare thumb produces a softer, mellower tone. The natural flesh of your thumb generates a more rounded and warm sound. 
This approach is often favored in fingerstyle playing and genres that call for a gentler touch, such as folk and classical music.
Suitability for Different Playing Styles:
The choice between using a thumb pick or a bare thumb depends on the playing style and musical genre you're pursuing.
Thumb Pick Suitability: 
Thumb picking with a thumb pick excels in styles that emphasize strong bass lines, intricate patterns, and rhythm guitar playing. The added precision and control of a thumb pick make it easier to execute complex picking patterns while maintaining a consistent rhythm. 
It is particularly well-suited for the country thumb style, where the thumb acts as the anchor for a steady bass line while the fingers play melodies and chords.
Bare Thumb Suitability: 
Using your bare thumb is ideal for styles that require a softer and more delicate touch. Fingerstyle playing, where each finger plucks individual strings, often benefits from the natural warmth and nuance that a bare thumb provides. 
This approach allows for greater expressiveness and dynamics, making it popular in classical guitar and fingerstyle arrangements of various genres.
Factors to Consider in Choosing between Thumb Pick and Bare Thumb:
Several factors should be considered when deciding whether to use a thumb pick or your bare thumb:
Personal Preference and Comfort: 
Your personal preference and comfort while playing should be a primary consideration. Experiment with both approaches and choose the one that feels most natural and enjoyable for you.
Musical Genre and Desired Sound: 
Consider the genre of music you primarily play and the sound you wish to achieve. If you gravitate towards styles that require a strong rhythmic foundation and precise attack, a thumb pick may be the better choice. 
On the other hand, if you prefer a softer, more expressive tone and value the natural warmth of fingerstyle playing, using a bare thumb might be more suitable.
Technical Requirements: 
Some songs or techniques may call for the use of a thumb pick due to their specific requirements. 
For instance, hybrid picking, a technique that combines pick playing with finger style, often benefits from the added precision and power of a thumb pick.
Which Approach Is Best for You?
Now, let's find out what approach is the best for you.
Assessing Your Needs and Goals:
To determine whether to use a thumb pick or your bare thumb, take into account your musical aspirations and playing style. Reflect on the genres and techniques you are most interested in exploring. Consider seeking inspiration from guitarists who use thumb-picking extensively to identify if their sound aligns with your musical goals.
Transitioning to Thumb Pick Usage:
If you decide to incorporate thumb-picking into your playing, it may require an adjustment period. 
Start by practicing simple exercises and familiar songs to get accustomed to the thumb pick's feel and technique. Gradually increase the difficulty and complexity of your repertoire as you develop proficiency. Patience and consistency will be key during this transition.
Read Also: Best Guitar Picks for Beginners
Conclusion:
Thumb picking is a versatile technique that adds a new dimension to your guitar playing. By understanding the basics of thumb picks, exploring the differences between using a thumb pick and a bare thumb, and considering your individual needs and goals, you can make an informed decision on which approach is best for you.
Whether you choose to embrace the precision and power of a thumb pick or prefer the softer touch and expressiveness of a bare thumb, both approaches have their merits. Thumb picking excels in genres that require a strong rhythmic foundation and intricate patterns, while a bare thumb shines in styles that prioritize dynamics and a mellower tone.
Let us know in the comments if you have any other questions or queries.
---
References:
Bay, Collin. Glossary of Guitar Terms. Mel Bay Publications, 2013.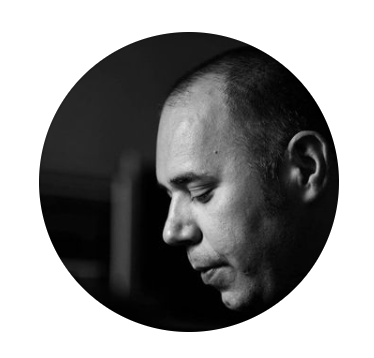 Marko is a passionate composer, producer, and multimedia artist with a Master of Music degree. His career involves performing, creating, and producing his own music in his home studio using digital and analogue equipment. Marko is a multi-instrumentalist (he plays guitar, bass, piano, theremin, and other instruments). performs live acts and DJ sets, and works on feature and short films, documentaries, festivals, theaters, and government initiatives.