Greensleeves is a popular 16th-century English folk song that you can learn to play on the guitar to put yourself ahead of other guitarists and impress your friends with this classic English tune!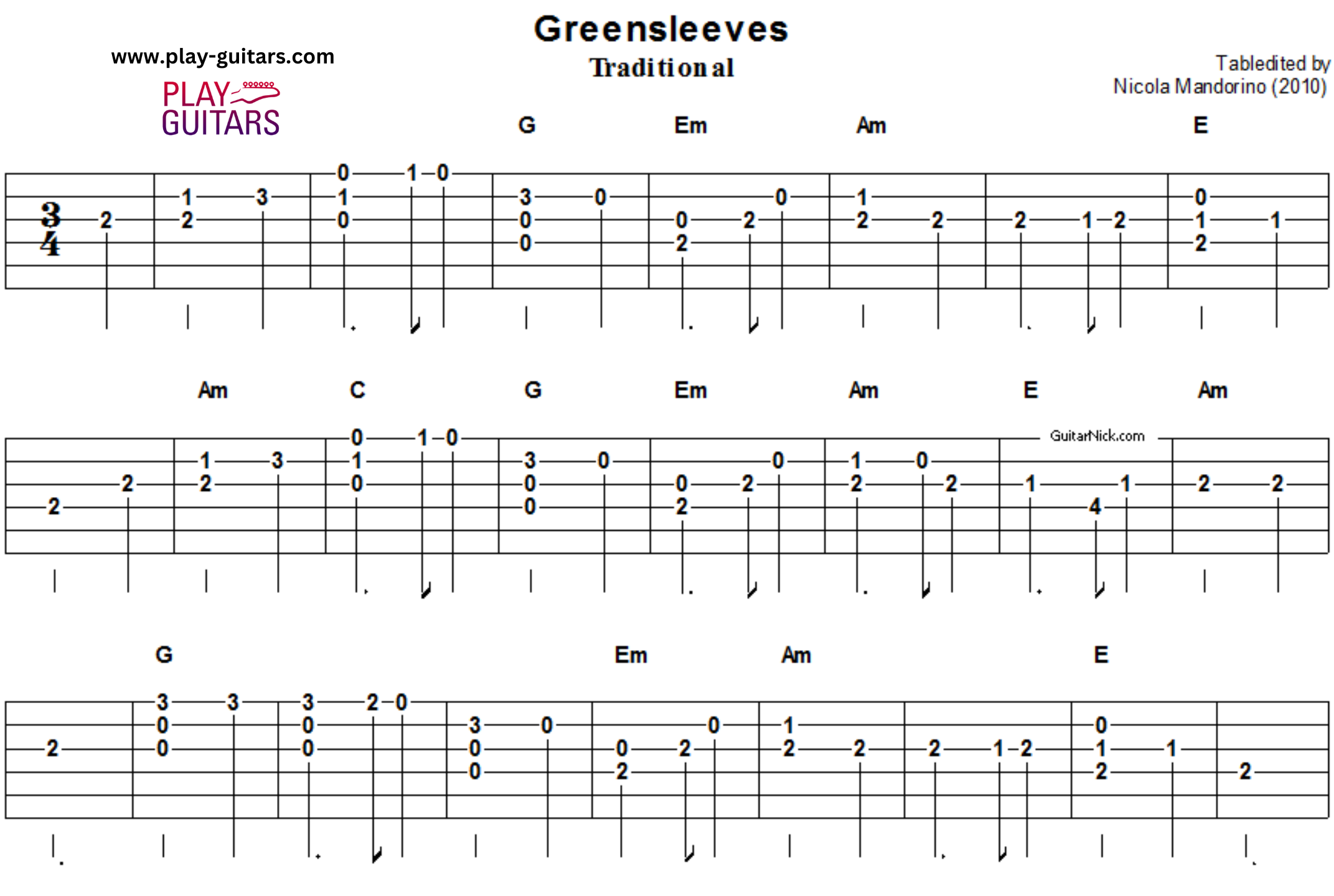 Learn to play the classic English folk song "Greensleeves" on guitar with our step-by-step guide and guitar tab notation. Explore the history and variations of the song, troubleshoot common issues, and become a master of this timeless melody. Perfect for guitar enthusiasts of all levels.
Without further ado, Let's get started

History of Greensleeves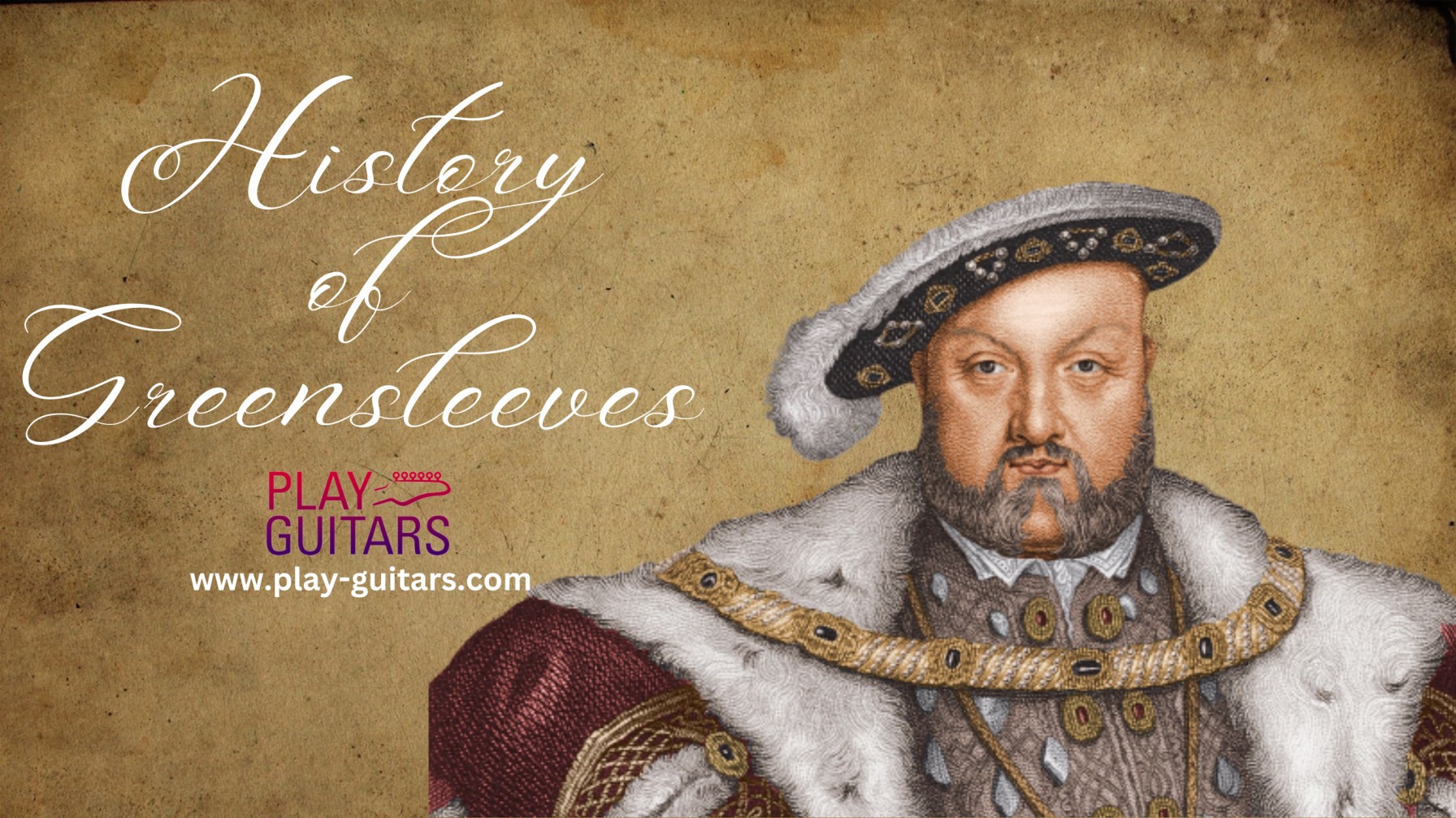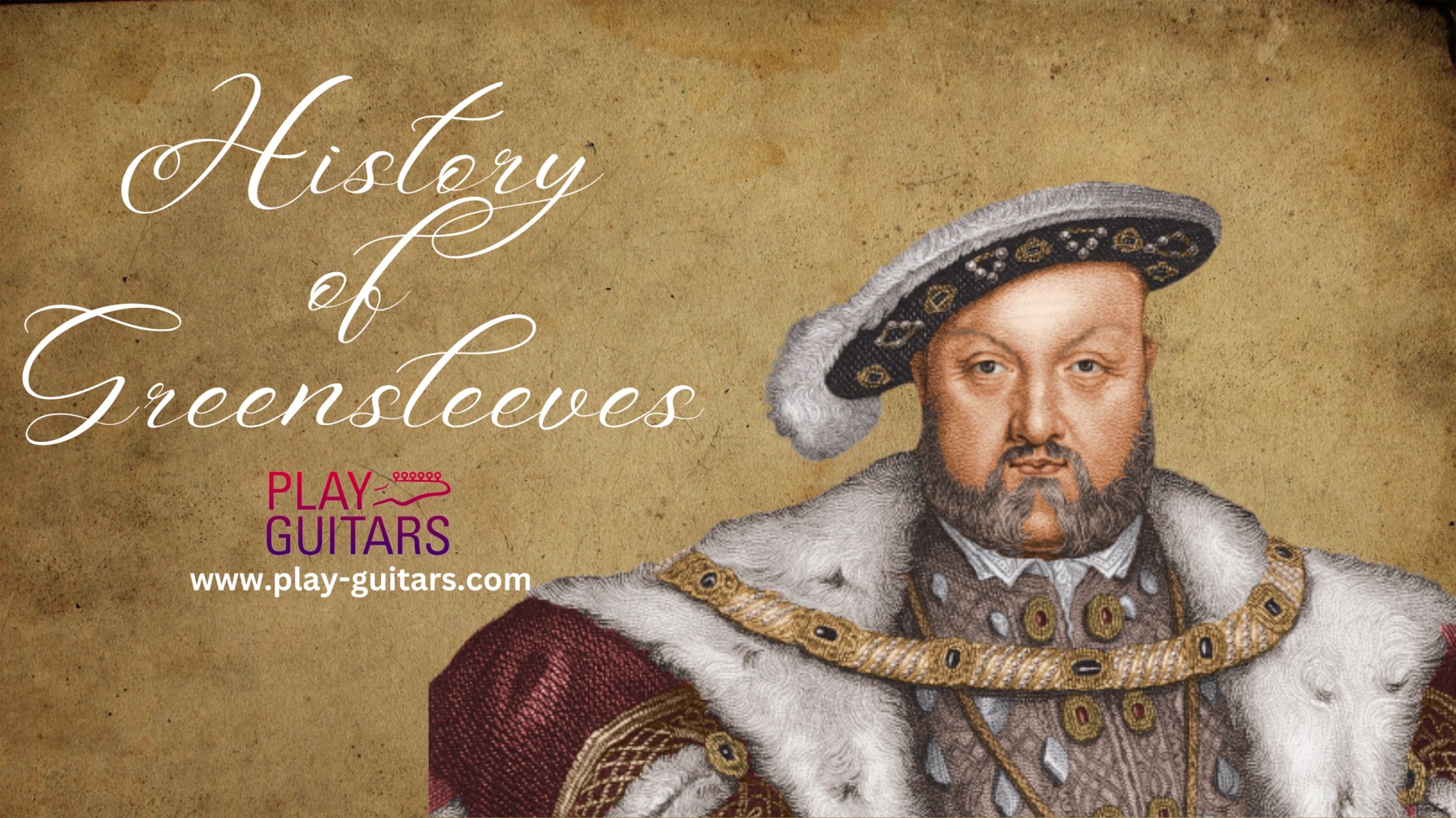 Greensleeves is a traditional English folk song and tune that dates back to the 16th century. The melody of Greensleeves has been used in countless variations over the centuries, from classical compositions to popular music and film scores.
The earliest known version of Greensleeves was published in 1580 as part of a collection called "A Handful of Pleasant Delights" by Thomas Ravenscroft. It is believed that King Henry VIII wrote it for his lover Anne Boleyn, but there is no definitive proof that this is true.
No matter who wrote it or what its original purpose may have been, Greensleeves has become a timeless classic and continues to be performed around the world today.

Understanding the Greensleeves Guitar Tab
The lyrics vary greatly depending on which version you are listening to, with some versions being more romantic and others being much darker in tone. But all versions have one thing in common: an underlying sense of sadness or longing for something lost.
Step-by-Step Guide to Playing Greensleeves on Guitar
Playing Greensleeves on the guitar is a Classic English tune that can be played by both beginners and intermediate players with a little practice. Here is a Step-by-Step Guide to Playing Greensleeves on Guitar:
Step 1: Gather Your Materials 
To play Greensleeves on guitar, you will need an acoustic or electric guitar, a set of picks, and an accurate tab of the song. If you don't have a tab handy, you can find songs, with a few variations here and there.
Step 2: Learn the Chords 
The most commonly used chords in Greensleeves are G major, A minor seventh and D major. Practice these chords until they sound clean and clear when played. 
Step 3: Get Familiar with the Tab 
Take a few minutes to study the tab of Greensleeves before playing it on guitar. Note the chord changes and the timing of each measure. 
Step 4: Play Along to the Tab 
Once you feel comfortable with the tab, start playing along with it. Focus on keeping time while switching between chords smoothly and accurately. 
Step 5: Practice Varied Tempos 
To get a better idea of how Greensleeves should sound when played correctly, practice playing it at different tempos and speeds. This will help you become more familiar with the tune and make your performance sound more natural and authentic. 
Step 6: Add in Some Improvisation
Have Fun! As you become more comfortable with Greensleeves, add in some improvisation or experiment with variations on the melody to make it your own unique version of the song. 
By following these steps, guitarists will be able to get to grips with the Greensleeves guitar tab and develop a strong sense of the song's structure. With practice and dedication, players can begin to add their own flair to the classic tune and make it their own.  Happy strumming! 
Tips to Master Greensleeves Guitar Tab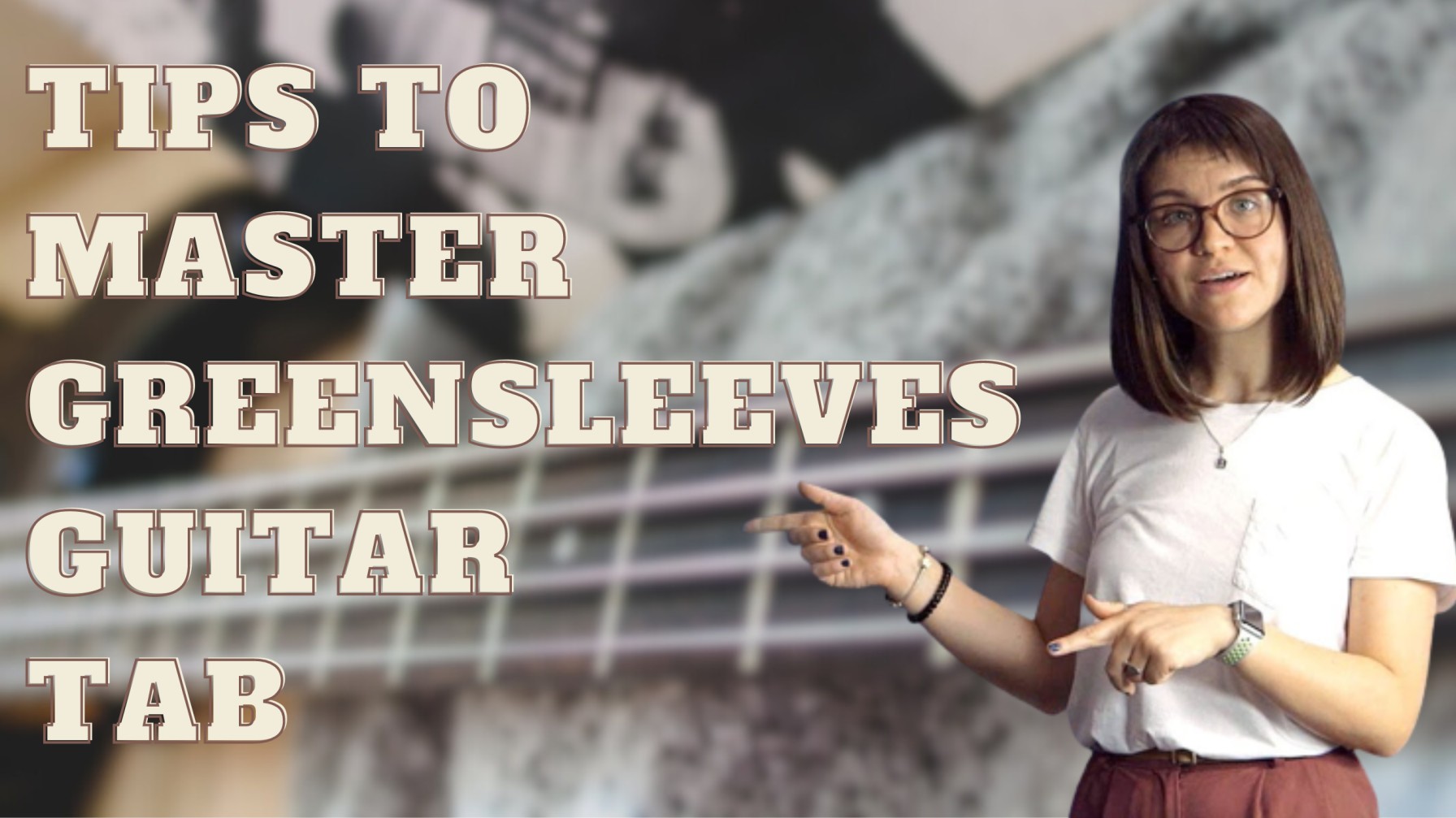 Here are some of the tips and suggestions besides the step-by-step guide that can help you mastering the Greensleeves Guitar Tab:
Choose the Right Strings for Your Instrument.

Practicing Chords and Scales to Perfect Your Skills.

Focus on Clean Chord Changes.

Use Proper Fingerpicking Technique.

Develop effective strategies to memorize notes & tabs quickly.

Start Slowly and Gradually Increase Speed.

Practice on improving speed with accuracy.

And most importantly – Practice with consistency.
Adaptations of Greensleeves
Greensleeves has been reimagined and adapted by musicians in different genres and styles. Over the centuries, Greensleeves has undergone countless variations and adaptations, ranging from jazz and rock to classical and Celtic. Some of its popular adaptations are:
Jazz Adaptation
Greensleeves has been adapted into a jazz tune by various artists. In this adaptation, the song's melody is played in a swing style, with improvised solos and harmonies added to create a jazz sound.
Rock Adaptation
Greensleeves has also been adapted into a rock tune by various bands. In this adaptation, the song's melody is played with distorted electric guitars and heavy drums, giving it a rock edge. 
Classical Adaptation
Greensleeves has been adapted into a classical piece by various composers. In this adaptation, the song's melody is arranged for orchestral instruments such as violins, cellos, and horns, giving it a grand and majestic sound. 
Celtic Adaptation
Greensleeves has been adapted into a Celtic tune by various musicians. In this adaptation, the song's melody is played on traditional Celtic instruments such as the tin whistle, bodhrán, and fiddle, giving it a Celtic folk sound. 
Vocal Adaptation
Greensleeves has been adapted with lyrics and performed as a vocal piece by various singers. In this adaptation, the melody is sung with lyrics that often tell a story or express a sentiment, adding an emotional dimension to the song.
Pop Adaptation
Greensleeves has been adapted into a pop song by various artists. In this adaptation, the song's melody is played with a modern pop sound, often with electronic instruments and a catchy beat.
Conclusion
The Greensleeves guitar tab is a popular and beautiful melody that has been enjoyed by music lovers for generations. Learning to play this song on the guitar can be a rewarding experience for guitarists of all skill levels. By following the tablature and practicing regularly, guitarists can develop the finger dexterity and musical sensitivity required to bring this timeless melody to life on their instrument. 
Whether played as a solo guitar instrumental or in a group setting, the Greensleeves guitar tab is a classic piece of music that continues to captivate listeners and inspire musicians today. So, pick up your guitar and start learning the Greensleeves guitar tab today! Most importantly – enjoy playing it!
FAQs
Is the Greensleeves guitar tab suitable for beginners?
Greensleeves Guitar Tab can be played by beginners and intermediate guitarists. All it requires is a little practice.
What type of guitar is best suited for playing Greensleeves?
Generally, Greensleeves can be played on any type of guitar but specifically an Acoustic guitar. An Acoustic Guitar with Nylon Strings is an ideal choice for this traditional English Folk Song.
Can Greensleeves be played on an electric guitar?
Yes! Greensleeves can be played on any type of guitar but to achieve that traditional sound of this song, Acoustic Guitar is recommended.
Can Greensleeves be played in different keys?
Yes, Greensleeves can be played in different keys by adjusting the placement of the capo or changing the fingerings of the chords.
---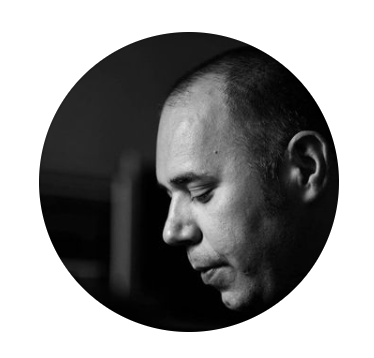 Marko is a passionate composer, producer, and multimedia artist with a Master of Music degree. His career involves performing, creating, and producing his own music in his home studio using digital and analogue equipment. Marko is a multi-instrumentalist (he plays guitar, bass, piano, theremin, and other instruments). performs live acts and DJ sets, and works on feature and short films, documentaries, festivals, theaters, and government initiatives.