What Is Open G Tuning: In-Depth Explanation + Famous Songs With Open G Tuning
Introduction
Most of the songs we know and love are written in standard tuning which is exactly why everyone starts playing the guitar by learning scales and chord shapes in standard tuning. If you're a beginner, you might want to stick to the standard for a little longer. If however you already feel comfortable with the pentatonic, a few different scales, and changing chord shapes at a whim you might be looking for a new challenge. This is where alternate tunings come into play.
Unfortunately, many guitarists never dare to brave the open sea of alternate tunings as these might seem like something only virtuoso players delve into. We're here to debunk this common notion.
In reality, most alternate tunings might be even easier to play in once you get the hang of the basics. This is because most alternate tunings don't require players to memorize tons of chord shapes and scale patterns as the standard tuning does. In fact, if we're talking about improvisation and jamming, many alternate tunings are way easier than the standard EADGBE.
Some of the most common alternate tunings include DADGAD, drop-D, open-C, GABDEG, and many others including our favorite tuning, and the one we will be discussing today, the DGDGBD tuning, also known as the Open-G tuning.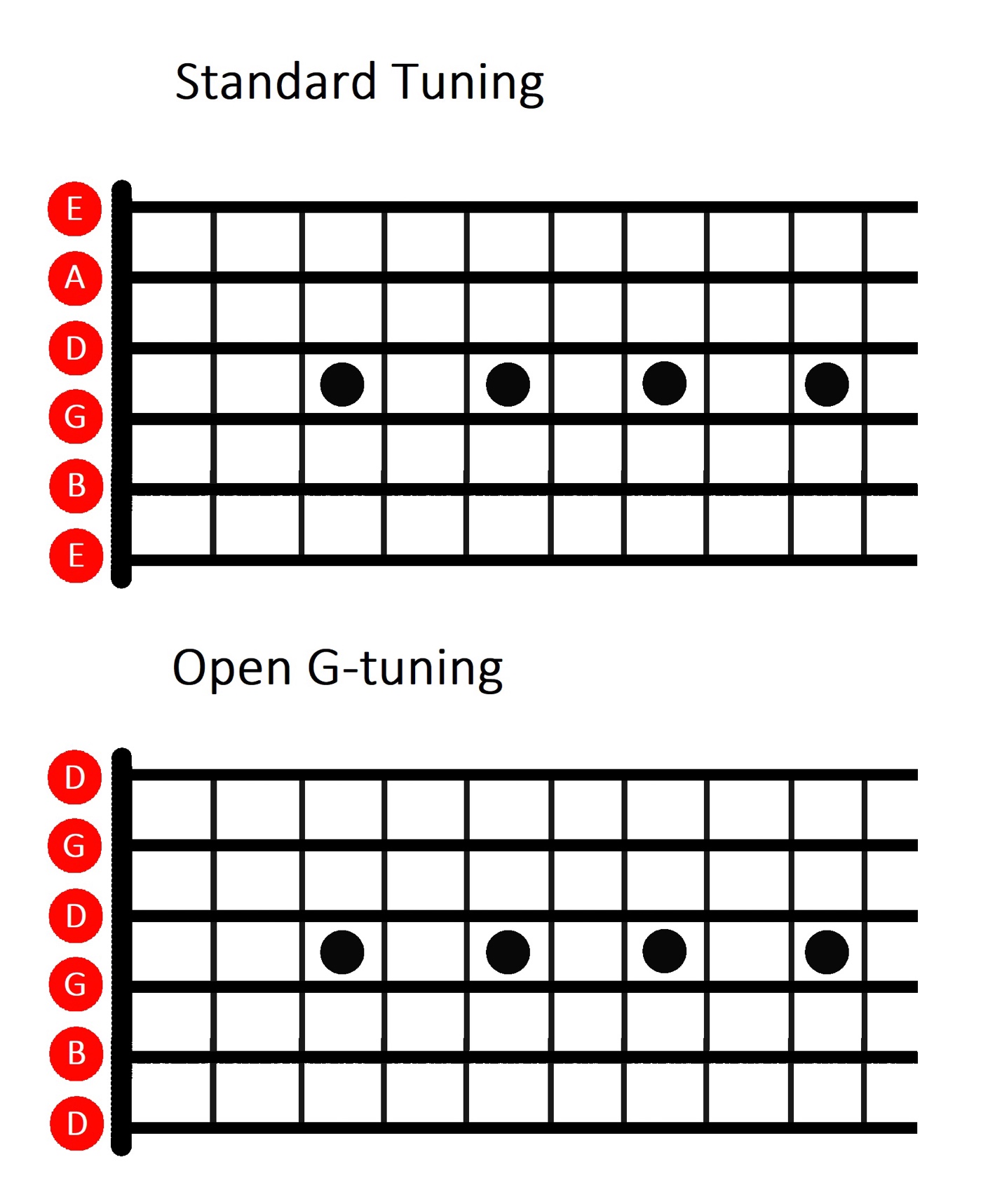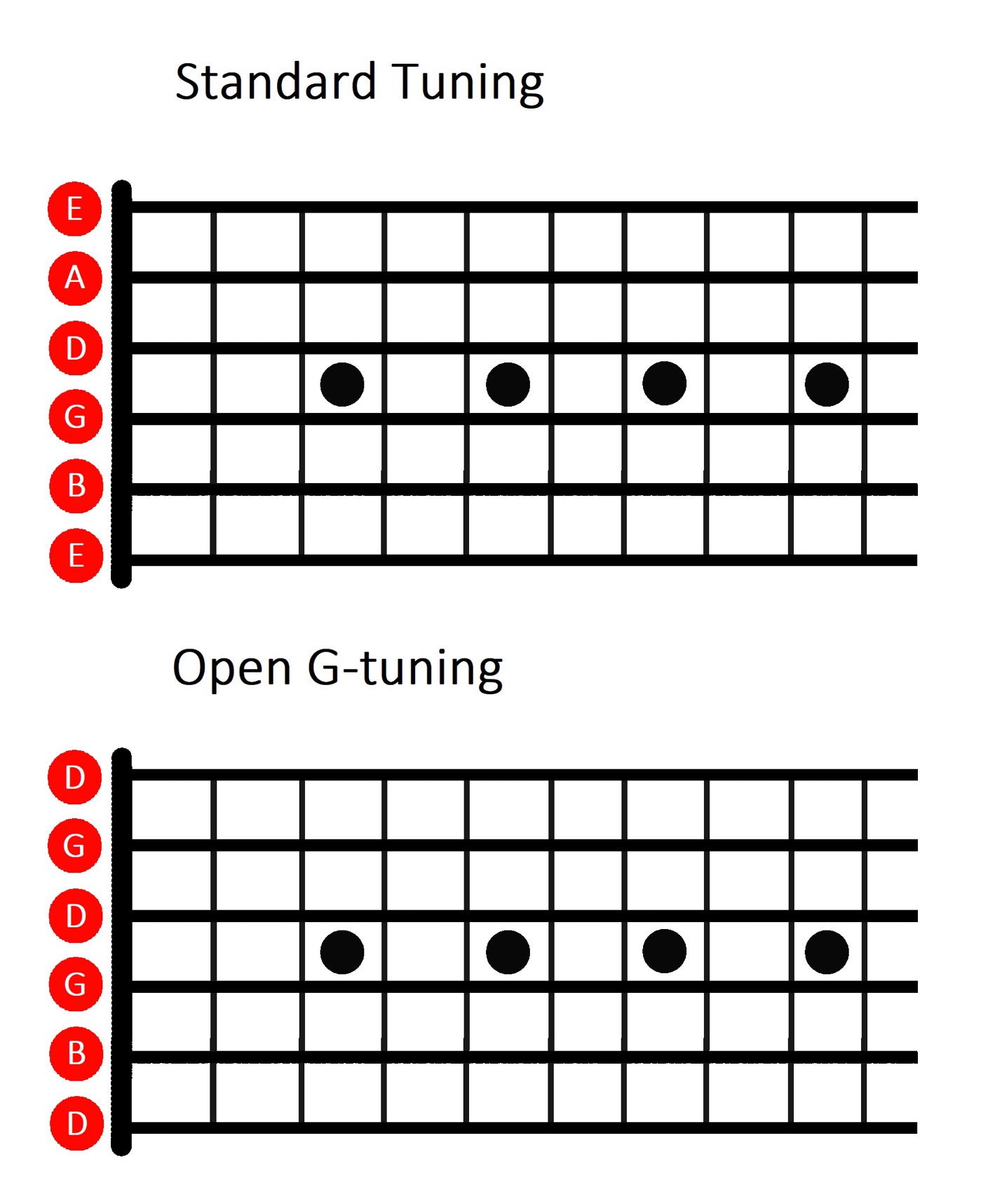 Overview
As its name suggests, open-G tuning allows you to play a G-major chord by just strumming all six strings at once. You might have noticed that the open-G tuning features a D note on the 6th string, and this is what makes it so special compared to open-D for example. The inverted triad on the 5th and 6th strings in open-G tuning allows for some interesting bass lines and chords.
It is worth mentioning that many players who use this tuning prefer to mute the 6th string when playing bare chords because of the inverted triad, as it turns every bare chord into the first inversion of the chord in question.
This being said, many players fall in love with this tuning specifically because of the interplay between the lower and higher strings. The lower string downtuned to such an extent provides a deep, warm droning sound giving spacey hypnotic vibes. The upper three strings force the player to clustered, close-voiced chords which give a wonderful contrast to the lower three strings. The open-G tuning opens up a whole new world of sonic landscapes that you'll surely have fun exploring.
Since changing your tuning so much might require you to be patient and retune a few times until your guitar adjusts to the new string tension, many guitarists prefer to use medium gauge strings. These might be harder to fret, but they will make sure your guitar stays in tune and will help you get rid of the buzzing sound that sometimes happens when you tune some of the strings so low.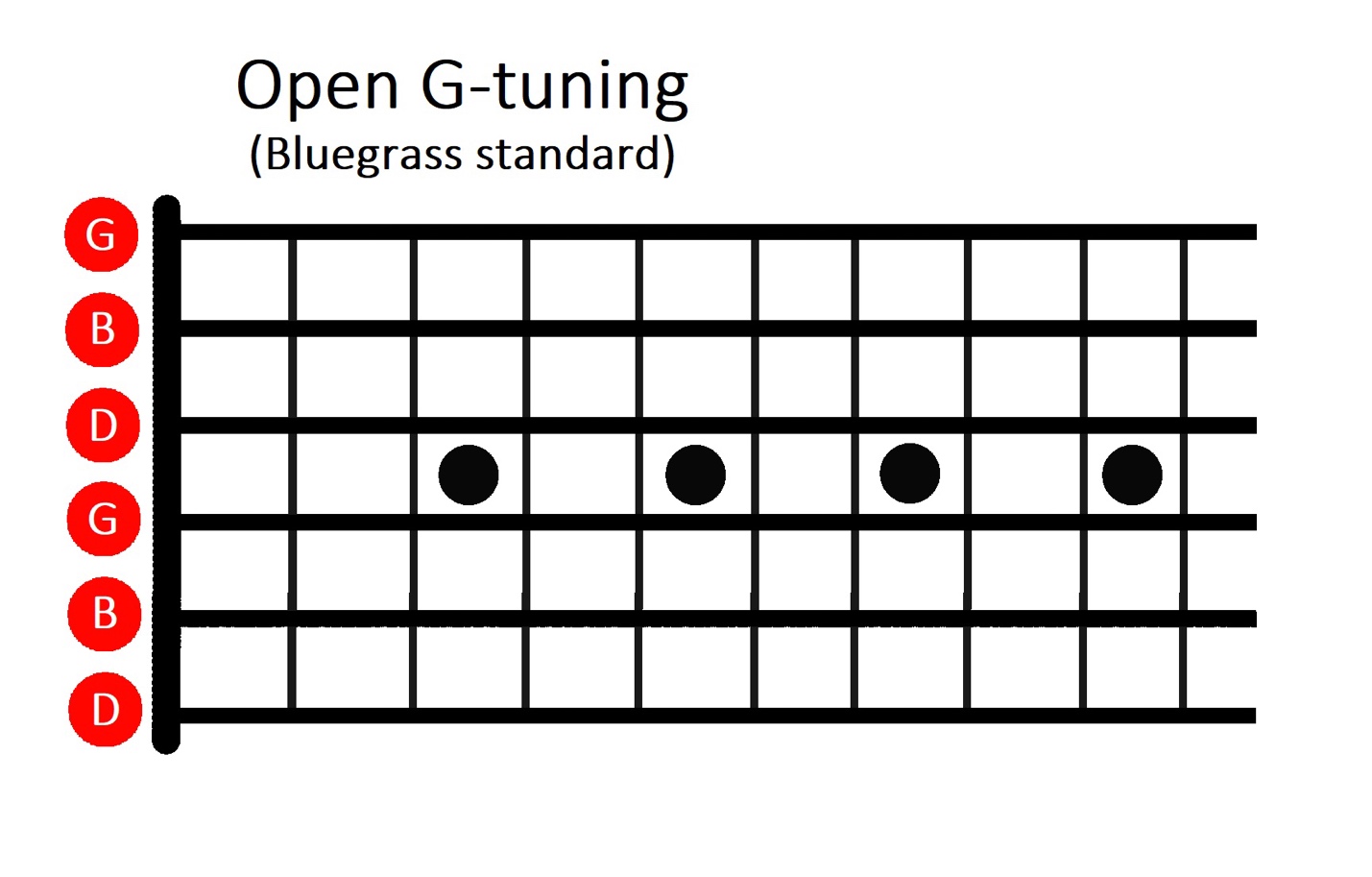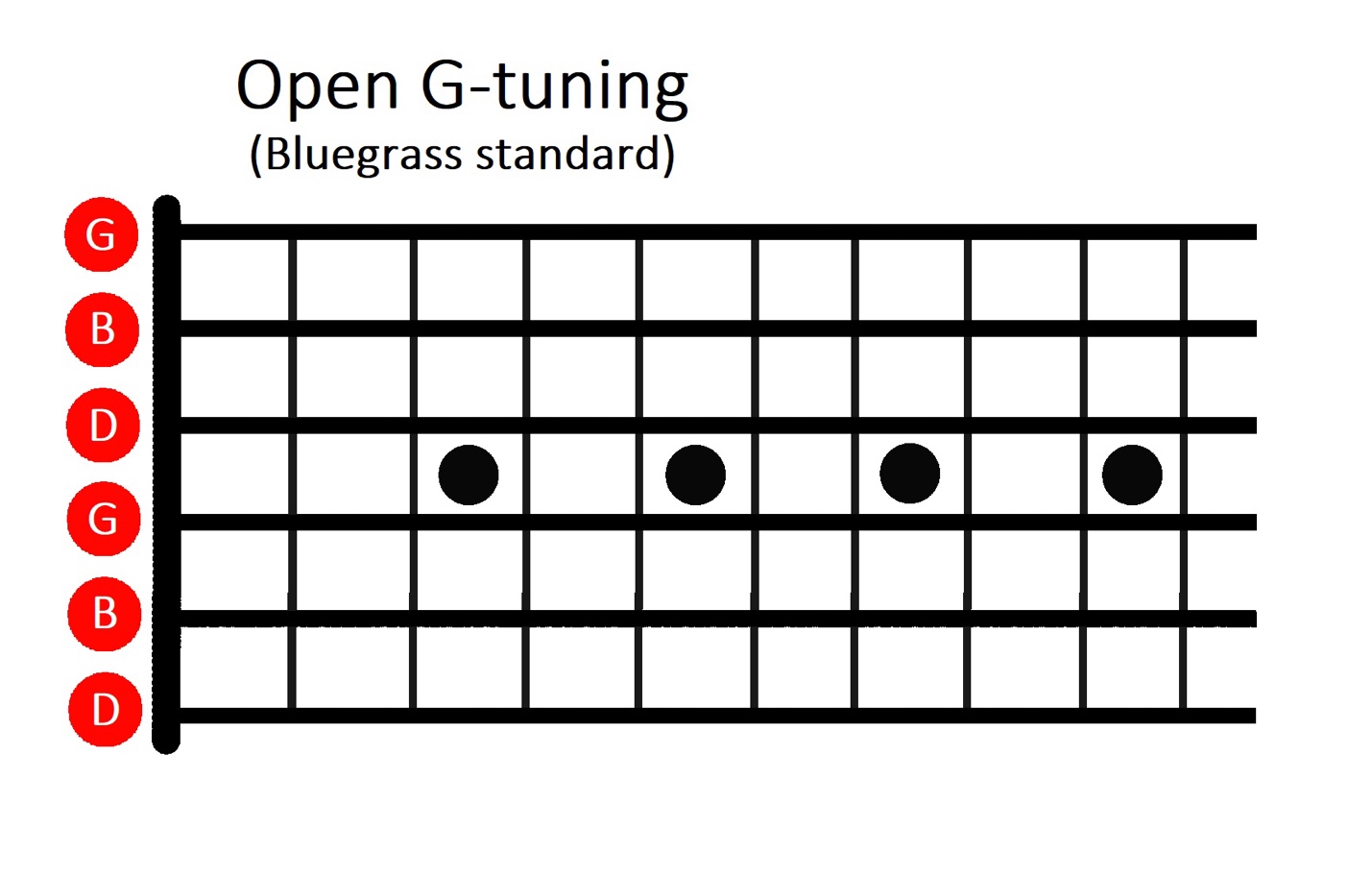 History and Popularity
Though it is not precisely known when did this particular tuning first become popular, digging around the internet you might find out that this tuning was used before recording technology was even a thing. In fact, some of the most popular tunes of the early 19th century required players to tune their guitars to open-G tuning. These tunes would, later on, inspire innumerable folk, country, and old-time blues musicians such as Sam McGee, Bo Carter, Elizabeth Cotton, and Son House to mention just a few.
By the early 20th century, the open-G tuning was commonly being used by delta blues guitarists such as Son House's student Richard Johnson. It was rumored that Johnson had sold his soul to the devil in order to get his guitar skills, but we know that he was an avid fan of the open-G tuning which confused many musicians at the time, claiming that it was impossible to play the way Johnson did. The alternate tuning might have been his secret all along.
After reading this you might think that the open G-tuning was used solely in North America, but you'd be wrong. Research suggests that the tuning was used in Nigeria and Madagascar in Africa. Halfway across the globe, the tuning was wildly popular in Hawaii where it was actually the most common tuning in slack-key guitar playing.
While the open G tuning obviously has a history longer than what most musicians would have assumed, it actually remains popular to this day with many modern-era musicians writing some of our favorite songs in the tuning. Some of the most popular guitarists who experimented with the tuning include Muddy Watters, Chat Atkins, Jimmy Page, Bob Dylan, and many others.
The tuning didn't remain a prisoner to blues music for long though, as bands such as Pink Floyd, Pearl Jam, and Black Keys have also used it to varying extents in their musicianship too.
How to tune to open-G tuning?
Getting an open-G tuning can be done in a few ways actually. For example, some musicians prefer to keep their root in G so they tune their lowest string up three halftones, resulting in G G D G B D, which is a common variation of the open-G tuning. The so-called resonator guitars, used in bluegrass music, commonly use the G B D G B D variation of the tuning. But today we will be focusing on the most common open-G tuning, the D G D G B D tuning.
As you might have noticed, this tuning only requires you to adjust three strings on your guitar in order to get from E A D G B E to D G D G B D tuning. To start, tune your lowest string, the E string, down a whole step to D. This should result in a note that is one octave below the D on your 3rd string. Next, you want to tune down the A string a whole step until you get to G. This G should be one octave lower than the 4th string G.
The D, G, and B strings stay the same as they are part of the open G tuning. To finish off, tune down your highest string from E to D. That's one whole step down again. The resulting D should be one octave higher than the D on the 3rd string.
Now strum all six strings, and voila, you've got a wonderful, deeply resonating open-G chord. Now you might be asking yourself what you should do now. Spend some time playing with it, and when you feel ready you can try to tackle some popular open G-tuned songs listed below.
60% Off Guitar Tricks Full Access! Use coupon code: JOIN60
Famous songs written in open-G tuning
While this might not be the most popular tuning for guitar, songs made in open-G are usually impossible to play properly in standard tuning. As we've mentioned before, country, folk, and blues music have relied heavily on open-G tuning in the past, but classic rock musicians also use it from time to time to spice things up and add a distinctive bluesy note to their sound. So let's take a look at some of the most popular songs in open-G.
SEE ALSO: Learn Guitar With Apps: The 13 Best Ones To Use Today
Bad to the Bone – George Thorogood
To start off with a classic, Bad to the Bone is a legendary song with a strong attitude that is tons of fun to play. Inspired by a classic blues riff, the song features a driving shuffle rhythm and makes amazing use of the slide. Most of the song is in G with the same riff rocking on throughout the song. While the song is great for beginners, it is also great for practicing licks and improvisation, since a lot of stuff can be added to the main riff to make it dirtier and meaner.
Start me Up – Rolling Stones
Surprisingly enough, this song was originally actually meant to be a reggae song. Rumor has it that the band recorded around 40 takes of the song before putting it on hold for another five years. It is worth mentioning that Keith Richards' variation of the tuning includes removing the bottom 6th string altogether, so this tune only makes use of the top 5 strings.
Daughter – Pearl Jam
Another song that makes use of the second variation of the open G tuning, with the bottom E string tuned up to a G is Daughter by Pearl Jam. Starting off with a beautiful C add9 arpeggio, the song quickly launches off when the drums kick in. Strumming all of the strings is heavily encouraged here as it will help bring out the big, open feel of the song.
Rain Song – Led Zeppelin
Produced by the legendary Rick Rubin, this is one of those songs that is next to impossible to classify. The song is melancholic, strong, and moody, at the same time. The masterpiece was written as a response to George Harrison who once mentioned that Led Zeppelin never writes ballad songs. The result is one of the greatest rock ballads of all time which also features an open G tuning.
Fearless – Pink Floyd
Coming off one of Pink Floyd's strangest albums, "Meddle", Fearless is probably not in the top 10 most popular Pink Floyd songs but it has incredible depth. The song also uses an alternate open G tuning, GGDGBB, but once you manage to tune your guitar properly, the song is rather easy to play. It is important to mention that Gilmour layers 4 guitars in this song, so if you feel like you're not quite getting the right sound if you're playing it alone, don't worry.
I Can't Be Satisfied – Muddy Watters
A timeless delta blues standard written by the father of Chicago blues, Muddy Watters, I Can't Be Satisfied, is another song that requires you to tune to open G tuning. Though it was recorded way back in 1948, the song is tons of fun to play even to this day and if you're a blues aficionado, you should definitely learn this one as it will greatly enrich your musical vocabulary.
Death Letter – White Stripes
Another delta blues classic, Death Letter was originally written by Son House but went on to get adapted and covered by many bands including the Grateful Dead, Chris Thomas King, Tony McPhee, and the White Stripes. The song as performed by the White Stripes has a very strong attitude with a little bit of overdrive on the guitar. It is a rather simple 12-bar blues featuring some dirty guitar slides that are guaranteed to get the crowd going.
Romeo and Juliet – Dire Straits
The evergreen love song written by Mark Knopfler uses the open G tuning with a capo on the third fret. Mark mentions in one interview that the song was actually a result of him playing around and experimenting with the open G tuning. Though the arrangement of the song is relatively simple, it includes lots of arpeggios and interesting chord shapes which might prove to be a little bit too much for a beginner on guitar.
Conclusion
There are of course many more songs written in open G tuning, but we hope that these few songs can help you get the feel of what does open G tuning sounds like and inspire you to research more on your own. As you can see, alternate tunings are nothing to be scared of, and many people have used them to varying degrees in the past sometimes resulting in epic songs that will surely remain popular for a long time to come.
If you want to learn more about open G tuning, the best thing you could do to start is pick up your guitar and tune it properly. The chord shapes in open G are relatively easy for the most part and scales are no big problem too. We're sure that you'll be rocking some interesting lines in no time if you give this wonderful tuning a chance.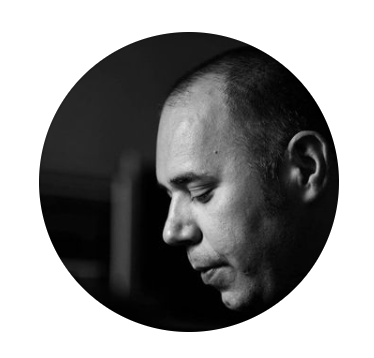 Marko is a passionate composer, producer, and multimedia artist with a Master of Music degree. His career involves performing, creating, and producing his own music in his home studio using digital and analogue equipment. Marko is a multi-instrumentalist (he plays guitar, bass, piano, theremin, and other instruments). performs live acts and DJ sets, and works on feature and short films, documentaries, festivals, theaters, and government initiatives.