With its double courses of strings and distinctive sound, the 12-string guitar adds depth and complexity to any musical piece.
Whether you're a seasoned guitarist looking to explore new sonic possibilities or a curious beginner drawn to its enchanting allure, this guide is here to help you unlock the secrets of playing a 12-string guitar.
In this blog post, we will delve into the techniques, tuning methods, and playing styles that will enable you to harness the full potential of this remarkable instrument.
Let's get started.
What is a 12-String Guitar?
Playing a 12-string guitar may seem daunting at first, but with some practice and a few adjustments to your technique, you'll soon be creating beautiful melodies on this unique instrument.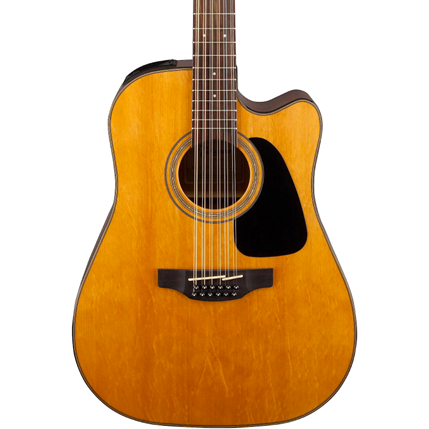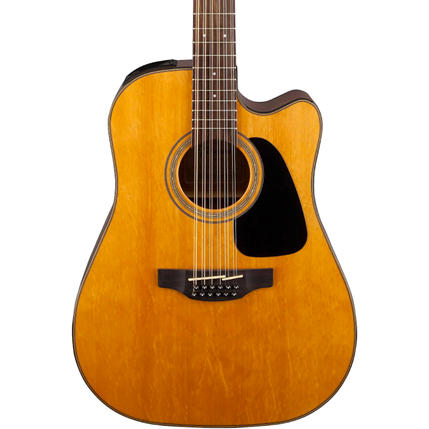 While the basics of playing a 12-string guitar are similar to a standard six-string model, there are some techniques and considerations specific to this instrument that can help enhance your playing experience.
Adjusting to the Instrument:
When you first pick up a 12-string guitar, you may notice some differences compared to a six-string model. The neck of a 12-string guitar is slightly wider to accommodate the extra strings, which might take some getting used to. 
Additionally, the instrument may feel a bit heavier due to the additional strings. To ensure a comfortable playing experience, consider investing in accessories like a capo designed for nylon-string instruments, which can help alleviate some of the strain.
Fretting on a 12-string guitar requires some adjustments to maintain a consistent tone and prevent accidental muting of strings. Many guitarists flatten their hands while fretting instead of using just the fingertips. 
This technique allows for a larger surface area of contact with the strings, ensuring both the standard and matched strings ring clearly. 
Remember to keep your fingers arched and avoid leaning over the fretboard. This will help you maintain proper hand position and avoid muting adjacent strings.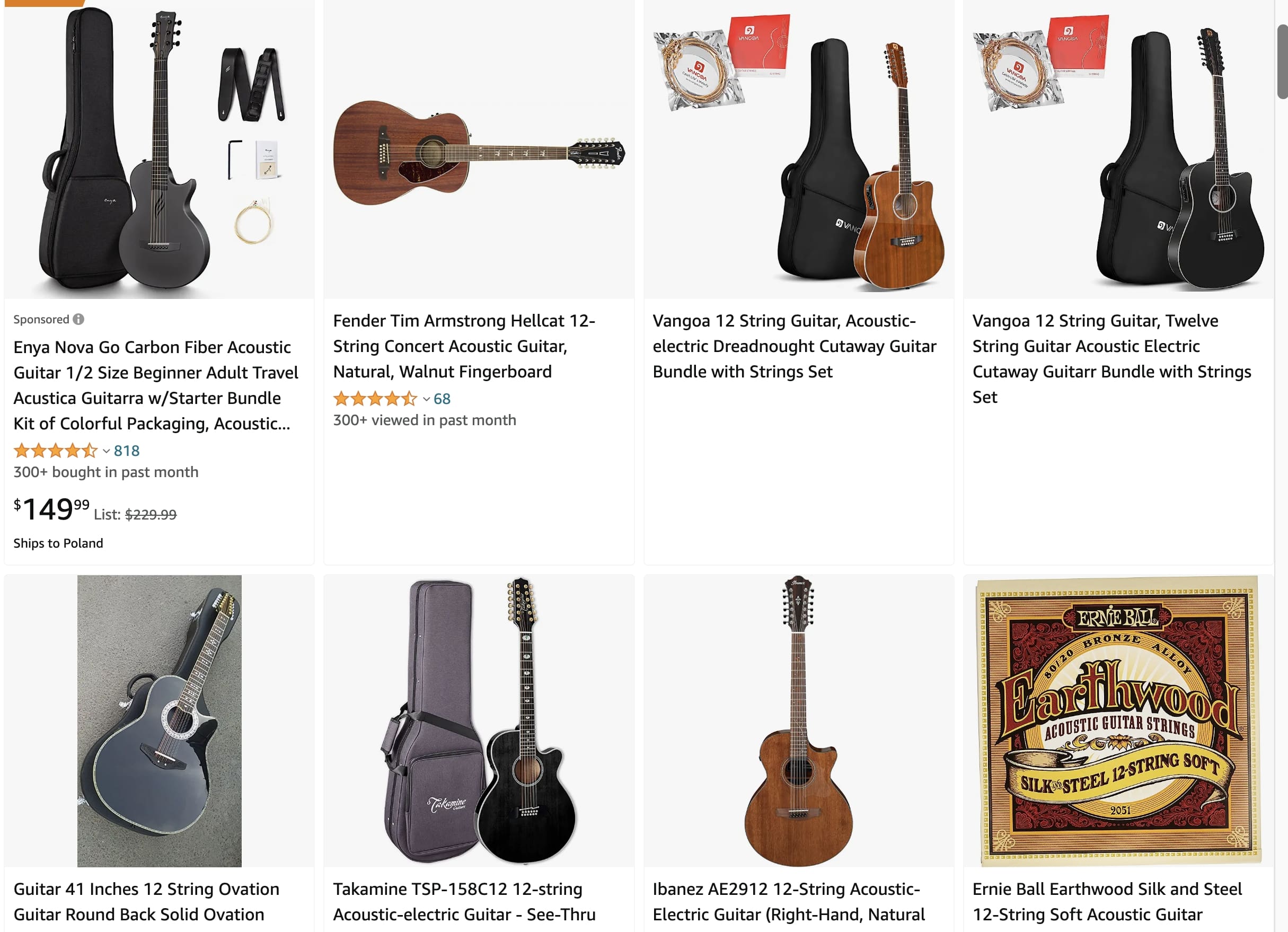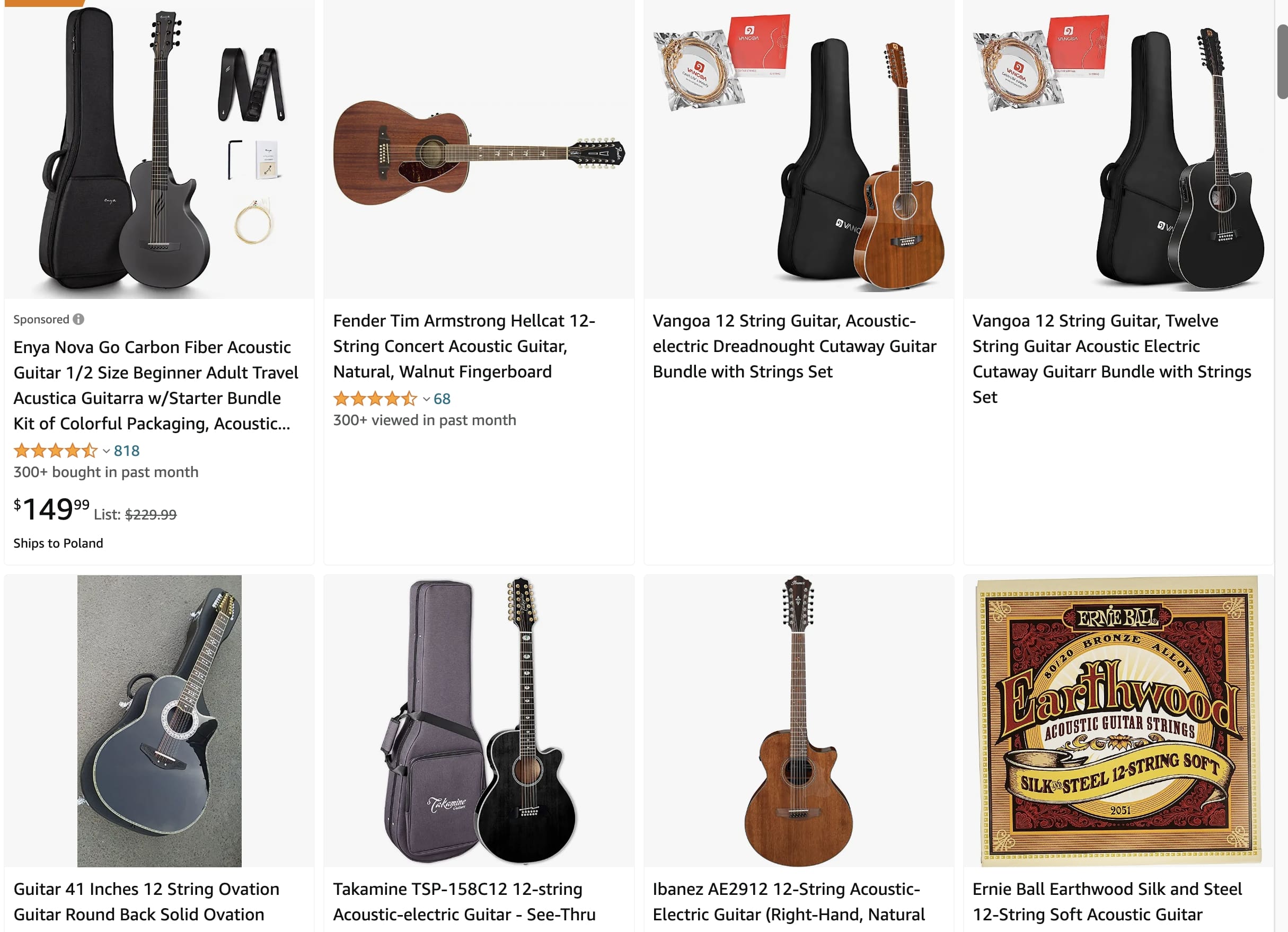 The extra strings on a 12-string guitar can make picking and strumming a bit more challenging initially. The instrument may feel stiffer due to the additional tension from the strings. 
To overcome this, practice keeping your hands and wrists relaxed and in motion while strumming. This will help you develop a fluid and compact strumming motion, allowing you to play single-note lines and chord progressions with ease. 
Consistent practice focusing on all 12 strings simultaneously will help you become more comfortable and proficient in playing the instrument.
Developing a consistent practice routine is essential for mastering any instrument, and the 12-string guitar is no exception. Set aside dedicated practice time to work specifically on your 12-string guitar skills. 
Start by focusing on individual techniques, such as fretting and picking, and gradually incorporate them into playing full songs. Take your time to understand the unique characteristics of the instrument and experiment with different playing styles to develop your own sound.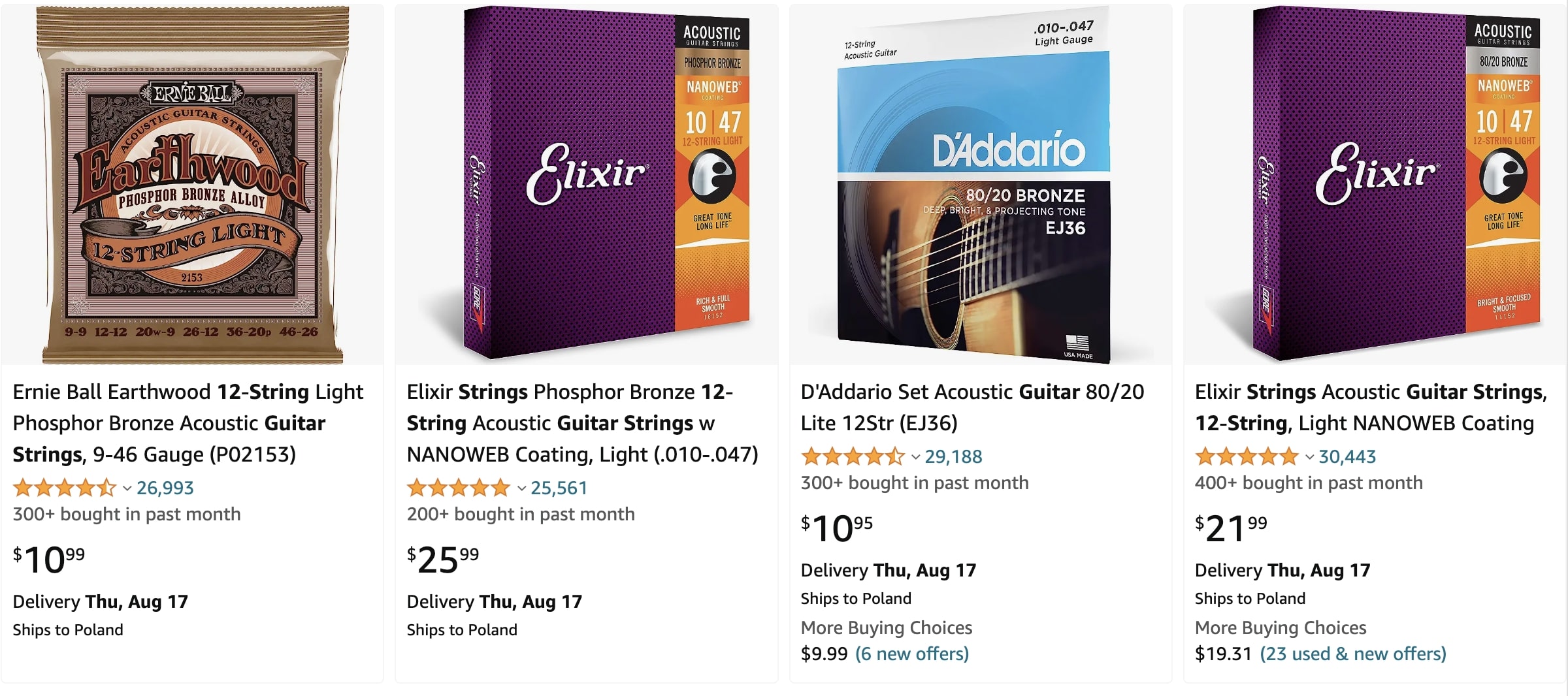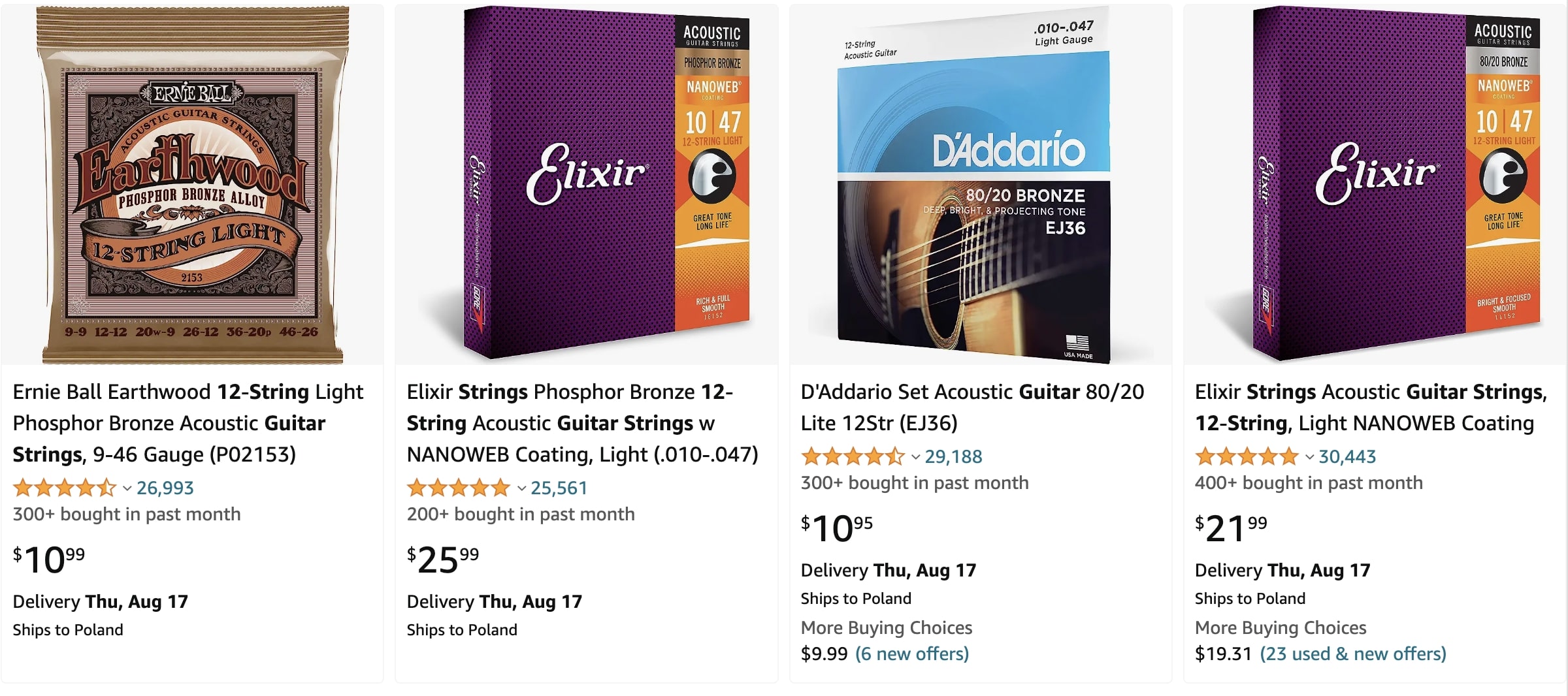 How Do You Tune a 12-String Guitar?
Tuning a 12-string guitar is an essential step in getting the best sound and playability out of this unique instrument.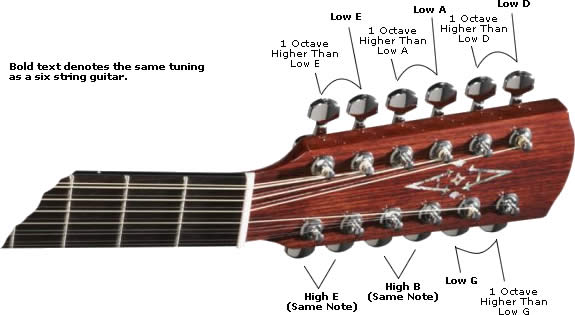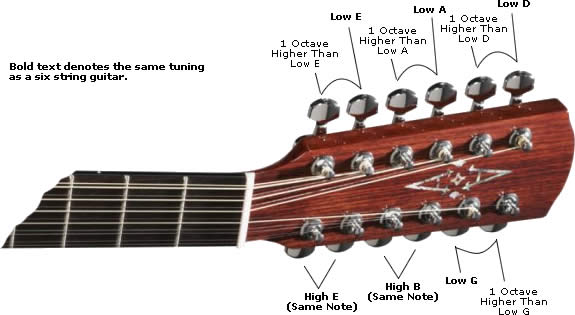 While the tuning process for a 12-string guitar follows the same principles as a standard six-string model, there are a few considerations specific to the additional strings. 
The standard tuning for a 12-string guitar is the same as that of a six-string guitar, but with each string doubled. 
The lower four strings have pairs of higher notes, while the top two strings have double-coiled strings at the same pitch. This arrangement provides a rich and harmonically complex sound.
Adding six additional strings to a 12-string guitar increases the tension on the neck and body of the instrument. This is especially crucial for acoustic models with thinner soundboards. 
To minimize the risk of damage, it is recommended to remove all the strings from one side at a time when restringing or tuning a 12-string guitar. This helps maintain the balance of tension across the instrument and reduces the strain on the neck.
Tuning the High-Octave G String:
One of the most important factors to consider when tuning a 12-string guitar is the high-octave G string. This string, located at the highest position on the neck and body of the instrument, carries the most tension compared to other strings. 
Exercise caution while tuning this string to avoid accidentally snapping it. Gradually tune it up to the desired pitch, and avoid using a string winder to speed up the process, as it may cause the tension to drop suddenly. 
To minimize the risk of strings snapping, keep one hand over the neck while working with these strings.
When restringing a 12-string guitar, it's advisable to replace all the strings at once to ensure consistency in tone and tension. After removing the old strings, replace them with new ones as quickly as possible. 
This allows for some relief in tension and creates more space between the tuning pegs, making it easier to insert the new strings. Be mindful of balancing the tension on both sides of the instrument to avoid sudden shifts in the neck.
Tuning and restringing a 12-string guitar may require some patience and practice, especially for beginners. Over time, you'll become more familiar with the process, allowing you to efficiently tune and restring your instrument. 
While it may take a bit longer compared to a six-string guitar, the enhanced tone and sonic possibilities of a well-tuned 12-string guitar make the effort worthwhile.
Remember to take your time, be gentle with the high-tension strings, and maintain balance across the instrument. With practice, you'll become more proficient in tuning and restringing your 12-string guitar, unlocking its full potential and enjoying its captivating sound.

Conclusion:
Playing a 12-string guitar is a rewarding experience that opens up a world of rich and resonant sounds. 
While it may require some adjustments and practice, the unique tonal possibilities and the distinctive character of the instrument make it well worth the effort. 
By applying these techniques and incorporating them into your regular practice routine, you'll be well on your way to mastering the art of playing the 12-string guitar and creating captivating music that will enchant both yourself and your audience.
---
Reference:
Murphy D. The 12-String Guitar as Played by Leadbelly: An Instruction Manual. – 1968.
Bacon T. Rickenbacker Electric 12-String: The Story of the Guitars, the Music, and the Great Players. – Rowman & Littlefield, 2010.
Related Posts: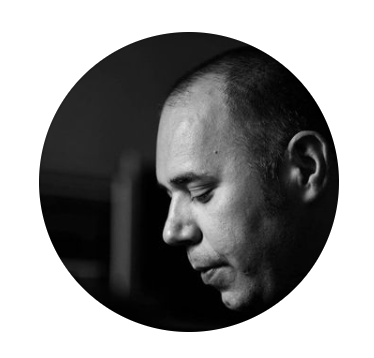 Marko is a passionate composer, producer, and multimedia artist with a Master of Music degree. His career involves performing, creating, and producing his own music in his home studio using digital and analogue equipment. Marko is a multi-instrumentalist (he plays guitar, bass, piano, theremin, and other instruments). performs live acts and DJ sets, and works on feature and short films, documentaries, festivals, theaters, and government initiatives.