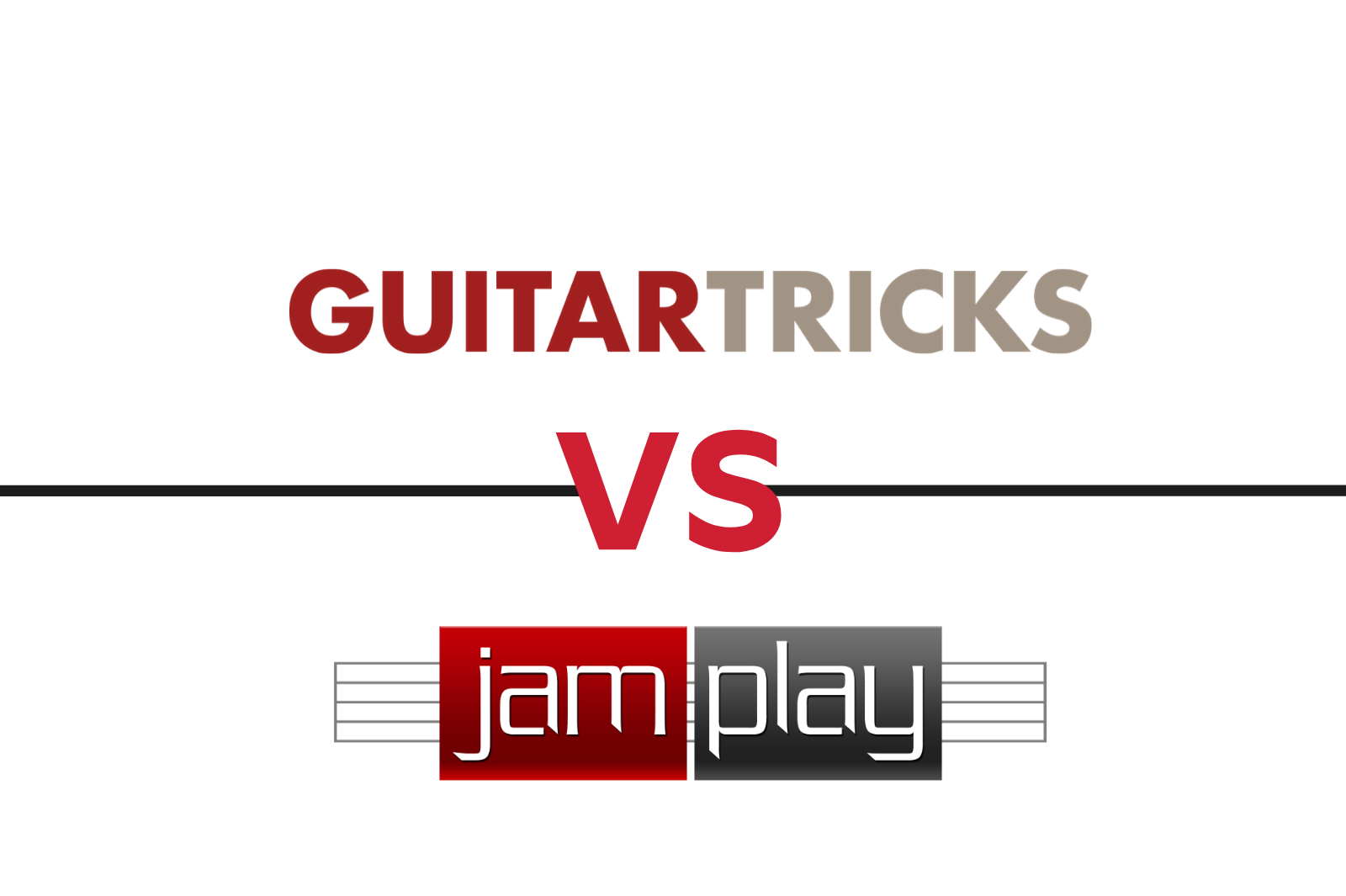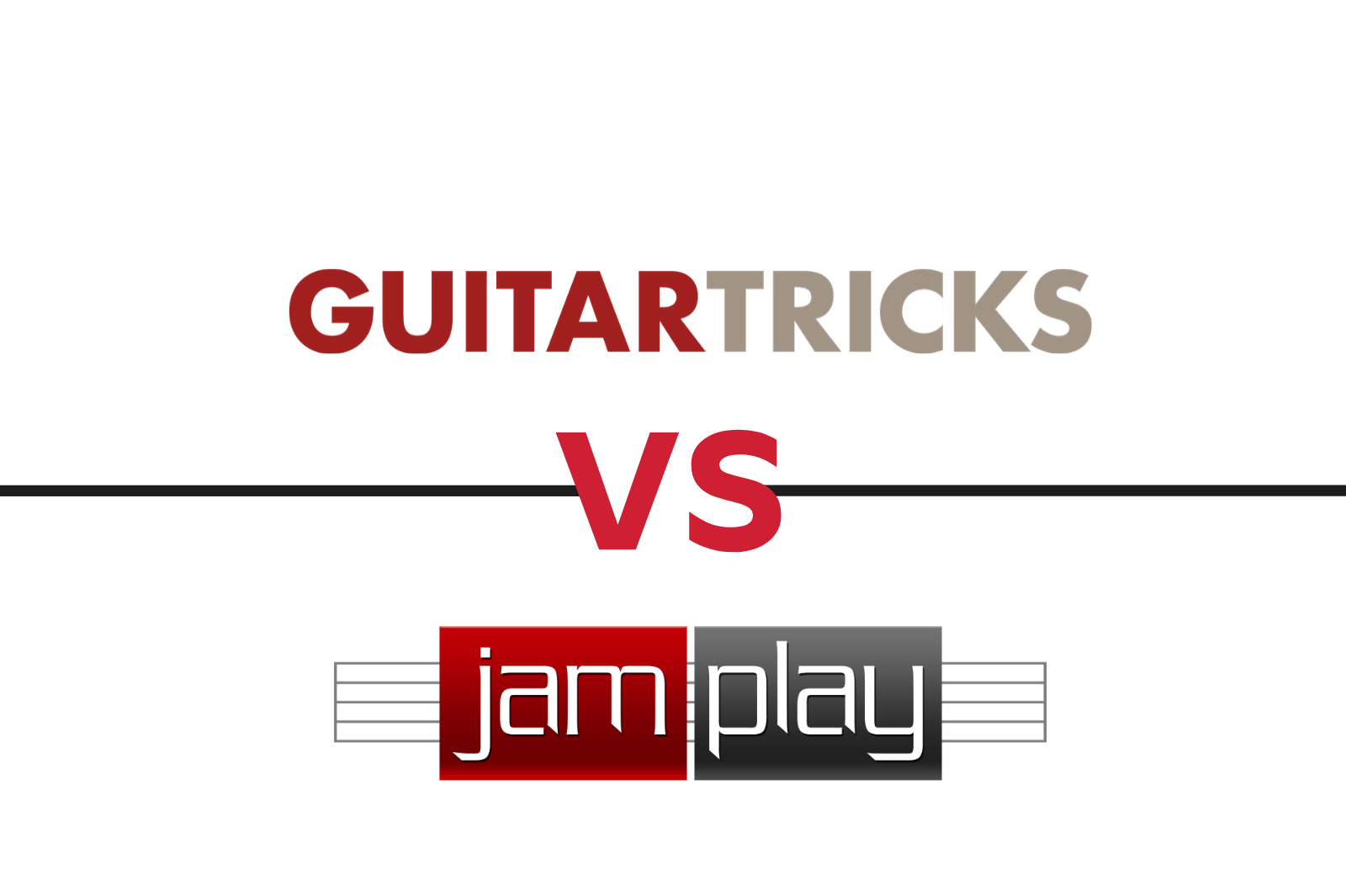 When it comes to learning how to play the guitar, the internet has helped to make the process incredibly accessible. There are dozens of providers out there, but Guitar Tricks and JamPlay are two of the biggest available. One of the most common questions students always ask though is Guitar Tricks vs JamPlay, which is better?
To help you to decide which is better, Guitar Tricks or JamPlay, we have put together a comprehensive Guitar Tricks and JamPlay review. This side-by-side comparison is designed to show you the best features of both so you can make an educated decision.
What is the best guitar learning program?
To determine what is the best guitar learning program, we've taken a close look at both Guitar Tricks and JamPlay. In this comparison, we've looked at a number of key factors that every beginner guitar player wants to know, including:
How functional and useable the website and apps are.
The courses on offer for players of all skill levels.
The instructors they use.
The range of songs available and the additional tools and features on offer.
How much both platforms cost.
In this guide, we will examine the following sections:
SEE ALSO: Learn Guitar With Apps: The 13 Best Ones To Use Today
Guitar Tricks vs JamPlay: Their Origins
Before getting into the full review and answering, which is better Guitar Tricks or JamPlay, we thought we would take a quick look at the history of both. Guitar Tricks is the oldest online lesson provider, starting out in 1998. Since then, they've grown to become one of the most popular and offer something for players of all skill levels.
JamPlay, on the other hand, is a little newer, starting in 2006. However, the platform has quickly grown to become incredibly popular and offers students of all experiences thousands of lessons to choose from. There are also thousands of tabs and songs to learn, as well as useful tools such as the JamPlay Chord Finder.
Guitar Tricks vs JamPlay: Feature by Feature
For those who'd like a quick review of the differences between Guitar Tricks vs. JamPlay, review the following chart to learn more about the differences in pricing, lessons, instructors, and more.
| | Guitar Tricks | JamPlay |
| --- | --- | --- |
| Price | $19.95/month | $19.95/month |
| Free Trial? | Yes | Yes |
| Lessons offered | 11,000+ with more added each day | 450+ courses with new lessons daily |
| Instructors | Over 30 | 128 |
| Songs | Over 1,000 | Hundreds |
| Music Genres | 14 | 20 |
| Private Lessons | Yes | Yes, regular teacher reviews |
| Skill Level | Beginner to Intermediate/Advanced | Beginner to Professional |
Guitar Tricks Review
There's a reason Guitar Tricks has grown to become one of the most used and most loved online guitar tutorial programs available. It offers something for guitar players of all skill levels with a vast archive of lessons and songs. Beginners love this option as there are typically Guitar Tricks coupons available to reduce the price.
Website and app

As one of the giants of the online guitar tutorial world, Guitar Tricks has a very modern and functional website. With over two decades worth of experience and knowledge, the platform's been able to tweak and refine its offering, meaning it's now one of the strongest available.
Despite its age, Guitar Tricks regularly keeps the site fresh, and it appears very modern. Very easy to use, players can navigate their way around with ease, thanks to the intuitive main dashboard. From this main hub, players can navigate their way through the various lessons and find the chords and tabs to their favorite song and access the full range of tools.
In this modern digital world, both beginner and advanced players are looking for a way to learn while on the go. That is why Guitar Tricks also has a very functional app for players to use. There's a free Lite version, but full membership lets users unlock everything that they can usually enjoy on the desktop version.
60% Off Guitar Tricks Full Access! Use coupon code: JOIN60
Courses and video lessons

The Guitar Tricks courses are amongst one of its most popular features. The structured process takes players through step-by-step how to learn to play the guitar, meaning even those who've never picked up a guitar can use the platform.
There are also thousands of lessons available, which means that even advanced players can still learn something new. Alongside that, Guitar Tricks has a useful video call feature, which lets students book a one-to-one session with one of the expert instructors. This is a helpful addition, as, at some point, we've all been stuck on a certain aspect of learning to play the guitar!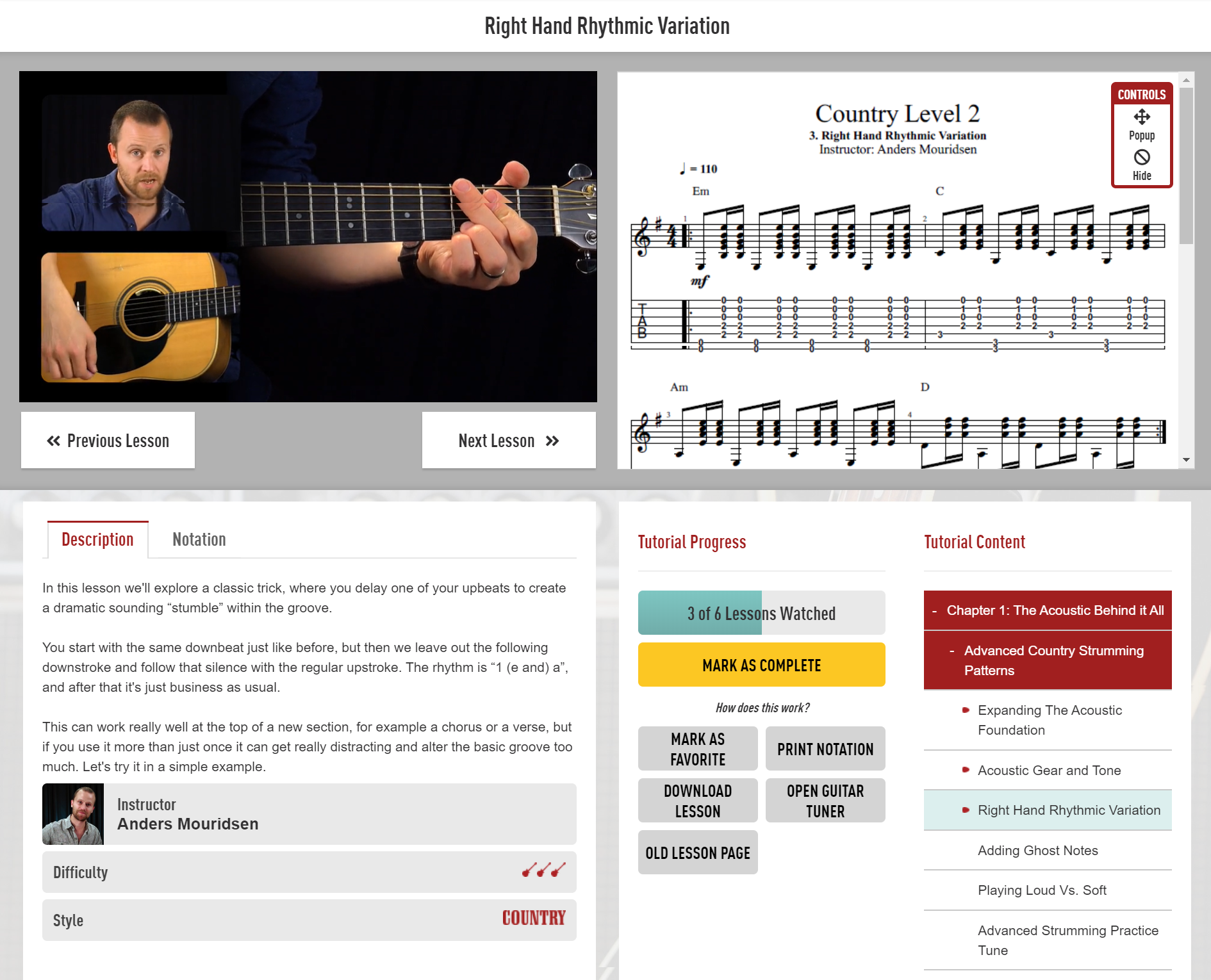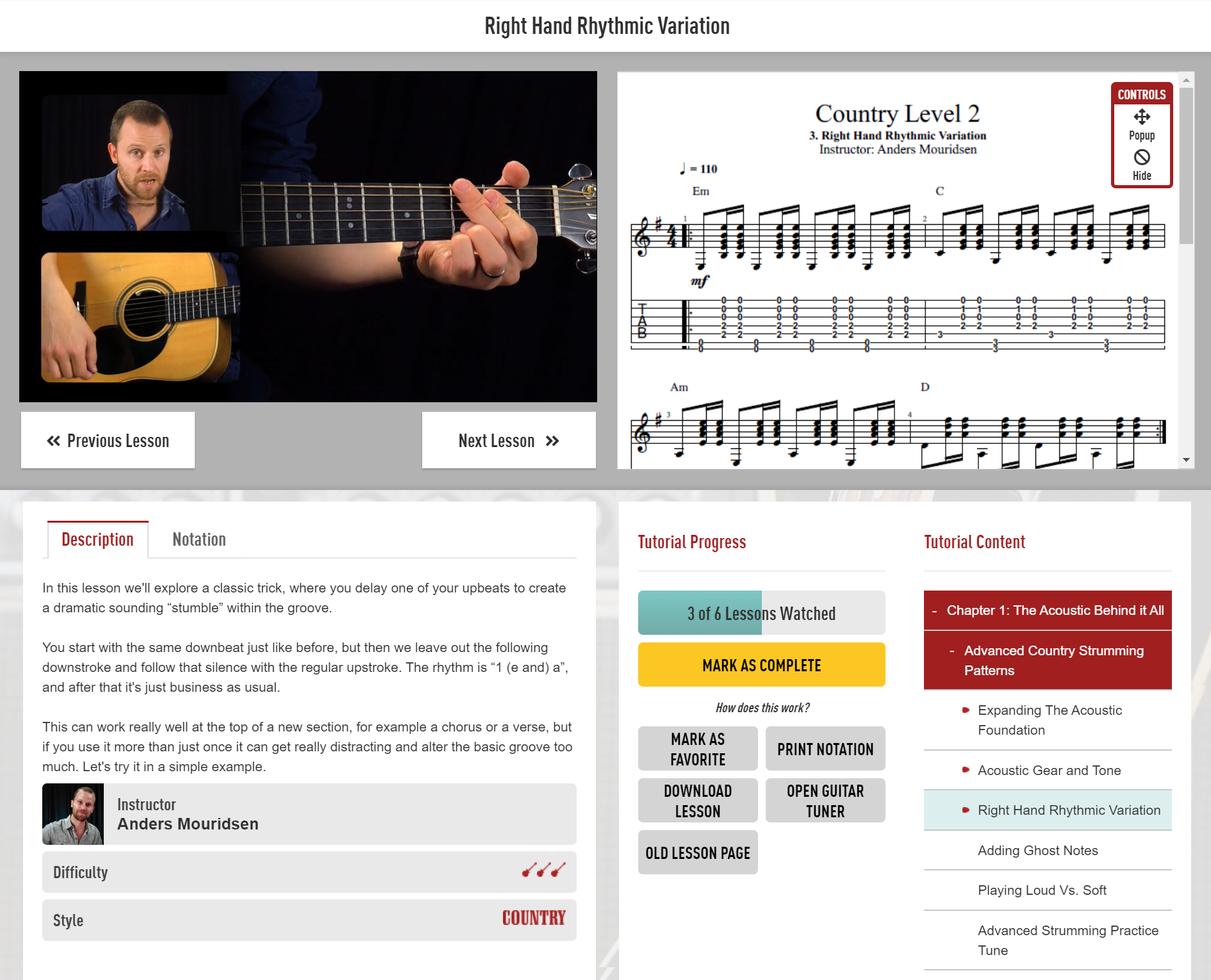 The quality of the video lessons on Guitar Tricks is also very high, with videos being filmed in high definition and coming with accompanying notes to help you throughout. There's also a feature that lets you loop certain sections, as well as speed up or slow down the video so you can repeat parts that you are struggling with.
The course structure and lessons have been designed to be as simple to follow as possible and are broken down into clear categories such as technique, practice methods, and even style of guitar.
Instructors
Thanks to its status as one of the longest-running and most popular online guitar programs, Guitar Tricks has built an enviable roster of instructors. With over thirty high-quality teachers available, students will always be able to find the right tutor and teaching style for their needs.
Although the instructors might not be world-famous musicians, they do have some incredible musicians to choose from. In fact, many of the Guitar Trick instructors have played with some of the biggest stars on the planet, including Chuck Berry, Taylor Swift, and Stone Temple Pilots.
The instructor will stay with you throughout the course as well, meaning you'll always have the same style of tutoring throughout, helping you to build up familiarity.
Songs, tools, and features

Being over twenty years old, Guitar Tricks has been able to bring together a vast library of songs that you can learn to play along to. With hundreds to choose from, spanning every genre imaginable, there really is something for every guitar player, no matter their preference or skill level.
Another useful feature is that many of the most challenging songs to learn have a 'made easy' alternative, which breaks the song down to basic chords. Every song on the platform has accompanying tabs and chords, making learning your favorite song even easier.
Subscribers can also enjoy a number of useful tools to help progress their playing even further. This includes things such as a guitar tuner, a metronome as well as diagrams of the fretboard and scales.
SEE ALSO: 13 Easy Beginner Guitar Songs That Will Make You A Rockstar
How much does it cost for Guitar Tricks?
When it comes to the question of Guitar Tricks vs JamPlay, one of the biggest concerns budding guitar players have is how much does it cost for Guitar Tricks? There is often a Guitar Tricks coupon available to help reduce the costs, but there is currently two levels of membership:
Basic Guitar Tricks Package:
This gives players the chance to take part in 24 lessons as well as enjoy limited access to the various tools, features, and songs on offer. This is completely free to sign up for.
Full Guitar Tricks Package:
To unlock all of the available material, including all 11,000 lessons, then the full subscription costs $19.95 a month. There is a 25% discount for those who purchase an annual membership.
Are there any Guitar Tricks coupons?
60% Off Guitar Tricks Full Access! Use coupon code: JOIN60
This premium guitar lesson platform does indeed offer a Guitar Tricks coupon, or rather a 60% off on their services using the coupon code, "JOIN60." Review the link above as well to purchase Guitar Tricks using this discount. Guitar Tricks Coupons are one of many reasons that guitarists keep coming back to this platform, and they do regularly update the coupons and discounts offered. Getting premium guitar lessons at a discounted price is challenging to beat.
Additionally, as mentioned above, signing up for a yearly membership drops the price by 25%. This is one of the most affordable ways to finance your membership with Guitar Tricks.
Another suggestion when looking for Guitar Tricks Coupons is to download the extension called "Honey." This extension will automatically find coupons for a website and apply them in your cart at check out.
Guitar Tricks Pros and Cons
Pros
Modern and user-friendly website
Oldest online guitar lesson platform, with proven history and success at teaching guitar
Over 11,000+ videos and lessons for learning
Additional tools to improve playing ability
One-on-one lessons available for all users
Guitar lessons coupons and promotions run regularly
Great platform for both beginner and advanced guitarists
Cons
The monthly subscription costs more money than a yearly subscription to JamPlay.
Starting to play on the platform can be slightly confusing.
Guitar Tricks Overall Review: Is it Worth it?
As already mentioned, Guitar Tricks is well-loved for a reason. Guitar Tricks is an excellent option for those looking to push themselves and develop into a good guitar player. Though JamPlay is another excellent option, we believe that Guitar Tricks is the ultimate winner. With a wide variety of tutorials, songs, instructors, one-on-one lessons, a dedicated individual will pick up guitar skills within weeks of starting to play.
Guitar Tricks is also a superior option regardless of your skill level. Your experience will be personally designed to your skillset; for beginners, the platform suggests you start guitar fundamentals. Doing so will help you to set a strong foundation in playing this instrument. For more experienced players, Guitar Tricks offers two additional categories, "Experienced Lessons" and "Learn Styles of Guitar." Each of these tutorial platforms is located on the main dashboard of your account.
Due to the above reasons, Guitar Tricks is an excellent investment.
JamPlay Review
In this JamPlay review section, we're going to look at a side-by-side comparison of the software, examining the same features and pricing alongside looking at if there is a JamPlay free trial or JamPlay coupon available.
Website and app

As one of the biggest and most popular online guitar tuition websites, JamPlay has a very attractive and easy to use layout. Since its launch in 2006, the maroon and black color scheme has become synonymous with the site, although JamPlay does now offer users the ability to customize the color to their home screen.
It is designed to be as user-friendly as possible, which means the desktop version is uncluttered, and everything is clear to see. The navigation bar at the top ensures users can quickly find what it is they need, and most sidebars are collapsible to make the layout even clearer when using.
Just like Guitar Tricks, JamPlay also offers users a mobile app, meaning they can access the platform wherever they go. Featuring everything that you get with the main desktop site, the app is highly intuitive and available across iPhones, iPads, Apple Watches, Android devices, and even Amazon Kindle.
Courses and video lessons

The courses on offer from JamPlay are designed for players of all skill levels and are split into four key sections:
Beginners
Genres and Skills
Songs
Songwriting
This is a great way to learn the guitar and gives the student the chance to pick and choose their methods. However, unlike the structured Guitar Tricks courses, there is no real starting point or linear progression with JamPlay, which can get confusing for beginners.
That said, the easy-to-navigate website means it is very simple to stop and try another lesson or course if you find the current one is not meeting your needs.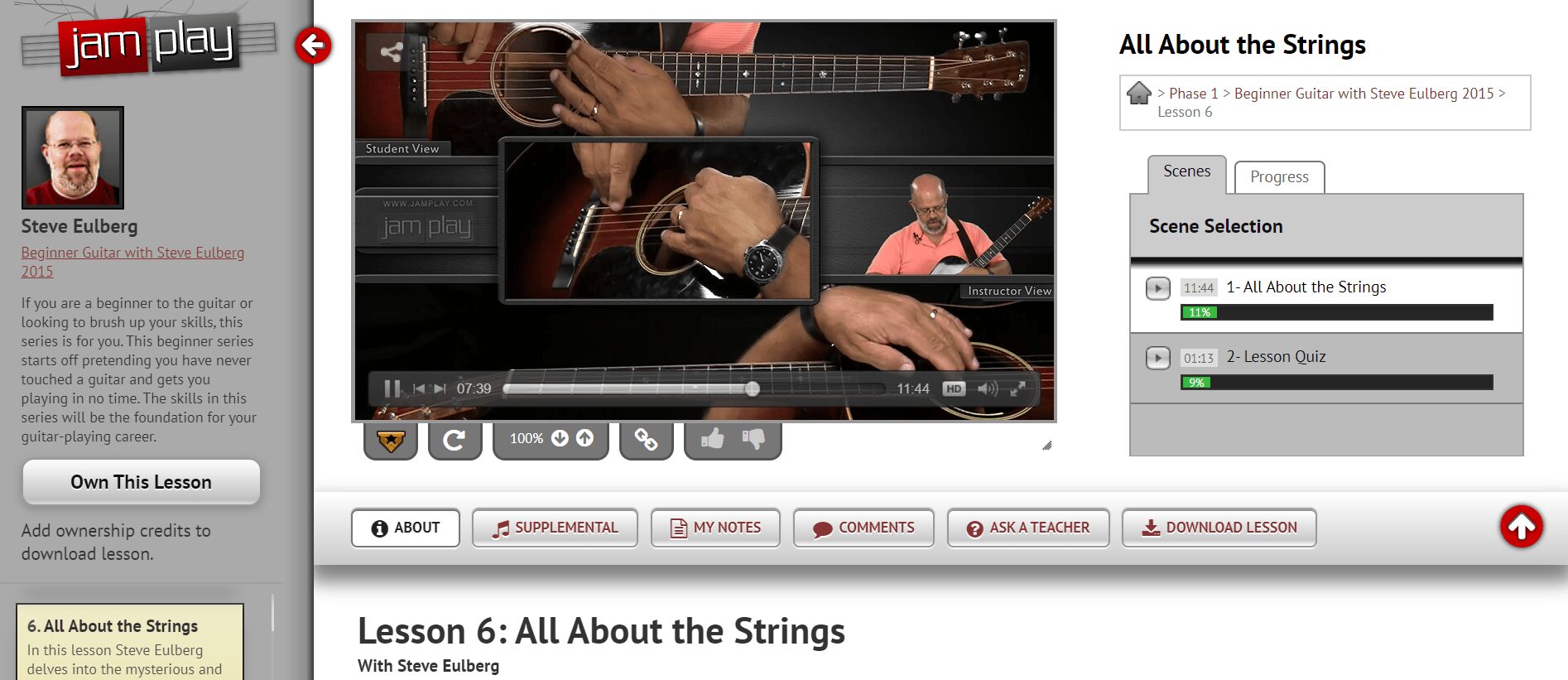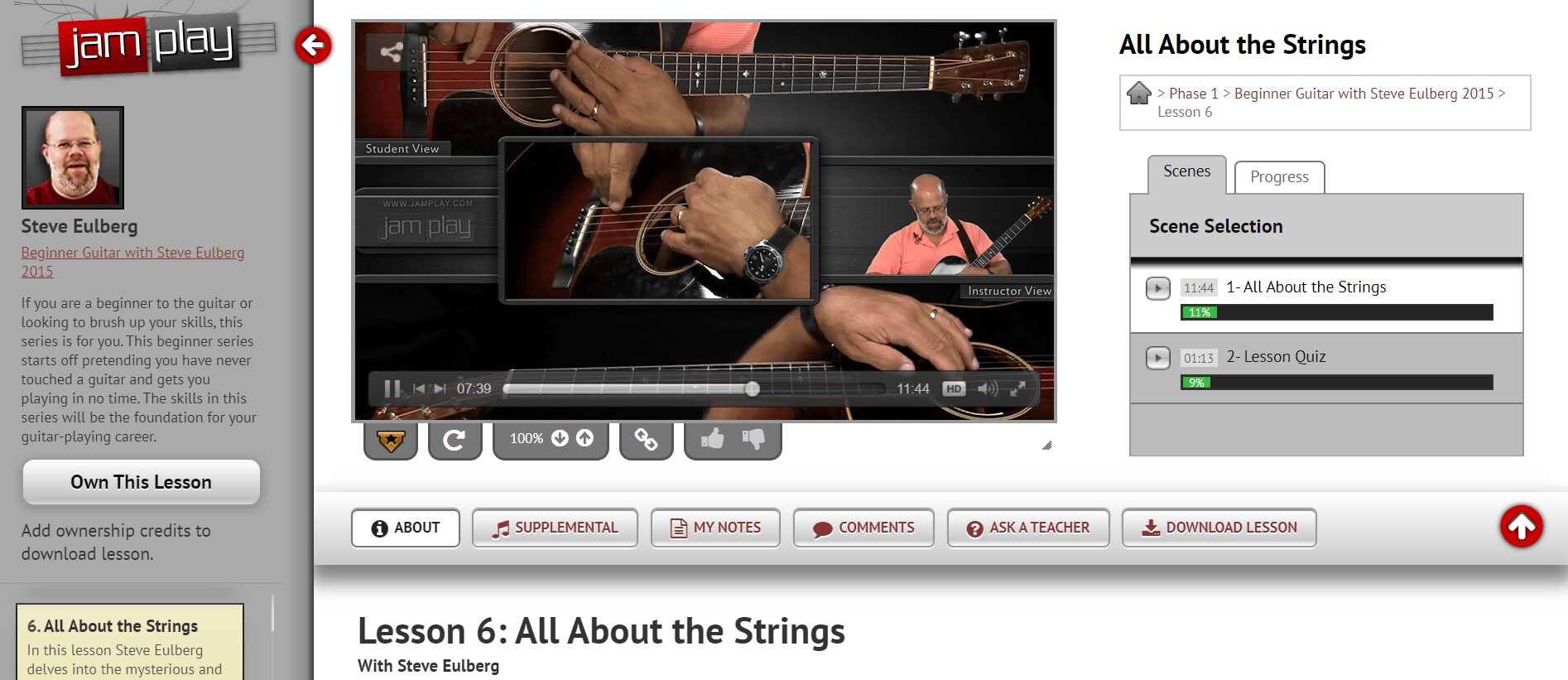 The videos that JamPlay offers are very high quality and all of them are filmed in high definition, with the latest lessons appearing in 4K. Just like Guitar Tricks, each one offers multiple camera angles, showing everything you need to know to learn your favorite song. Users can also switch between a dark and light theme to improve visibility.
One of the best features of the JamPlay video lessons, however, is the ability to leave notes throughout the video as well as ask direct questions to the instructor.
Instructors

(See more Jamplay Instructors here)
Arguably, the most attractive feature we found while conducting this JamPlay review was the high caliber of its instructors. With over 90 instructors on the platform, users will always be able to find the perfect tutor to show them how to play guitar.
Alongside having some highly trained and experienced tutors, students are also able to learn from genuine rockstars. These artists include the like of Bumblefoot from Guns 'N Roses, Shane Gibson of Korn, and Guthrie Trapp. There's also a host of session musicians who have toured with true giants of the music world.
Being able to learn your favorite song, from some of the artists who composed them is undoubtedly an attractive prospect for any student!
Songs, tools, and features

As one of the biggest online guitar tutorial platforms, JamPlay naturally has a massive catalog of songs to choose from. There are lessons for pretty much every genre imaginable and a broad mix of famous artists, including The Beatles, Fleetwood Mac, and Slipknot.
Although there is not as wide of a choice as there is on Guitar Tricks, there is still a lot for students to choose from. The platform also offers a host of additional tools and features, including a JamPlay free trial, which gives access to the popular JamPlay chord finder.
Of course, it's not just the JamPlay Chord Finder that students can take advantage of. There's also a guitar tuner, metronome, chord database, and even some fun training games to help you improve your skills.
How much does it cost for JamPlay?
Always eager to attract new members, the JamPlay free trial is a great way to see what the platform offers. There's also usually a JamPlay coupon available to reduce the cost of membership. JamPlay currently offers four packages:
Monthly, which costs $19.95
Yearly Plans

Standard, which costs $9.16 a month
Plus, which costs $12.49 a month.
Pro, which costs $16.66 a month
Right now, JamPlay is also offering a special holiday price. You can get $100 off, a gift, and a second membership for free.
Is there a JamPlay free trial?
As mentioned above, there is indeed a JamPlay free trial. The trial lasts for seven days, giving you a week's worth of time to decide if this is the right platform for you.
JamPlay Chord Finder
What is the JamPlay Chord Finder? The JamPlay chord finder helpers guitarists figure out what chord they are playing. To do so, the guitarist clicks on the Fretboard to play the notes and determine the chord. Clicking on the guitar pick in the bottom corner also allows the guitarist to strum the chord.
JamPlay Pros and Cons
Pros
Offers high definition, 4k video quality
One-on-one sessions provided
The platform offers big-name musicians to learn from
There is a JamPlay free trial, which allows you to test out the platform
Great online navigation and a sleek user interface
Offers a mobile app
Cons
The platform does not offer any linear progression like Guitar Tricks
JamPlay offers fewer song options than Guitar Tricks
JamPlay is not as seasoned as Guitar Tricks
JamPlay Review: Is JamPlay Worth it?
Although Guitar Tricks has been around for longer, JamPlay is a strong competitor in the guitar field. This platform is almost as robust as the Guitar Tricks offering and provides great additions such as the JamPlay Chord Finder. For those seeking a slightly cheaper option and are okay with some autonomy in making your learning plan, JamPlay is a worthwhile investment.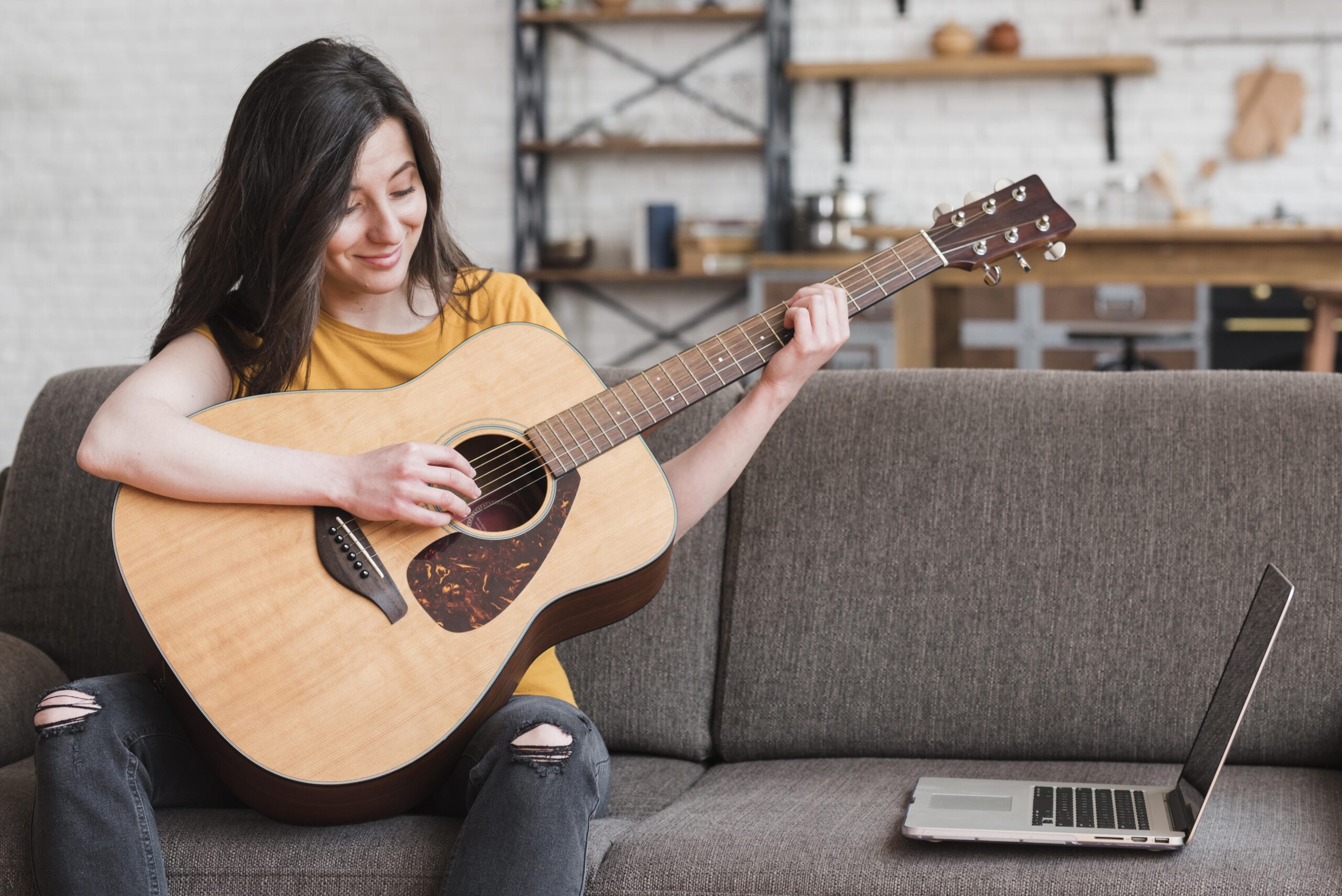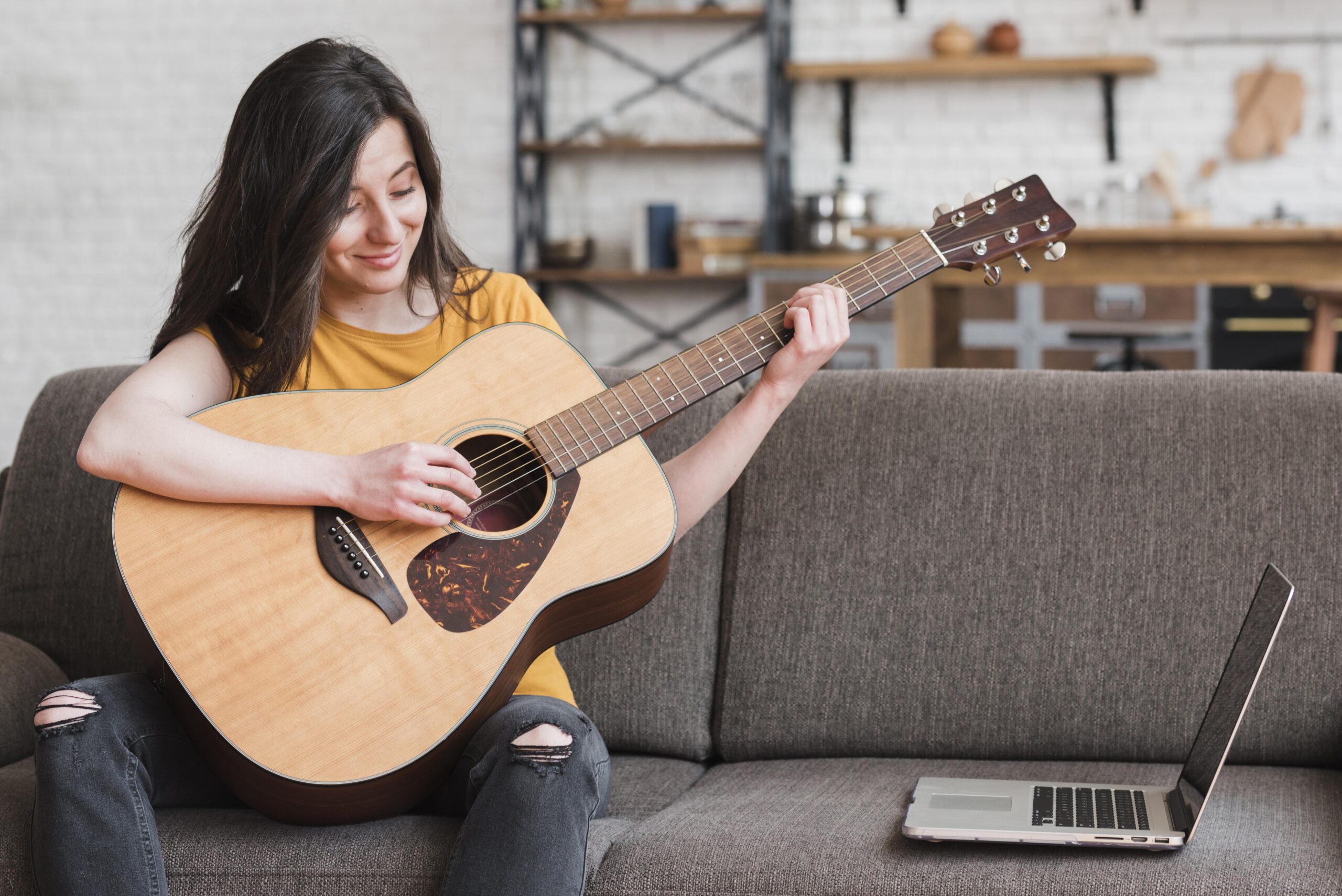 Which is better, Guitar Tricks or JamPlay?
Trying to choose between the platforms is tough. As this Guitar Tricks and JamPlay review has shown, both platforms are both fantastic options for beginners and advanced players alike. Both platforms have advantages over the other, and a lot of it comes down to your personal preference; however, Guitar Tricks just edges it for us.
One main reason Guitar Tricks is the premium option is because of its linear progression. Lessons are organized in such a way that you progress into more challenging lessons, the longer you've been in the program. JamPlay does not work in the same way.
However, JamPlay does have quite a few pros, as well. JamPlay offers almost as many songs and lessons as Guitar Tricks, and it provides more music genres. This platform is also a cheaper option, saving you nearly $80.
Both platforms offer a free trial option, so you can see which one suits your requirements more. Before purchasing a subscription, you should also search for either a Guitar Tricks coupon or a JamPlay coupon, which could help you reduce your subscription cost.
Even without a coupon, these platforms offer incredible value for money compared to traditional face-to-face lessons. Regardless of the platform you choose, JamPlay and GuitarTricks will both help you on your path to becoming a better guitar player. So start your journey to becoming a guitar hero today!
Which of the reviewed guitar apps do you prefer?
Share in the comments below!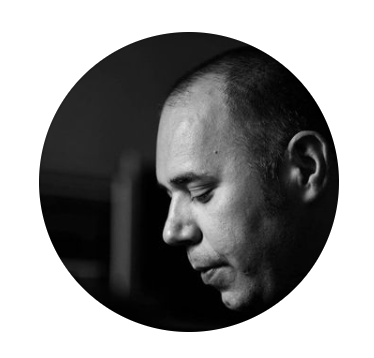 Marko is a passionate composer, producer, and multimedia artist with a Master of Music degree. His career involves performing, creating, and producing his own music in his home studio using digital and analogue equipment. Marko is a multi-instrumentalist (he plays guitar, bass, piano, theremin, and other instruments). performs live acts and DJ sets, and works on feature and short films, documentaries, festivals, theaters, and government initiatives.