If you are starting on the guitar, you may be confused by all the guitar terms, slang, and language used.
Don't fret!
(Get it?)
Many of the terms used by guitarists are relatively simple and describe simple parts and techniques. Understanding these terms is vital if you want to improve your knowledge and guitar playing.
Guitar Terms
Whether you're reaping the benefits when learning guitar on your own with the help of blog posts or with an app that has online guitar lessons you can always improve technique and proficiency through concerted practice.
60% Off Guitar Tricks Full Access! Use coupon code: JOIN60
If you are someone who prefers a guitar app to help you while learning to play guitar, then see our list of guitar apps that we have reviewed.
We want to help you build a better understanding of the instrument. Let's assume you know some of the fundamental music terms that are not specific to the guitar, like chord or tuning.
Below we have outlined some of the top guitar terms you need to know.

Guitar Terms for Beginners
1. Capo
A capo is a familiar acoustic and electric guitar accessory. Capo is derived from the Italian language and means "head." Moreover, the capo serves as a clamp that you place onto the neck of the guitar. Capos allow the guitarist to play songs in many different keys while using the simple 1st position open string chord finger placements.
Capo works by clamping down a fretted instrument's strings to shorten the length and raise the pitch. We recommend this informative Fender article if you want to understand more about the capo and its relation to the guitar's nut.
2. Hammer-ons and Pull-Offs
Hammer-ons and Pull-offs are guitar techniques that added some extra flavor to your playing.
A hammer-on is a technique when you bring your finger down hard on to the guitar string with your fret hand to produce a note. Conversely, a pull-off is the opposite movement. You can play a note without picking by placing two fingers on the same string at different points on the fret and lightly pulling off the higher note, so the lower note rings out.
Guitarists use these techniques to add nuance and texture to their playing. Also, both can be executed quite easily by beginners. It is good to know these terms and practice these techniques.
SEE ALSO: How To Play Guitar For Beginners: A Step-by-Step Guide
3. Barre Chord
A barre chord (also known as a bar chord) is a chord played by laying one finger over the fretboard to cover multiple strings. Barre chords are similar to the capo mentioned above. When you are barring, you are performing the same function as the capo but with your finger.
This technique requires flexibility and finger dexterity. Furthermore, if you aim to teach yourself guitar, then barre chords will come up at some point. However, we recommend that you only move on to barre chords once you master some simple chords and finger configurations.
Over time you will develop the skill and strength to play barre chords, and they will become a useful skill in your arsenal.
4. Action
The action of a guitar is the distance between the strings and the fretboard. Knowing how high or low your action is, is essential to guitar playing. Also, you will find that playing with a high action is tricky as you will have to push the strings down with more force to make a sound.
Ideally, you would have minimal distance between the bottom of the strings and the fretboard. In addition, having a high action can be painful on your fingers and make your playing imprecise.
You can adjust your guitar action, or you can get it done by a guitar technician.
5. Pickups
It is essential to understand the role of pickups if you have an electric guitar. A pickup is an electro-magnetic strip that sits beneath the strings on the body of the guitar.
A pick up can alter the tone of a guitar. Moreover, pickups come in many shapes and sizes, but all comprise a magnet and a wound copper wire set. These components create a magnetic field that changes the sound of the guitar by altering the vibrations.
There are two standard types of pickups: Single Coil and the Humbucker. The single-coil is, as it sounds, a pickup with one coil wrapped around the magnet. A Humbucker is a pickup that reduces the hum of a single coil. Also, the humbucker achieves this by using two coils around the magnet with opposite polarity.

6. Slide
Slide guitar is a technique whereby you place an object against the strings and slide up the fret while playing. This technique produces vibratos and glissandos. It is common to see slide guitar used in blues and folk music.
Furthermore, you can achieve a slide by using a hollow tube made of glass or metal. The 'bottleneck slide' is also used to refer to the same technique. Finally, it is a difficult technique to grasp for beginners but is worth trying, especially if you are interested in playing folk or blues music.


7. Harmonics
You have probably heard of harmony, but have you heard of harmonics?  Harmonics are musical notes produced on the guitar when you amplify or prevent overtones' vibrations on a string.
When you isolate an overtone from its fundamental note, you can hear harmonics. Furthermore, you can do this by plucking and then lightly touching the string on the 12th, 7th, or 5th fret. Both acoustic and electric guitars enable you to produce harmonics.
Producing harmonics from a guitar is a fantastic way of broadening your guitar playing. In addition, it is also one of a few classic guitar terms applied to several other string instruments.
Finally. harmonics are an exciting concept and are worth delving into more in-depth.
8. Standard Tuning/Drop D Tuning
Standard tuning refers to the tuning of the guitar strings to E-A-D-G-B-E. Moreover, there are many ways to tune the guitar, and you can mess around with different tunings to your heart's content.
One of the most common alternative tunings is Drop-D tuning: D-A-D-G-B-E. Guitarists experiment with different tunings to produce different tones and sounds and make it easier to execute certain chord progressions. The drop-d tuning is often used in heavy metal because it allows guitarists to make quick power chord transitions.
SEE ALSO: A Beginner's Guide On How To Tune An Electric Guitar
9. Bridge/Bridge Pins
The bridge is a part of the body of the guitar where the strings remain in place. On acoustic guitars, you will see bridge pins used to hold the strings down. Naturally, the bridge may be made out of wood or metal and can be modified.
Also, there are a variety of guitar bridges seen on electric guitars. Usually, you will either have a 'vibrato' or 'non-vibrato' bridge.
10. Chord Diagram
A chord diagram uses X's, O's, and numbers to show your finger placement for certain chords. Also, it's a useful tool that you will undoubtedly encounter as you begin to learn to play the guitar. You don't need to read music to be a great guitarist, but it will certainly help.
A chord diagram is a great visualization technique and is one of the best ways to learn chords and chord progressions. Furthermore, it is worth learning more about reading chord diagrams if you want to take your playing to the next level.
---

11. Palm Mute
The palm mute is one of the standard guitar playing terms that you will probably learn as a beginner. Additionally, palm-muting is when you dampen the resonance of the notes you are playing by pressing the side of your picking hand against the strings.
It is a great technique that can create a clear and percussive sound. For beginners, it is an important technique to get the hang of early.  Moreover, once you add palm mute to your guitar dictionary, you can expand your repertoire.
You will become a better rhythm guitarist and more precise with your picking hand when you can control the resonance and stop unwanted notes ringing out.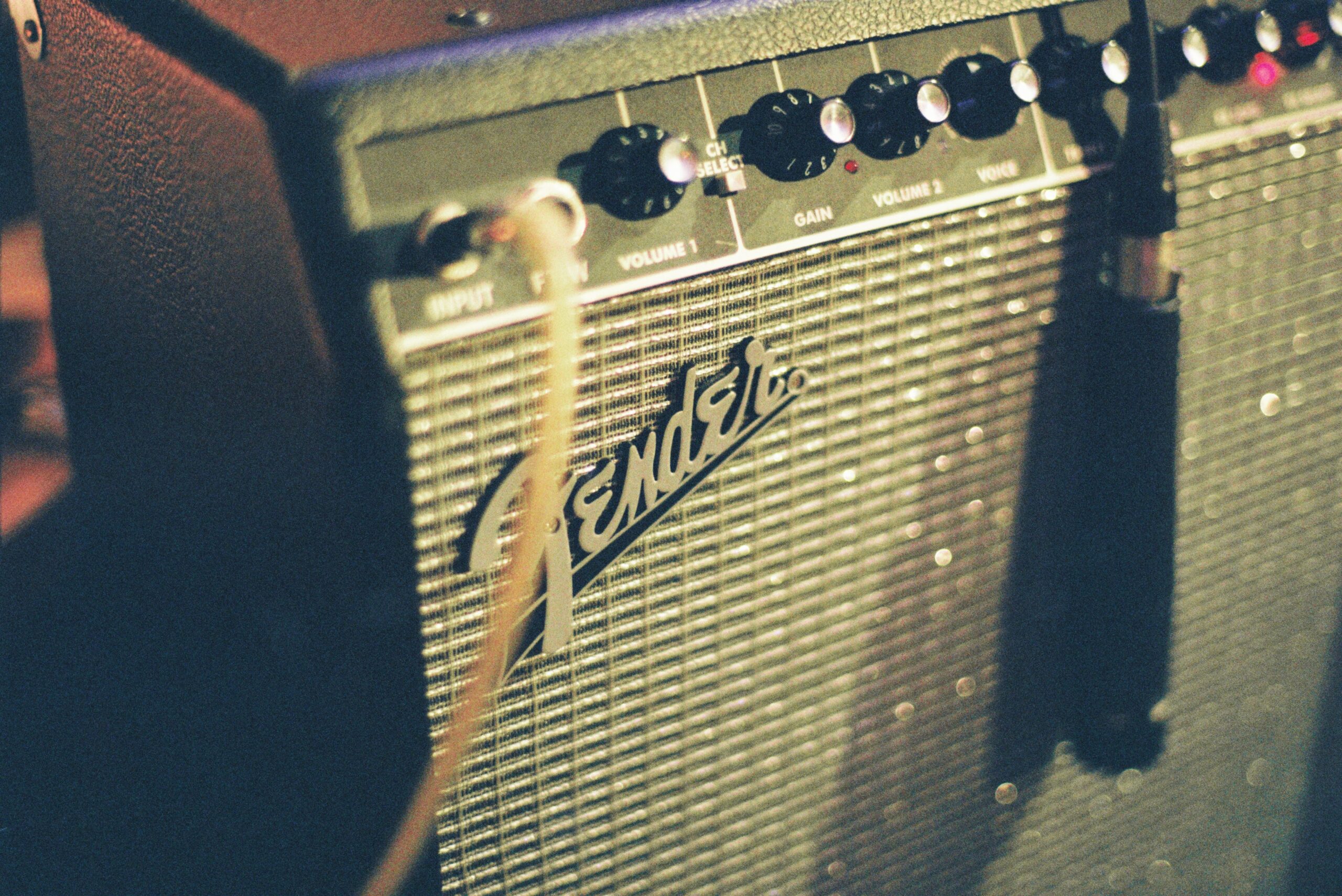 12. Amplifier
Amplifier is a term that will be on the first page of your guitar dictionary. Furthermore, the amplifier is the key to filling concert arenas with the sounds of your heavy riffs and chords. An amp is what separates your delicate plucking on the fretboard from the enormous, crunching power chords.
Even if you have never played the guitar, you will know what an amplifier is. It is not esoteric guitar slang. However, things can get very complicated when you start to talk about the tube, solid-state, modeling, or hybrid amps.
You can have a lot of fun figuring out which amp best suits your playing style and your guitar. Also, knowing how each amp works is not essential, but if you are interested, then it can be precious.

13. String Bend
String bending is precisely how it sounds. You bend the strings on the guitar to change and play around with the pitch and lengthen the notes. Furthermore, string bend is a technique used in rock, blues, and jazz guitar solos.
As a beginner, a string bend won't be something you immediately use. It helps first to have a solid foundation of harmonic and chordal knowledge. Finally, once you have solidified your basics, you can start having fun bending strings and making your guitar wail.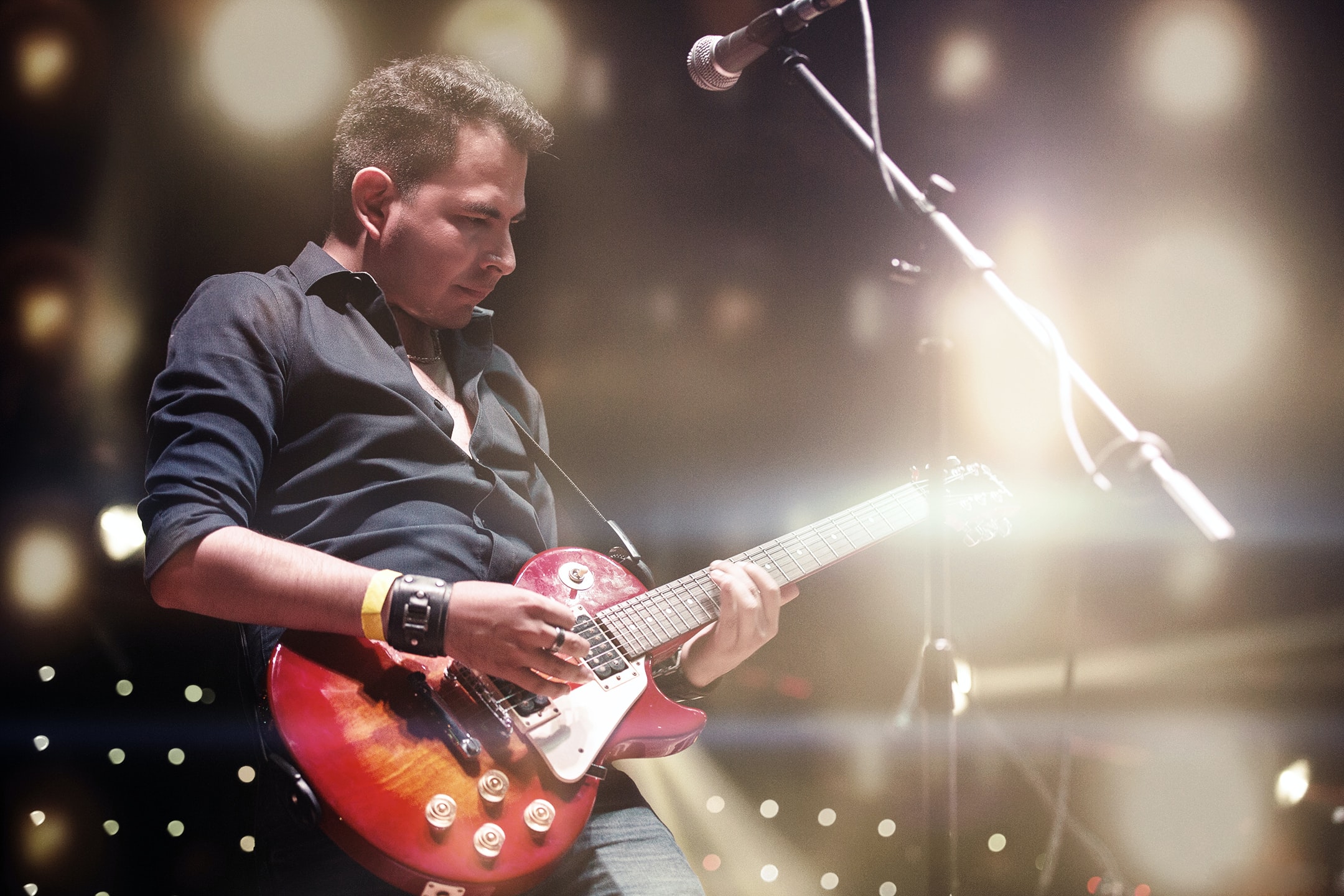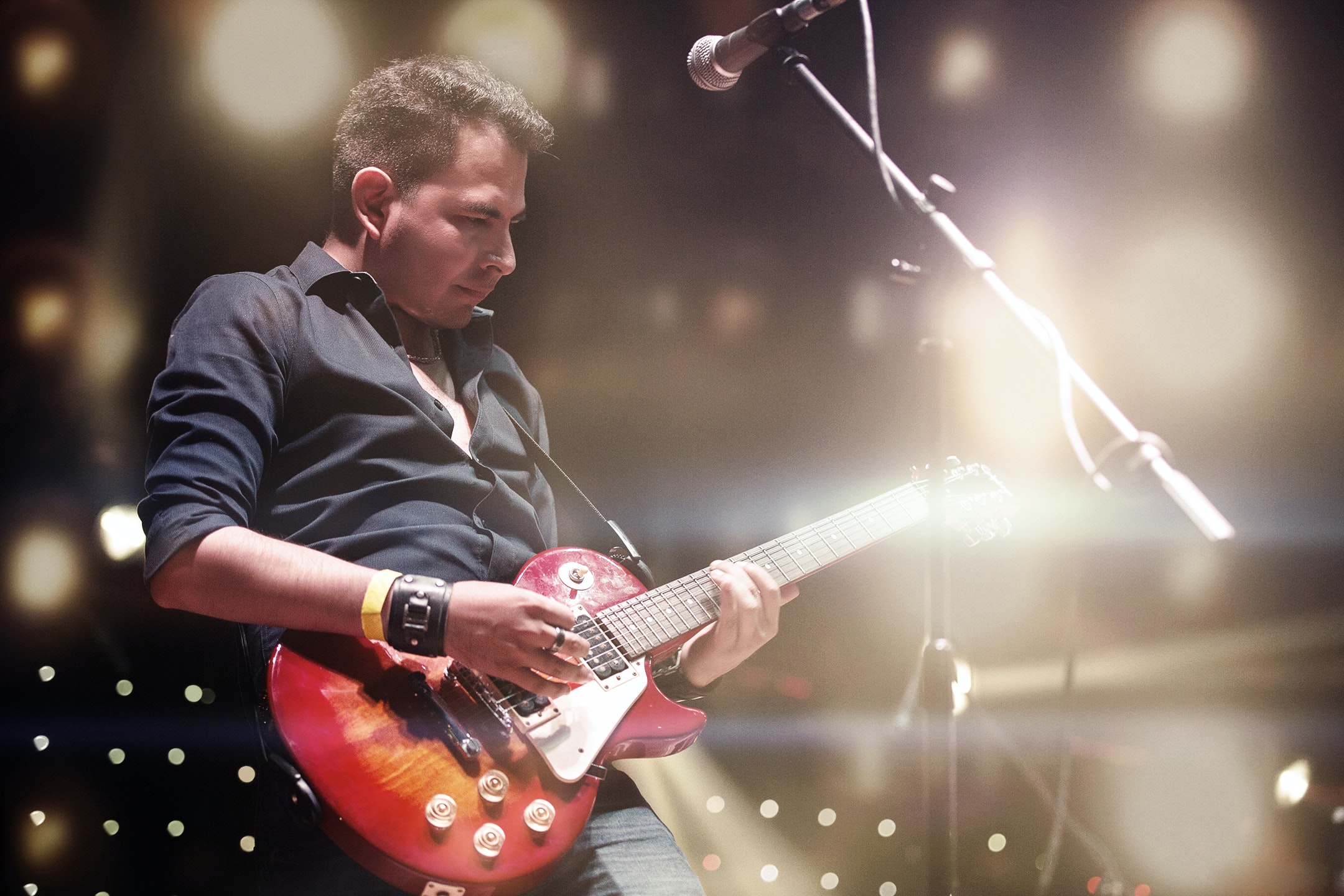 14. Chord Voicings
Learn some alternative chord voicings. As a beginner, you will learn some basic chords, which will help you start to play a few songs. Furthermore, you may begin to notice that although you are playing the right chords, they don't sound full, dynamic, or harmonically engaging.
A chord voicing refers to the notes in the chord. There is more to playing a chord than the root, 3rd, and 5th. When you are writing, arranging, or playing music for the guitar, think about how you can use different notes in your chords to alter the song's musicality.
SEE ALSO: Mastering The 15 Most Important Guitar Chords For Beginners
15. Tremolo and Vibrato
Tremolo on an electric guitar is when you make the strings waver and tremble. You create a shuddering effect that alters the notes' volume and changes the dynamics of your sound. It is a fun technique to deploy to create an atmosphere.
It is essential to know your guitar slang when you are talking about vibrato and tremolo. Vibrato, similar to tremolo, is not an exclusive guitar term. Vibrato is achieved with your finger on the fretboard and by moving your whammy bar.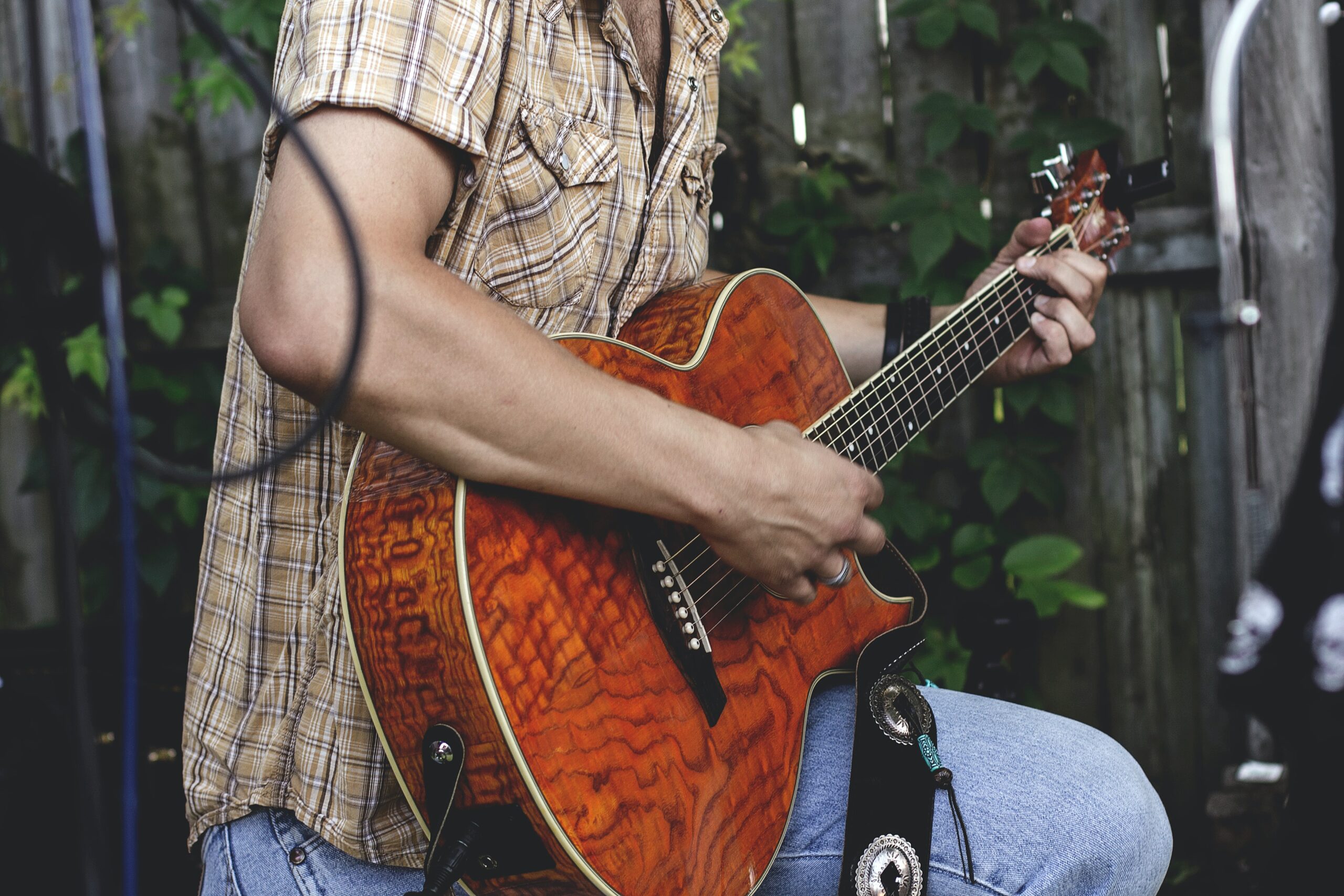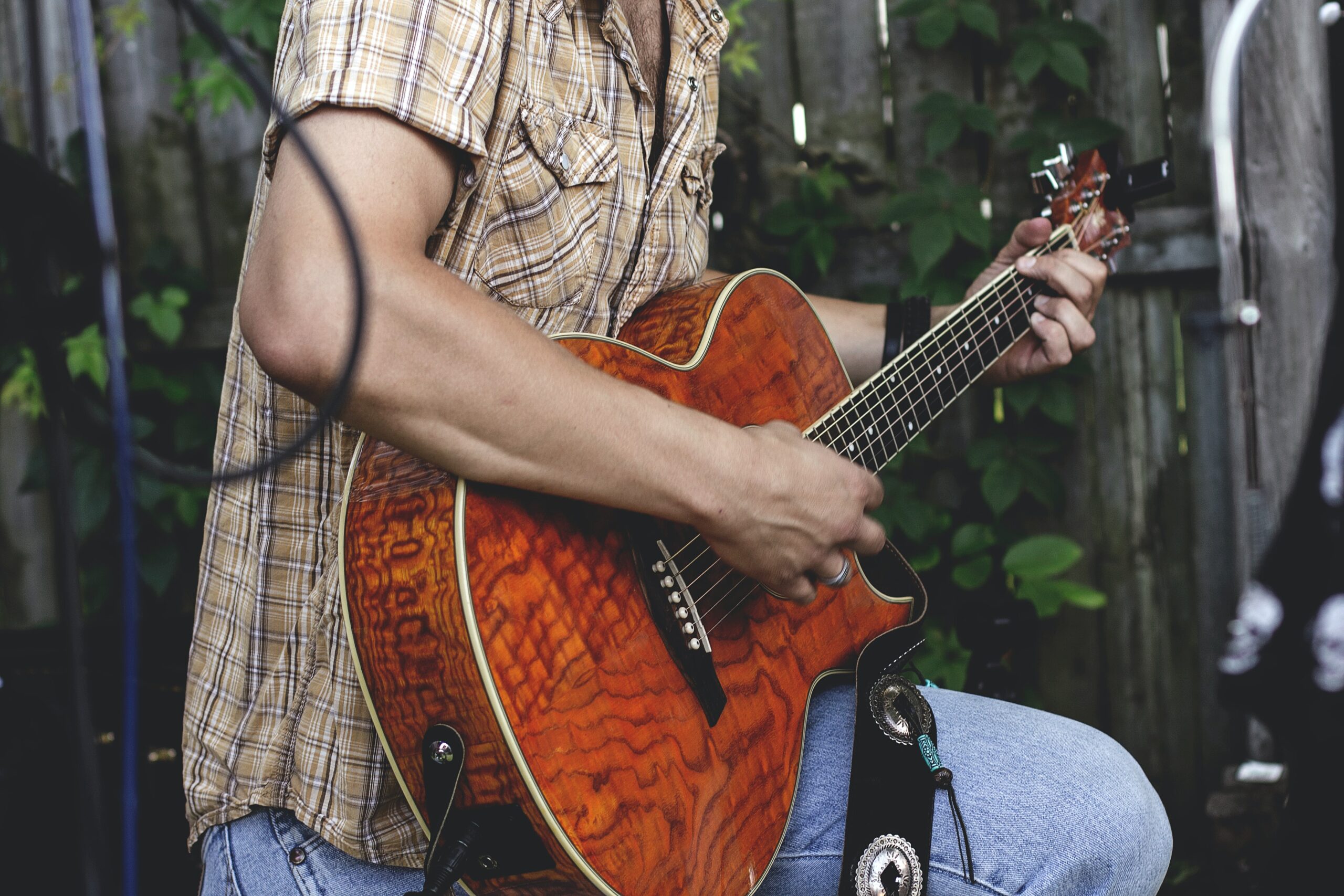 ---
Music Theory Bonus
The above terms refer mainly to the guitar's composition or the techniques used to play the guitar. Also, it is worth mentioning that you will probably come across quite a lot of music theory terminology when learning to play.
Here we have listed some useful music theory terms to learn more about to understand the guitar. These include:
Time signature
BPM
Bar
Interval
Major scale
Minor Scale
---
Guitar Knowledge
Hopefully, some of the guitar terms listed above will help you better understand the guitar and your playing. It is essential to become informed of all the guitar's ins and outs if you want to become a good player.
Remember, this is only the beginning. As you become more comfortable with the guitar and start to experiment, you will probably come across more unfamiliar guitar terms.
Over time you will develop a comprehensive guitar dictionary, and you will be able to put this to fair use. Additionally, you will become familiar with guitar parts, guitar terms, and guitar techniques the more you practice. You may even come up with your guitar slang as you gain more musical knowledge.
Now that you know what a hammer-on and a capo is, it is time to put that knowledge to fair use. As you practice these many techniques and skills, your understanding of guitar terminology will grow naturally. Thus, we wish you all the best in your future guitar endeavors.
Are there any other guitar terms that would be useful to know?
Share in the comments below!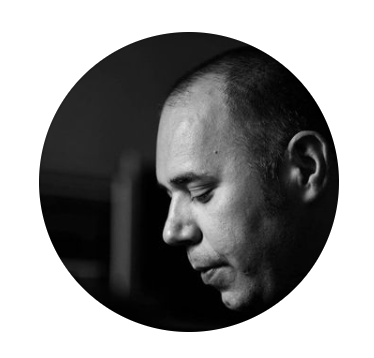 Marko is a passionate composer, producer, and multimedia artist with a Master of Music degree. His career involves performing, creating, and producing his own music in his home studio using digital and analogue equipment. Marko is a multi-instrumentalist (he plays guitar, bass, piano, theremin, and other instruments). performs live acts and DJ sets, and works on feature and short films, documentaries, festivals, theaters, and government initiatives.