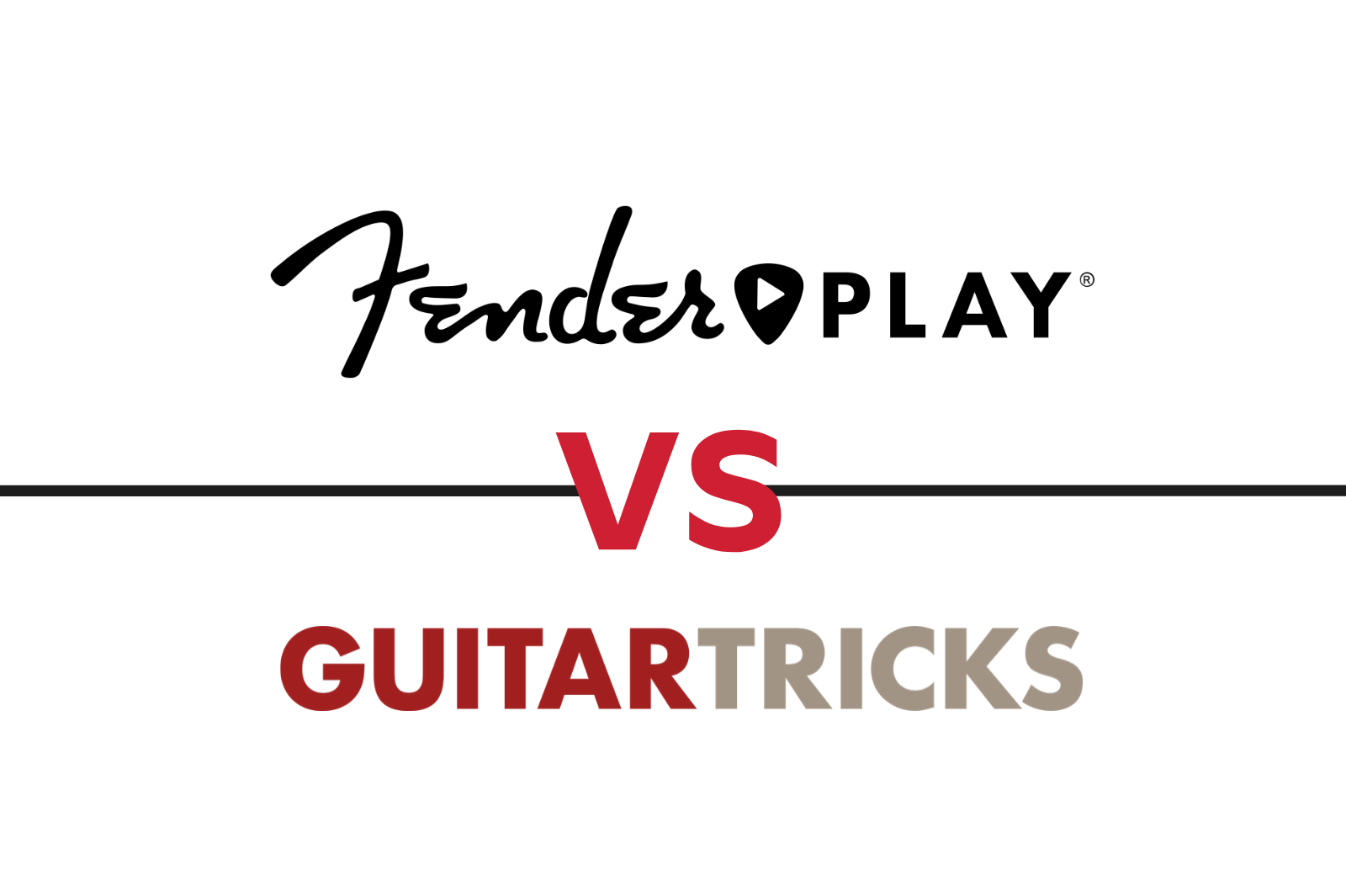 Have you ever dreamt of learning the guitar?
Picking up the instrument and losing yourself in the music is a fantastic way to while away the hours. Now, thanks to the wonders of modern technology, it's never been easier to start learning.
There are countless beginner guitar lessons online that you can enjoy. In this review, we're examining two of the most popular.
When it comes to Fender Play vs Guitar Tricks, which one is right for you?
If you're learning the guitar, finding the right tutoring program is crucial. The best online guitar lessons for beginners are those that keep you engaged and entertained. This ensures you keep practicing even when the guitar lessons become more challenging.
Online lessons are rising in popularity and can be a much more cost-effective solution when compared to traditional face-to-face lessons.
Today we're going to provide a comprehensive Fender Play review and an in-depth Guitar Tricks review.
In these Fender Play vs Guitar Tricks reviews, we'll examine:
Origins of both providers
Courses included
Lessons, videos, and features
Pros and cons of each
Let's dive in!
Fender Play vs Guitar Tricks: A Quick Overview
Before we look at the services that each brand offers, it's important to understand a little bit about both.
Guitar Tricks was one of the first providers of beginner guitar lessons online.
Established in 1998, it has since amassed a massive catalog of lessons–over 11,000!
Over the past two decades, the platform has grown to offer a huge choice of material for guitar players of all skill levels.
For anyone interested in trying it, there is a Guitar Tricks free trial available.
In comparison, Fender Play is the new platform on the scene, only launching to guitar enthusiasts in 2017. Despite this late arrival, it's been able to provide a wide range of beginner guitar lessons online already.
The Fender collection of material is more for intermediate and advanced players and is still quite small. Just like Guitar Tricks, there is also a Fender Play free trial for those players interested in trying it out before purchasing a subscription.
SEE ALSO: Learn Guitar With Apps: The 9 Best Ones To Use Today
Fender Play Review
To ensure that this Fender Play vs Guitar Tricks review is thorough, we will be taking a close look at how easy it is to use, the features available to guitar students, and the overall cost.
User Experiences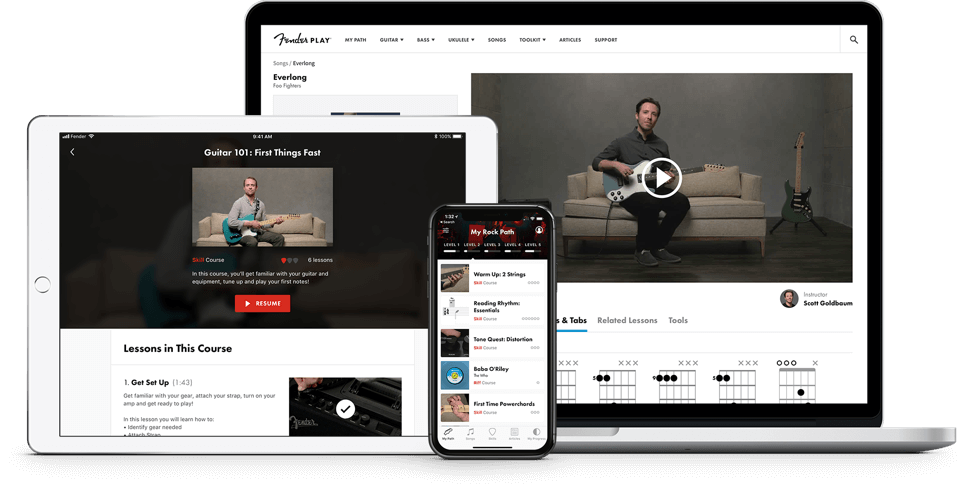 Given the brand name, the Fender Play interface is very high-quality and extremely user-friendly, as you might expect.
It's very sleek and modern looking, which makes navigating your way around the website or the app very easy and fast.
Thanks to the design, finding the lessons, information, or tools that you're after is effortless with Fender Play. The main dashboard provides a clear overview of your progress.
Overall, the website and app are very highly polished, and there has been a lot of effort put into the design.
Guitar Instructors

Although the user interface is important, when it comes to deciding the best online guitar lessons for beginners, the instructors are the most crucial factor in your development.
How quickly you grow and learn will depend on their engagement. That's why the skill of the teachers is very important in this Fender Play review.
When the platform first launched, they called upon some of their most well-known musicians to provide some unique lessons.
However, their main roster of instructors, are graduates from some of America's leading music programs at USC, UCLA, and Berklee College of Music. This means they can provide you with a considerable choice of guitar styles.
There are two options to choose from, learning songs and riffs, or learning pure skills.
This means that if you just want to learn your favorite Rolling Stones song, the Fender Play team can show you how to rock out. But if you want to learn the theory behind the music and write your killer track, the skills side will take you through how to do that step-by-step.
Fender Play content, features, and lessons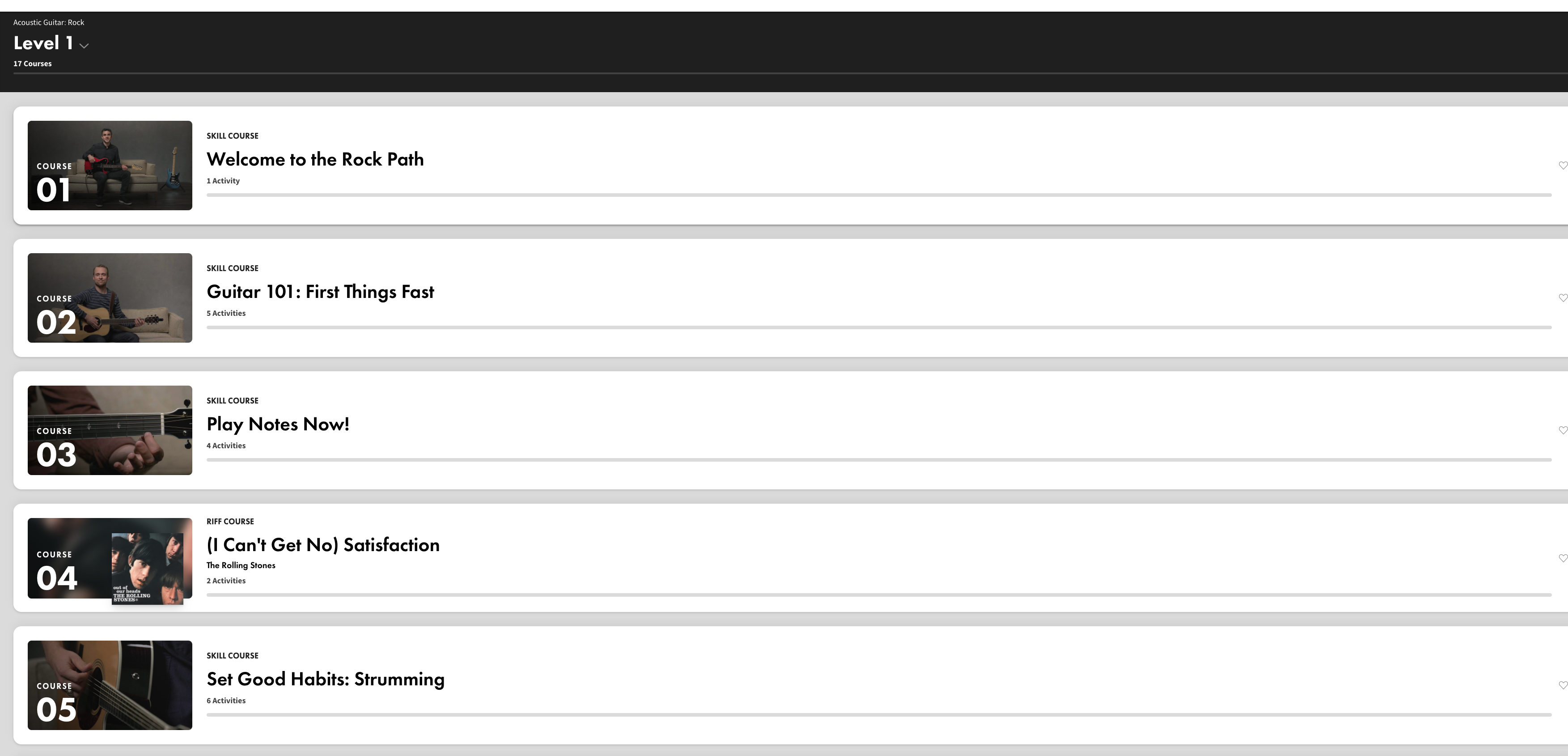 Equally as important when it comes to beginner guitar lessons online is the overall quality of the material and video lessons that they provide.
The videos on Fender Play are amongst some of the most professional on the market and are all recorded with 4K video software. They're also filmed with multiple camera angles, making it feel like the tutor is there in the room with you.
Every video is available across the Fender Play mobile app also, which means you can watch and learn while on the go.
It's important to point out that although the overall quality of the videos is high, the video player itself is quite basic. It lacks the additional features that others such as the Guitar Tricks one has.
As the Fender Play software is still relatively new, it does not have as comprehensive a song library as others. It does still have an extensive collection of songs suitable for players of all abilities. The library is constantly growing too, so if you're unable to find your favorite track, then it might appear soon.
When it comes to tools to help you, Fender Play does provide some useful items such as:
a guitar tuner,
tabs, and
chord charts.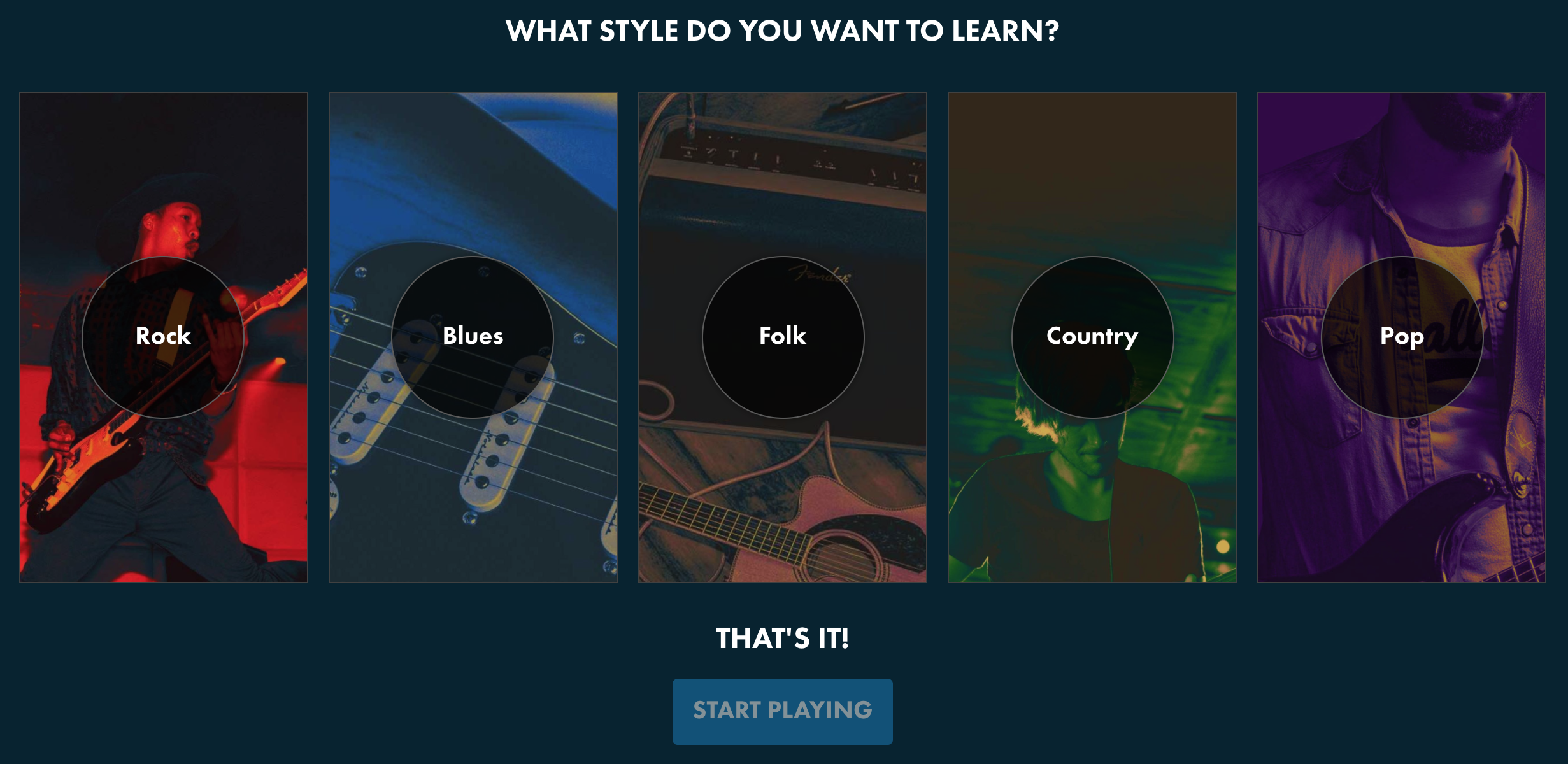 However, to maximize the playing experience you will likely need to download and pair with other Fender apps such as Fender Songs.
How Much Does Fender Play cost?
One of the most commonly asked questions from any Fender Play review is, "How much does Fender Play cost?" This is one of the most attractive aspects of the platform, with a monthly subscription of $9.99. The annual subscription at a discounted price of $89.99.
For anyone looking to try the software before committing to a subscription, there's a Fender Play free trial available, which gives users full access for 30 days, and it can be canceled at any time.
Fender Play Pros and Cons
Pros
Beautiful and modern website design
Very easy to navigate and find the lessons and videos
Affordable subscription and to try before you buy with the Fender Play free trial option.
Fast growth rate
High-quality tutors
Cons
Not as in-depth of a library as other online providers
Some lessons only teach the basics of a song
Lacks some of the most advanced techniques for skilled players

Guitar Tricks Review
When it comes to the online guitar lesson world, Guitar Tricks is one of the most well-known and most popular providers on the market.
Over its 20+ years, thousands of guitarists have learned their skills through the platform, so this Guitar Tricks review looks closely at what it offers.
We also look at how it compares in the question of Fender Plays vs Guitar Tricks.
User Experience
Any popular online guitar lessons require a functional and easy to use interface. Guitar Tricks would not have reached the popularity it has today if not for their very user-friendly platform.
As soon as you log in, the dashboard is highly intuitive, and it becomes very clear where to navigate to continue your learning.
From beginner lessons and songs to more advanced lessons (and even how to learn different styles of guitar), it's all readily available from the initial dashboard.
Guitar Tricks also provides you with a convenient mobile app, allowing you to continue to learn while on the go.
Guitar Instructors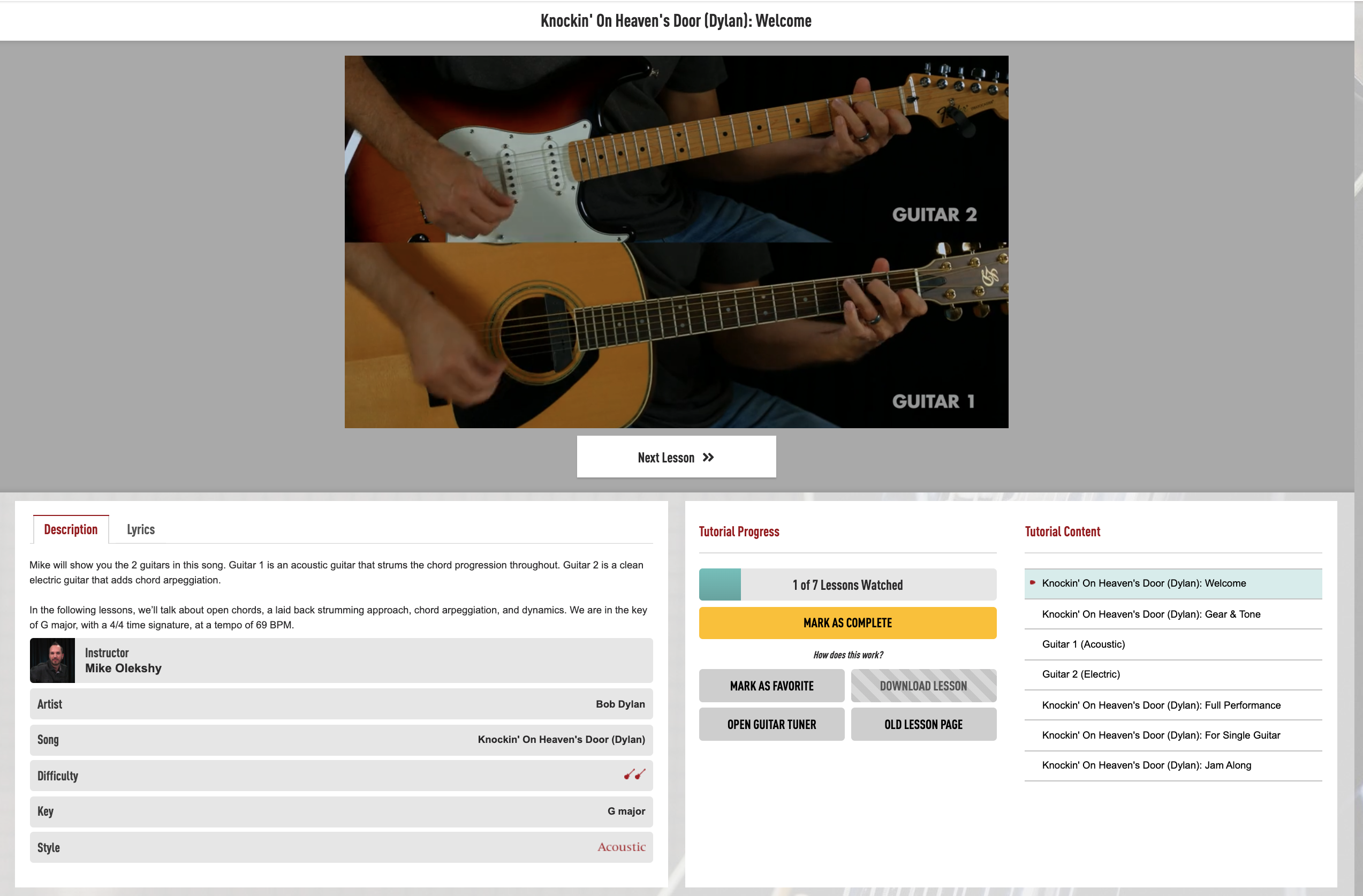 As one of the most popular online guitar lesson providers, Guitar Tricks has been able to build up an impressive roster of high-quality and experienced instructors.
With over thirty guitar instructors available, you are always able to find the right one for your needs.
The core lesson plans are one of the most attractive aspects of the Guitar Tricks online lessons.
The clear video lessons take you through the process of learning the guitar in a simple step-by-step process. The same instructor remains with you throughout, helping to establish familiarity alongside and ensuring the style of instruction is the same.
The Guitar Tricks instructors focus on providing a highly informative and engaging collection of lessons that teach you how to play the guitar and learn their favorite songs at their own pace.
Guitar Tricks content, features, and lessons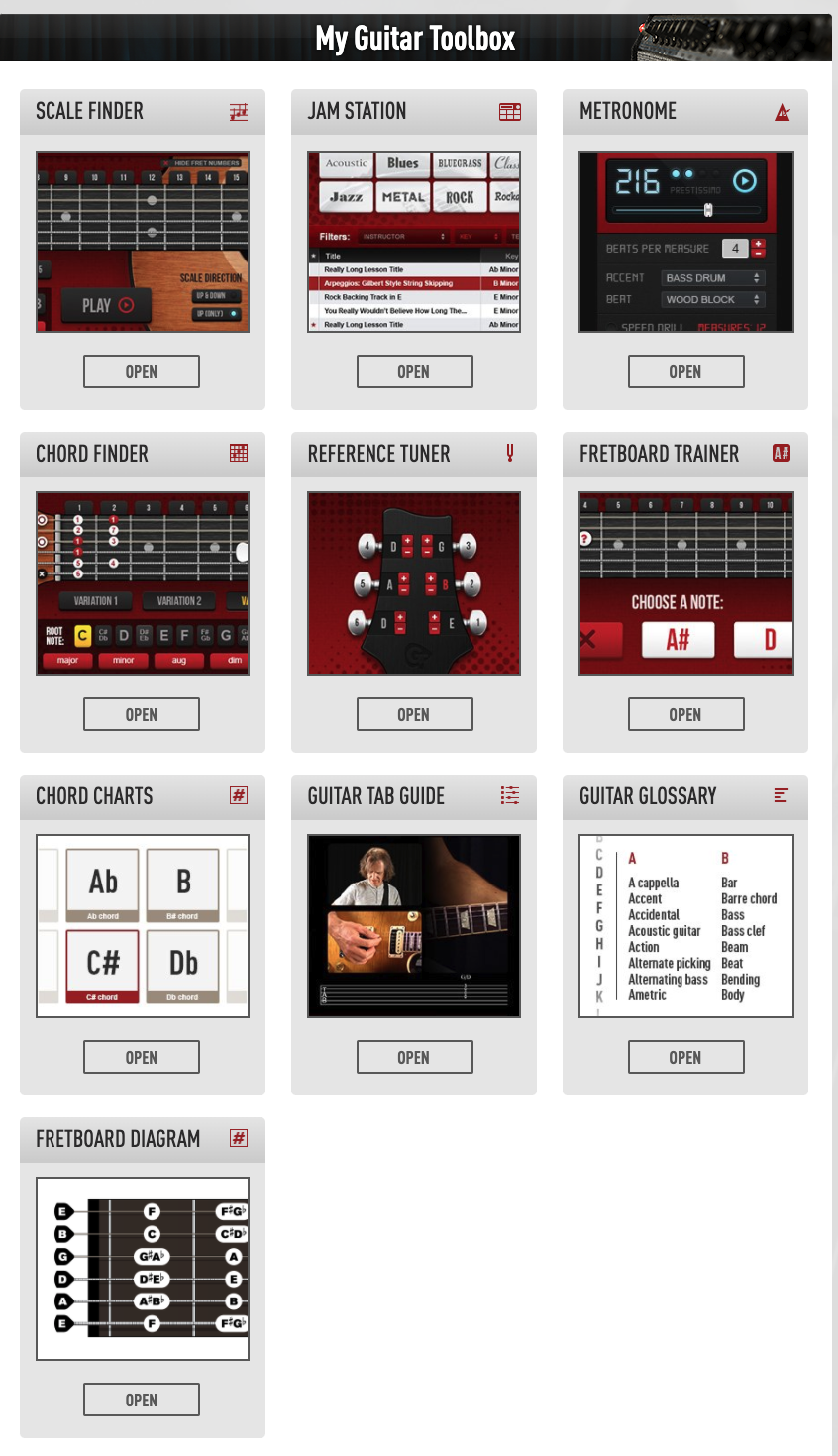 One of the most impressive features we found in our Guitar Tricks review is the sheer number of features and content that it offers you.
There are thousands of lessons available for you to choose from, covering everything for both beginner and advanced players. There's also guitar lessons for hundreds of popular songs and a huge variety of guitar styles.
Of course, learning to play the guitar is different for everyone.
While these online lessons are incredibly thorough, sometimes you still get stuck on certain aspects.
That's why Guitar Tricks provides you with a unique one-to-one video call with one of their expert teachers. This lets you focus on the issue and helps you to overcome any difficulties that you might be facing.
Every song on Guitar Tricks comes with full tab and notation, while some of the most popular ones have a backing track too so you can play along too.
You can also loop their videos, letting them play the same section over and over again. This is particularly useful for more complex songs, and each video is filmed in high definition and with multiple cameras.
The platform also has a vast collection of tools to help with the lessons, including a tuner, scale finder, metronome, and fretboard diagram.
How Much Does Guitar Tricks cost?
Just like it is with Fender Play, one of the most common questions from people is how much does Guitar Tricks cost?
The platform provides you with two options for membership. The Basic package is effectively a Guitar Tricks free trial, giving you access to 24 lessons, and a limited number of tutorials and tools.
To unlock all 11,000 lessons, the full access subscription costs $19.95 a month. It's possible to purchase an annual subscription, which lets you save 25% and gives you access to four free gifts too.
There's also a no-questions-asked 60-day money-back guarantee if you're not satisfied with the program.
Guitar Tricks Pros and Cons
Pros
Sleek and easy to use website
Proven history of teaching guitar, with over twenty years' experience
Huge catalog of 11,000+ lessons and videos
1,000+ of the most popular songs to learn
Lots of additional tools to help improve your playing
Ability to access one-to-one lessons
Cons
Subscription is a bit more expensive than Fender Play (although there's so much more available on Guitar Tricks)
With so much content, it can be a little confusing knowing where to begin. But if you follow their Core Learning System curriculum first, you'll have a good foundation.

Fender Play vs Guitar Tricks, which is better?
Both Fender Play and Guitar Tricks provide a fantastic way to learn guitar online.
The Fender Play software is a fresh and modern design, while the Guitar Tricks platform is a proven provider of high-quality lessons.
In our experience, the Guitar Tricks website edges ahead over Fender Play thanks to the huge choice of lessons and videos available for you to take part in.
There's so much content on Guitar Tricks that you'll be able to easily spend hours using the software and learning how to play. There are also more useful tools to boost your playing experience even further.
Fender Play is the most cost-effective solution; however, given the sheer value for money that you receive with the Guitar Tricks platform is worth the investment.
There are also a lot more options for intermediate and advanced players with Guitar Tricks.
This means as your skills develop and grow, you'll still be able to find plenty of content and lessons to take your guitar playing even further!
Which online guitar app do you love to use?
Share in the comments below!