Buying a guitar can be stressful. It is easy to become like a kid in a candy store. The variety of choices can be so overwhelming that you settle for getting a new pedal or strap rather than invest in a brand new guitar.
First of all, you have two choices: buy online or buy in-store. There are pros and cons to both methods. To a large extent, the accessibility of online music retail has changed the game. But there is definitely charm and practicality in buying a guitar in-store.
Let's discuss the pros and cons of buying a guitar online vs in-store so that you can get the guitar that suits you.
Buying A Guitar Online
There are plenty of places to buy guitars online. More than ever, people are choosing to stay at home rather than trawl the high street in search of the perfect guitar.
Pros
1. Browsing
Online shopping makes browsing easy. You don't have to leave the comfort of your own home. Within minutes you can look at hundreds of guitars from a variety of online stores. A good local store may have a couple of hundred guitars to try. Most online retailers have thousands of guitars to browse.
If you are buying a guitar from Amazon you can be browsing one day, select your guitar and have it arrive at your house the next day. This sort of accessibility is what makes online shopping so popular. When you visit Fender's online shop browsing can very quickly lead to purchasing without any hassle.
2. Price Comparison
Buying a guitar online allows you to compare prices accurately. It is difficult to get a full scope of how a guitar should be priced if you are only buying in-store.
Buying online enables you to look at the same guitar on a number of sites and compare the prices. This will help you get the best tool for your money and may also help you get a few accessories in a bundle.
3. Accessible
Shopping online is often the most practical option. It may not always be possible to visit several guitar stores in person. Buying online is the most accessible option if you live far away from a big city or a good guitar store.
This may not be something you think of if you live close to lots of guitar stores. But it is an important factor when it comes to browsing for guitars. Most people don't have the time to spend several afternoons noodling around guitar stores.

Save on Hundreds of Items at the Guitar Center Outlet Store!
4. Second-Hand
Browsing online is now a great way to buy good quality second-hand guitars. There are plenty of dedicated websites to choose from if you are interested in buying a second-hand guitar.
As well as specialized guitar websites you can also get great deals on the Facebook Marketplace, eBay and Amazon. Reliable chains like Andertons, Rich Tone Music or stores like SameDayMusic also offer great second-hand options that you can browse and buy online.
The second-hand market has never been thriving more than it is now. The accessibility for buyers and sellers to interact online is enormous. The chances of you getting a good second-hand deal online have been amplified by online accessibility.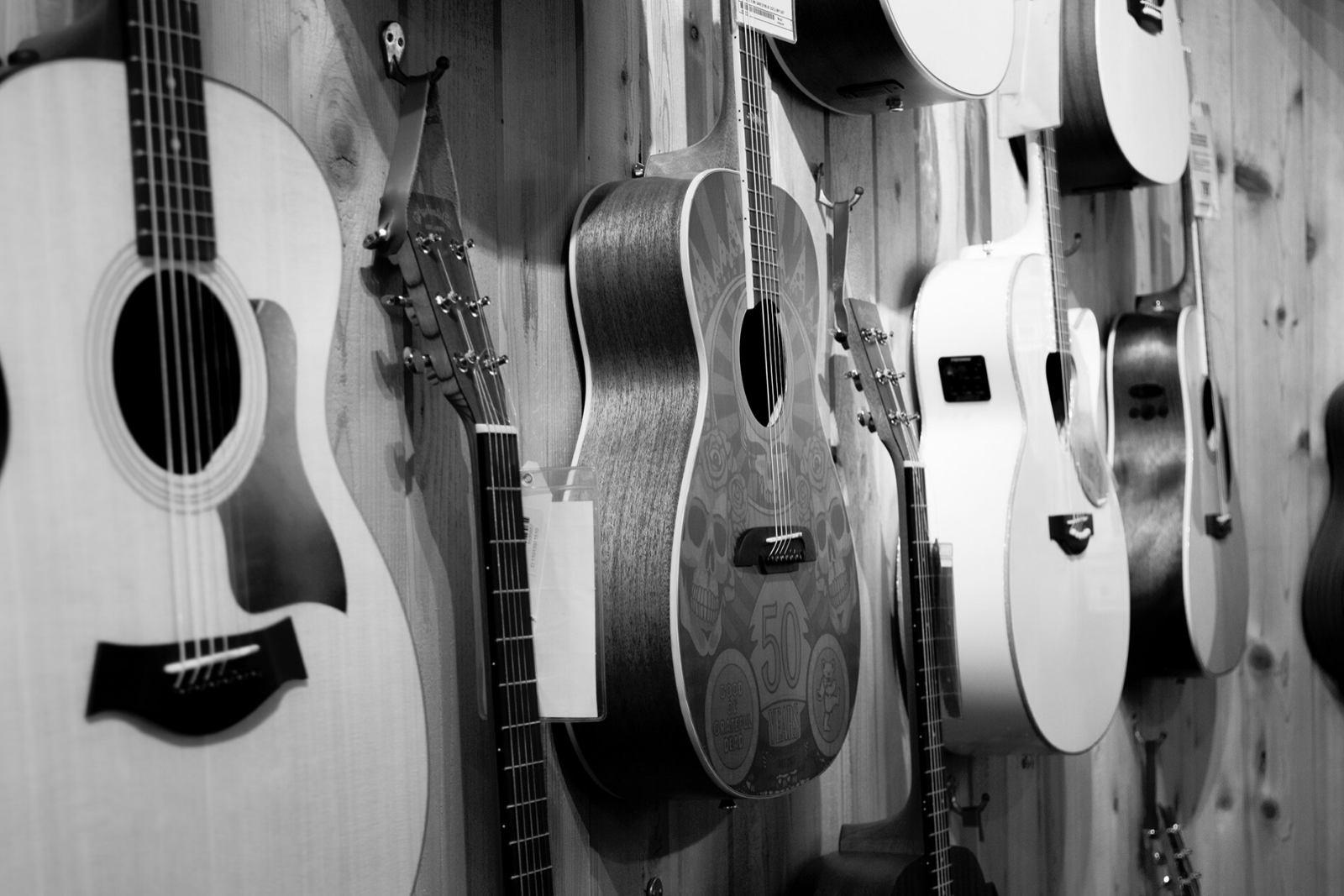 Cons
1. No Hands-On Experience
This is a huge downside to buying a guitar online. It is important to be able to try before you buy. This is not usually possible if you are buying online.
The best you can hope for is a good returns policy. But often if you aren't feeling the guitar after a few weeks playing then you are out of luck. It is hard to judge a guitar just by looking at the pictures online.
A good way of gaining a feel for the instrument is by watching videos online of other people playing your guitar. If you are buying online, this is the only way to get a feel for the sound, texture, and style of the guitar. For some people not being able to try before they buy maybe a deal-breaker!
2. Unreliable Sellers
You are more likely to come across an unreliable seller online. This is because they have less accountability. It is difficult to lie to somebody's face and tell them their new guitar is the genuine article when in fact it is a piece of junk.
If you are buying a guitar in a store you know exactly what the guitar looks and sounds like. You also know exactly who the seller is and where they are based. This can be a bit trickier if you are buying a new guitar online.
It is relatively simple to misrepresent the quality of a guitar online especially if you are buying second hand. If the guitar arrives damage the seller could claim it happened during transit and it's not their fault.
These are not things you need to worry about if you a buying in-store. But they may be a cause for concern if you do intend to shop online for your next guitar.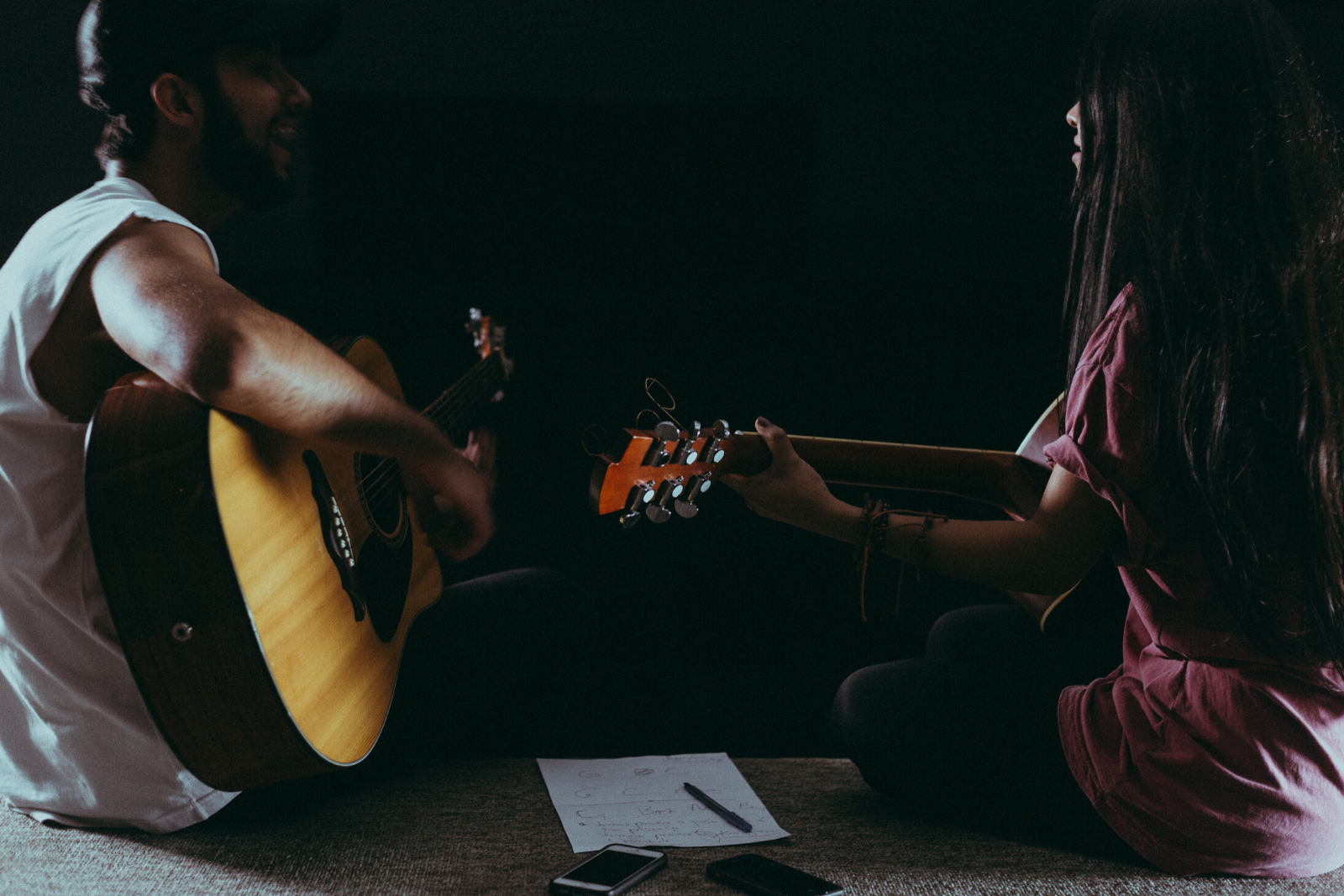 Buying a Guitar In-Store
This is the classic way to purchase a guitar. To some people, this is the only way you should do it. For some nothing beats holding the guitar in your hands and saying "this is the one!".
Pros
1. Personable Service
It is difficult to replicate personal in-store service online. If you visit a good store you will be able to get personal advice from experts that know your situation. This could prove the difference between getting a dud and purchasing your dream guitar.
Your whole purchasing experience can be greatly improved by a friendly attendant who knows what they are talking about. There is a certain social element to guitar shops. To their annoyance, many people go there just to play around on the guitars. It is a great place to be surrounded by fellow musicians and get good service.
2. Try Before You Buy
Obviously, buying a guitar in a store will allow you to try various guitars. This process could be invaluable if you are someone who is particular about how the guitar feels in your lap. If you are thinking about making a serious investment you can spend hours playing and experimenting with guitars.
Being able to try before you buy is an irreplaceable thing. You can't do this if you shop online. Most guitarists would recommend having a go on your guitar before you even think about laying any money down. It will enable you to try your guitar in different settings. And if you are thinking about buying an electric guitar you can play with several amps and pedals.
3. Opportunity to Negotiate
Buying a guitar in-store may give you the opportunity to negotiate. When it comes to price there is not a lot of freedom to negotiate online. It is reasonable to barter about the price with the seller if you have spent the whole afternoon in the shop and seriously intend to buy the guitar.
While browsing online is good for comparing prices, you may be able to get a better price by going to the store. The opportunity to negotiate should not be undervalued.
Cons
1. Not Always Accessible
The major difficulty with buying a guitar in-store is that it is not always an accessible option. For many people, it may be tricky to get to a good guitar store that sells the guitars they want.
The ease of online purchasing has meant that more and more people stay at home. A guitar store is a great place. And if you pass one by chance you might go in and have a look. But if you have to drive 2 hours to get there it is not always the best option.
2. Limited Choice
A guitar store is limited by space. Some mega-chains may have the space to display thousands of guitars but this is rare. Your local guitar store will probably have a couple of hundred guitars at best.
It is not always easy to find the best place to buy a guitar. The limited choice makes it less likely you will find the right guitar for you.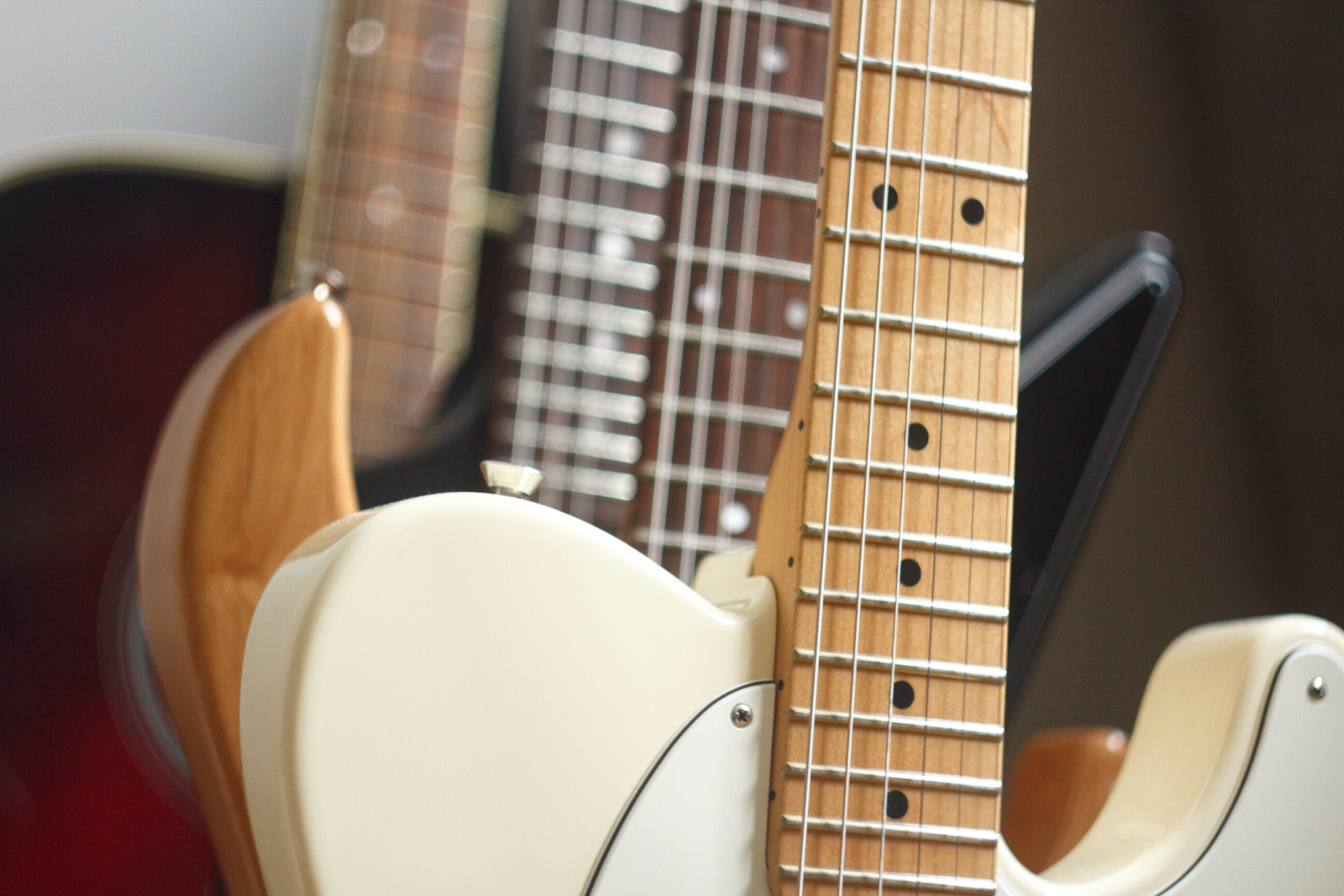 Choosing the Right Guitar
Ultimately, there are good and bad things about both methods of purchasing a guitar. If you want to get the right guitar you first need to evaluate your own position. What is your budget? Are you close to any guitar stores? Do you place more trust in an online retailer or a local store?
Many guitar stores now have an online presence. So you can use a combination of both online and in-store methods to purchase a guitar. If you see a guitar you like online you may be able to go try it in the store. This would be ideal but it is not always possible.
It is always a good idea to spend some time playing your guitar before you buy it. Guitars are often substantial investments. If your instrument doesn't meet your expectations it can be quite an expensive mistake. So, whether you choose to buy a guitar online or in-store remember to do so with cautious optimism. Enjoy playing!
Do you prefer to shop online or in-store?
Share in the comments below!