The benefits of learning guitar can be a life changing experience. The discipline and creativity involved in learning to play guitar are key skills to develop in your life in general.
As you practice and begin to improve, you will find that you are able to get more out of all types of musical experiences.
Sometimes it can be difficult to find the motivation to sit down and practice. Beyond the obvious improvements you can make on the guitar by practicing, learning the guitar can stimulate creativity and sharpen concentration for other areas of your life.
Top 15 Life Enhancing Benefits Of Learning Guitar
Improving your discipline skills is one of the most consistent benefits of playing guitar. To be good you need to practice. Becoming strict with yourself is a valuable skill that can be applied to all areas of life.
Playing guitar improves your creativity. Being adaptable and creative are great skills that you can utilize as both a musician and in your professional life.
Broaden your horizons. One of the best reasons to play guitar is that it will help expand your knowledge of music and you will better understand the music that you love.
Sharpens your concentration. Research has shown that one of the health benefits of playing guitar is that it improves concentration.
Therapeutic. Guitar playing can be a very calming experience. If you are looking for a way to relax and be productive you should start learning the guitar.
Learning guitar introduces you to new people. There is a fantastic social element to guitar playing and you will probably meet many new people if you start playing guitar in public.
It is an attractive skill to have. One of the common, although relatively unimportant, reasons to play guitar is that it is a good skill to have if you want to show off.
Helps with confidence. One of the key benefits of playing guitar is that as you progress and become more skilled you will also become more confident.
A new way to communicate. Being able to express yourself through your guitar playing should be an exciting experience for any beginner.
Improves your memory. One of the benefits of playing guitar on the brain is that by practicing over and over again you can improve your memory.
Boost your multitasking skills. Another benefit of playing guitar on the brain is that it increases your ability to multitask. As a guitarist, you will have to read music, play your instrument, and pay attention to other musicians all at the same time.
Improves your dexterity. The complex plucking, picking, and strumming techniques you will learn will improve your coordination and dexterity.
Gives you a new appreciation for music. As you dig deeper into the world of music and guitar you will probably gain a greater appreciation for the value of music.
A sense of accomplishment. At the end of a guitar playing session, you should feel a good sense of pride and accomplishment. One of the health benefits of playing guitar is that you can feel positive and energized by your progress.
Helps you play other instruments. One of the benefits of playing guitar is that you will build up a musical knowledge that will make it easier to learn other instruments too.
Many guitarists will tell you they feel most comfortable with the guitar in their hands. This sort of attitude can help with confidence and self-esteem, and help you overcome both professional and personal hurdles.
The importance of guitar in our lives cannot be underestimated. Learning to play the guitar could be one of the greatest pleasures of your life. The life benefits of learning to play guitar certainly outweigh the difficulties!
1. Teaches Discipline
Learning to play the guitar is one of the best ways to teach your discipline. Unfortunately, that is because it is often so frustrating to play well. You have to practice if you want to be good.
Practicing regularly will teach you how to repeatedly fail and improve on your failures. Discipline is an important life skill. There are many areas of your life that can be improved by being disciplined and strict with yourself.
Playing the guitar is tough and it requires a certain mindset. This sort of mindset will help you be successful in many areas outside of music too!
2. Engenders Creativity
One of the key benefits of learning guitar is that it is a creative process. Strumming your guitar, searching for licks and riffs can be some of the most interesting creative experiences you can have. There is always a great song waiting to found in the guitar.
Like discipline, creativity is an important element that can be polished while playing guitar and used in other areas of life. Having an active mind, looking for interesting solutions is a valuable thing in the professional world.
Playing the guitar stretches your creative muscles. You are always looking for the next note, or chord, or a fingerpicking technique. It is an exciting process that can be stimulating for your mind even when you aren't holding a guitar.

3. Broaden Your Horizons
Playing the guitar can introduce you to new cultures. The guitar accommodates many different genres of music that span the globe. Learning to play guitar will broaden your horizons and can give you a new perspective.
If you learn to play blues, jazz, hard or indie rock songs on the guitar, you are already consuming a wide variety of perspectives through various musical styles. Practicing different genres will improve your musical literacy.
Beginners can get frustrated because they have to tough tunes of their classical guitar. On the upside by learning on the classical guitar, it is likely that you will become exposed to genres of music like flamenco with which you may not be familiar.
4. Sharpens Your Concentration
Playing the guitar requires concentration. There are so many distractions in modern society that a few hours of concentration are a precious thing. Many people have forgotten how to concentrate because they are always multitasking.
Learning the guitar requires you to sit down and focus on one thing at a time. There are not many hobbies that require such dedication. The importance of guitar in our lives can be huge. Learning to play the guitar is a relatively easy way of sharpening your brain.
See also: Can You Really Learn Guitar Through Video Games
5. Therapeutic
There are several mental health benefits to learning the guitar. Music therapy is a recognized clinical strategy of improving the quality of life for patients. Listening and playing instruments is a great way of calming down and focusing on an attainable goal.
Health Benefits of Playing Guitar
Learning to play the guitar is a great way of managing your stress. Many musicians compare practicing guitar to being in a meditative state. The therapeutic nature of practicing alone is one of the key reasons why you should play guitar. There a very few other activities that enable you to spend time alone and focus in a constructive way.

6. Introduces You to New People
There is an important social factor in learning the guitar. It is difficult to learn an instrument in isolation. There are many helpful online resources but these should not take away from the vital social element of music. When you pick up a guitar and begin to learn a few chords you are instantly inducted into a community of fellow musicians.
One of the significant pros of playing guitar is the collaborative nature of music. You may meet new people at jam sessions, gigs, or in practice rooms. In the beginning, you may need a teacher. Leaning on the expertise of other musicians is a great way of improving your playing and meeting new people.
See Also: How to Find the Right Instructor For Guitar Lessons
7. An Attractive Skill to Have
Without a doubt being able to play an instrument is an attractive skill. The guitar is one of the most romantic instruments of all time. You can serenade loved ones to your heart's content. Being proficient in any instrument is an attractive quality. But the guitar holds a special place in history.
The mere fact that you are learning guitar is evidence of your curiosity and will to improve your life. Playing guitar is an easy way to impress your crush. Of course, you should probably make sure you can play a few tunes before busting the acoustic out at a party!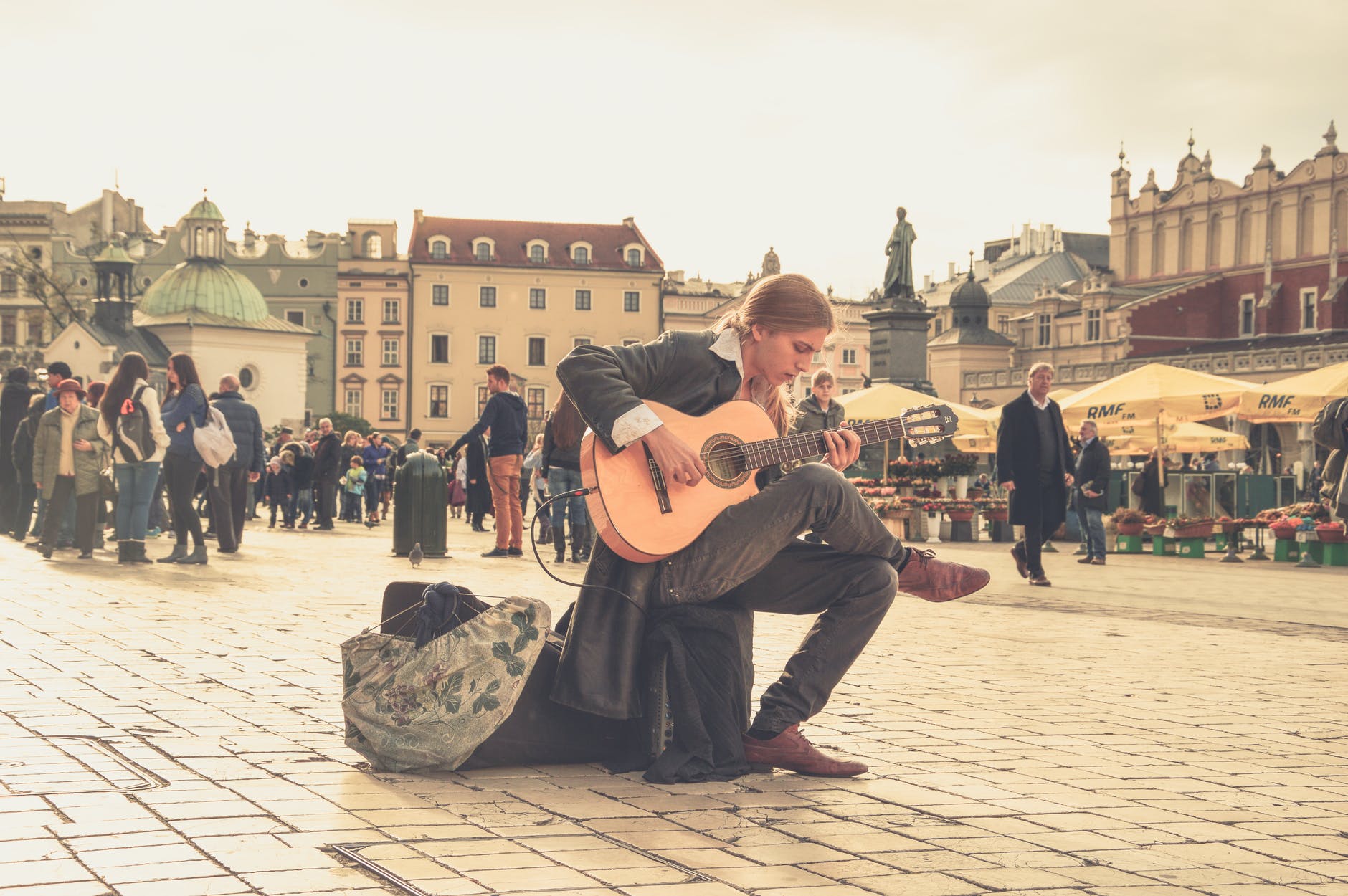 8. Helps with Confidence
Being good at the guitar can improve your confidence. Unfortunately, as a beginner, the guitar can also test your confidence. Once you get over the initial barrier to entry the guitar can be an effective confidence booster if the rest of life is pushing you down.
In general, music has always been a way for people to express themselves, and being able to do this is important for your confidence.
The best way to boost confidence in your guitar playing is to practice regularly. Playing live gigs can also help you get used to nerves and help you perform in other areas of life.
9. A New Way to Communicate
By playing guitar you can express feelings that you can't put into words. Music has always been a supreme form of expression. The guitar has so much room for nuance and interpretation. For many years musicians have used the guitar to rid themselves of anger, sadness, and frustration.
Playing the guitar is also a fantastic way to communicate joy. A well-placed chord can say a thousand words. A lot of guitarists will tell you that learning a new lick or a heavy riff is the best way to spend a few idle hours.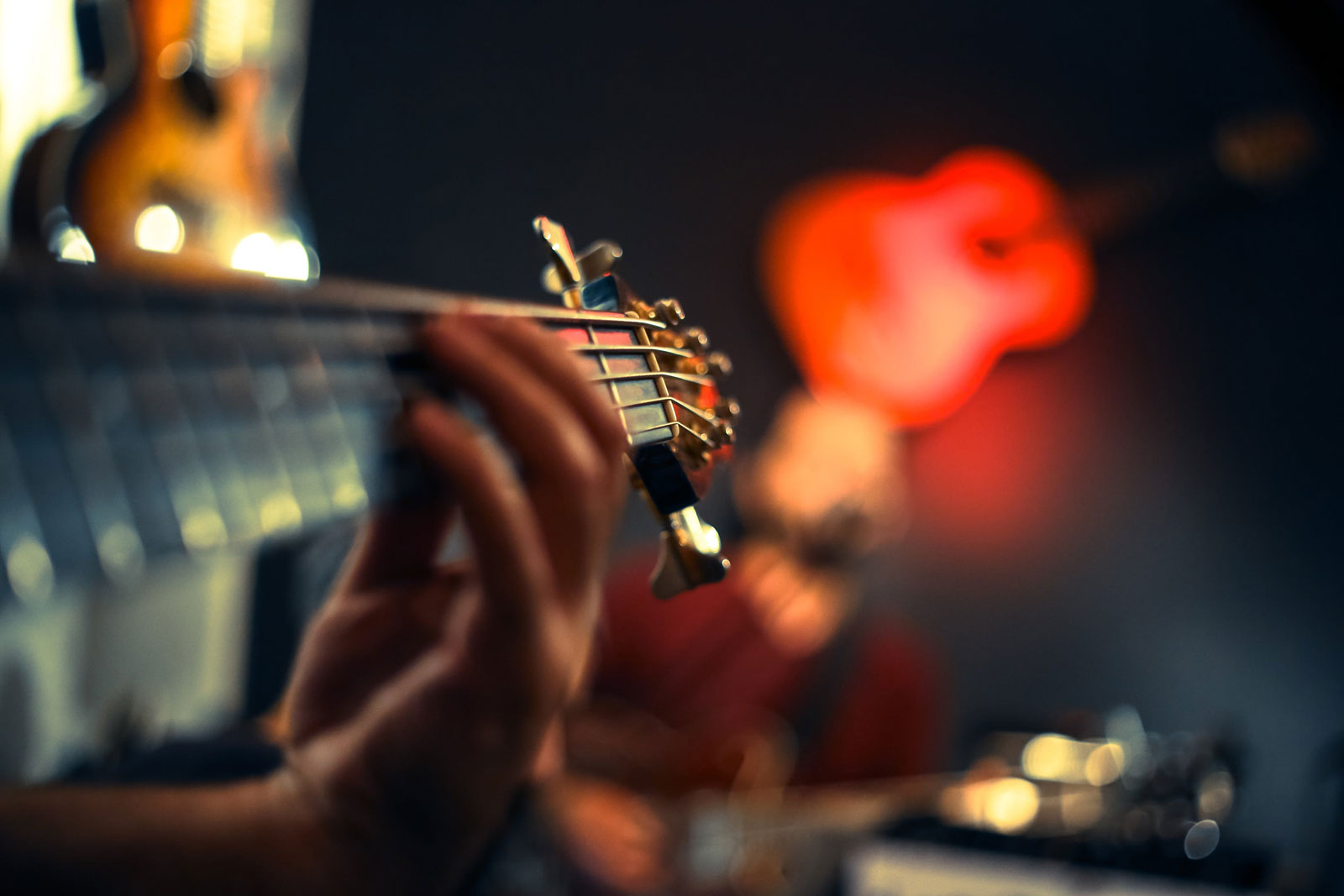 10. Improves Your Memory
Learning to play guitar can help to improve your memory. A substantial portion of your practice hours will be dedicated to memorizing scales, progressions, and licks. Constantly exercising your memory muscles by regularly practicing the guitar will help you to improve your general memory skills.
Over time you will develop personal strategies for remembering the music that can be applied in your regular day to day life. Your memory will improve, even if you are not actively focussed on memory exercises. Muscle memory develops through repetition. Playing the guitar will become natural and will help to improve your cognitive skills.
See Also: Learn Guitar With Apps: The 9 Best Ones To Use Today
11. Boost Your Multitasking Skills
One of the key benefits of playing guitar is that you will develop your ability to multitask. At various times guitar playing will require you to read music, pick the right notes, strum to the correct rhythm, and listen to other musicians.
If you feel like you need to improve your multitasking skills, learning the guitar is a great place to start. The process of learning any musical instrument is multifaceted.
The more you practice the greater your ability to perform multiple tasks will be. Being able to multitask is a crucial skill to have in many walks of life.
Benefits of Playing Guitar on the Brain
Improves memory
Improves the ability to execute complex tasks simultaneously
Provides a therapeutic respite from the everyday
Sharpens ability to concentrate
12. Improves Your Dexterity
There are many benefits to learning guitar, one of which may be to improve your dexterity. Guitar playing requires a lot of precise and complex finger and hand movements.
For some beginners who may be clumsy doing everyday tasks, playing the guitar can help improve dexterity and coordination.
Through practice, you will strengthen your ability to command your fingers to complete complex movements. Dexterity can be improved in other ways but by learning to play the guitar you are also picking up other life changing skills.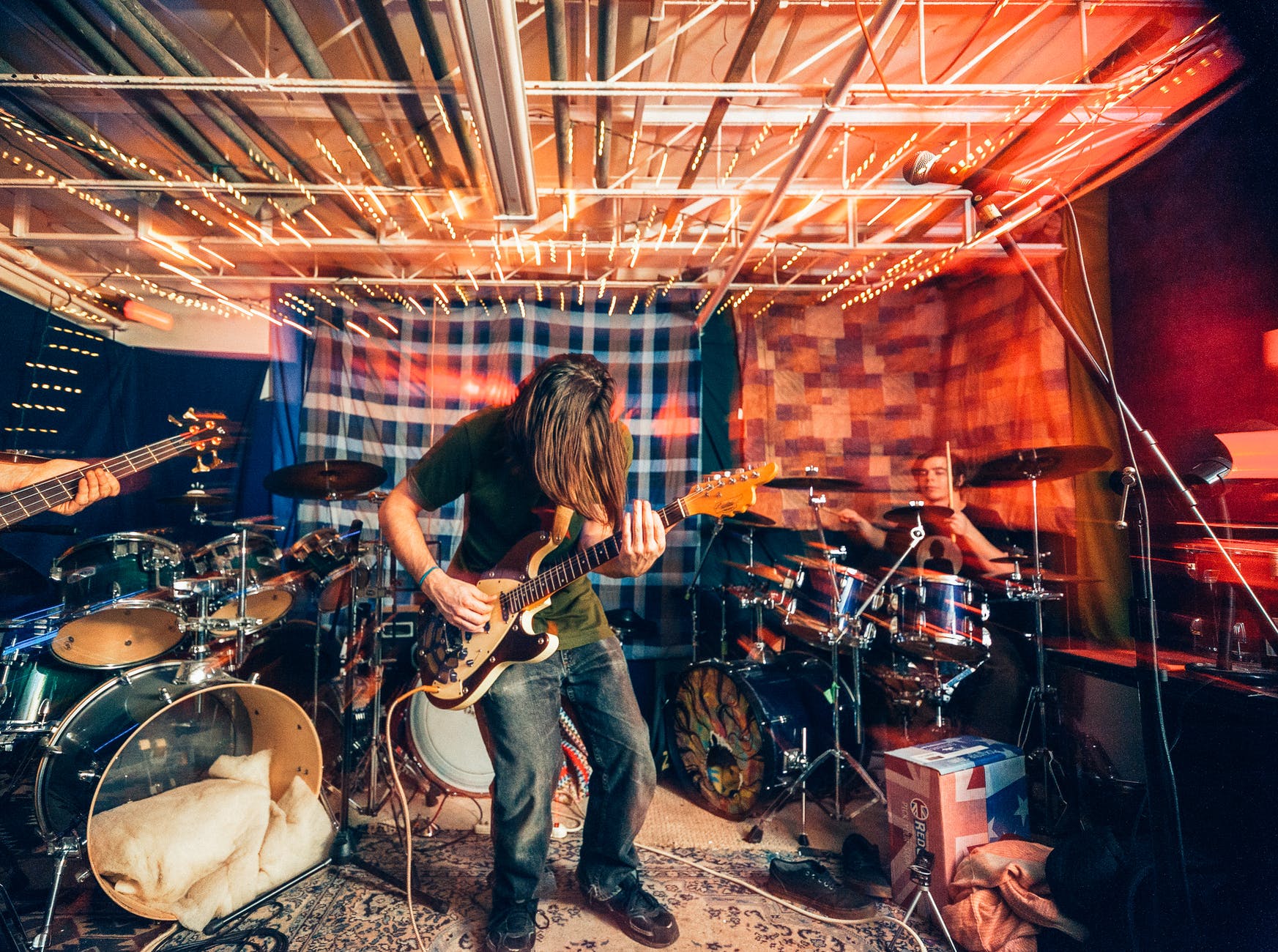 13. Gives You A New Appreciation for Music
Once you have started to practice with your guitar on a regular basis you may begin to have a new appreciation for all the great music and musicians you have listened to.
Practicing can be intensely frustrating especially when you are trying to replicate what you have seen great guitarists do on stage and on records you love.
One of the reasons to play guitar that always comes up is the desire to be like Hendrix, Clapton, and other legendary guitarists.
As you learn more about the guitar you will undoubtedly gain a great appreciation for the complexity and skill that goes into producing the music we all know and love.
14. A Sense of Accomplishment
One of the great benefits of learning guitar is the immense sense of accomplishment you feel when you finally nail a riff or finish a solo over a complex chord progression.
This feeling is tough to replicate in other areas of life. One of the most common reasons to play guitar for many beginners is the sense of progress and joy that you can get from playing.
15. Helps You Play Other Instruments
Learning the guitar can be an important gateway to playing other instruments. After you have made a decent amount of progress on the guitar you could move on to other stringed instruments like the bass, ukulele, mandolin, and even violin!
Playing the guitar will teach you the basic skills: rhythm, tone, fingering techniques. This knowledge can be readily applied to many other instruments.
If you are a keen musician you will be able to have lots of fun experimenting with the skills you have gained from learning the guitar.
---
Practice Makes Perfect When Learning Guitar
The more you play the guitar the more you will feel the benefits. Music is a great gift that can be enjoyed by many people. Learning to play the guitar is a way of broadening your horizons. It is a valuable and enriching skill to have that will bring you endless hours of fun throughout your life.
Some of these benefits will be more valuable to you than others. Maybe you are already a confident individual but you have struggles dealing with stress. Similarly, maybe you know how to be disciplined in the professional sphere but lack avenues for creativity in your personal life.
Learning to play the guitar is a journey. Please don't despair if you are not immediately feeling the benefits of learning guitar. Patience is the key to success. With a healthy dose of hard work and patience, you should be seeing the benefits of playing the guitar in your life very soon!

Try Fender Play Free For 14 Days!
How has your life been changed by learning the guitar?
Share in the comments below!