Can you teach yourself to play the guitar?
Of course, you can. There are plenty of tools at anyone's disposal to help aid in the guitar learning process.
Is the guitar easy to learn?
Depending on your willingness to dedicate a bit time to the craft, it absolutely can be.
Learning how to play the guitar can seem like a daunting task in the beginning. Why? Because learning an instrument is similar to learning a foreign language. You cannot expect to become fluent right away.
Thankfully, there are now a plethora of resources that are accessible to beginners. There are many ways to teach yourself guitar chords.
Learning how to play the guitar can be a lifelong process. As you develop as a musician you will find new and more effective ways to learn and practice.
It is important to educate yourself whenever you can. Becoming a better guitarist also means becoming a better musician. You can teach yourself many things but eventually interacting with other musicians is the only way to progress.
By following informative steps and allowing time for plenty of practice, you can teach yourself the guitar.
---

Steps on How to Teach Yourself Guitar
Step 1: Learn the Basics of the Guitar
How do you learn the guitar by yourself?
The most important step to start playing the guitar is learning how the guitar works, as well as the different parts that exist on the instrument. You cannot just pick up the guitar and play without knowing exactly what you are handling.
Understanding the basic structure of the guitar is critical. Learning the guitar, for beginners, should always start with getting familiar with the strings and fretboard. To teach yourself guitar chords you'll need to grasp how the strings and fret system work together.
Do not just dive right into playing chords without knowing what you are playing and how exactly the guitar works. This will lead to a hollow understanding of the instrument, further complicating the learning process in the long run.
A good way to further your understanding of the basics of the guitar is to use literature precisely written for people self-teaching guitar playing.
"Guitar Basics: A Beginning Guitar Method Book 1," by Michael Christiansen is an excellent book for people teaching themselves the guitar. It begins by explaining the fundamentals of the instrument.

Books such as this are extremely helpful, not only because of the necessary information they provide but because a beginner can read and learn the information at their own pace.
If you are using a book to teach yourself guitar, do not rush. Slowly read through the fundamentals and apply what you have learned in the readings to your own guitar. This will be extremely helpful as you move on to learning chords.
Step 2: Teach Yourself Guitar Notes and Chords
Guitar notes and chords go hand in hand. Notes are individual sounds played on a single fret of a string. Chords are a set of notes played simultaneously to create a fuller sound.
Guitar Notes
Notes exist on every fret of every string of the guitar. For example, if you pluck a string, you will hear the note it produces. If you then place your finger on a fret of that string, the guitar will produce a different note.
Notes are singular and fairly complex to memorize across the entirety of the fretboard. Don't worry, however, as there are products that can help you memorize notes as you teach yourself the guitar.
Fret Daddy is a set of stickers that can be placed on the fretboard of the guitar. On each sticker is a note that corresponds to a string and its frets. This is a visual representation of notes all across the fretboard. As you place a finger on a fret, you will know exactly which note the guitar will produce when strummed.

As you become more familiar with the notes, memorizing them in the process— you can remove the stickers and move on to guitar chords.
Guitar Chords
Chords are a set of notes played simultaneously. Each guitar chord consists of at least two guitar notes. Though chords are technically more complex than notes, they can be learned much faster than individual notes if you teach yourself notes and memorize them beforehand.
Jake Johnson's "Guitar Chords: Easy-to-Use, Easy-to-Carry, One Chord on Every Page," is an excellent book to help teach yourself guitar chords.

This book consists of 360 chords. As the title explains, each page consists of one chord. Each page explains what notes are used in a chord and where your fingers should be placed to play the chord correctly.
Keep practicing a chord until you can play it without messing up your finger placement. After some time, you will be able to memorize and play the chord without the air of the book. Once you have familiarized yourself with a chord, move on to the next one.
After learning multiple chords, try transitioning between the chords you have taught yourself. This may take some time. However, it is extremely necessary to learn how to transition, as this how a guitarist plays a song.

Step 3: Teach Yourself with Guitar Apps
Once you have an understanding of guitar notes and chords, you are ready to move on to learning songs.
Some people are able to play a song by ear. They can distinguish which notes and chords are played in a song by familiarizing themselves with their distinct sound. For most people, however, they need help teaching themselves how to play a song.
Perhaps the best way to learn a song is with the help of the app Ultimate Guitar.
Ultimate Guitar is an online source that provides the notes and chords for thousands of songs. Ultimate Guitar is available in app form, providing tools to help a person learn notes, tabs, chords, and tuning—enabling a beginner to learn full songs on their own.
UG shows a person teaching themselves how to play the guitar the correct chords of a song and when to play them. In the app, a chord is represented by their given letter and is located above a word in the given lyrics.
This is where transitioning between chords becomes extremely important, as many songs have fairly quick chord transitions.
Step 4: Learn From Youtube Videos
YouTube is possibly the greatest resource available if you looking to teach yourself guitar online for free. There are thousands and thousands of hours of content on Youtube all aimed at guitarists who want to learn notes, chords, and songs.
Alongside books and apps, you should take a look at what is on offer on Youtube. A range of music educators from Adam Neely, GuitarJamz and Andy Guitar have millions of subscribers learning from their expert tips and step-by-step guides.
Learning from Youtube is accessible and can be easily tailored to your own schedule and ability. It is a great place to learn as you progress as a guitarist. There is always a range of information for beginners all the way up to experts.
Youtube is particularly useful if you want to teach yourself guitar chords. The video format enables simple visual and audio presentation.
Most musical educators on Youtube have developed their own style of communication. This means that there are a variety of ways to learn new chords. If you don't like the way an expert in conveying the chordal information you can very easily find another expert who suits your learning style.
Learning guitar self taught allows for creativity and experimentation and Youtube is the best facilitator possible.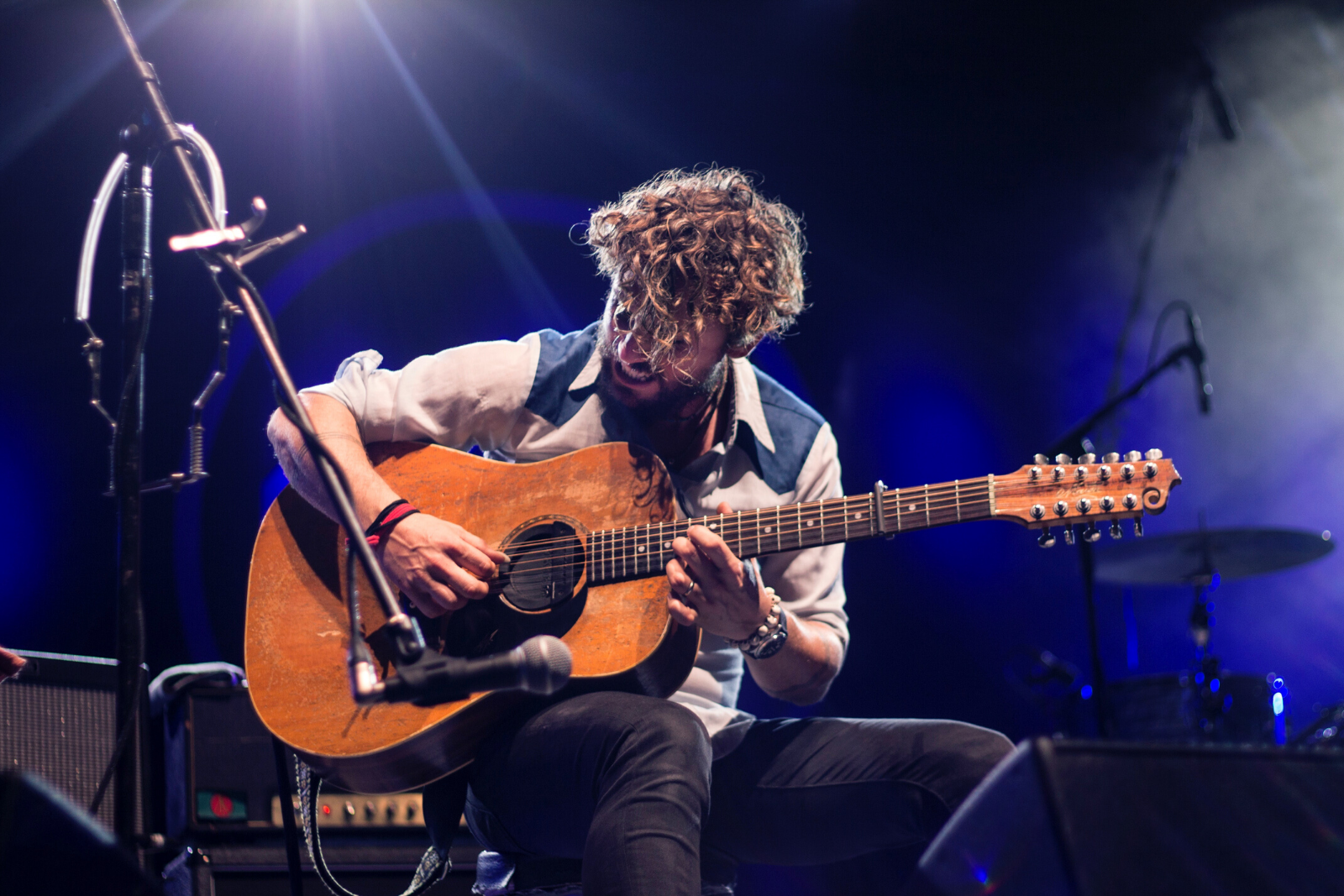 Step 5: Learn Some Basic Songs
One of the best ways to teach yourself guitar chords is to learn some basic songs. Many popular songs are based on a few simple chords so it is also a great way to expand the repertoire.
It can sometimes be difficult to get the hang of certain chords. Learning musical elements in isolation can quickly become boring and disheartening.
It is important to have a goal in mind when you are trying to teach yourself guitar chords. One of the most satisfying goals to strive towards is being able to play a whole song.
Songs like I Can't Get No Satisfaction by The Rolling Stones can be perfect for learning E, A and D chords. These chords may sound pretty bland on their own. The groove and melody of a song will help you memorize chordal shapes and progressions with greater ease.
Chords are integral to most popular songs. Different chords and progressions are associated with different genres. For example, learning some jazz standards on the guitar will help you understand 2-5-1 Chord progressions and 7th chords.
Learning some basic songs will help you cement your knowledge. It is a simple and fun step that you can accomplish on your own.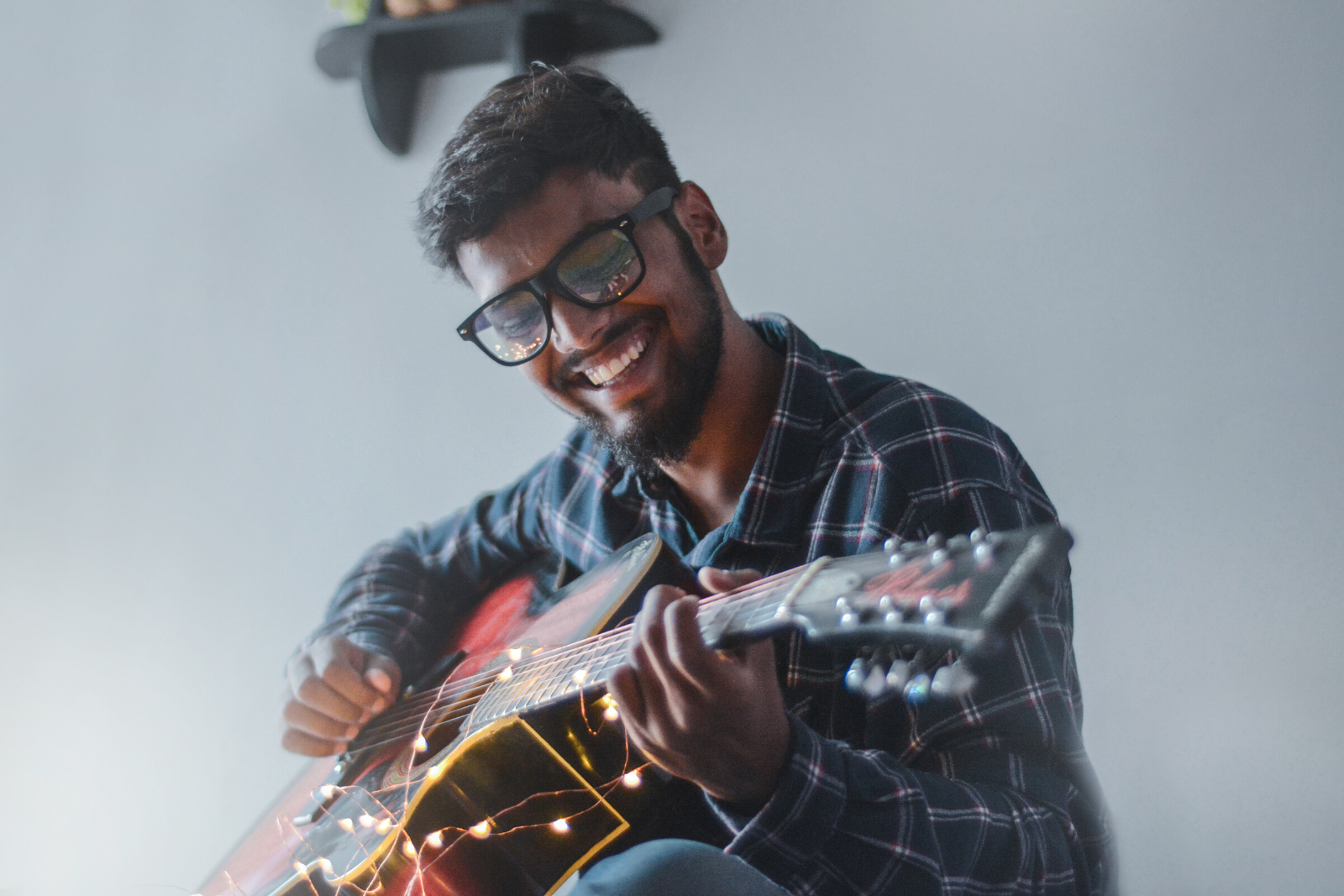 Step 6: Listen Well
Part of becoming a great guitarist is having a good ear. You can train your ear by actively listening to a wide variety of music. Being able to hear pitch, dynamics and notes will help you learn guitar chords.
Unlike the other tips, this is something that can be done away from the guitar. While you always want to relate everything back to the guitar, it is also important to developing your overall musical skill. This can be achieved by listening intently and with a purpose.
A chord is comprised of various notes. The better you are able to hear each individual note within the chord and understand their relationship the easier it will be to improve.
Learn the sound of a C Major chord or the sound of an A minor chord. Listen to how you can utilize different parts of the fretboard to create great sounding chords.
Listening actively will help you when you eventually move on to experimenting with chord voicings. The same chord can be played in a variety of ways which will change the texture and the feeling.
This is a great thing to learn as a beginner. It is also a step that is perfect if you want to learn how to play the guitar by yourself.
Take time to listen to your favorite guitarists. Become familiar with the chords they use and when they use them.  Learning from the greats is the best way to teach yourself guitar.
Listening to music while thinking about your own guitar playing will also help you hear how the guitar fits in with the rest of the band. You may eventually want to play with others. Actively listening will help you become a reliable and good guitarist to have in a band.
Learn how to play guitar online with Fender Play: Free 14-day trial!


Key Takeaways on How to Learn Guitar by Yourself
As long as you follow our provided steps in order, you will be able to teach yourself guitar.
Do not rush through the process because each step is necessary to improve your playing skills. Practice as much as you can. The more you practice and study certain aspects of the guitar the more proficient you will become in the future.
As you learn chords, licks and solos it is also important to consider how the guitar compliments and blends with other instruments. Learning guitar by yourself is great but if you truly want to expand your skills you will have to eventually play with other musicians.
The hardest thing about teaching yourself guitar is discipline. The best way to combat this is by developing a schedule. If practicing becomes a habit then it will feel less like a chore and more rewarding!
If you follow these steps and go into every practice session with determination and enthusiasm your playing will improve dramatically.
Not only will you be able to teach yourself guitar notes and chords, but full songs as well. There is a great sense of accomplishment when you teach yourself how to play the guitar.
If you teach yourself the correct way, you'll be playing the guitar like a pro in no time. Learning an instrument can be a life-changing experience. If you follow any of these six simple steps to teach yourself guitar chords you will definitely become a better musician.
Are you ready to teach yourself guitar playing?
Share with us below with any questions, tips, or tricks you've learned while learning to play guitar.