Whether you are looking to fill stadiums with roaring riffs or want to impress at a jam with some jazzy licks, a good practice is the key. Being able to play the electric guitar well is an aspiration of music lovers. You can elevate your skills immensely by practicing electric guitar with focus and intelligence.
Taking your talent to the next level requires a knowledge of the instrument and the music you are playing. Unfortunately, there are no shortcuts to success on the electric guitar. Thankfully, we are in an age where many resources can make practicing electric guitar easier.
Do your research and check out any of the best players in the world; regardless of whether their genre is based around heavy rock or classical, you'll come to find that they all have one thing in common, one thing that sets them apart from everybody else – a truly mastered technique.
What does this mean? Well, only that the many years of electric guitar practice has paid off. It means that they're applying all of the requirements to play god-like guitar. Use Mr. John Petrucci from Dream Theater as an example. At first glance, sure, he's going to frighten the hell out of you probably, but just look at how he uses his left hand strumming electric guitar solo's while he's out on stage.
It may seem like he's doing it all with effortless ease and minimal movement, and that's simply because he is. Thanks to his many years of electric guitar training, Petrucci mastered good technique from the start.
A substantial commitment to electric guitar exercises has proved time and time again that will allow you to play in your best and most efficient form when done correctly.
Electric Guitar Techniques
Whether you're reaping the benefits when learning guitar on your own with the help of blog posts or with an app that has online guitar lessons you can always improve technique and proficiency through concerted practice.
60% Off Guitar Tricks Full Access! Use coupon code: JOIN60
If you are someone who prefers a guitar app to help you while learning to play guitar, then see our list of guitar apps that we have reviewed.
---
1. Practicing Electric Guitar Scales and Arpeggios
Becoming comfortable running scales and arpeggios over and over again is fundamental to being a great electric guitarist. Scales and arpeggios dictate your ability to move around the strings in inventive and exciting ways. Whilst scales might not be the most appealing part of your practice routine it is important that they become a staple of your guitar practice schedule.
It is best to start with the most common scales and then build from there. The pentatonic and minor pentatonic scales are useful to try at first. These scales form the foundation of many great songs and will unlock the ability to play many of your favorite tunes.
Along with practicing your scales, you should also be incorporating arpeggio practice into your routine. Understanding the common arpeggio types like the Major, Minor, and Dominant 7  are vital to improving your electric guitar playing.
Arpeggios are a great way to improve your electric guitar technique. Knowing your arpeggios will help you play blazing solos and keep up with other musicians at a jam. When you are doing your electric guitar practice exercises you should always ensure that you dedicate some time to playing and discovering new scales and arpeggios.
---
2. Chord Progressions
It may seem obvious but getting into the habit of practicing chord progressions will greatly advance your electric guitar ability. Becoming comfortable with chord progressions will enable you to move around the guitar with ease. Soon enough getting from one chord to another will become second nature.
Some of the most common chord progressions include 2-5-1 or 1-5-4. These chord progressions can be applied in any key and are the basis of many of your favorite songs. By devoting a considerable amount of your electric guitar practice routine to chord progressions you will internalize them and become a more natural guitar player.
Some chord progressions are used more in one style than in another. For example, in jazz, the 2-5-1 chord progression is by far the most common progression. Whether you are looking to fit in at a jazz jam or impress at a blues session, knowing which chord progression suits the genre you play is important.
SEE ALSO: Mastering The 15 Most Important Guitar Chords For Beginners
---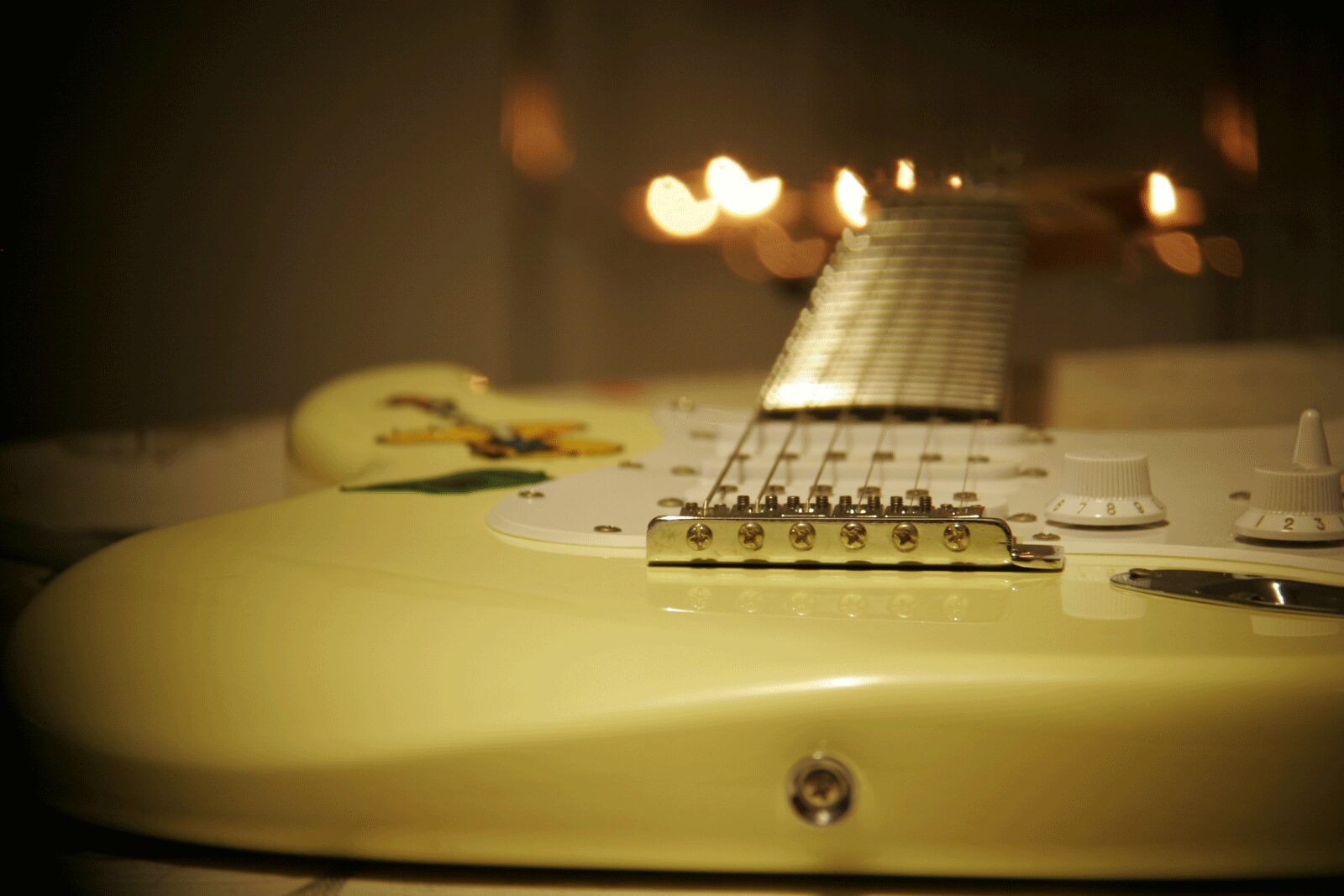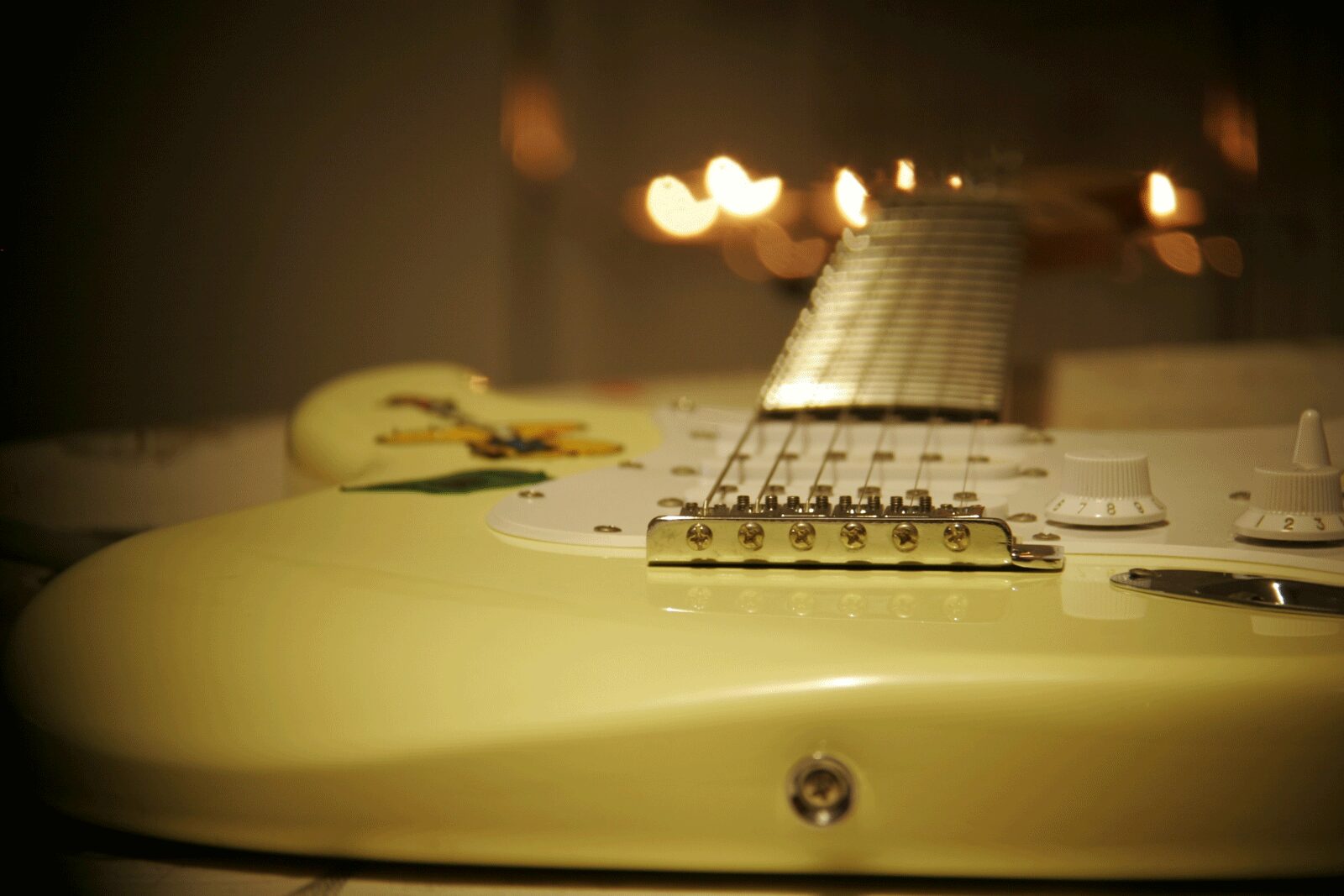 3. Training Your Ear
Developing your sense of melody and harmony is often undervalued. Your instinct in practice may be to immediately pick up your instrument and start playing. It is equally as important to improve how you listen to music. Some people are born with perfect pitch but more commonly people develop relative pitch over time by playing and listening to music intently.
Training your ear can be done by listening with and without your electric guitar in your hand. Absentmindedly noodling along with some jingle on TV or some theme on the radio is a great way of teaching your fingers where to move when you hear certain sounds.
By listening intently to the same songs over and over again you will understand how certain guitarists structure their solos or build an atmosphere. You can train your ear to hear harmony and rhythm. After a while, it will become intuitive.
If you practice enough you will find that you are able to pick up tunes faster. You will bypass that frustrating period of figuring out the key and tempo of the song. Training your ear is a long-term habit that certainly pays off. Whilst it may seem difficult to grasp, all good guitar practice for beginners will in some way be training your ear for the future.
If your goal is to master the electric guitar completely and you're ready to set foot in your ultimate guitar journey, book a lesson with Play Guitars and be provided with your very own personal guitar teacher!
Ready to get started? Book your online guitar lesson here!
---
4. Picking and Strumming
If you are practicing the electric guitar you should be experimenting with different picking and strumming techniques. Your right hand is as important as your left at producing the sound, timbre, and tone you want.
Practicing your picking technique is especially important on the electric guitar as each minute sound is amplified. Developing a smooth picking style can be the difference between a clean or messy sound. Whether you use a plectrum or your finger it is important to work on your picking technique to ensure you are getting the sound you want from the guitar.
Alongside picking, strumming is also a vital technique that you can improve over time with concentrated practice. Strumming is key to rhythm and can also have an impact on the sound you make. You can experiment with down and up stroke strumming, muted strum patterns, and incorporating rests.
Both picking and strumming are guitar techniques that will develop over time with concerted practice. Being able to pick and strum complex melodies and rhythms will greatly improve your overall skill on the guitar. If you want to become a better electric guitar player you should definitely devote time to developing these skills.

---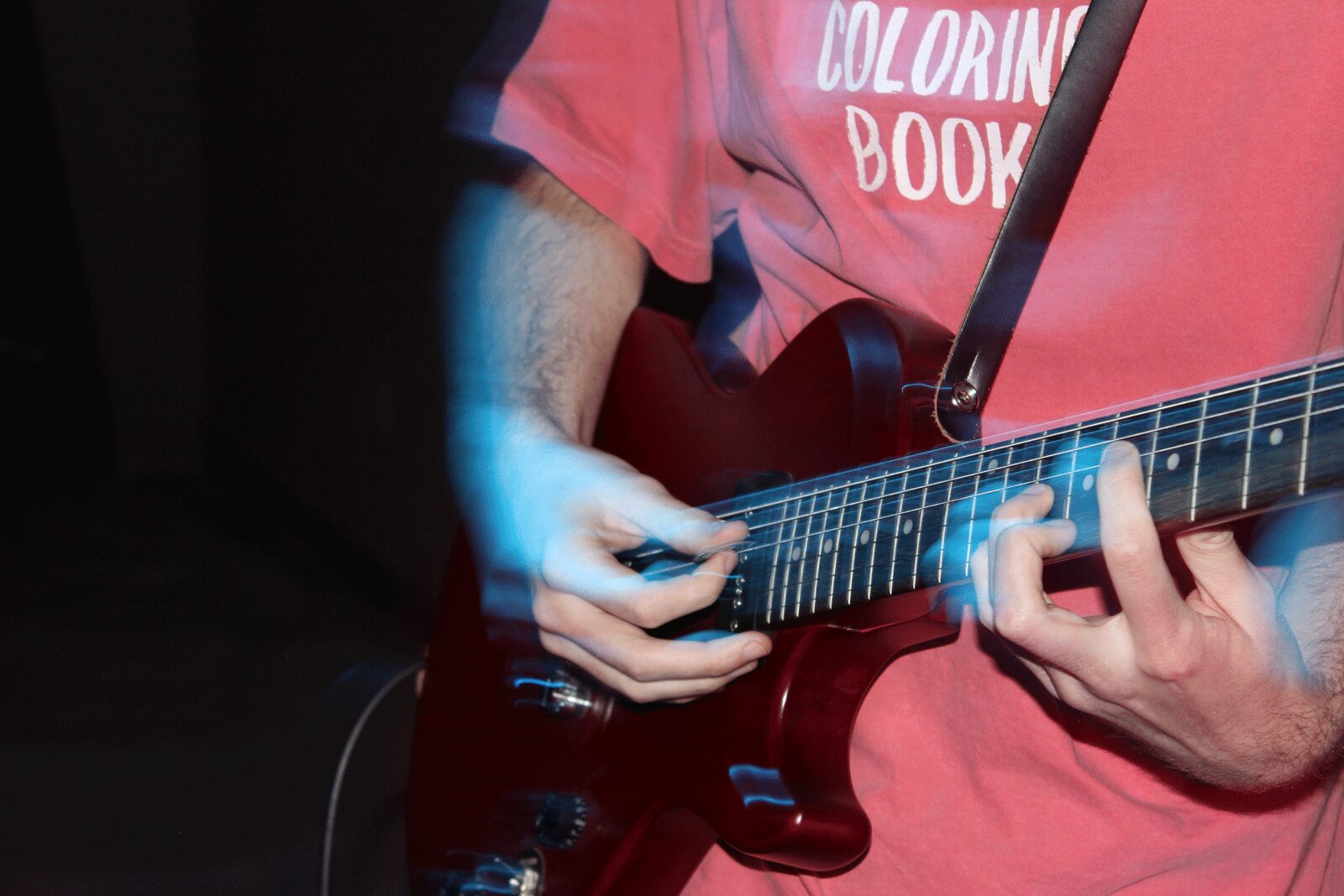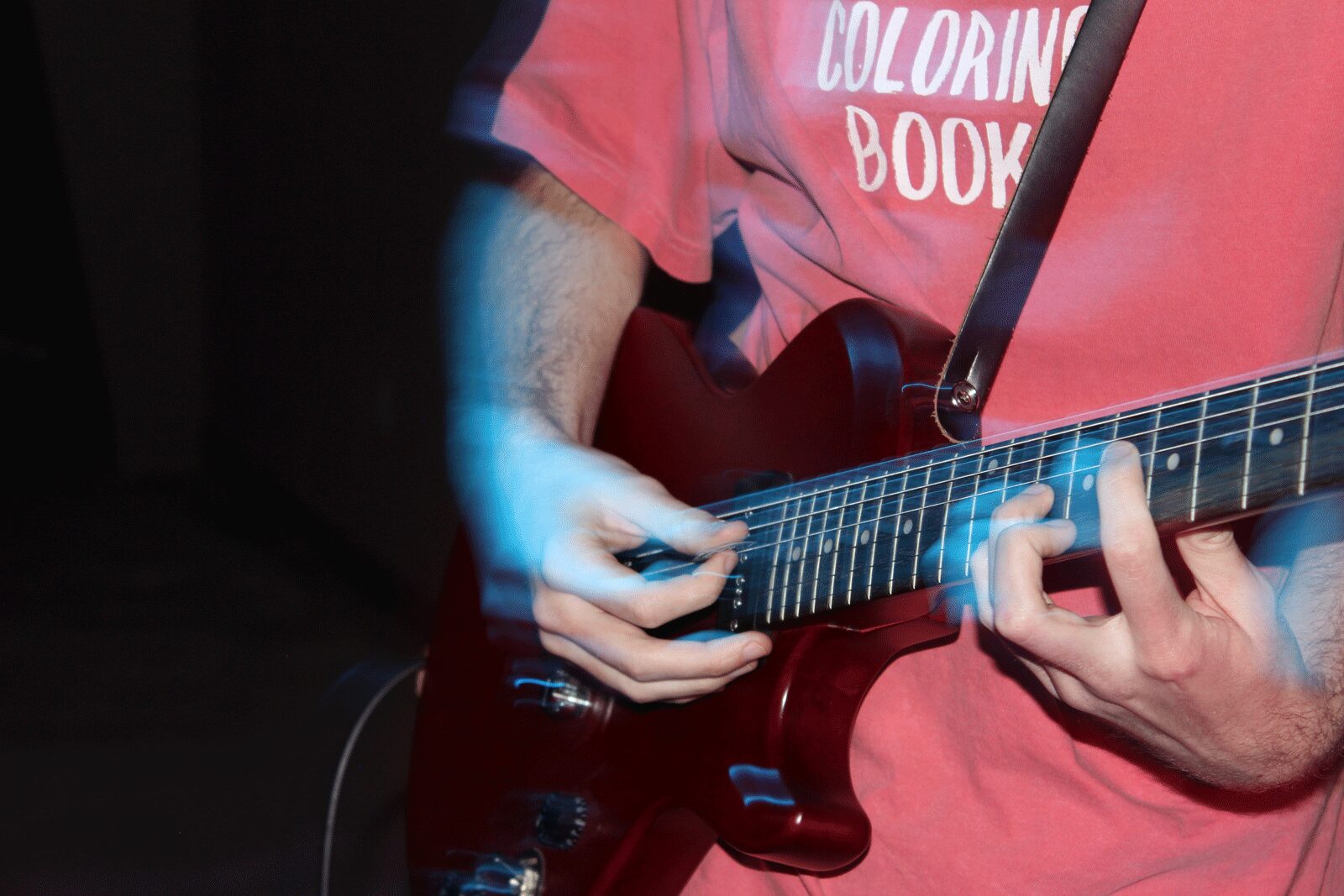 5. Hone Your Electric Guitar Tone
When it comes to the electric guitar improving your tone refers to various techniques and habits. It may be useful to specifically touch on how you can improve the sound of your electric guitar by learning about the technical side of the instrument.
Creating a personal tone requires one to experiment with your equipment. You can add vibrato to your playing by using a whammy bar or play with pedals to get distortion and reverb. It is important to experiment with this equipment because a lot of electric guitar playing in genres like rock requires the guitar's sound to be malleable.
Over time you will develop a technique for getting the best out of your guitar with a combination of your amp and pedals. Unlike the other tips and techniques mentioned above, experimenting with tone will probably never become arduous. Part of the appeal of the electric guitar is its ability to sound entirely different in the hands of different players.
You should make it a habit of yours to be aware of all the new developments in amp, pedal and guitar technology. Creating your own personal electric guitar tone will take you to the next level and keep your playing fresh.

---
6. Practicing Electric Guitar with a Metronome
Your electric guitar practice schedule should have room for a metronome. A metronome will teach you timing, rhythm, and will help you learn your pieces faster.
Though you may find it difficult at first, the advantages of implementing the use of a metronome in your electric guitar practice routine are truly immeasurable. One of the most significant benefits of the metronome strategy is that your sense of rhythm and timing will improve drastically if you invest in one early on to use throughout your electric guitar training.
Sure, it's difficult, but you shouldn't over-stress about it. All you have to make sure to do is set the beats-per-minute (BPM) to something very slow. Remember, the idea at first is just to get used to playing in time and at a steady tempo. However, you should never rush this at the expense of a guitar practice technique.
By setting your metronome at a slow tempo and then slowly increasing it as you master each section of music you will become a better player. Your movements around the guitar will be more precise and you will develop a greater understanding of the guitar. If you are struggling with how to practice guitar chords and melodies grab a metronome and get playing!

---

7. Composition and Songwriting
As an electric guitarist, you might not think that songwriting can make you a better guitarist. However, the skills needed to write a good song can greatly develop your musical sensibilities.
Before you write a song of your pick one of your favorite songs and dissect it. Think about why the chorus works and why a certain riff is so effective. Actively listening to music this way is one of the most effective guitar practice exercises.
Now, it's time to start writing your stuff. Composing songs can become part of your electric guitar practice routine. Maybe 45 minutes of fundamentals then half an hour of songwriting to finish the session.
While writing songs you may discover that you prefer certain electric guitar techniques like vibrato over other techniques. You will become more familiar with the fretboard and you can experiment with the range of sounds the electric guitar can produce.
Even if you have no interest in playing the songs to anyone, learning songwriting can develop your electric guitar skills. It is useful guitar practice for beginners as well as professionals.
Songwriting forces you to be creative. Thinking outside the box will make you a more versatile and adaptable guitar player. Composing will also make it more fun to practice electric guitar.

---

8. Soloing
The pinnacle for electric guitarists. You can't become a rock god if your soloing skills are poor. When you practice electric guitar you want to be able to sound like your heroes. Practicing your soling skills is one of the first steps to fulfilling your rock potential.
As with the other techniques, practice and repetition is the only way. Pick one of your favorite guitar solos and have a go at replicating it. Similar to songwriting, it helps to deconstruct your favorite solos and think about why they work.
Then you should do some exercises on the fretboard. GuitarJamz and Rick Beato have some good tips to help you improve your soloing technique as a beginner. Often it revolves playing various licks very slowly until they start to feel natural.
You can start by practicing riffs and licks that you are comfortable playing. Then you can move on to playing things that are perhaps awkward and stretch your fingering technique.
To become a good soloist it helps to have a good understanding of scales, arpeggios, and chord progressions. This knowledge will serve as a foundation so that you can shred to your heart's content.
---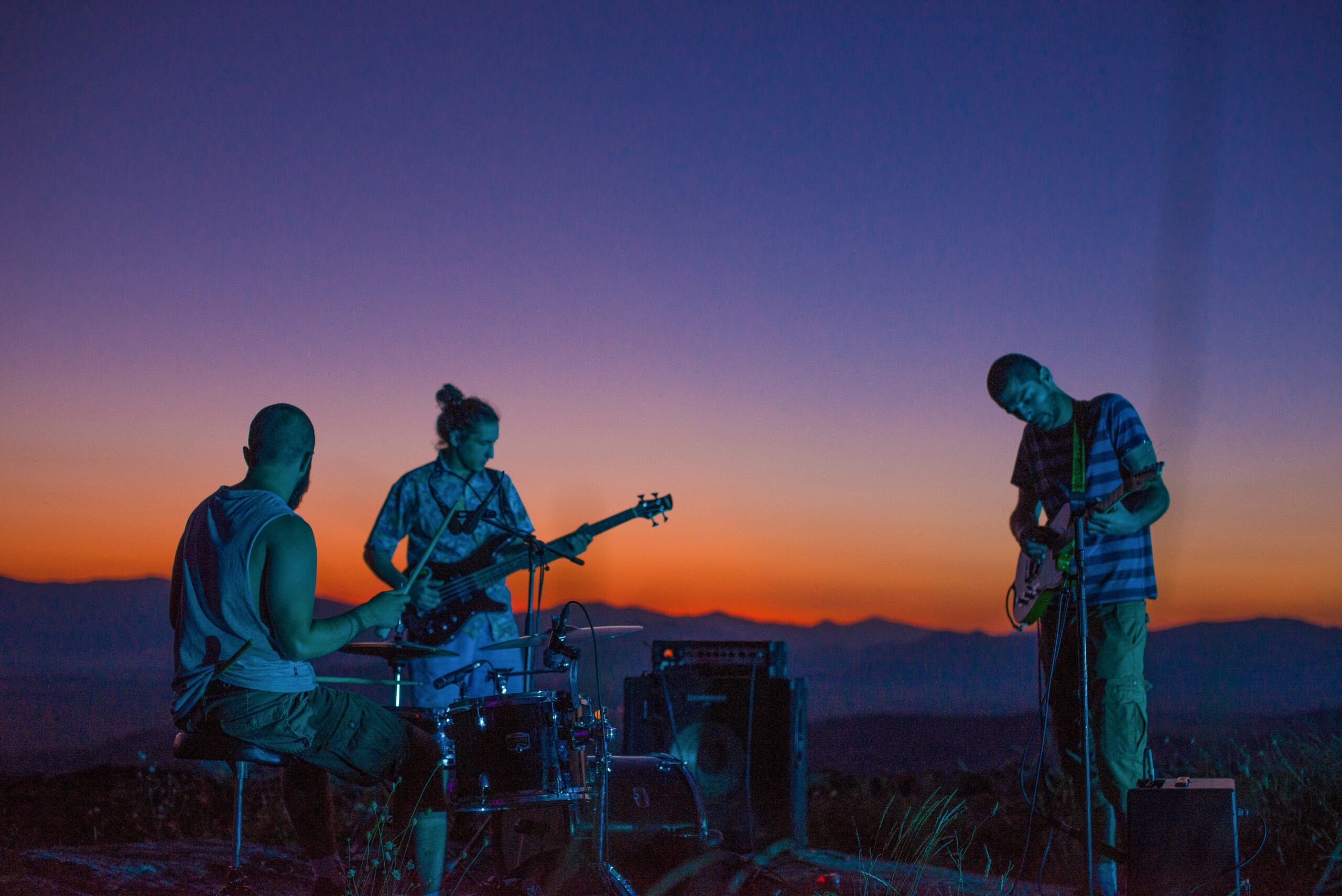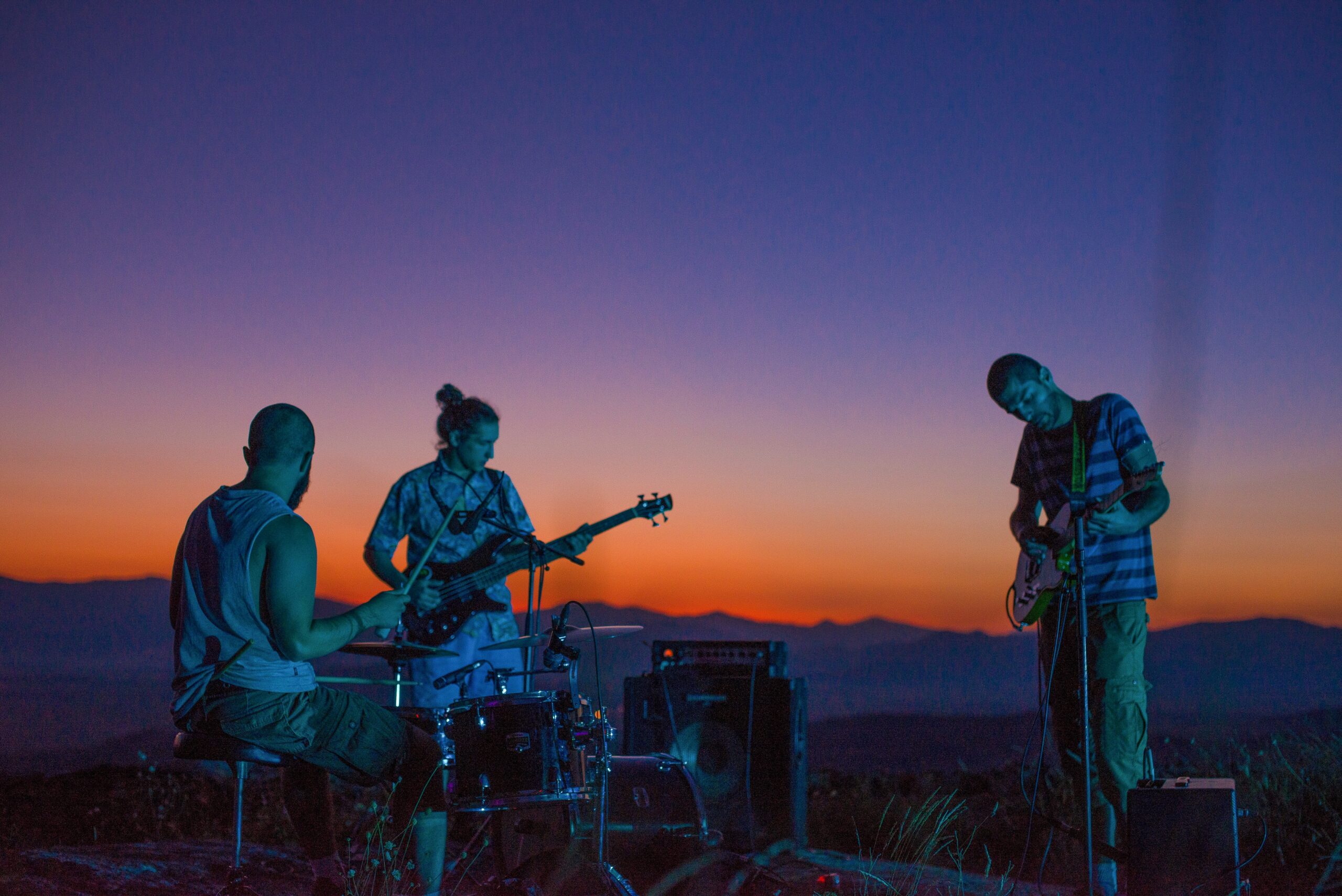 9. Playing with Other Musicians
The last tip for practicing electric guitar is to play with other musicians. There is only so much you can learn in isolation. Interacting with other musicians and guitarists will expand your knowledge and inspire you.
When you play with a drummer and a bass player you have to adapt your playing style. When you are accompanying a vocalist or a pianist you have to be aware of your timing, tone, and pitch.
These are all great challenges for an electric guitar beginner to learn. Even as a professional you can pick up new licks and riffs by playing with other musicians. You can always improve your electric guitar techniques by playing alongside others.
Although at the moment it might be difficult to physically get together with other musicians you can still connect virtually invaluable ways.
Recording your playing and sending it to other musicians so they can add their parts is just one way that you can keep the music going.
Overall, playing with other musicians is an important part of an electric guitarist's journey. It is when your technique and creativity will be tested. It is also where you can have the most fun!
10. There Is No Need for Speed!
There is no need to try and learn how to play fast. Your electric guitar training relies on solid guitar practice techniques. It's all about mastering how to accurately place your fingers and hit the right notes every time. This is especially important when it comes to training your hand to play tricky bar chords. When you learn how to play correctly, the truth is the speed will come by itself.
When it comes to strumming electric guitar the right way, the biggest obstacle people face is trying to rush through their electric guitar training, which ultimately leaves them learning poor techniques. However, when solid guitar practice techniques are used, you'll find that great technique and fast fingering will present themselves to you as an additional bonus.
Remember, always take your time when going through your electric guitar exercises, and play slowly. Don't forget to give yourself a break, have fun, and listen to music for some extra inspiration! When rushing your electric guitar exercises, you'll come to find that your muscles may creak, and your fingertips will sting. If this happens, take it easy! After all, Bon Jovi was not formed in a day. Plus, you might cause damage to your tendons or ligaments if you ignore any danger signs you need to rest.
---

Make Your Electric Guitar Practice Count
Let's face it. There's nothing out there that beats regularly picking up a guitar and practicing everything you have learned. After all, practice does make perfect. Regardless of whether or not you're busy, your electric guitar exercises count, and your progress all depends on how much time you put into your electric guitar practice routines.
There are many ways to improve your electric guitar playing. As long as you are practicing regularly you will see your skills become sharper. If you want to refine your playing you should pay attention to some of the points mentioned above. Your practice should be focused and purposeful.
Training your ear and listening to a wide variety of music is important to developing your musical palette. If you gain a wider appreciation of music it is likely that you will be more invested in your practice of difficult and niche techniques.
There are fundamental measures you can take when practicing the electric guitar. Spending time practicing your scales, arpeggios, and chord progressions are a great way of gaining a comprehensive guitar skill set.
There are also unique aspects to the electric guitar that can make practice enjoyable. Playing around with your tone using pedals, amp settings, and different picking techniques is a fun way of advancing the breadth of your guitar capabilities.
Ultimately, it all comes down to consistent and smart practice. Hopefully, the above tips have demonstrated how certain techniques can make your practice time valuable.
Outro: Teaching yourself how to play the guitar along with committing to electric guitar exercises can be daunting to most. However, after reading this article, you should have a better idea of where to start.
Which practice technique has helped you improve your electric guitar playing?
Share in the comments below!