Working on specific acoustic guitar techniques and developing good musical habits is the best way to improve your playing.
For many people, the acoustic guitar is the most accessible instrument.
It's also one of the most ubiquitous instruments in modern music which makes it a great choice for beginners.
Learning to play acoustic guitar can be more challenging than an electric guitar. However, it will help you strengthen your fingers and muscle memory for placement.
You've probably heard it more than once:
To improve your acoustic guitar techniques you must practice, practice, practice!
One of the pitfalls to avoid when learning to play guitar at home is impatience.
You get frustrated. It seems tedious. Your fingers hurt.
Guitar playing can be difficult. Just remember that anything good in life is worth the sacrifice. If you want to know how to get better at acoustic guitar you have come to the right place.
Stick with it and you'll sound like your favorite musicians in no time.
Whether you're reaping the benefits when learning guitar on your own with the help of blog posts or with an app that has online guitar lessons you can always improve technique and proficiency through concerted practice.
60% Off Guitar Tricks Full Access! Use coupon code: JOIN60
If you are someone who prefers a guitar app to help you while learning to play guitar, then see our list of guitar apps that we have reviewed.
In the article below, we outline some of the top ways to help you practice acoustic guitar techniques, covering the following acoustic guitar exercises and tips:
Acoustic Guitar Techniques
Whether these center on developing a good picking technique or becoming a more conscientious listener, they are all geared towards making you a better guitar player!
---
1. Hammer-ons and Pull-Offs
Hammer-ons and pull-offs are essential acoustic guitar techniques that will add versatility and style to your playing.
A hammer-on is when you press on the fretboard with your fingers to produce a sound rather than picking with a plectrum or your fingers.
A pull-off is the opposite movement to a hammer-on as you quickly release pressure with your fingers from the fretboard.
Hammer-ons are a great way of enhancing your legato playing and adding dynamic variety to your play. Many guitarists are able to produce creative guitar lines by incorporating hammer-ons and pull-offs in their solos.
In guitar tablature, pull-offs are denoted by a P and hammer-ons by an H.
Developing good hammer-ons and pull-offs are a great way of improving your finger placement technique.
By repeatedly paying attention to the exact placement of your fingers for hammer-ons and pull-offs you'll become a better acoustic guitar player.
When you become accustomed to using hammer-ons and pull-offs they will probably become a regular part of your musical arsenal. They're a useful technique to get your fingers accustomed to the movement of the strings. Being able to produce sound from the fretboard hand is an easy way of adding variety to your play.
---

2. Sliding
Slide guitar is a technique where you slide one of your fretboard fingers up or down the fret usually by using a finger slide or a bottleneck.
This is an acoustic guitar technique frequently used in blues and folk music to create vibrato and glissando effects. You should probably only introduce slide guitar into your guitar practice schedule if you are already relatively advanced.
It is not an easy skill to execute but it is incredibly satisfying when used properly to enhance the mood of a blues or folk song.
If you get good at playing slide guitar it can even define your style.
Most guitarists wear the finger slide or bottleneck on their ring finger. It is possible to wear finger slides on your middle finger and your pinky, but wearing it on your ring finger is a good compromise between control and reach.
You should place the slide at the front of the intended fret and not in the middle to avoid producing a flat note. Slide guitar is a great technique to help widen your set of guitar skills. Much like natural harmonics, which we discuss below, slide guitar requires relatively little pressure on the strings to produce wonderful notes.
Slide guitar is most commonly used in blues and folk music. If you intend to play the blues it is important for you to incorporate slide guitar into your acoustic guitar practice exercises.
---
3. Natural Harmonics
You can produce natural harmonics on the guitar by lightly touching the strings to isolate overtones.
Every time you strum a string it produces the note you are accustomed to and various overtones. Producing harmonics is a guitar technique where you control all these vibrations to allow a clear, ringing tone to sing.
Similar to slide guitar, playing natural harmonics is a technique that will be difficult for beginners. The concept is relatively simple but the execution requires some experimentation and precision. Guitar practice for beginners should focus on the fundamentals and then begin to incorporate trickier skills like harmonics.
The acoustic guitar can be used to produce harmonics in a variety of ways. It is best to focus on natural harmonics first as these are the easiest to execute. Lightly touching your finger onto a string on the twelfth, seventh or fifth fret while striking the string with your picking hand will produce a natural harmonic.
Natural harmonics are played on an open string and are the easiest harmonics to get a grasp of as a beginner. You can also play tap and pinch harmonics but these require an added level of expertise.
Harmonics are also a useful way of tuning your guitar if you don't have a tuner to hand.
---
4. Playing with a Metronome
There is no substitute for the metronome!
Whether you are looking to learn a new piece or improve your rhythmic sense, the metronome is key to becoming an acoustic guitar player. Many of you will probably already be using a metronome to practice. If not, then you should, as this is one of our best acoustic guitar tips. The humble metronome has helped many struggling musicians take their playing to the next level.
A metronome can be used to learn pieces efficiently. The best way to learn a tricky passage on the guitar is to play it slow and gradually increase the tempo as you begin to play it without mistakes. The metronome provides great assistance in this method. If you set the metronome to 40 bpm and then slowly increase to a suitable tempo you will learn pieces faster.
A metronome can also be used to improve your overall sense of rhythm and timing. It is easy to become complacent and lose your timing when you practice alone. Using a metronome is a good way of staying precise and locked into a rhythm.
Practicing the acoustic guitar techniques with a metronome is a simple habit to pick up. It is easy for beginners and experts to incorporate into their practice routine.
How to get better at acoustic guitar: engage with these techniques. It's a no brainer!
We guarantee that your playing will improve by spending more time with a metronome.
---

5. Strumming and Picking
It is important to experiment with your strumming and picking when you are practicing acoustic guitar techniques. Alternating the way you strum your strings will give a new feel to the rhythm and sound of your playing. Similarly, you will unlock new ways of playing by practicing your picking technique.
As much as your fretboard hand is important your picking and strumming hand can be used very effectively to control the guitar. If you are looking to develop complete control over your instrument it is important to practice these techniques.
A lot of guitarists undervalue how your strumming/picking hand can influence your sound. A guitarist like Cory Wong, who has a ridiculously funky right-hand technique, has made a living off of his strumming and picking ability.
Whether you are using up and down stroke strumming or muted strumming patterns, experimenting with your strumming will add a new dynamic to your play. Similarly, alternating between picking with a plectrum or your finger will yield widely different results. Both strumming and picking are great techniques to work on while practicing acoustic guitar.
---

6. Vibrato
Vibrato can add a new dimension to your acoustic guitar playing. It is an expressive guitar technique that lets you make the strings sing.
The technique can be used on single strings to elongate the note and alter the pitch to make it sound more in tune. It is easy to perform. Simply, fret a note, allow it to ring out, and then push the string up and down.
Vibrato is often used by singers to add texture and produce powerful notes. During your acoustic guitar practice, you may benefit from listening to how singers use vibrato to enhance single notes. As a guitarist, you have an advantage because you can use vibrato on several notes at the same time.
Playing acoustic guitar can be a relatively dull experience if you don't engage with a variety of techniques. When you incorporate elements like vibrato, harmonics, and tapping into your acoustic guitar practice you open up a whole new realm of possibilities. Additionally, practicing vibrato is a great acoustic guitar exercise that will take your playing to the next level.
You can experiment with which finger you use to play vibrato and learn how to use the technique appropriately.
SEE ALSO: 9 Attributes You Need To Have When Learning The Guitar
---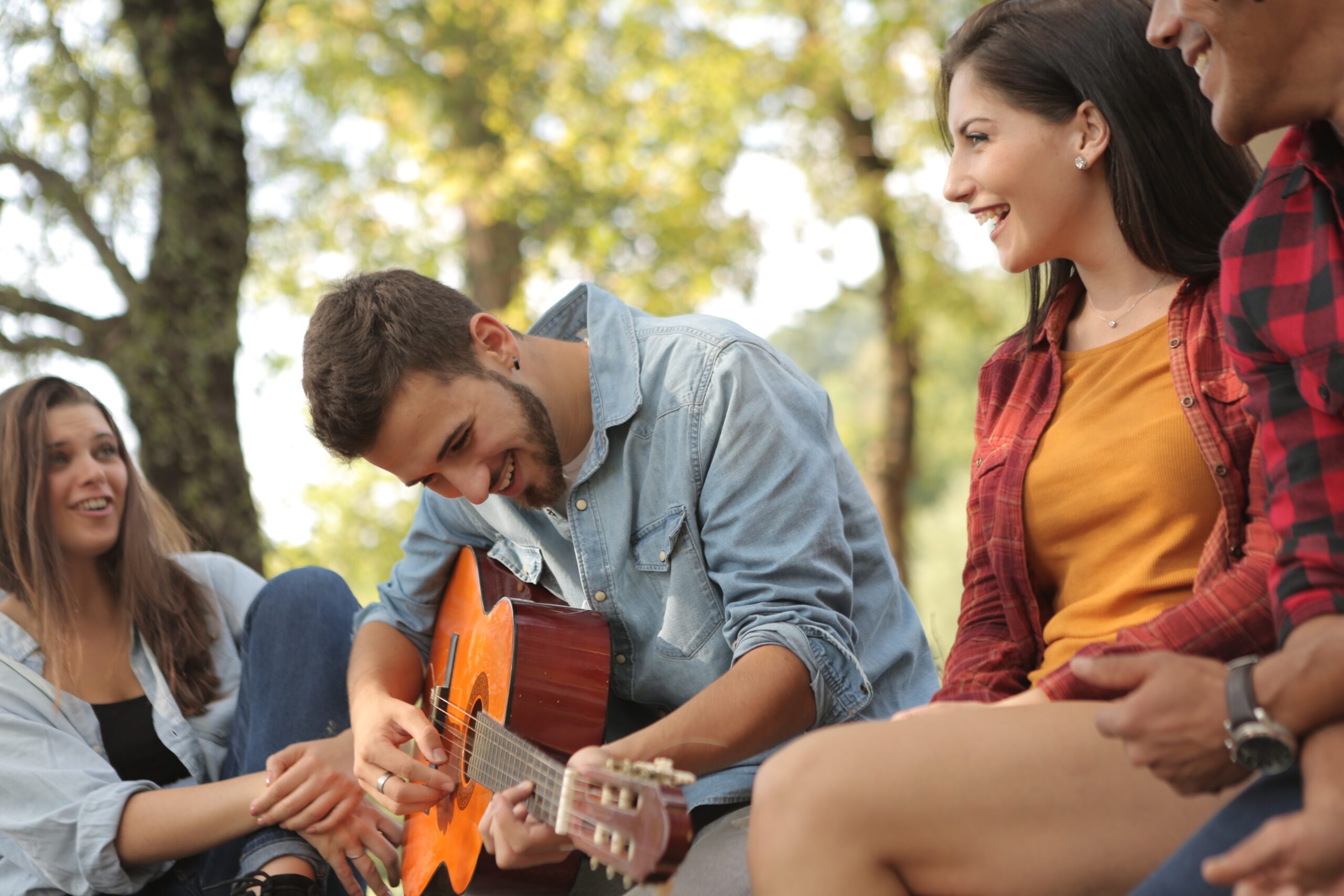 7. Palm Muting and Choking
If you want your acoustic guitar playing to sound clearer and more percussive, practicing palm muting, of all our acoustic guitar tips, is the right one for you to incorporate. This technique stops the strings from ringing out and allows you to exert more control over the guitar's sound.
You perform palm muting with your picking hand by applying pressure to the strings as you play. As with vibrato, you can apply palm muting in a variety of ways to add extra dimensions to your playing.
Choking or 'cutting off' the strings is when you completely prevent the sound from ringing out. This can be used to create a great rhythmic effect and can also prevent unwanted notes from ringing out.
If you want to be a rhythmic guitarist you should practice palm muting and choking when you are playing acoustic guitar. And if you find yourself always asking how to get better at acoustic guitar, mastering these acoustic guitar exercises will make you a next-level player.
8. String Bending
Find an image of a popular electric guitarist and you'll probably see them on stage mid string bend. It is a staple of rock guitar but you can also practice string bending when you are learning to play acoustic guitar.
As the name suggests string bending is about stretching the string to produce different notes. Commonly string bending is used in blues to go up a half-step.
You perform the technique by pressing the strings against the fretboard and bending it while you pick the string with your right hand. Unlike, palm muting or choking, string bending is all about letting the string ring out.
String bending is used a lot in blues but is also an important technique in rock, pop, and jazz. When you are learning to play acoustic guitar you may unintentionally stumble across this technique as you mess around with the strings.
It is a great way to emphasize a phrase or lick. It is perhaps easier to achieve on the electric guitar but it can be equally effective when playing acoustic guitar. And, as expected, string bending will make you a better acoustic guitar player.
SEE ALSO: 6 Differences in Learning to Play Electric Guitar Vs. Acoustic
---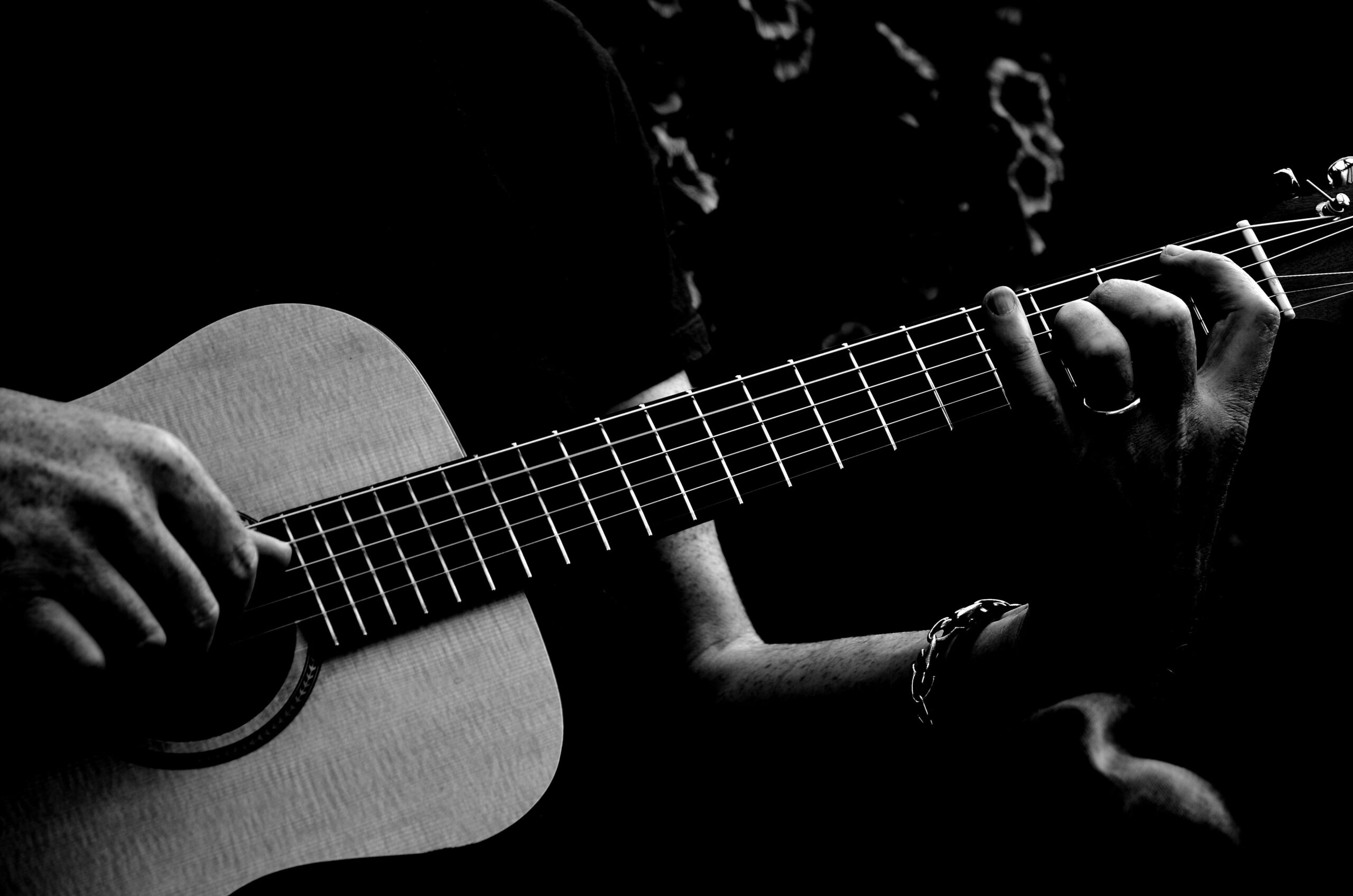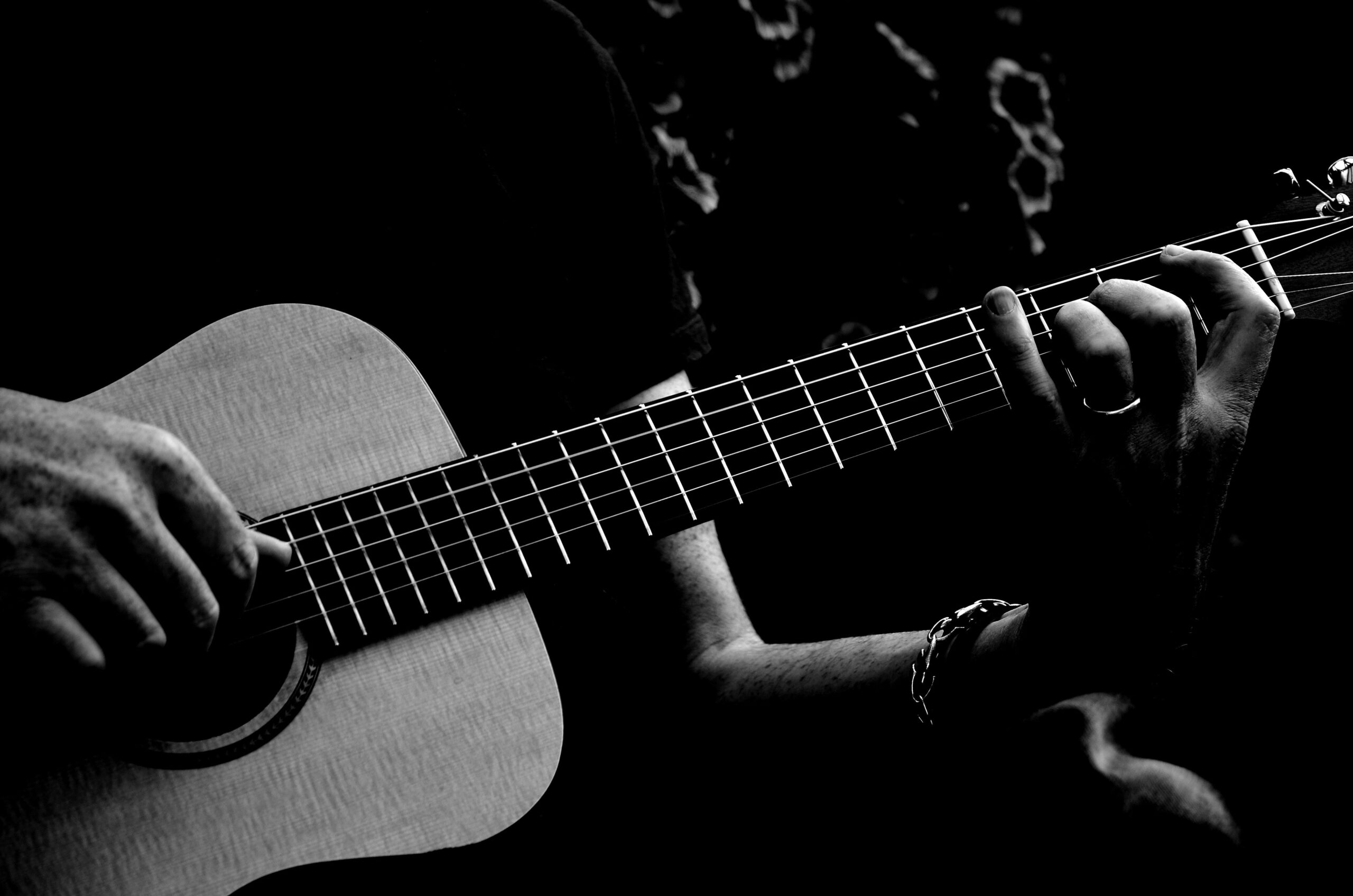 9. Music Theory
Becoming knowledgeable about music theory is more of a habit than a technique. Though you can learn how to play an instrument or sing without understanding music theory, it is much more challenging to advance out of the beginner stage as an acoustic guitar player without having this foundational understanding.
Learning music theory does involve becoming acquainted with various music techniques that will enhance your guitar playing. Expanding your knowledge of what the acoustic guitar can do is always a good idea. Knowing your music theory will make it easier to play with others. It will also make it easier to make smart decisions when soloing or coming up with melodies.
Some people view music theory as a hindrance. This view is short-sighted. Knowing what key and tempo you are playing in will greatly aid your understanding of the music. If you know more about the music you are playing it follows that you will be able to play better. And for anyone questioning how to get better at acoustic guitar, this is a sure way to do so.
Music theory is especially helpful if you want to write your music. Rather than mindlessly noodling and waiting for a melody to miraculously appear, knowing a bit of music theory will give you a head start. Knowing chord progressions, intervals, and how to perform key changes is a great way of making your acoustic guitar practice routine more purposeful.
All of these other techniques will be easier to achieve and use when you have a proper music theory grounding. Your practice sessions will be more productive and enjoyable if you know what you are trying to achieve musically.
SEE ALSO: Mastering The 15 Most Important Guitar Chords For Beginners
---
10. Study Acoustic Music
Very few of the greats got to where they are without study. For artists, studying the differences between oil, acrylic, and watercolor painting is essential. Each type of paint evokes a different feeling and is used for another purpose—therefore, studying the differences in mediums allows an artist to know what type of paint to use when evoking certain emotions and feelings. Similarly, a pilot in the United States Air Force spends years studying the different planes they might fly. And once he knows which plane he wants to specialize in, he spends years working on that.
When playing the acoustic guitar, there are a variety of sounds and techniques to utilize. Without studying and listening to different acoustic guitar players, it's hard to know what style you want to emulate in your guitar playing. Additionally, studying acoustic music allows you to subconsciously pick up on how to play the guitar better. That said, there are a variety of benefits that come from studying acoustic music.


Acoustic Guitar Techniques: Practice Makes Perfect
How To Get Better At Acoustic Guitar
Ultimately, you will be rewarded the more you practice. Playing acoustic guitar for beginners seems like a challenging feat to take on. However, with practice and effort in the above acoustic guitar tips, you will start to see the kind of success you are looking for.
The acoustic guitar is a great instrument that deserves to be experimented with and played often.
If you maintain your guitar and maintain your skills you will be making incredible sounds in no time.
Add these acoustic guitar techniques into your guitar practice schedule in the future.
Developing your picking and strumming is as important as developing your sense of rhythm. Each technique highlighted above will advance your acoustic guitar playing in different ways.
Whether you want to learn a few simple Beatles songs or you want to be plucking complex flamenco rhythms it is important to nail down the basics. Having some acoustic guitar lessons is a great starting point, and you should also learn to practice effectively on your own.

What habits have you picked up while practicing acoustic guitar techniques?
Share in the comments below!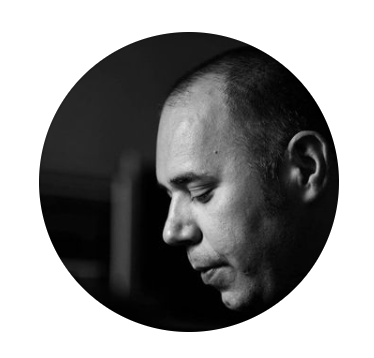 Marko is a passionate composer, producer, and multimedia artist with a Master of Music degree. His career involves performing, creating, and producing his own music in his home studio using digital and analogue equipment. Marko is a multi-instrumentalist (he plays guitar, bass, piano, theremin, and other instruments). performs live acts and DJ sets, and works on feature and short films, documentaries, festivals, theaters, and government initiatives.