It helps to have goals in mind when you are practicing the guitar.
For beginner guitar players, there are certain milestones that you need to reach to show you have made some real progress.
Whether you're learning to play guitar on your own, or with a teacher, you can always improve technique and proficiency through concerted practice.
Learning to Play Guitar
Practicing scales and chords is the best place to start as a beginner. They will form the foundation of any progress and will help you become more familiar with the guitar.
Learning your favorite songs is another great milestone to shoot for when starting out. Practice will be easier and more productive if you enjoy yourself. Learning your favorite songs is key.
Riffs, licks, and strumming patterns. When you are able to add all these extras to your guitar practice routine you will have reached an important milestone.
Soloing is the mark of a true guitarist. Being able to rip a gnarly solo over one of your favorite songs is a good milestone to reach for as you are learning the guitar.
Playing with other musicians is key to growing as a guitarist. As a beginner, you should definitely aim to play alongside other musicians and share your guitar skills.
Composing your own songs is an important milestone to shoot for. You can write songs at any stage but your ability to make quality songs will improve as your guitar playing improves.
Playing a gig can be a nerve-wracking experience, especially if you are a novice. But playing your guitar in front of other people is the perfect milestone to shoot for if you want to be a proper musician.
Singing and playing at the same time is a skill that may take some time to master. If you practice guitar and want to be a singer-songwriter this is a great milestone to shoot for.
Share your knowledge. When you are able to teach someone else who is learning the guitar you will have reached a significant guitar milestone.
Every professional guitarist has had to overcome musical hurdles to play their dream songs, favorite licks, and difficult riffs.  Practice can be monotonous, which is why it is important to have motivational goals!
Below we discuss in more detail some of the most important milestones to shoot for when learning to play guitar.
1. Knowing Scales and Chord Progressions
Often when you begin to play the guitar you will learn simple scales and chord progressions. It is the best way of familiarizing yourself with the layout of the guitar. Practicing scales and chord progressions will also teach you how to move around the guitar.
For a while learning scales and chord progressions may become tiresome. Learning some of the simple scales can feel like a chore. Thankfully, you will be able to play the simple major and minor scales off by heart soon after you start practicing regularly.
Learn Guitar Chord Progressions
Knowing some scales and simple chord progressions can be seen as the first real milestone for a beginner guitarist. For example, with chord progressions like 2-5-1, you could begin to understand some of the simple jazz standards which will help unlock a vault of musical discovery.
If you want to know how to learn guitar chords you should check out this useful guide by the Guitar Tricks. Here you will be able to learn the key-chord progressions for beginners at your own pace.
Similarly knowing major, minor and pentatonic scales will allow you to play on your own and experiment with different sounds. It may seem like a small milestone but for a beginner, it is an essential part of your journey to mastering your instrument.

2. Learning Your Favorite Songs
The next big milestone to shoot for is to be able to play some of your favorite songs. These can be anything from four-chord Beatles and Bob Marley songs, to complicated riff-driven rock anthems. Either way being able to play the music that you love listening to is a great milestone to reach.
SEE ALSO: 13 Easy Beginner Guitar Songs That Will Make You A Rockstar
For many learning, one of your favorite songs could be a milestone that you arrive before you start to learn scales and arpeggios. Playing music that you enjoy is always a great way of maintaining good practice. The more enthusiastic and excited you are to pick up the guitar the more likely you are to continue practicing.
It doesn't matter whether they are easy guitar songs or just beginner guitar songs. Knowing a few tunes on the guitar will also help you share your progress with other people. It is a tangible indication of how well your practice is going.
3. Riffs, Licks and Strumming Patterns
As soon as you have learned a few chords and maybe even a couple songs it is time to get to the fun stuff. Learning the guitar can be the most fun when you are learning the riffs, licks, and strumming patterns of your favorite guitarists.
To get your guitar sounding similar to your idol's you will need to incorporate some more complex elements.
Guitar Skills to Learn
These are the things that add flavor to a guitarist's repertoire and palette.
Licks are some of the most enjoyable guitar skills to learn. Similarly, when you are able to experiment with different strumming patterns and learn some classic riffs you will know you have made progress on the guitar.
Nailing some complex strumming patterns will help you develop your rhythmic skills. Spending time on licks during your guitar practice routine will improve your harmonic sensibilities.
When you are able to play your favorite Metallica or Black Sabbath riffs perfectly you will know that you have reached a milestone.
These are all key guitar skills to learn that will signal that you have made some significant progress.
4. Soloing
Being able to pull off a wicked solo is one of the prime joys of playing the guitar. Soloing is a major milestone because it demonstrates an understanding of key signatures, chords, melody and how the notes on the guitar interact. Even more importantly, soloing is undeniably cool.
Many of us have been inspired to pick up the guitar after listening to a mind-bending Jimi Hendrix solo. It is natural to want to replicate solos and feel like the musicians who have inspired us.
Executing your first guitar solo also shows that you have improved your guitar skills. There are plenty of people who can strum chords until their fingers bleed but not everyone can solo.
As you learn guitar chord progressions you should also be learning how to effectively solo over these progressions. The more you practice guitar skills like this the more fun you will have when you next pick up the guitar.
It is a good milestone to shoot for when learning to play guitar because it demonstrates that you have taken your technique and understanding to the next level.
5. Playing With Other Musicians
After you have practiced your major and minor scales, and you have mastered chord progressions in various keys and you have begun to solo over your favorite tunes, maybe it is time to start jamming with other people.
One of the principal joys of music is human interaction. Playing with other musicians is a great way of becoming musically refreshed and inspired. Understanding harmony, timing, and dynamics will become easier and more rewarding when you play with other people.
You can learn a lot from other musicians, and not just other guitarists. If you play guitar in a band it is important to be in sync with your drummer and in tune with the pianist or other guitarists. Playing with other people will also improve your ear. It will make learning on your own easier.
Playing with other musicians is an important milestone to shoot for because playing music on your own is merely preparation for playing with others. You will also be motivated to maintain a good level of skill on the guitar because you probably don't want to embarrass yourself.
6. Composing Your Own Songs
Another great milestone to shoot for when learning to play guitar is to compose your own music. Writing your own songs on the guitar is the mark of a musician who is serious about their craft. Composing your own music requires creativity and discipline. Many great songs have been written on the guitar over the years and yours could be next.
Composing your own songs on the guitar also demonstrates that you have reached a level of skill and maturity on the instrument. Anybody can play a sequence of three chords after a few lessons. Being able to write a song will take your playing to the next level. It will require an understanding of chord progressions, melodies, intervals, finger, and strumming techniques.
In the beginning, some of your songs may sound derivative and you will have to work to distinguish your sound on the guitar from other players. The whole experience of composing your own music is rewarding and is definitely a milestone that you should look forward to.

7. Playing a Gig
One of the most significant milestones for people learning to play guitar is playing a gig. Whether this is a guitar recital, a live gig with a band, or a five minute set in a bar, it is important. A live music experience will sharpen your senses and show you where your guitar skills are lacking.
Playing a gig is a huge milestone because it might be the first time you show off your guitar skills to other people. The pressure will be on and you will have to perform. Often it is a nerve-wracking but rewarding experience. You may be on your own, with your guitar teacher or with fellow musicians.
Performing live is where a guitarist really learns what they are made of. If think you will be particularly nervous it may be worth performing in front of family and friends first. This may make the process easier for some people. Equally, some people will prefer to play in front of people they don't know for their first gig.
Regardless, it is important to know that everyone has a bad gig. Try not to be disheartened if your first gig doesn't turn out how you hoped. Experiencing the pain of a bad or awkward performance is as good as having a really positive gig. Ultimately, it is all about learning.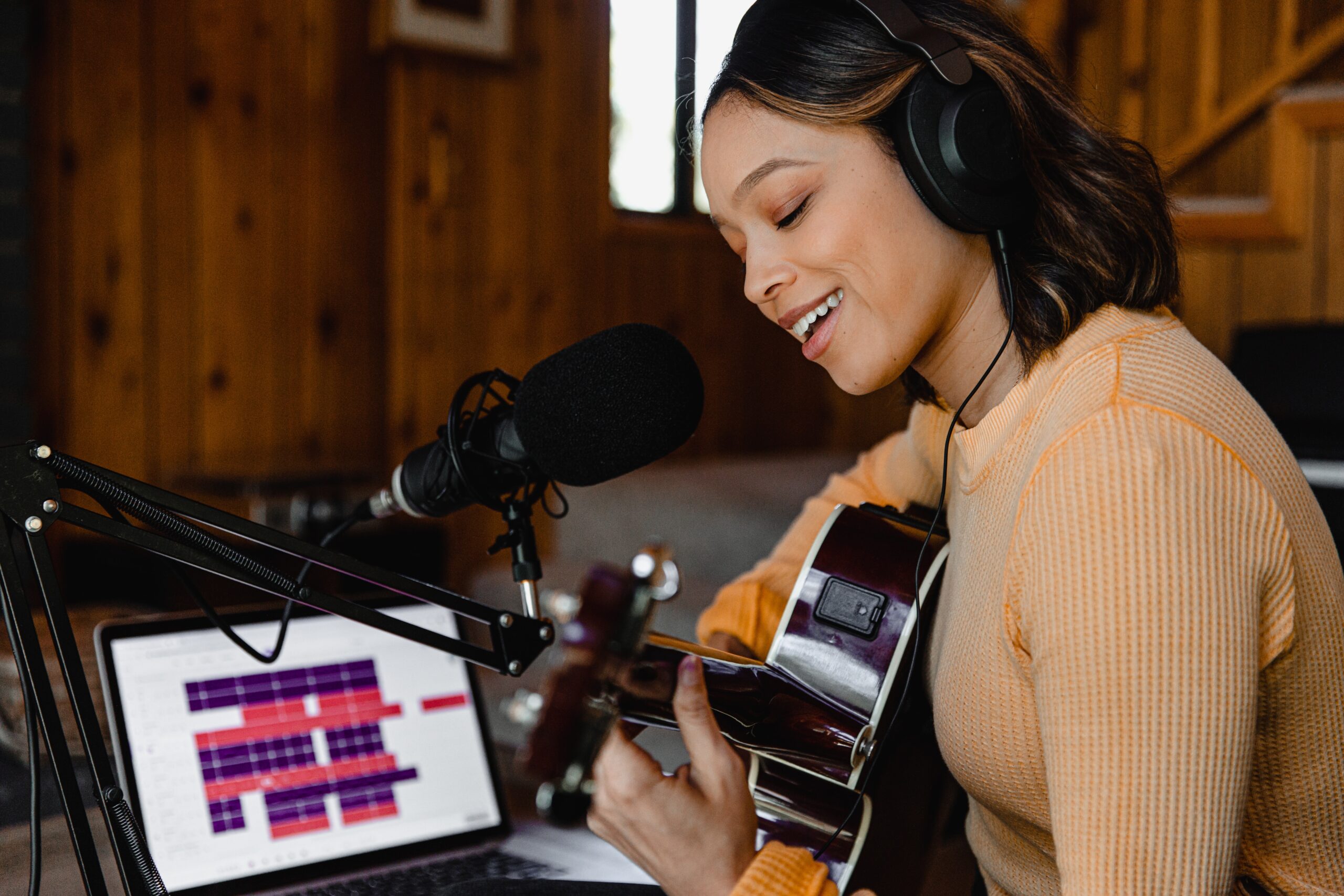 8. Sing and Play Together
Multitasking is difficult. It can be especially hard as a beginner to learn to sing while you are playing the guitar. Nevertheless, this is a milestone that many people who practice guitar will want to reach some point.
It is a good goal to aim for. After all, many of the songs you will be learning will have lyrics and it will be fun to sing along.
As you progress, your guitar practice routine will naturally develop around the interests you have. You may gravitate toward songs that you want to sing and this may help you expand your repertoire on the guitar.
If you want to be able to keep rhythm with your guitar while you sing you should start practicing sooner rather than later. It is a tricky skill to master but it is definitely a worthwhile milestone to shoot for.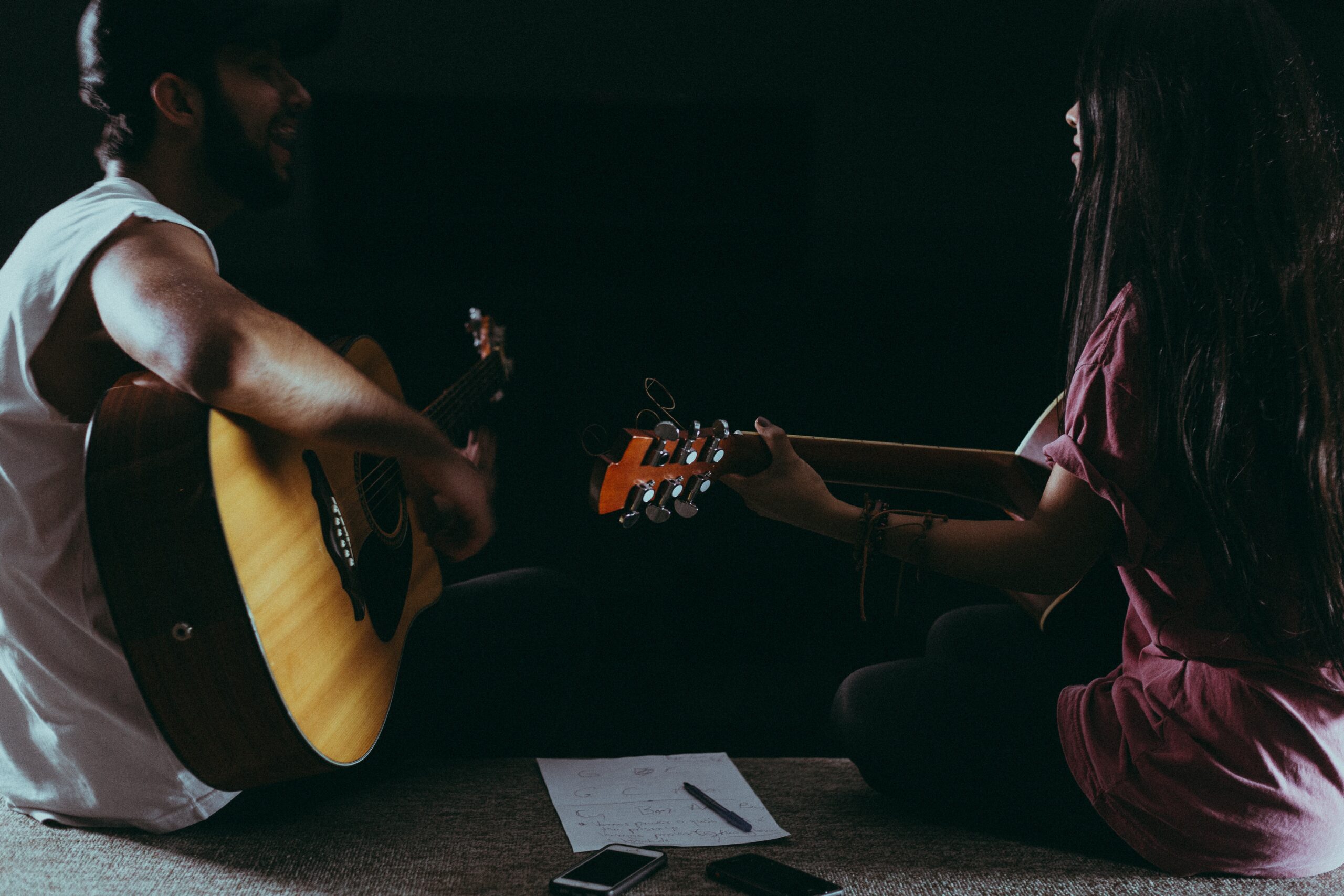 9. Share Your Knowledge
"If you can't explain it to a six-year-old, you don't understand yourself" is a quote often falsely attributed to Albert Einstein. Nevertheless, the sentiment rings true. You will know how far you have come with your guitar playing when you are able to teach someone else.
Learning the guitar is a process. It may be many years before you feel comfortable teaching someone else. Or you may find that once you have learned a song you want to share that knowledge with someone who is also learning the guitar.
Music is all about an exchange of information. You will benefit from learning how to explain musical concepts simply and effectively.
Once you have solidified your own guitar practice routine then you can begin to go outside your comfort zone. Helping other people practice guitar will push you to understand the fretboard better and improve your knowledge of musical concepts.
Ultimately setting milestones like this will help you practice guitar more often and should inspire you to expand your skillset.
Online Resources 
There are plenty of resources that can help you reach your personal milestones. Thankfully, we live in a time where expertise and inspiration are free and accessible. There are many online resources to teach you how when learning to play guitar. We would recommend a few useful Youtube channels that will help you design and achieve your guitar playing goals:
Whether you want to learn guitar chord progressions or learn about the history of rock music there are plenty of online resources around to help you. Hopefully, one or two of these channels can widen your musical horizons and get you closer to your guitar milestones.
---

Reaching Milestones
Ultimately, your guitar learning journey will be punctuated by many personal music milestones. These will be different for every person but there will be some common milestones such as the ones mentioned above. These milestones will help encourage you to progress further and unlock new musical avenues.
When you begin to write your own songs and play live gigs with your friends you will truly feel like a guitarist. In the meantime, it is important to focus on practicing the fundamentals so that you can reach those milestones sooner. You won't be able to compose music without knowing your chord progressions, scales, and arpeggios on the guitar. Similarly, you will struggle to perform in front of other people unless you are comfortable with your soloing ability.
Once you have reached many of the beginner milestones it may be useful to set yourself new goals. Regardless of your skill level, it is always important to have milestones for motivation. We encourage you to keep practicing and wish you all the best on your journey of learning to play guitar!
What is the next guitar milestone you are hoping to reach?
Share in the comments below!