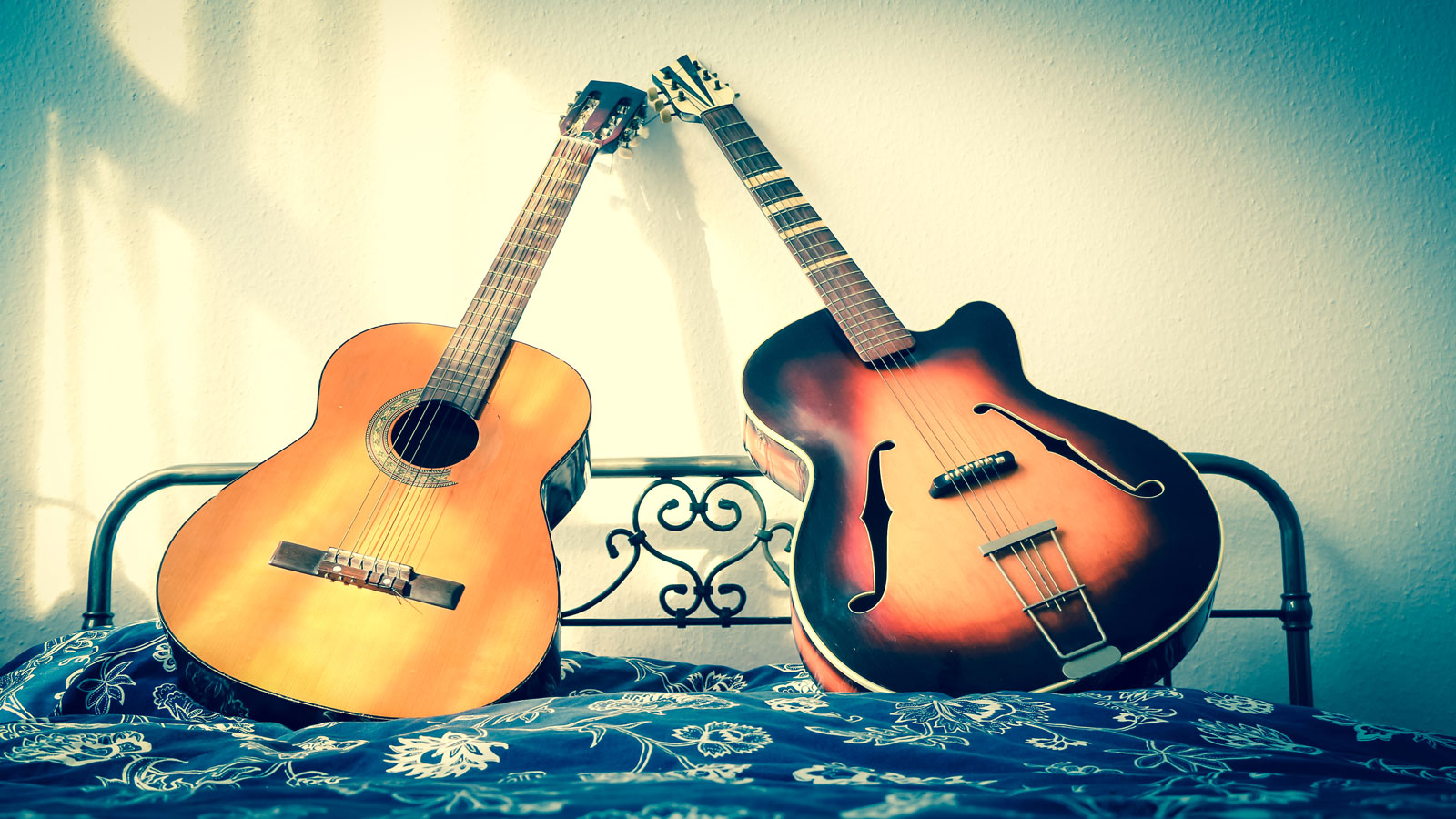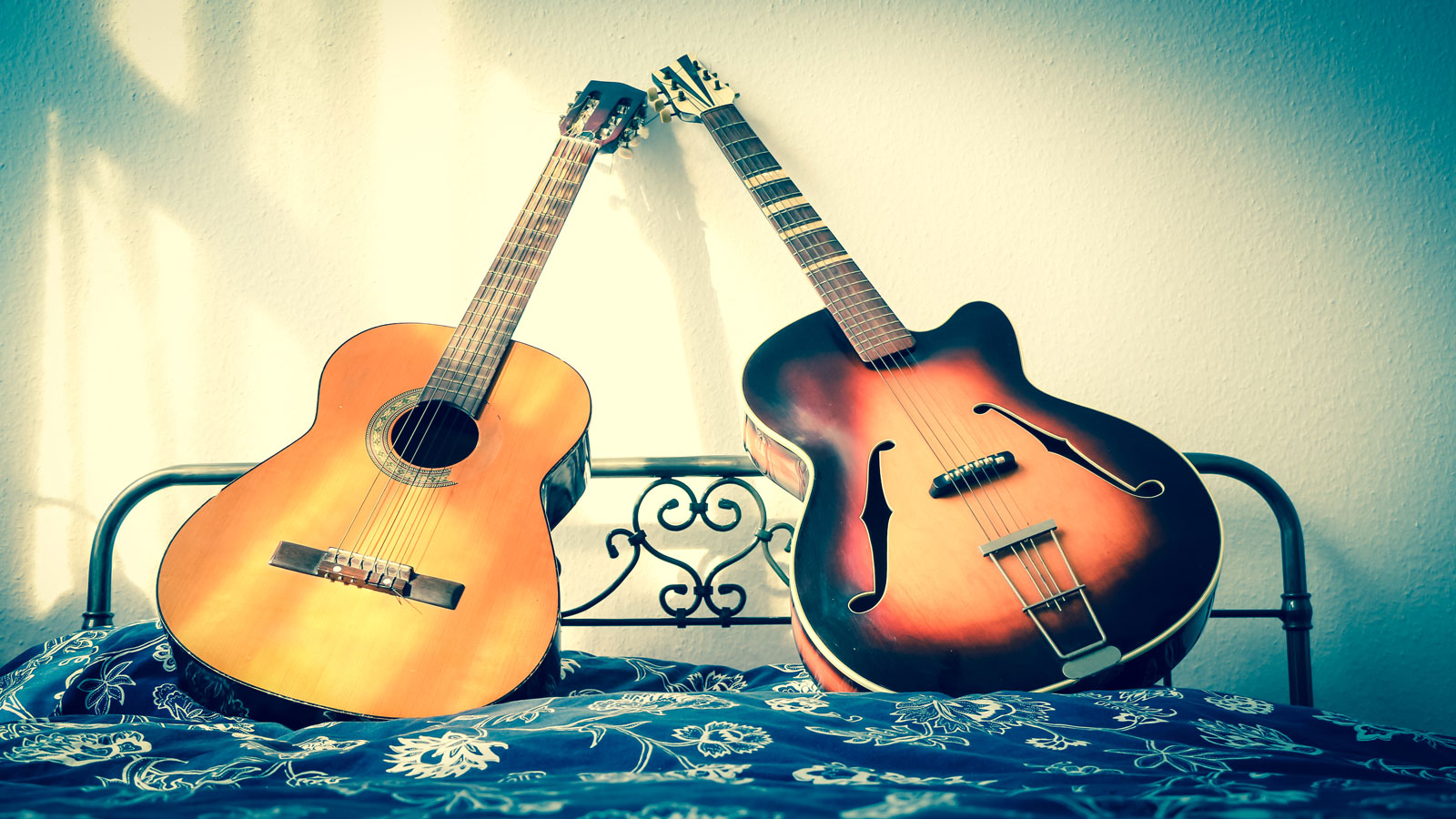 So you want to learn to play guitar – what type of instrument should you go with?
If you are trying to learn guitar basics and weighing your options between electric guitars and acoustic guitars, you should know how they differ from one another. While they both have many similarities, learning to play electric guitar compared to acoustic is definitely a different experience.
The electric guitar vs acoustic guitar debate will rage on for eternity. Some consider the electric guitar the cooler and sexier option. Others consider the acoustic guitar a more sophisticated and pure instrument.
Whichever guitar you eventually choose you will also have to learn about all the variations within guitar styles. Both the electric and the acoustic guitar come in many shapes, sizes, and styles. They can be used in a number of genres to create delicate melodies and great crunching riffs.
Whether you're playing your acoustic guitar or electric guitar on your own with the help of blog posts or with an app that has online guitar lessons, you can always improve technique and proficiency through concerted practice. If you prefer a guitar app to help you while learning to play guitar, then see our list of guitar apps that we have reviewed.
To most non-musicians, the differences between electric vs acoustic guitars will seem minimal.
What makes the two instruments different? Let's review.
---
1. Amplification
The most obvious difference between learning the basics of playing guitar when it comes to electric vs. acoustic is the ability to amplify your sound.
With an electric guitar, while you can play it on its own, you will more than likely want to use an amp. This means you will have to learn a few additional processes and skills to make your guitar playing sound good. Playing with an amp adds a new dynamic to your performance and will enable you to experiment sonically in a way that is impossible on the regular acoustic.
Electric guitars do tend to look a little more daunting because of their electronic switches. However, the core aspects of the guitar are the same as an acoustic guitar.
The major difference is an exciting one. An electric can fill a room with a sound like no other instrument. Of course, you can get semi-acoustic guitars and electro-acoustic guitars that can be plugged into an amp, but the feel is very different from a pure electric guitar.
SEE ALSO: 11 Tips To Playing Electric Guitar for Beginners

---

2. Cost
When you want to learn to play guitar, one of the main concerns is how much you will have to pay. If this is your number one concern, it could be a great way to decide which type of guitar you want to learn to play guitar.
No matter which type of guitar you decide to purchase and begin playing, you don't want to go with something too cheap. Having a decent quality guitar will make it easier for you to practice and stick with the instrument.
Ultimately, buying a quality instrument will require some investment. Now more than ever it is easy to find quality instruments online.
You do not always have to settle for what you find in your local guitar stores. There are plenty of points of comparison and resources for guidance that will help you find the right guitar for you.
SEE ALSO: 15 Helpful Tips That Will Guide You When Buying A Guitar
A cheap guitar will be difficult to tune, uncomfortable to play, and can make practice unsatisfying. It is important to be enthusiastic about your guitar because it will keep you coming back to practice. Let's have a look at how much you should be spending as a beginner.
How Much Should You Spend on a Beginner Electric Guitar?
When it comes to purchasing an electric guitar for a beginner, you can easily go online and find options for as low as $100. Online retailers like Amazon will sell you a guitar with all of the essentials you need with it for under $200. There have never been so many options at such cheap prices.
However, with this low price, you are also not getting decent quality. If you are looking for something appropriate to practice regularly, you should consider something at $200 or more. You don't need to spend hundreds and hundreds of dollars at first, but you should at least invest enough for something halfway decent.
You will also have to keep in mind that you will need to purchase an amp and add additional costs that an acoustic guitar doesn't have. Some of the accessories alone will be quite expensive.
Indeed, part of the trouble and the electric guitar's delight is that you can purchase so many pedals and amps to change the sound. As a beginner, you should leave some of these accessories alone until you have become more advanced. But some pedals can be very tempting.
It is a slippery slope, and you can end up spending lots on electric guitar accessories.
How Much Should You Spend on a Beginner Acoustic Guitar?
When you start to learn acoustic guitar, you should also invest in something comfortable and halfway decent.
If you are pretty new to playing, you should expect to pay anywhere between $100 to $500 for a starter guitar. The pricing is really going to depend on the brand name of the guitar, the quality, the quality of wood and other materials, and any included accessories.

Even if you go with something at the lower end of that price range, you should make sure that your new acoustic guitar is still made out of quality wood types like rosewood or spruce. As long as the wood is decent, the saddle, nuts, and tuning pegs can be changed out if necessary.
You will also have to decide whether you want a nylon or steel-stringed guitar. Your choice will depend on what style of music you want to be learning and playing. Obviously, any guitar can be used to play any music style, but some guitars are better suited to certain genres. For example, classical and flamenco guitar music is best played on the nylon-stringed guitar.
For those of you who want something decorated a little more intricately or made out of finer wood, you can expect to pay between $300–$500 at least.
As a brand new beginner, you may even want to consider an acoustic guitar package. This consists of a guitar with necessary equipment like guitar picks and extra strings. Depending on the package you choose, it could also raise the price a bit as well.

It is all about finding a guitar that feels and sounds great. You want to be able to feel comfortable while learning. Sometimes this means investing. If you can, it is helpful to get advice from a variety of professional musicians. That is the best way to get an informed perspective as a beginner.
SEE ALSO: Understanding What Makes The Top 8 Types Of Guitar Unique
---

3. Method of Playing
How easy is it to learn to play guitar: electric vs. acoustic?
If you are worried about how complicated it is to learn to play guitar for beginners, here's a comparison between electric vs. acoustic guitar difficulties.
Typically, the electric guitar is considered to be the easier choice for a few different reasons. It is also important to remember that the learning process is different for everyone, and you may find the acoustic guitar to be easier.
First of all, the general setup of the guitar is much easier with an electric instrument. This is because the strings are usually closer to the frets, making them much easier to push down. Also, because the amplifier and pickups are doing the brunt of the electric guitar's work, you aren't required to push down as hard as you need to on an acoustic. Minimal contact will still get you a nice clean sound.
It can often be more satisfying for beginners to learn on electric guitars. Even as a novice, you can get the electric guitar to make a tremendous sound without doing much. In contrast, you need a little bit more knowledge to get the same sort of full and vibrant sound from an acoustic.
With an acoustic guitar, the sound is produced from the vibrating wood top, meaning that it needs heavier gauge strings. This means you have to press down harder to get a clean sound from the instrument.
This can be painful for beginners. Over time you will develop firm fingertips as calluses form, but in the beginning, you will leave painful red lines on the tips of your fingers after practice. The pressure you need on electric is not as significant, and therefore the pain will not be as acute.
On top of the strings' difference, the neck on an electric guitar is thinner, and the body is smaller. This means that you have an easier time getting a good grip on the neck, and holding the instrument will be more comfortable. This is especially useful if you are young or have small hands. It will be easier to nail the fundamentals and will make practice more enjoyable.
However, both options are feasible for how to learn guitar at home, and guitar help for beginners is easily found for both electric and acoustic options. It is important to find the guitar that is most accessible to you so you can get on and practice. However, if you feel overwhelmed and the question of "how do I learn to play guitar?" becomes stressful, start with the easiest option.

4. Music Genres
With these two instruments, there is potential for very different sounds.
Electric Guitar Sounds
When it comes to potential sounds, electric guitars can be a lot more versatile than acoustics. You have an external amp as well, so expanding your sound is easy.
With most guitar amps, you are given a clean channel and a distortion channel, meaning you have more tone options than an acoustic guitar.
You can also add effects pedals for even more choices. It is easy to spend all day talking about different pedals. They truly expand the guitar's sonic ability and allow the guitarist to experiment with sounds found in genres around the world.
As for genres, the electric guitar is prominent in a lot of music. Rock, metal, and even country music features this instrument. If you want to know how to play metal guitar, check out this GuitarJamz video.
The electric guitar is also prominent in a funk, neo-soul, and reggae music. Its versatility is plain to see and is the reason so many people decide to learn to play.
Acoustic Guitar Sounds
With an acoustic guitar, you can play the same types of music as with an electric if you would like. However, the range of your sound is going to be a little more limited.
However, there is a lot of music that is typically played on an acoustic guitar. If acoustic music is what you want to play, it's a great choice. Sometimes limitations are a good thing. The acoustic guitar can produce earthy and genuine tones that are hard to replicate on the electric.
If you are a fan of folk, country, and pop music, you will know the importance of the acoustic guitar. It is often the bold driving force in the song and can keep the rhythm as well. The most popular artists in the world often have an acoustic guitar close by.
The acoustic guitar is a great companion to singer-songwriter artists. Other than the piano, there is no better instrument to accompany the voice than the guitar. In the last century, countless artists have emerged from obscurity with just an acoustic guitar in their hands and a story to tell.
The sound of the acoustic guitar is perfect if you want to write songs and sing and play the guitar.
See also: Take It Easy Guitar Lesson.
---

5. Comfort Levels
Physically, there are a lot of differences between electric and acoustic guitars. Depending on what you are looking for, this could affect how comfortable you are playing the instrument you choose. If you are uncomfortable, you will be less likely to pick up the guitar to practice. So it is important to get this right!
Acoustic guitars have a more rounded, bigger shape. Some people prefer this over the smaller, thinner, and in some cases, sharper bodies of the electric guitars. With their round bodies, acoustic guitars are more comfortable to rest on if you are sitting down. This is truly up to your own personal preference, but it is an important aspect to consider.
Indeed, some people may feel more comfortable on stage with an electric rather than an acoustic. Electric guitars can be lighter and easier to move around. You won't see many rock stars doing knee slides holding acoustic guitars. It all depends on the situation.
As with strings, the size and shape of a guitar are something that you will get used to overtime. The more you practice, the easier it will be to navigate around the fretboard. In the beginning, you may want to opt for a guitar that is comfortable to hold. As you are advanced, your concerns may change, and comfort will be less of a priority than the guitar's make or style.
Some beginners may find the body of acoustic guitars too big. However, while most acoustic guitars are bigger than their electric brothers, you can get small body acoustic guitars, too (See the Baby Martin guitar Ed Sheeran uses).
6. Gear
One of the key differences between the acoustic and electric guitar is the gear and accessories involved. Many guitarists browsing the various accessories they can attach to their guitar are a continual and enjoyable pastime.
The gear options for electric guitars are obviously a lot more extensive than for the acoustic guitar. One of the main reasons people choose to play the electric guitar is the variety of sounds they can get out of the amp compared to playing the acoustic guitar. The effects pedals open up whole new sonic avenues and allow for plenty of experimentation.
To a large extent, these differences in gear requirements will not be significant as a beginner. You can play the electric guitar without pedals or an amp. And you can play the acoustic guitar through an amp. Before you start messing around with gear, it is important to learn the fundamentals.
However, the electric guitar certainly lends itself to accessory experimentation. Simultaneously, the acoustic guitar is perfectly fine to exist without any distortion, overdrive, wah pedals.
Ultimately, playing the guitar should be about having fun. Buying new gear is a great way of getting you to return again and again to your guitar. However, gear can be a distraction, so it is important to know your priorities before you start splashing the cash.
The gear capabilities also link to the respective cost as an important difference between acoustic and electric guitars. Gear can be expensive. So if you want to save money while learning to play the guitar, you may want to opt for an acoustic.
SEE ALSO: 13 Easy to Find Guitar Accessories You Will Absolutely Benefit From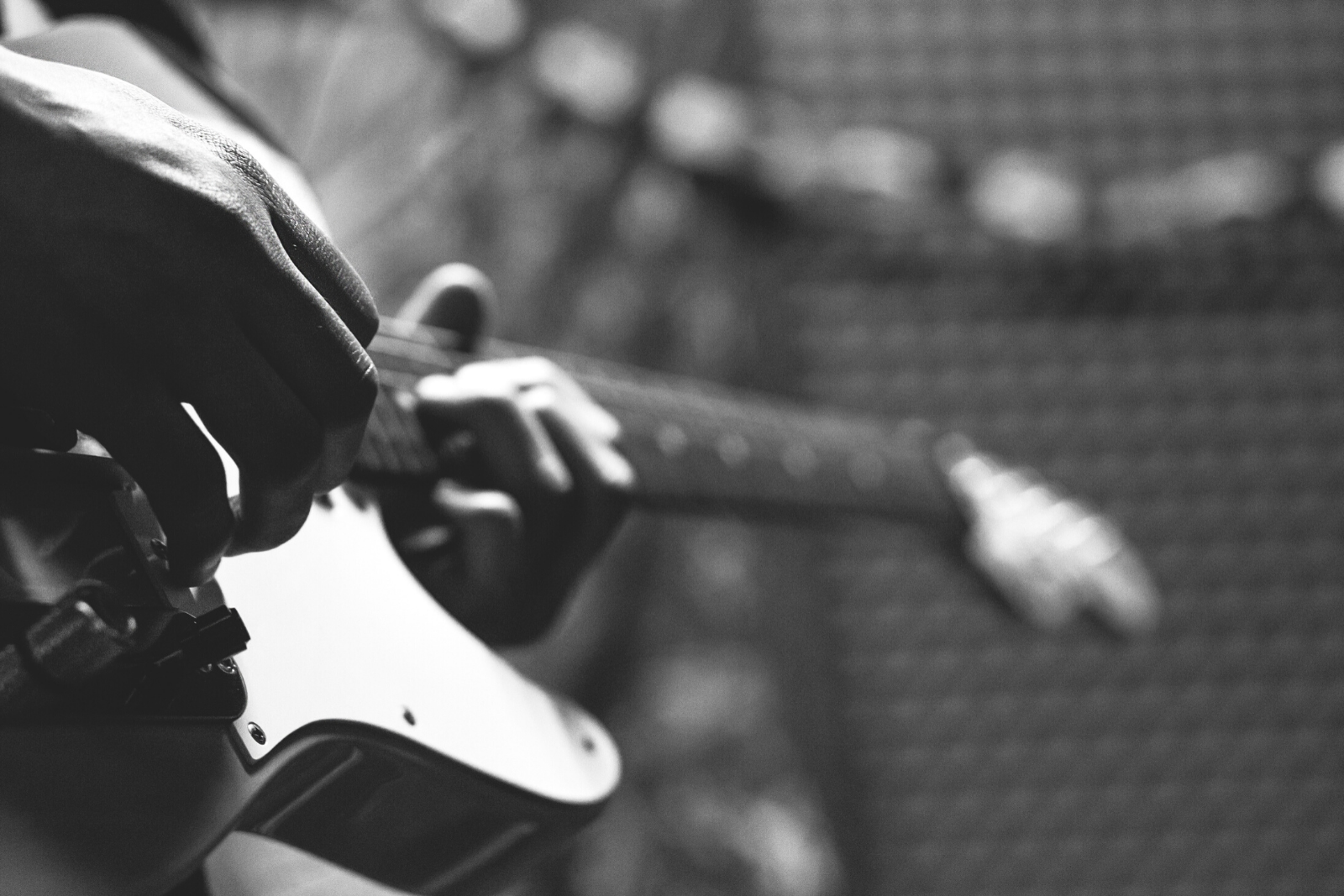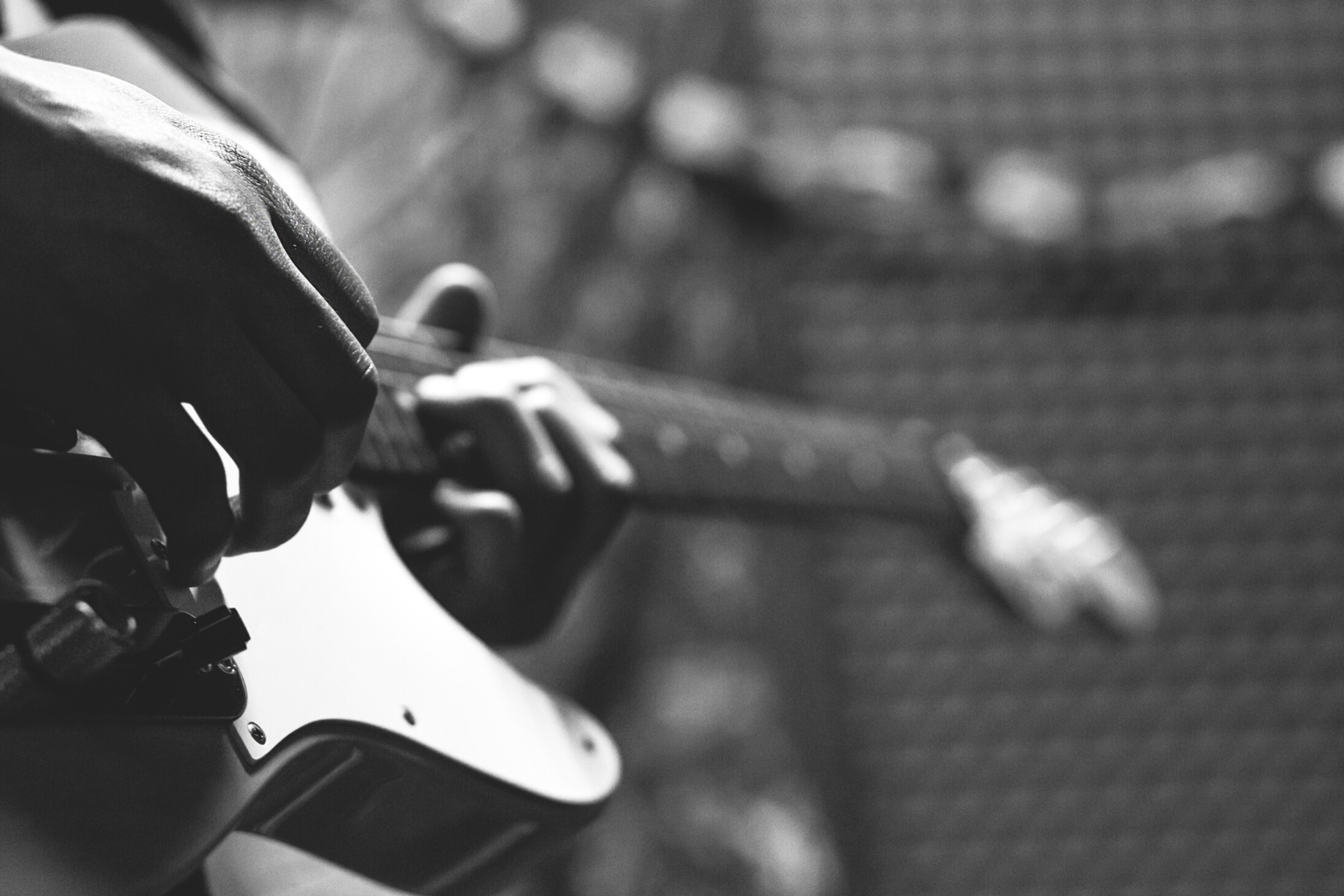 An acoustic requires little to no gear to be played to its full potential. Whereas to unlock the delights stored inside the electric guitar, you may want to experiment with different pedals, plug-ins, and amps.
---
Difference Between Acoustic-Electric Guitar vs Acoustic
The essential difference between an electro-acoustic and an acoustic guitar is the ability for amplification. If you are a fan of electric and acoustic guitar and then the electro-acoustic may be the one for you.
The electro-acoustic allows you to retain the feel and texture of an acoustic. It also enables you to amplify and modify your sound. The strings and the guitar's body remain the same, but your playing is given another dimension. Electro-acoustics can fill stadiums and also charm in smaller venues.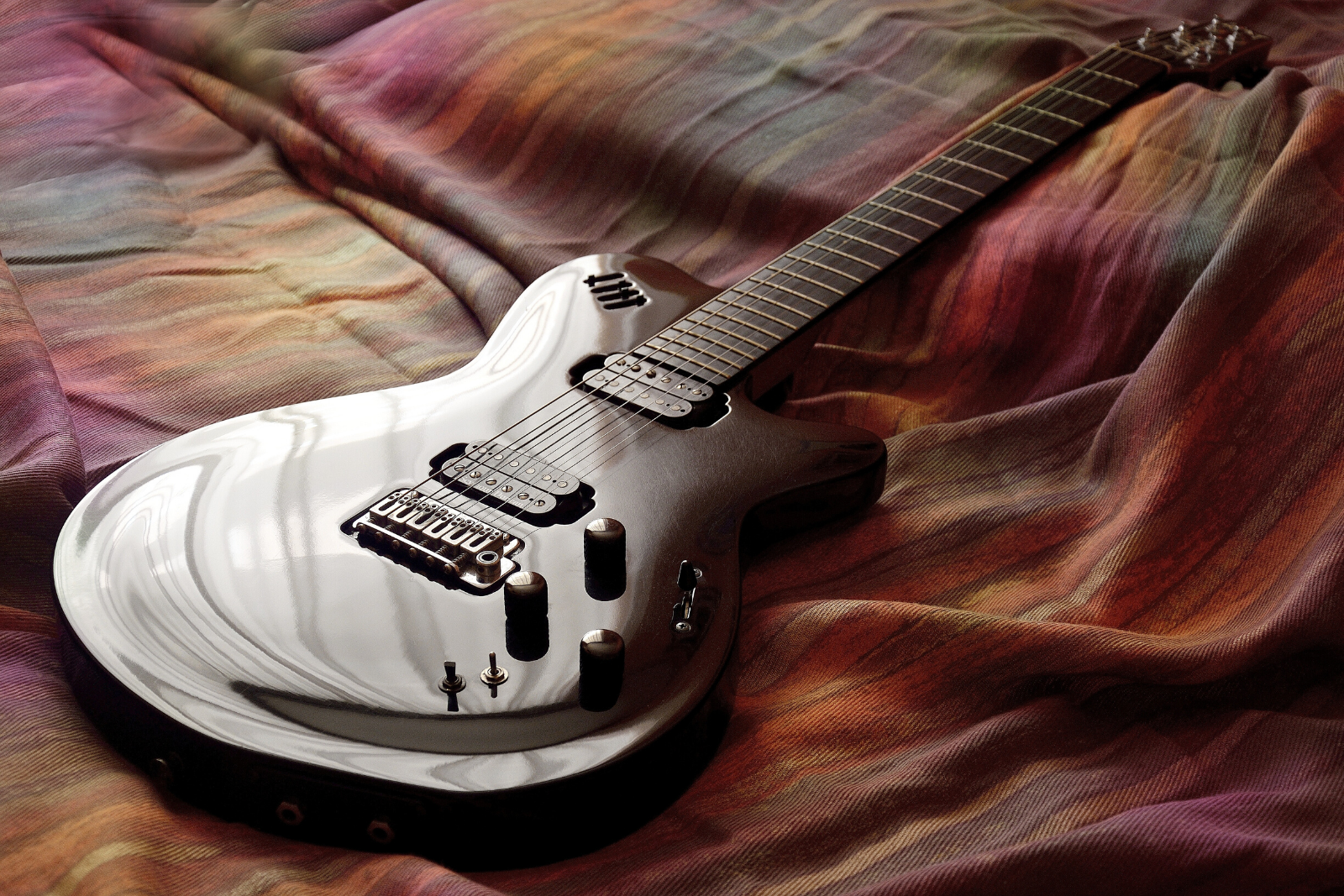 Some amps are specifically designed with electro-acoustic guitars in mind so that you can reach decibel levels that would be impossible on a traditional acoustic guitar. If you want to know more about electro-acoustic guitars, we suggest you visit your local music store and try a few!
---
Which Type of Guitar Should You Choose?
So now that you have reviewed and weighed some of the differences in learning to play electric guitars vs. acoustic, which one should you choose?
Truthfully, there isn't one correct answer to this question. It really depends on:
your comfort level,
the type of music you want to play, and
what you want to spend.
Either choice is going to be an adventure to learn and play. Whatever got you to say, "teach me to learn to play guitar," is what you should go with.
Is learning guitar hard? Yes, but there are many ways you can make your learning experience easier and more rewarding. There are plenty of resources out there to ensure that beginners don't have to suffer alone. Don't worry; there are probably millions of beginners feeling the same way.
If you are wondering how to self-teach guitar? Do not fear! It is all about finding the music you like and being dedicated to improving your technique and knowledge. The type of guitar you learn on is important, but it is not vital. Your progress depends more on your attitude.
If you want to learn how to play the electric guitar because Hendrix's awesomeness inspired you, then you should start with the electric. But if you want to learn some simple Beatles or Ed Sheeran tunes, then the acoustic may be the guitar for you!
You also aren't tied to one choice either, and if you decide to switch, learn bass guitar, etc., you will have more versatility in your skills and genre options. It would be best if you always aimed to expand your musical horizons. Listen well to other musicians, and you'll be a great guitarist in no time at all!
After reviewing the differences between the two, which one would you want to learn to play guitar on?
Let us know in the comments below.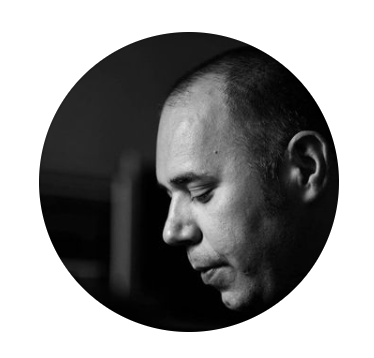 Marko is a passionate composer, producer, and multimedia artist with a Master of Music degree. His career involves performing, creating, and producing his own music in his home studio using digital and analogue equipment. Marko is a multi-instrumentalist (he plays guitar, bass, piano, theremin, and other instruments). performs live acts and DJ sets, and works on feature and short films, documentaries, festivals, theaters, and government initiatives.