Are you wondering how to play the guitar? Then you are in the right place. Is learning guitar hard? Umm, yes and no. It all depends on your commitment and enthusiasm. Don't worry! We'll cover all the steps needed for a budding beginner guitarist to learn quickly. This step-by-step guide will ensure that your learning experience is smooth, informative and reliable.
Before you can learn to play the guitar, you should purchase a dependable guitar that is not too expensive. (Your first guitar will likely take on a lot of wear and tear!) You want to be able to rely on your first guitar and you should try and keep it around even when you move on to better, more expensive guitars.
A $150 to $300 guitar will work for you just fine. Although they are awesome, you probably don't want to purchase a Gibson Les Paul as your first guitar. Instead try Epiphone, which is a quality brand for learning the guitar as a beginner.
As a beginner, the guitar may take some getting used to. You may feel uncomfortable and your fingers might not stretch far enough. You will probably strum too hard and over-tune in the beginning — resulting in scratching and overuse of the tuning pegs that sit on the head of the guitar. But fear not! We are here for all your guitar learning needs.
An electric guitar is the best guitar for beginners. If you want to learn on an acoustic guitar, the only difference is acoustics are usually more difficult to press down on the strings. However, both instruments are a great starting place if you are enthusiastic and prepared to practice regularly.
So, did you pick out your first guitar? Get those fingers strumming with our guide on how to play guitar for beginners.
---
Steps on How to Play Guitar For Beginners
Step 1: Guitar Basics
Learning how to play the guitar starts with the guitar basics. There is no point rushing into complicated guitar solos or complex chord progressions before you have nailed the basics.  The basics consist of the strings, fretboard, picking, and finger placement.
The Strings
A guitar consists of six strings that vary in size. From top to bottom the strings are numbered 6-1. The thickest string that sits atop the guitar is called the low E or the sixth string.
After the low E, the strings decrease in size in the order of A D G B and high E. The low E has the deepest or lowest sound. The high E sits at the bottom of the guitar and is the thinnest chord, resulting in the highest pitch.
Ernie Ball is an excellent brand of strings for all levels of guitarists. You may have to replace your strings if they get worn down and if they become hard to tune. Any reliable guitar store will usually help you choose the strings suitable to you. They can also restring your guitar or show you how to do it yourself.

The Fretboard
The fretboard is the long wooden fingerboard of the guitar in which you place your fingers. A standard guitar consists of 22 frets. Each fret has a metal barrier separating it from the other frets.
The 1st fret is the one closest to the head of the guitar. Frets are numbered in order from 1-22. When practicing the basics of the guitar, count the frets to familiarize yourself with their placement.
When you place your finger on a fret the key or sound of the string will change. Each fret results in a different note for every string.
For example, when placing a finger on the first fret of the low E string, the note will change from an E to an F.
As you progress as a guitarist you will learn how to navigate the fretboard. As a beginner, you will likely stay around the first few frets when you practice. The first chords you learn will be based on the 2nd, 3rd and fourth frets. As you develop you will learn to use more of the guitar.
The length of the fretboard can seem intimidating at first. But practice will soon dissuade you of these notions of complexity. The fretboard is a simple structure to understand. The more practice you do the more familiar you will become with the layout of the fretboard and how you can go from one end to the other with speed.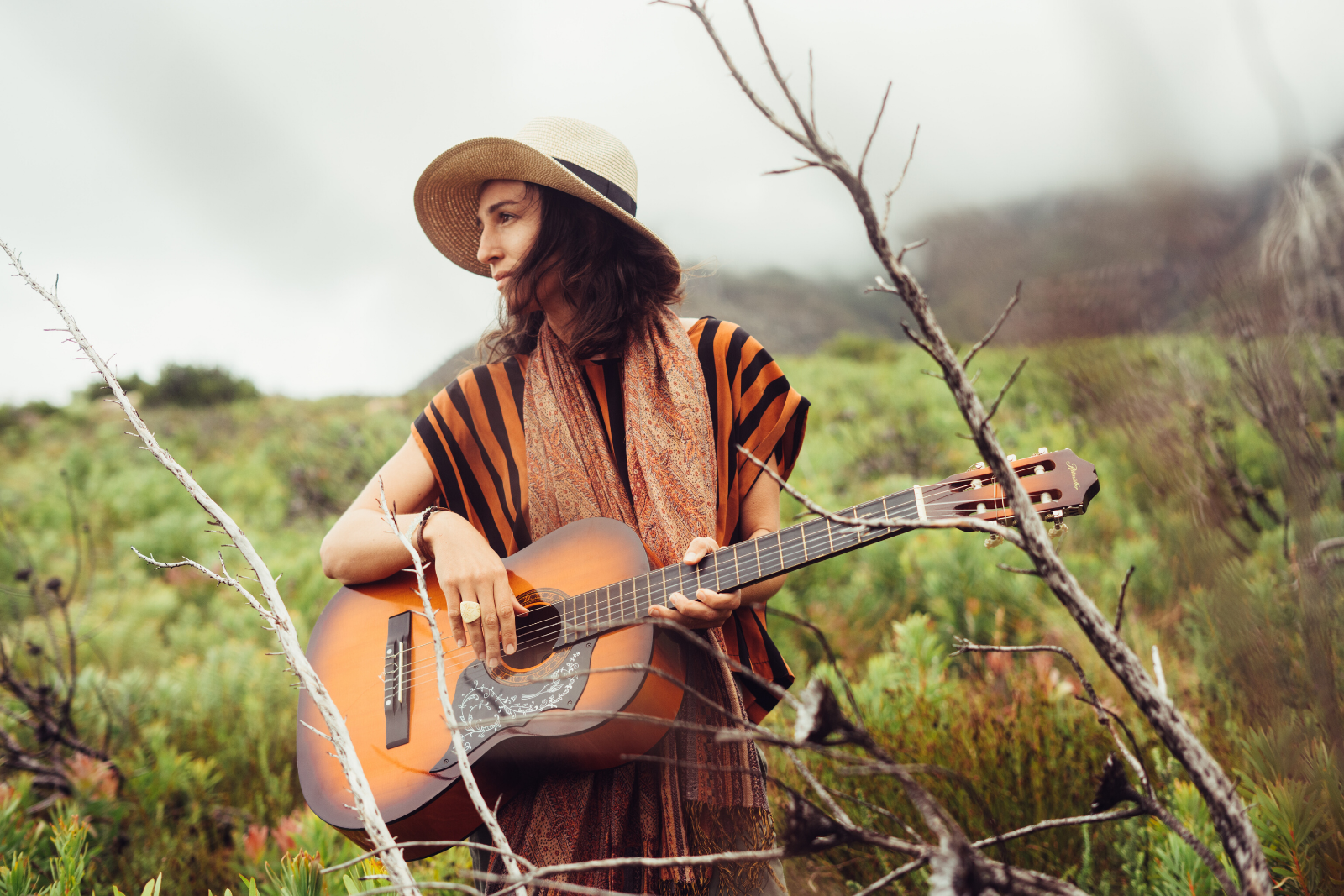 Guitar Picking
Every guitarist has their own specific picking form. There are many different ways to pick, so experimenting with how you hold the pick and strum will depend on you. However, there are some fundamental things you need to learn.
The most important thing to know about picking is that a guitar pick should be held between your thumb a pointer finger. The pointy edge of the pick will face the strings of the guitar. The rounded edge will be placed under the thumb and on the side of the pointer finger.
It is important to feel comfortable when using a pick. Most guitar picks for beginners will light and easy to use. When you become more advanced you can begin to use firmer picks.
After a while it will come down to personal preference. Ultimately, the important thing to remember is to not let the pick get in the way of your playing.
Different styles and genres of music require different picking techniques. Depending on your favored genre of music you may learn to pick in a certain way. It is always useful to be aware of how different musicians and genres utilize picking styles to enhance the musicality of their song or piece.
If used properly the pick will help to give your strums a full and round sound. Similarly, a pick can enhance the percussive sound of your playing and unlock new avenues of expression for your playing.
As a beginner, you may want to stick to just using your fingers but you should also give a pick a try. It is an easy way to add a new dynamic to your playing without necessarily altering your practice routines.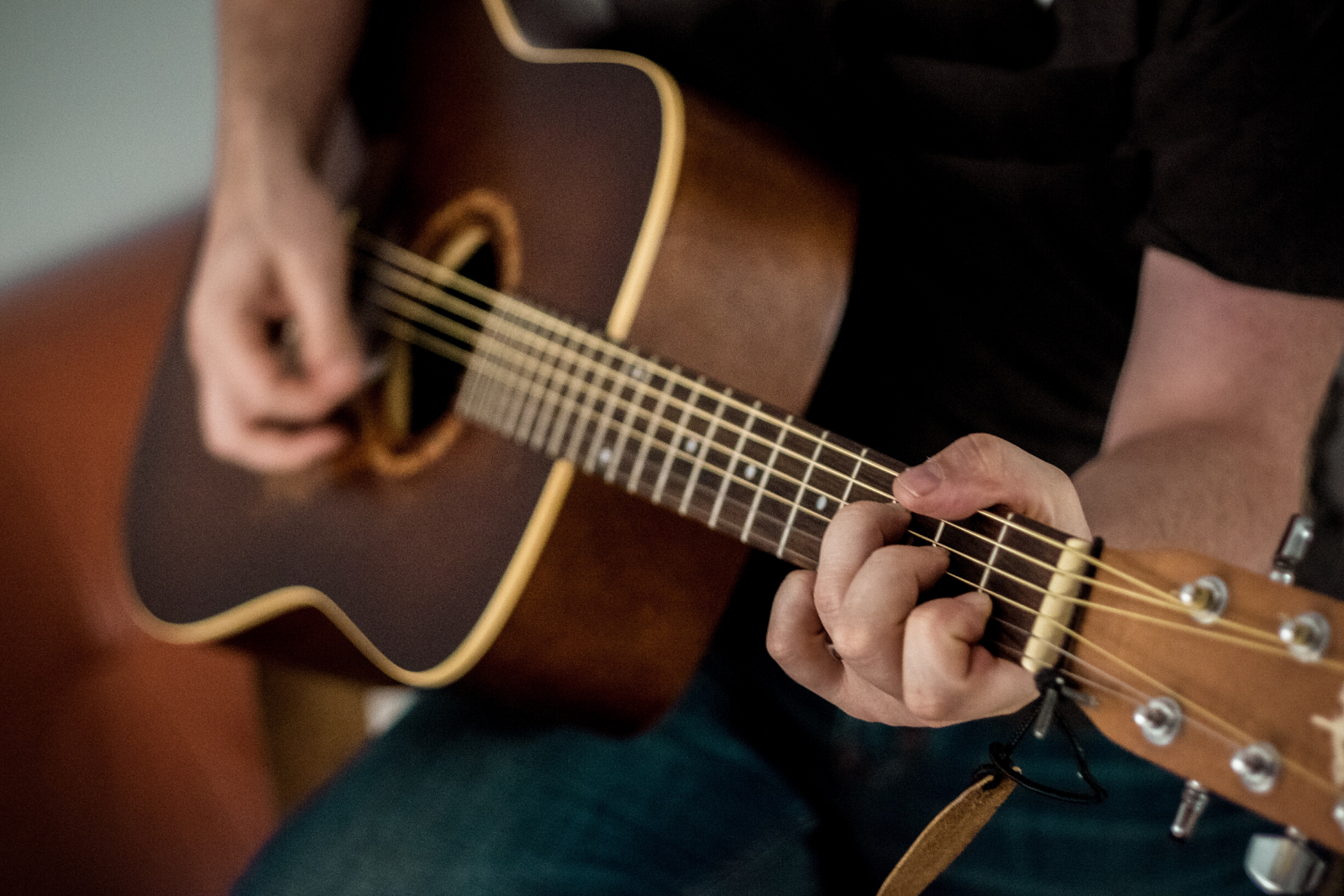 Finger Placement
One of the most important aspects of learning the guitar is finger placement and finger strength. Before you play notes and chords you must become comfortable with the placement of your fingers.
As you begin, your finger dexterity will probably not be fantastic. However, the more practice you do the more your fingers will get used to contorting, reaching and settling on the strings.
The thumb is used to hold the neck of the guitar. The pointer, middle, ring and pinky fingers will all be used on the fretboard. A good beginning guitar lesson will familiarize yourself with where your fingers should be placed.
Memorize this idea. Pointer is for the 1st fret, middle is for the 2nd, ring is for the 3rd and pinky is for the 4th. When you get the 5th fret, the finger placement will reset, once again beginning with your pointer. This idea will remain the same for the remainder of the fretboard.
When you play the guitar for the first time, you will find it difficult to press down on the string. You need to strengthen your fingers to become comfortable with the sensation. This can only be accomplished through repetition and practice.
Many beginners give up before they pass this stage of pain and discomfort. It will take some resilience but you will be rewarded for it.
Pressing down on the strings and moving from one chord to another will get easier with time. As long as you focus on finger placement as a beginner you should be able to advance your technique and skills at a steady pace.
---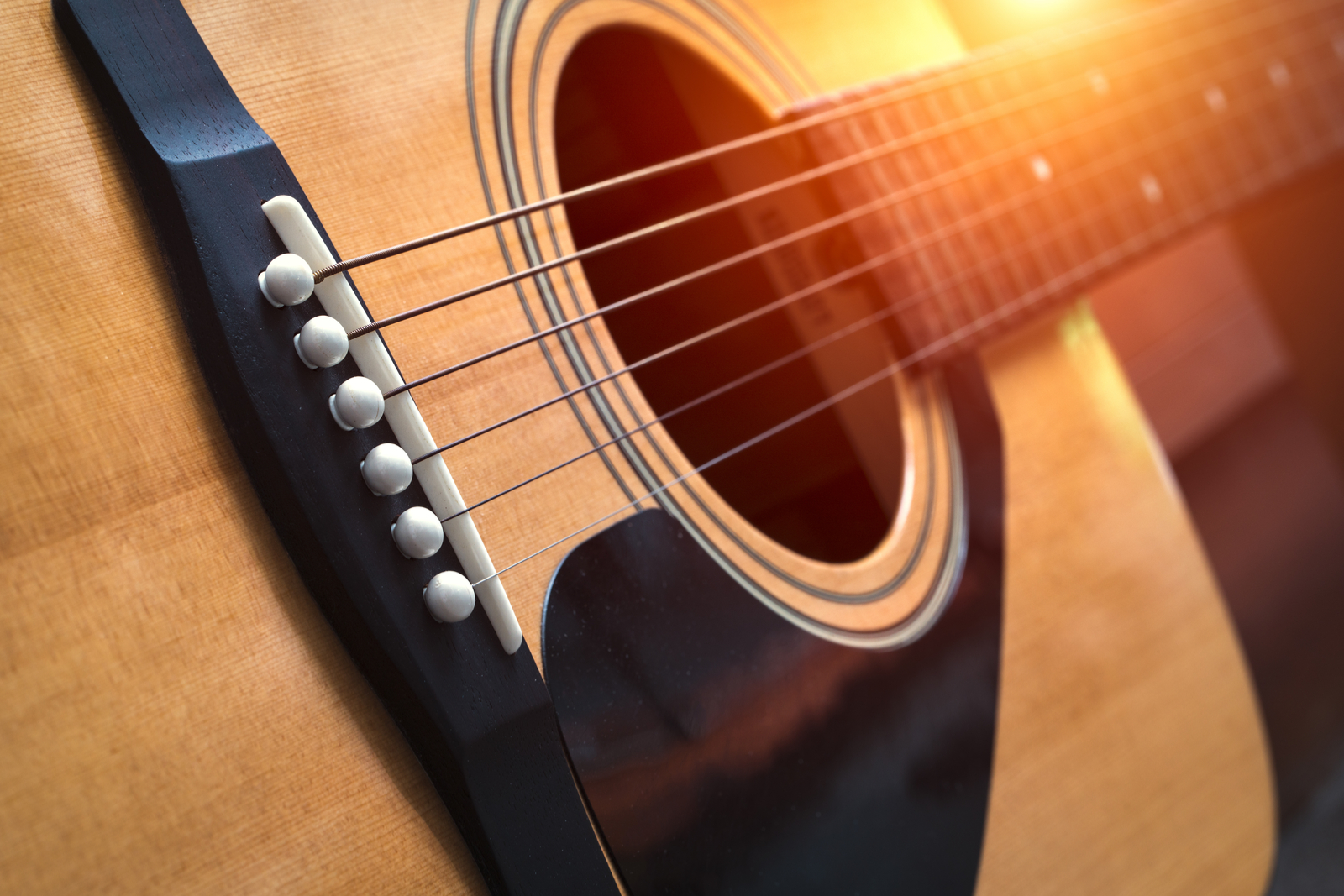 Step 2: First Lesson on How to Play the Guitar for Beginners
When someone says, "teach me how to play the guitar," they expect to play a song right away. They want to be able to bust out some classic Wonderwall right out of the gate.  Learning the guitar does not work that way. You must devote time to the basics of the guitar before anything else. Then you will be able to set a good foundation and progress in a sustainable manner.
Your first guitar lessons will help with finger placement and finger strength. You will also learn how to strum and you might get some contextual information about the history and use of the guitar.
Start on the high E string. This is the thinnest and easiest string to press down. Place your pointer finger on the first fret, middle on the second, ring on the 3rd, and pinky on the forth. Place each finger one at a time. It will feel awkward, so don't worry.
Once you get to the 4th fret with your pinky, release your fingers and start over. However, this time, do it in reverse order starting with your pinky on the 4th fret, ending with your pointer finger on the 1st fret. This will help you learn the necessary movements needed to play the guitar.
As you work your way up and down the guitar you will develop your muscle memory. Each time you return to the guitar you will have improved. Getting a hang of the finger placement and the movement is the best place to start.
After you become comfortable with this movement, you can either move to the 5th fret of the high E string or move to the 1st fret of the B String.
Knowing where to place your fingers is the best guitar help for beginners. It is important to learn how the notes sound all the way around the fretboard.
As you practice you will be training your ear as well as your fingers. As you become comfortable navigating the fretboard you can move on to more advanced techniques and skills.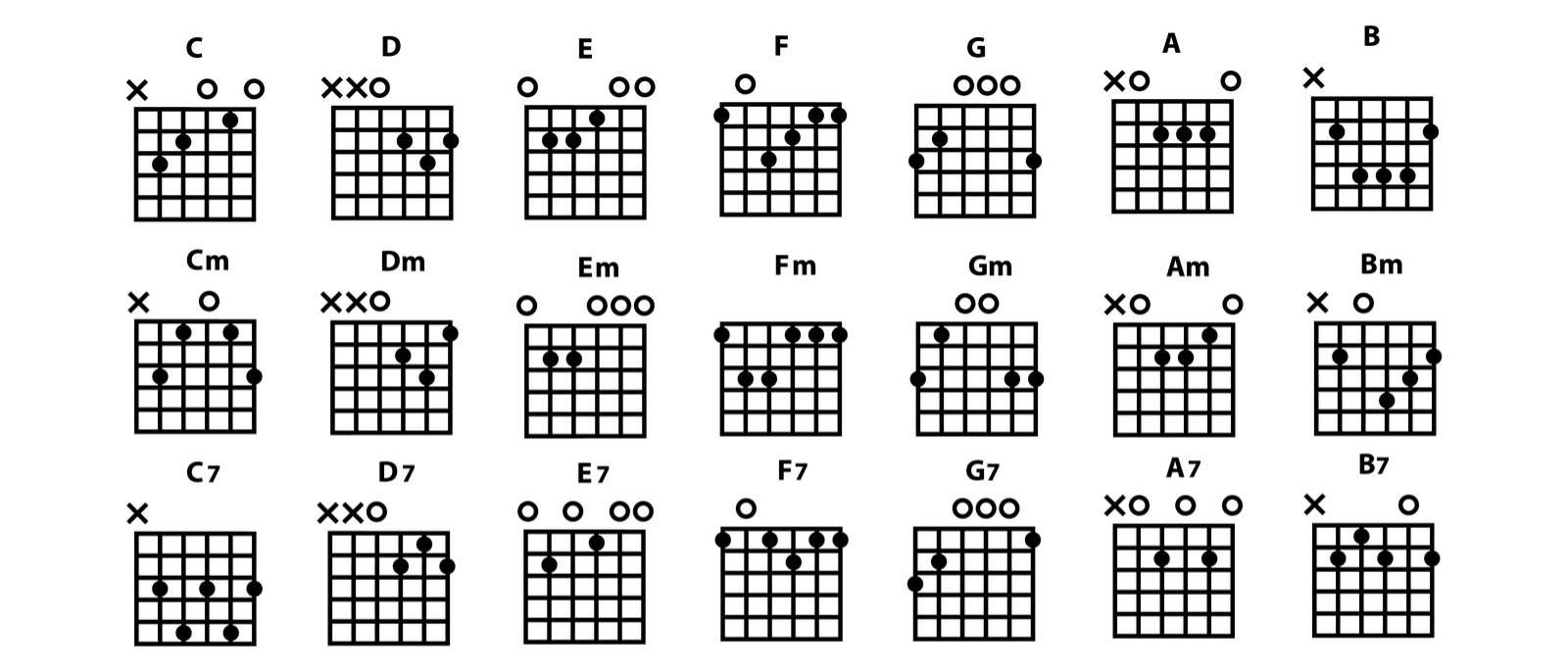 Step 3: How to Learn Guitar Chords
A guitar chord is a set of notes played at the same time. Once you have become comfortable with your finger placement and finger strength, you can move onto chords. This will be helpful if you want to learn to play some of your favorite songs. Chords form the base of any popular song. They are the backbone that allows the melody to take charge.
A guitar tuner is a helpful tool for beginners. You can play a chord perfectly, but if your guitar is out of tune, it will sound horrible. Tuning can be done without a tuner, but that is another step beyond the basics.
We will look at an E Minor chord as an example. E Minor is easy because it uses every string of the guitar. You can strum all the way through and create a lovely, full sound.
Place your middle finger on the 2nd fret of the A string. Next place your ring finger on the 2nd fret of G string. Hold your fingers in place and strum every chord in one motion.
Different chords utilize different frets as well as strings. Some are easy to learn, others take more time. Once you have a better understanding of the basics of how to play the guitar, you will be able to play chords without even looking at the fretboard.

As you progress you will also be able to experiment with different chord voicings. Adding notes to some chords and leaving notes out of other chords. It is a great way to add texture and personality to your playing. Obviously, you should only focus on complex voicings when you have cemented your basic chordal knowledge.
Step 4: How to Learn Guitar Chord Changes/Progressions
After you have memorized a few guitar chords you need to learn how different chords relate to each other. Chord changes and progressions are the basis for songwriting and playing guitar with other musicians. They illustrate the flow of a song and they often appear in patterns and specific sequences.
A chord progression is the way to describe a series of chords. Without a knowledge of some of the standard chord progressions a beginner can get lost learning a simple song. Once you have learned some of the simple chords we have mentioned you will want to know what to do with them!
For example, after playing E Minor you can play a C Major chord. Learning how to transition between chords is the key to becoming a guitar player. As you become more familiar with certain chord progressions your finger dexterity will improve and your knowledge of harmony will develop.
Chord progressions are often written with roman numerals. Playing guitar for beginners should be centered around hands-on practice with the instrument but it does help to learn some theory.
Simply numbered progressions include I, IV, V, I. This one-four-five-one is a standard chord progression and can be found in many of today's popular songs. The roman numerals refer to the chord positions in the scale. In the C Major scale an I, IV, V, I chord progression would mean you play C, F, G, C major chords in that order.
II, V, I is another set of chord changes that form the basis of many jazz standards. It is useful to be aware of which changes occur in your favorite genres so that you can learn to play along.
Every guide for how to play guitar for beginners should have a section on standard chord progressions because they are fundamental to many genres of popular music.
Once you have familiarized yourself with some of the basic chord progressions you will be able to play a wide variety of songs in many genres.
There are so many progressions which is great because it means there is always something to practice. Learning chord progressions will also help you move around the fretboard with greater ease.


Learn How to Play Guitar Online with Fender Play: Free for 14 Days!
Step 5: Learn a Song
Playing guitar for beginners can be difficult. One of the best ways to improve quickly is to learn a song. Learning a simple song that you can hum or sing along too can make practicing easier. And mastering one of your favorite popular songs is a good way of showing off your guitar skills.
It is best to start with a simple song. A piece that has an easy chord progression and a simple melody is a good idea. Learning songs provides a great platform for you to write your own music and develop your skills on the fretboard.
We recommend starting with some songs that use the C, G and D chords like Free Fallin' by Tom Petty or even the Happy Birthday song.
Learning a song that you can sing along to is also a good way of improving your guitar skills. Practice can be tough but you are more likely to pick the guitar up if you enjoy playing. Learning one of your favorite songs will help massively!
Once you have a few songs under your belt you will start to play more complex chords and trickier melodies. The only way to truly nail them is practice, practice and more practice!
Here are a few songs that we think might be worth learning if you are a beginner.
1. Do I Make You Wanna by Billy Currington
The Do I Make You Wanna chords are relatively simple: G Major, D Major, C major, E Minor, and A minor. These are all chords that you should be learning as a beginner.
The song is a basic and smooth sounding country tune that will help you develop your skills. Moving between chords and getting a feel for the rhythm are important skills to learning if you are a novice.
2. What Is And What Should Never Be by Led Zeppelin
This is a great song to learn especially if you are a fan of Led Zeppelin. What Is And What Should Never Be chords are also quite straightforward.
Learning this song will help you improve your strumming technique. It is also great to sing along to. If you have an electric guitar make sure you give this song a go.
3. All-Star by Smash Mouth
In recent years this song has become somewhat of a cliche. And unless you are a fan of Smash Mouth you will probably know this song from its classic appearance in Shrek. However, that doesn't mean it isn't a useful song to learn on the guitar as a beginner.
The All-Star guitar chords are simple but there are several strumming patterns you will need to learn. It is a good song for beginners to learn because it is recognizable and easy to play.
See also: Right Where I Need To Be chords

Key Takeaways of How to Play Guitar for Beginners
Learning the guitar will take time. You can't become the next Hendrix if you go into the learning process thinking you will be able to play "All Along the Watchtower" the first time you pick up a guitar. The most important thing is to stay committed and enthusiastic as you practice.
Keep at it, even if playing becomes a challenge! Once you have learned a few notes and chords try experimenting with some of your favorite songs.
Know the basics and study the different parts of the guitar. By following this guide on how to play guitar for beginners step by step you should be playing well in no time at all!
The strings and fretboard are the most important for beginners. Before you learn how to play songs, you need to be comfortable holding the guitar, holding the pick, and moving your fingers around the fretboard.
Do not get discouraged if you cannot grasp a certain basic aspect. Feel free to ask others for help. If you are curious you are more likely to succeed. Like learning a language, playing the guitar takes a lot of practice and dedication.
Are you ready to learn the guitar?
Leave any questions or comments below!