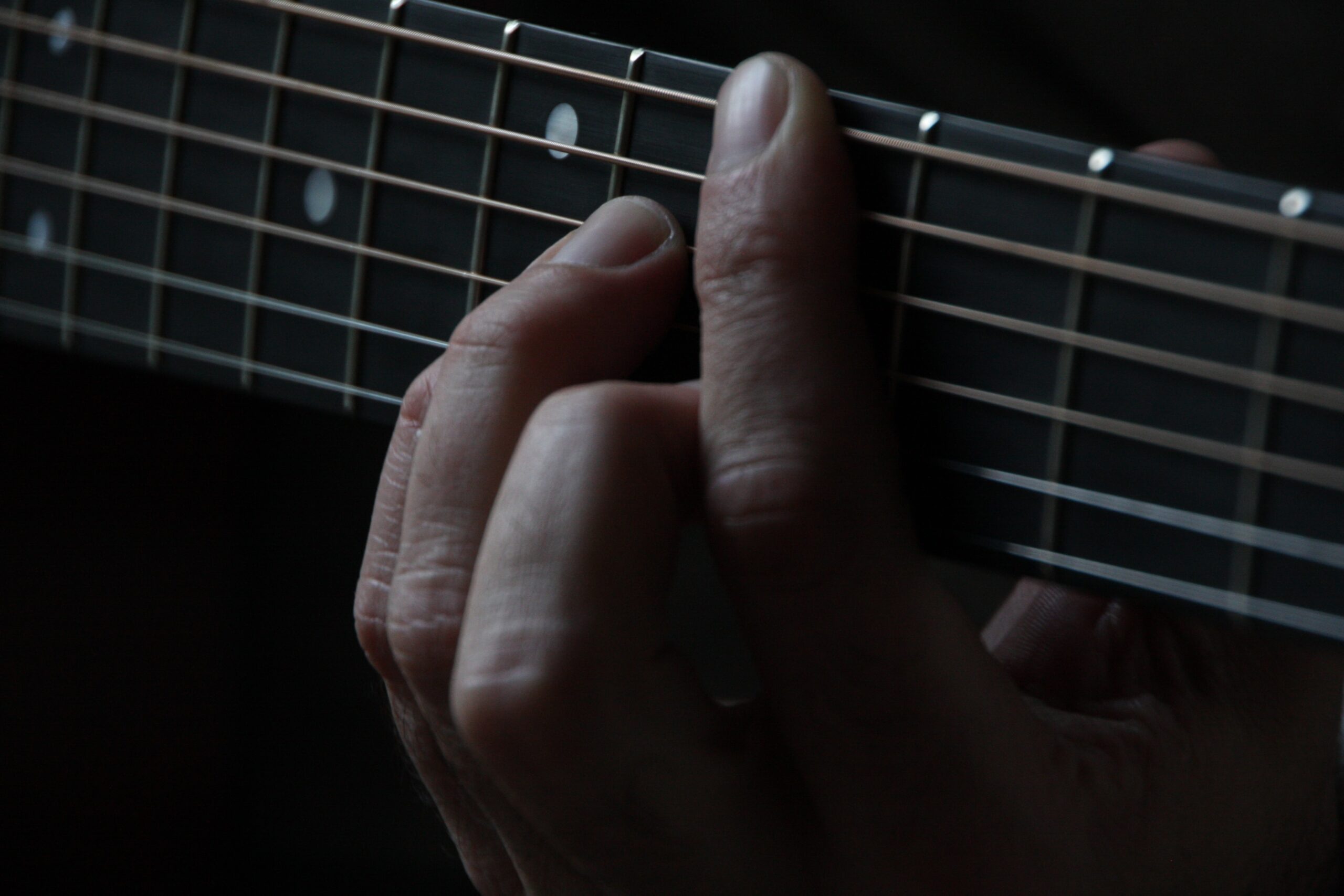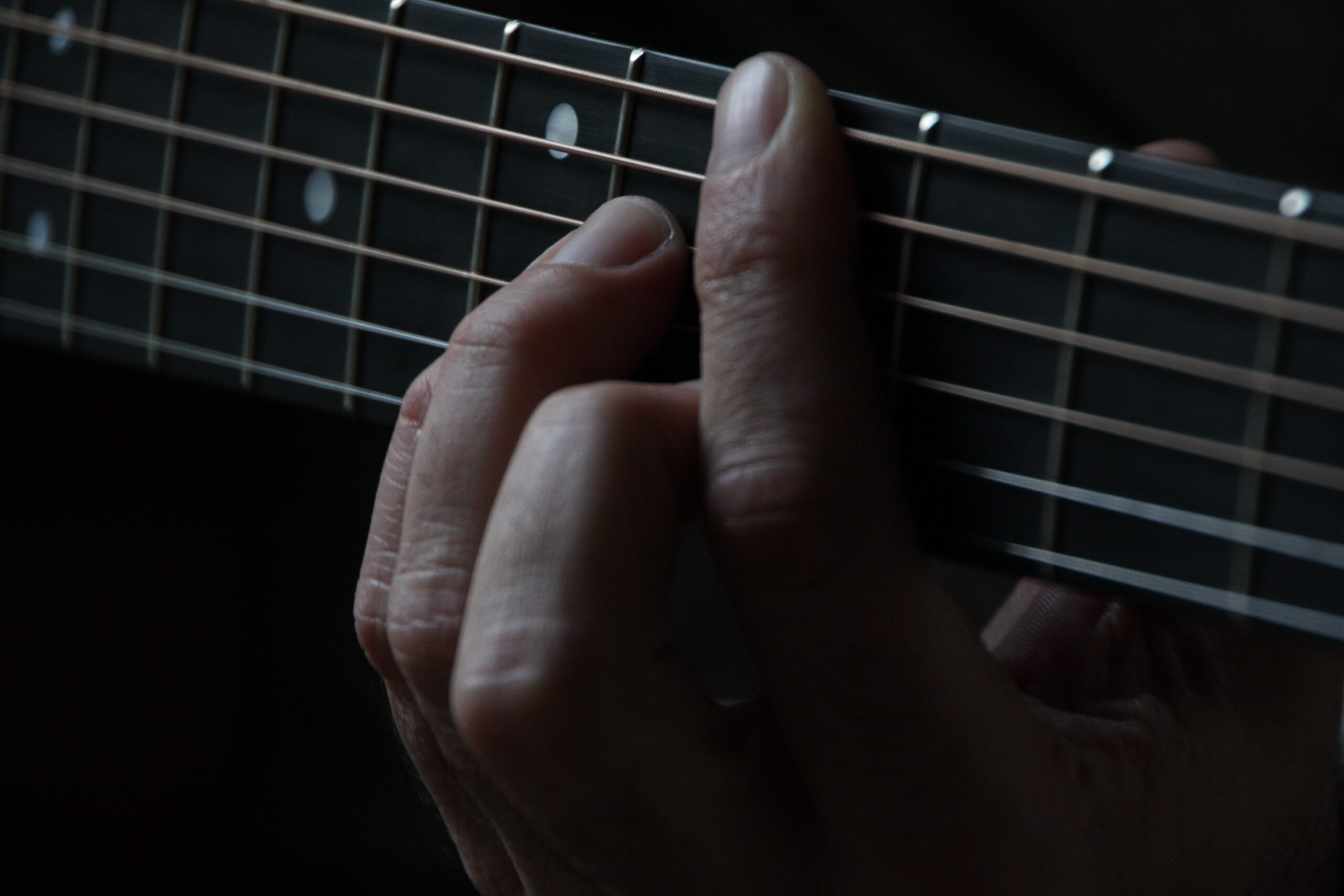 Mastering the guitar can feel slow at the beginning. However, there are some points in the learning process that manifest as leaps – practicing some simple tricks on a guitar can open much more possibilities. One of these tricks is mastering bar (barre) chords and how they work.
Minor bar chords are half of the deal for beginners and are the base for the more complex and advanced chords like minor 7s and 9s. Minor chords add depth and moderate mood to your chord progression just like major chords.
It doesn't matter whether you start practicing major or minor chords, or alternate. Playing-wise, the two types of chords stand together shoulder to shoulder, so it's up to your preference which you'll practice first. Keep in mind that playing only major or only minor chords can sound goofy or too weird, so most players alternate between the two.
As for learning what they are and how to play them, it can be easier to figure it out by learning minor bar chords. Let's start with the basics.
The three basic Minor Chords
A minor chord in music theory consists of the carrier note (the first interval) that names the minor chord, its minor third interval, and the perfect fifth interval. For example, for C-minor, the chord consists of C Ed (E flat), and G instead of C-E-G for the C-major chord.
Another way you can look at it is by adding a minor third interval to the base note and then adding a major third interval to the middle note. On a string of a guitar, since frets divide by half-degrees, you can count an open string as "one", then count on until you get to "four". For an E-string, you should get to the note .
Now, since the difference in strings is by five frets (or 6 intervals, including the open string) or 4 in the case of the G (4th from the top) and B string (5th string from the top), you can shuffle the three notes and find them on other strings in a two-three fret vicinity. Since you are allowed to repeat notes, you can quickly find that you can play some chords using three fingers and even two.
For the lesson at hand, we will focus on three minor chords on a guitar that are important to us. As a refresher, the three minor chords (Em, Am, and Dm) are some of the most basic chords played on an open string. We are covering all three chords here, though we will focus on Em and Am since they are much more useful as the majority of bar chords used are based on them.
The reason these chords are played so is because of their bass string, or the first string from the top. This bass string note (open string note) determines the first note in the chord (the carrier note). So, for E-minor it's E2, for A-minor it's A2, and for D-minor it's D3. The following four strings played are adding the 5th interval, the octave, and the 3rd interval, respectively. This ends the D-minor chord, Am adds another 5th interval, and Em adds to this another octave (2nd degree octave) as in picture 2.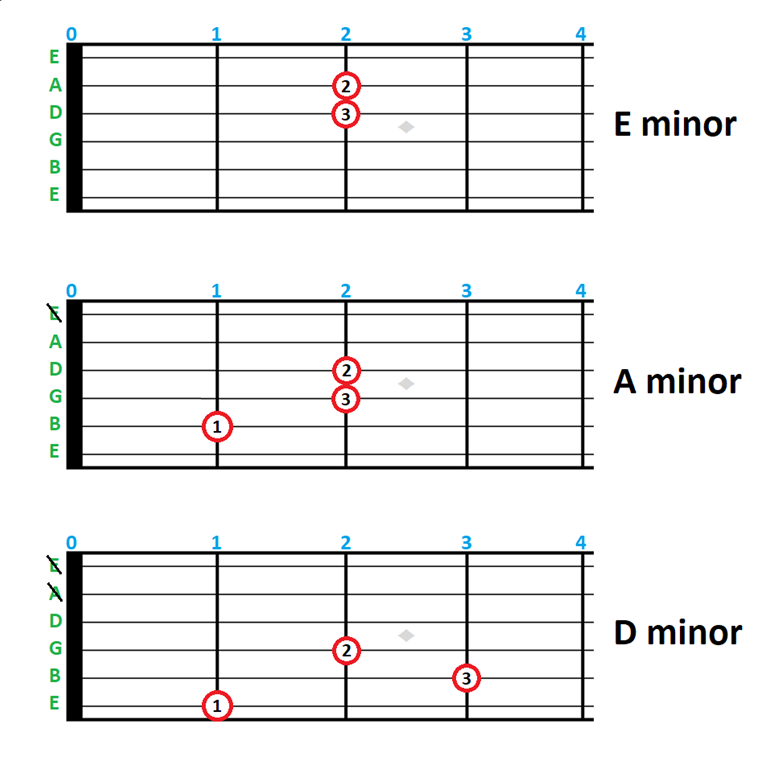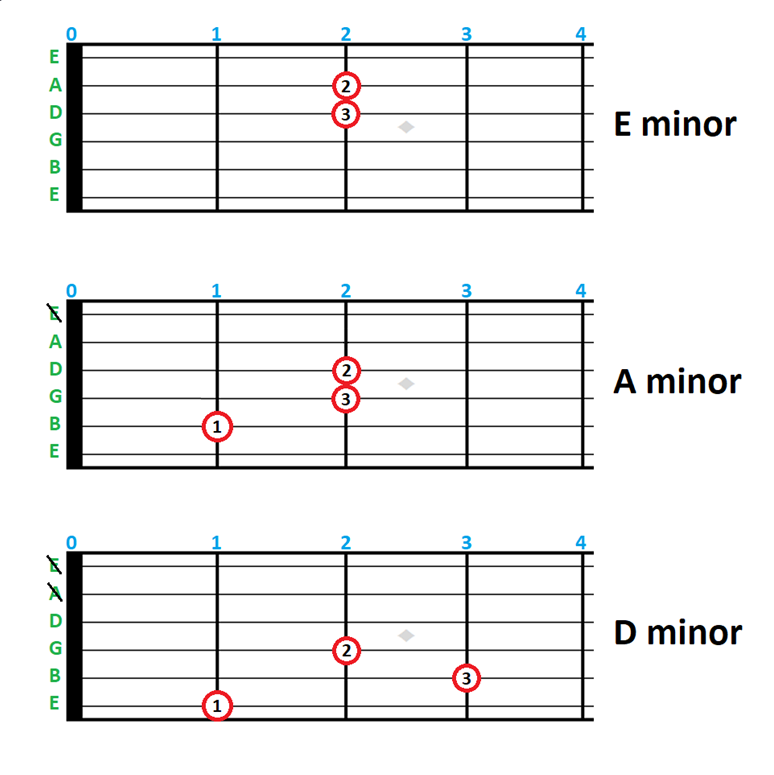 So, using only two or three fingers, you can get yourself to play the three minor chords. These chords are usually played with the first three fingers, but for bar chords, the first practice is to release the index finger (we'll need it later) and get the pinkie to do some action, to make it more nimble.
While the finger alignments in picture 2 are most recommended, you can practice other alignments as well since you'll need them for smoother transgression to other chords. For very beginners, by this, I mean not using your index finger (1 on tab) and using your middle (2), the ring finger (3), and the pinkie (4) to press the strings, practicing pressing the same three strings (for Am) with fingers in a different order.
You'll notice that some of the finger alignment is more comfortable than the other (some are impossible of course). Practicing other achievable alignments will be useful for later, depending on the chord you are playing next.
Let's see what a minor bar chord is and how you can effectively use it.
What Minor Bar Chords are?
A bar chord is when you press the string with the length of your index finger, and play either the standard E-minor, A-minor, or D-minor variety with the rest of your fingers counting the bar fret as an open string.
Why is this so? If we, for example, wanted to play a C-major with an open string, we'll notice that there is no open string that plays C-major.
We can tune the guitar differently (lower the E strings to C for example), and we can fix the problem. However, if you think about it, if you play all strings on the same position of a guitar, you practically tune it to that position. You have shortened the neck of the guitar by any number of frets, and now, pressed so, you have a new "open" string.
Since all minor chords are similar in terms of intervals, if you press the length of your index finger on a third fret (E strings become G) and play the E-minor chord pattern (picture 2), you will get G-minor. In a similar vein, if you press all strings on a 2nd fret, skip the top E string, set your fingers to A-minor shape (same strings), and you will raise the "tune" for two half-steps, getting yourself a fine B-minor. Move your fingers up one fret, and you'll play the C-minor chord.
Deriving an E-minor from open D-minor works by the same principle, you only play four lower strings and it's a little tricky to practice the shape out until your fingers get used to it – a hint is that you don't have to keep your index finger that high and across all 6 strings, especially if your next chord is not a bar chord that needs 5th or 6th string.
The whole takeaway is that we remember how to set up fingers depending on the string of our base note and that we don't play the strings above it.
SEE ALSO: Learn Guitar With Apps: The 13 Best Ones To Use Today
Locating the Base Note on the Guitar Neck
Once we learn how the three basic minor chords work (Em, Am, and Dm), all we have to figure out where a note on a certain string is, and we can play a minor chord with that base note. We can learn this by heart or figure out how tones are aligned.
The minimal unit of measure in music tones is half-steps. Frets divide the guitar necks into half-step tones. Aside from half-steps, the important term is the full step or step (consisting of two half-steps).
If we check out the traditional C-Major scale, we find that there are two half-steps between C-D and D-E, for example. This is best seen on piano keys – you know it's a full step if you have a black key between two white keys. Between E and F or B and C, however, there is only a half-step.
Checking our Picture 3, you will notice the positioning of C-Major notes on a guitar neck for a particular string. Every Major scale has a twin minor scale. The difference is always 4 frets (or half-steps), so the C-Major's twin is the A-minor scale – they are using the same notes.
What is between the full-step notes then? For example, what is between C and D and what do we use that for? The between-notes are also notes and are equally important. They are the black keys on a piano keyboard. These notes are divided from each other by a full step (two half steps) or a step and a half (three half steps).
These notes can be called two ways, most commonly. The eight-note system in the West is already kind of a mouthful, so we use the CDEFGABC to reference the half-step not. We can do so by either increasing a note before it by half-step or decreasing the note after it.
The increase is called sharp/sharpening and is represented by the hash symbol – #.
The half-step decrease is referred to as flattening or flat, using a symbol that looks like an italic small alphabet b – b.
So, the note between C and D can be called C-sharp (C#) or D-flat (Db). Though the frequency of C# and Db is the same, a difference is made because of music theory and how the notes are derived on a scale.
If we check C-minor, we can go 4 frets up and figure out that its twin Major scale is – Eb-Major. Though we can call this scale D# as well, it's not as convenient because by using sharps we'll have both G and G#, while by using flats, we can distinguish between the G and Ab.
The only takeaway, for now, is to learn that when you see "#" you know you play a note that's a half-step up, and if there's a "b" symbol, you play a half-step down from the note.
Back to figuring out the positions of specific tones/notes on a guitar neck. If you don't want to learn by heart, you can rely on these three facts:
There's only a half-step between E and F, and B and C, so no need for sharpening E and C
The 5th fret on a string is the same tone on the next open string (except for the G-B strings, as B is on the 4th fret of the G-string).
As you count up, use sharps, and if you count down, use flats, remembering that they can be the same tone/note.
Let's say we need to play a C-minor on the top E string, so we need to locate the C-note on the neck. We can count half steps like E-F-F#-G-G#-A-A#-B-C or we can cut the first 5 notes, start from the 5th fret, since we know it's A, and go A-A#-B-C. If we need a C#, we go just a step further.
If we need to play Db minor, we first locate Db. we can remember that Db and C# are the same thing, or work our way up to D just as before, and then go back one half-step.
Once we figure out our base note, we remember the finger pattern for the particular string (whether it's E2, A2, or D2), and we can play the minor chord.
Minor Bar Chord Exercises and tricks
Here are several exercises and tricks you can use to improve your minor bar chord handling.
The first piece of advice is not to give up. Bar chords are hard on your index finger and the muscles between it and a thumb, so you can expect some discomfort and occasional cramps. Taking the time to rest and continue practicing are both vital just as going through the discomfort for a while and building hand muscle strength.
The first goal is to get your index finger strong enough. Only practicing holding bars is not so stimulating, but you may need it in the beginning. You can also use the middle finger to help it in the very beginning, by placing the middle finger over the index finger when holding the barre.
Next up is practicing the same bar chord finger alignment on a single string. You can do so by strumming a bar chord twice, three times, or four times, and then moving one fret up or down.
You can then go over practicing the same bar position and switching through the E, A, and D variety finger alignments. That'll happen more often than you think, in many songs, especially pop and rock songs.
If for any reason holding bar chords turn out too hard for you, you should check your string thickness. On an acoustic guitar, thicker strings (13s for example) are notoriously hard to bar. If this is too much of a challenge, you should try with lower gauge strings, like 9s or 10s.
The biggest challenge you'll face when playing a song is getting all the relevant strings to vibrate. The index finger holding bar should press on every string completely, otherwise, it will mute it. This will eventually be fixed as you practice, just remember to allow yourself to adjust the positioning of your whole hand slightly and experiment until you find something you are comfortable with. There are also some tutorials on how to hold your guitar that can help you out. Your job is to build muscle strength until you find it.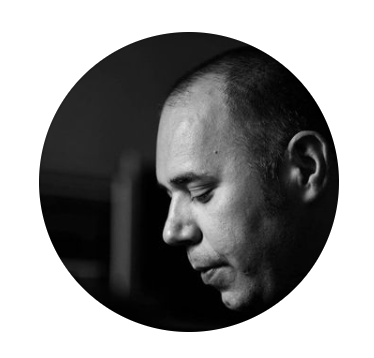 Marko is a passionate composer, producer, and multimedia artist with a Master of Music degree. His career involves performing, creating, and producing his own music in his home studio using digital and analogue equipment. Marko is a multi-instrumentalist (he plays guitar, bass, piano, theremin, and other instruments). performs live acts and DJ sets, and works on feature and short films, documentaries, festivals, theaters, and government initiatives.