Learning to play the guitar at any age can seem like a daunting task, but it doesn't have to be. The best way to truly learn and get better at the basics is to find some great songs that are accessible for beginners. Once you have mastered a few simple songs you will have a solid foundation from which you can progress as a guitarist.
By learning these easy beginner guitar songs, you will be able to gain an understanding of notes, move on to easy guitar chords, and be better equipped to take this gained knowledge to take on chord progressions.
These are always the first steps for any beginner guitarist. Learning a few easy guitar songs will help you develop an understanding of the guitar. You will also be able to get to grips with some of the more technical and theoretical elements that are important for any guitarist to learn.
Before you begin playing, you'll need to learn more about the fantastic and fun to play an instrument that is the guitar. Trying to figure out where to place your fingers at any given time can quickly become stressful.
Just watching a veteran guitarist move their fingers in such swift and concise movements and configurations can be enough to make you swear off learning altogether. It can seem quite daunting!
No need to worry about closing up shop before you even get started. There are plenty of popular beginner guitar songs that can help you kickstart your musical journey.
At some point, every guitarist has felt awkward trying to reach for chords or solo over a progression. Fear not! You will be shredding on the guitar just like your favorite artists in no time! But first, you need to learn the basics.
---
How to Play Guitar Songs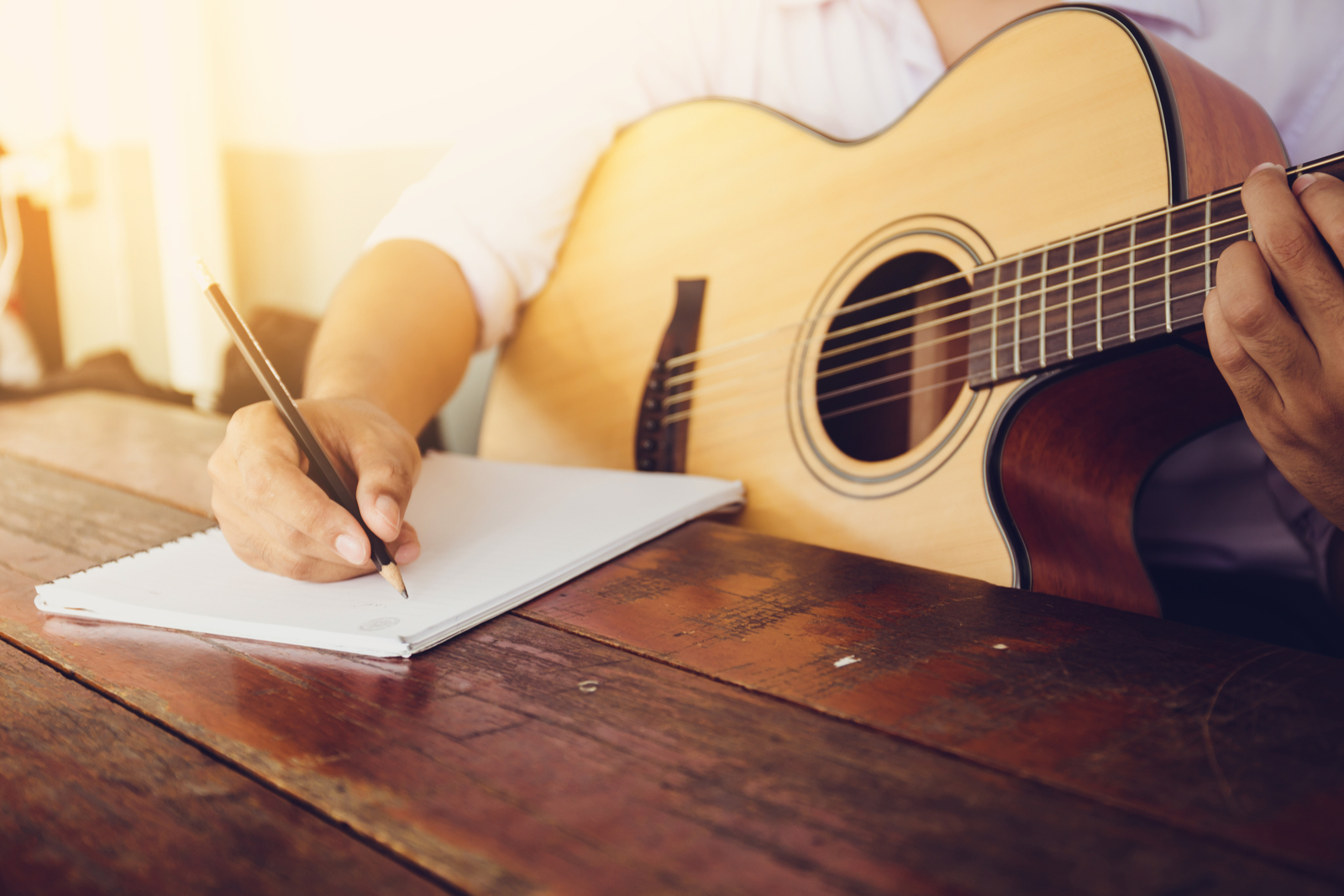 Memorizing the notes produced by the six strings of the guitar in an open-play format will be the first necessary step to set you up with a successful foundation. There is no point in trying to skip this stage. It is essential!
To play open means to strum a string without holding down any of the frets on the neck of the guitar that will alter the sound produced. Playing open will allow you to hear the true notes of each of the strings. Start by strumming a few open chords so that you can get used to the sound and feel of your guitar.
While holding the guitar, take a look at the strings from the top string down to the bottom string. From top to bottom, these strings represent the notes E-A-D-G-B-E respectfully. An easy way to remember this is by memorizing the mnemonic device "Elephants and Donkeys Grow Big Ears."
By picking these strings separately, you are playing their corresponding notes in their purest form.
Once you have nailed down the notes that correspond to each string you should begin to see how the notes relate to each other and how chords are formed. Now it is time to have a look at some of the easy beginner guitar songs that will unlock your skills!
---
10 Easy Beginner Guitar Songs You Should Try Playing
Knockin' on Heaven's Door is one of the most popular and easy guitar songs. It is simplistic and slow — perfect for those learning how to play the guitar.
This song consists of just four chords, G, D, A Minor and C. Both the verses and chorus consist of all four chords in the same pattern. The chord pattern is G, D, A Minor, G, D, C. These chords are played throughout the entire song with a slow up and down strumming pattern.
This is one of the easiest acoustic guitar songs for beginners. It is always a good idea to learn a few Dylan songs. They are a staple for any guitarist and they are valuable as you develop your skills.
The song can be played on either an electric or acoustic guitar, however, acoustic does sound much better.
Once you have learned the song and can play it back to front you might want to try and play with other musicians. This could even lead you to rearrange the song and learn more about chord progressions and harmony.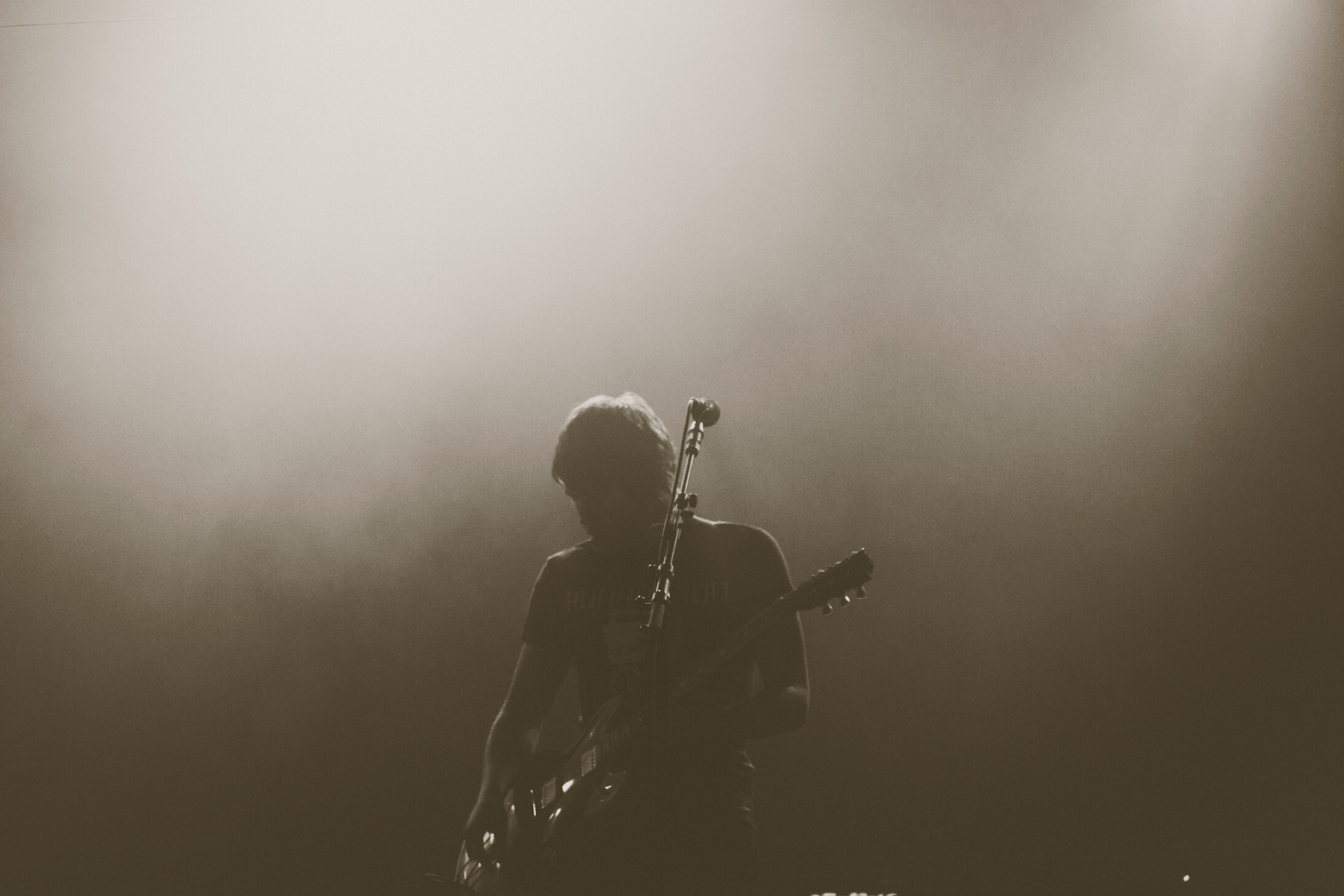 Pumped Up Kicks is similar to Knockin' On Heaven's Door because it also only utilizes four chords. The chords progression is slow, allowing for an easy transition for those just learning to play the guitar.
The four chords of the song are E Minor, G, D, and A. The entire song is comprised of that exact pattern, making it one of the best beginner guitar songs. The finger placement for these chords is simple and the transitions are also good for a beginner to learn.
This song can be played on either an electric or acoustic guitar. Electric guitar is more fitting for its poppy genre. It is a good modern song to learn and a great one to show off to your friends.
See also Sea of Love chords by Cat Power if you are looking to expand your sound on the guitar.
3. Bad Moon Rising by Creedence Clearwater Revival
Bad Moon Rising is one of those generic guitar songs with beginners chords. The entire song just consists of three chords, D, A, and G — perhaps the simplest chords to play on a guitar. It is a classic tune that is very satisfying to play on the electric guitar.
The chord progression does change throughout the song. The transitions between the chords on this specific song can be tricky, but with some practice, it is very easy to master.
Electric guitar is best used for this song. Using a little distortion will make you sound like a true rockstar. It is a good song for you to break out the amp and turn it all the way up. As a beginner, it feels great to play a famous song really loud!
This song is popular amongst beginners because it can be played with single notes on the low E string. The song's easy guitar tabs can help the most novice guitarist understand how to read and play tabs.
For those who are unfamiliar with tabs, they are a visual of the notes played in a song. On a tab are 6 horizontal lines that represent a guitar's strings. The bottom line is the low E string and the top line is the high E string.
Numbers will be placed on a specific line indicating which fret should be used and which string should be picked. Tabs are easy to understand after a little practice. Smoke on the Water is an easy beginner song that will help you understand tabs.
Electric guitar with distortion is most appropriate for Smoke on the Water.
It is a helpful song to learn as a beginner but it ranks alongside Stairway to Heaven as one of the songs you should not play when you visit a guitar store!
Some songs are good for you to learn but you will soon realize that many songs are also overplayed.


Good Riddance (Time of Your Life) is a popular song for beginners. It is an easy acoustic guitar song that can also be classified as one of the easiest rock guitar songs given Green Day's rock genre.
The song consists of five chords— G, CADD9, D, C, and E Minor. All of the chords are fairly simple to play for even those just beginning.
For those unfamiliar with CADD9, don't worry, it's much easier to play than the name suggests.
To play it, place your middle finger on the 3rd fret of the A string. Next, place your pointer finger on the 2nd fret of the G string. Lastly, place your ring finger on the 3rd fret of the B string. Strum each string except for the low E.
CADD9 is not used much in the song, but it is necessary to know if you want to play the song correctly. It is also helpful to learn some chord variations and alternate voicings as a beginner. As you progress you will get to know the value of these strange chords. Many of your favorite songs are built on simple chords that have complex voicings.
Five chords might seem like a lot for a beginner but the transitions are slow enough to be easily learned.
Good Riddance (Time of Your Life) Sounds beautiful on an acoustic guitar.
6. Iron Man by Black Sabbath
Iron Man is a great song to learn if you are a beginner on the electric guitar. Big hefty chords and memorable riffs make for the best rock anthems.
This song can be read quite easily using tabs. The most prominent chords throughout the song include B5, D5, E5, and G5. Once you nail the finger placement for these chords you will be playing the song in no time!
It is one of Black Sabbath's most recognizable songs. Thankfully, it is quite simple to play making it the perfect choice for a beginner. This is a particularly good place to start if you are a big fan of heavy metal.
Most of the chords should be relatively approachable for a beginner. There is nothing more satisfying than hearing your full chords ring out from a loud amp.
You should also be able to easily sing along with beginner guitar songs. This is definitely true for Iron Man. The rhythm and the lyrics are simple which makes it a satisfying song to play and sing! It is a recognizable song that will cement your status as a real beginner guitarist.
Ed Sheeran was probably the biggest pop star of the last decade and his song Thinking Out Loud is a great tune to learn for any beginner.
The song is built around 5 simple chords: C,F,G, D minor and A minor. If you place your capo on the 2nd and strum these chords you will be playing the song in no time.
For the Thinking Out Loud chords with no capo, the chords listed above should be transposed. With no capo, the chords to Thinking Out Loud are D, G, A, Em, A7. Don't worry! None of these chords should scare you. With a little bit of practice, they will come to feel natural and you'll be singing along to your playing.
Thinking Out Loud is often a popular choice at weddings. It is a crowd-pleasing song that is relatively simple and fun to learn. It is a good way to ease yourself into practicing your guitar skills on a regular basis.
Demi Lovato's tune is an awesome summer jam that is great for beginner guitarists to learn. It is comprised of four easy-to-play chords and has a simple structure that a beginner should have no trouble picking up.
The Cool For The Summer chords are Am, F, C, and G with standard tuning and the capo on the 3rd fret. All of these chords are beginner level and you should already be familiar with their shape and sound.
F is the only chord that may be difficult for a beginner. Consistent practice will improve the ability of your fingers to stretch and form complex shapes on the guitar. So you don't need to worry if some chordal shapes are awkward or even painful to form at the moment.
Cool For The Summer is a great pop-rock tune that is a good place to start for a beginner. The four simple chords provide an important starting point and also sound beautiful when played properly. The chords can also be found in many other pop-rock anthems played on the guitar.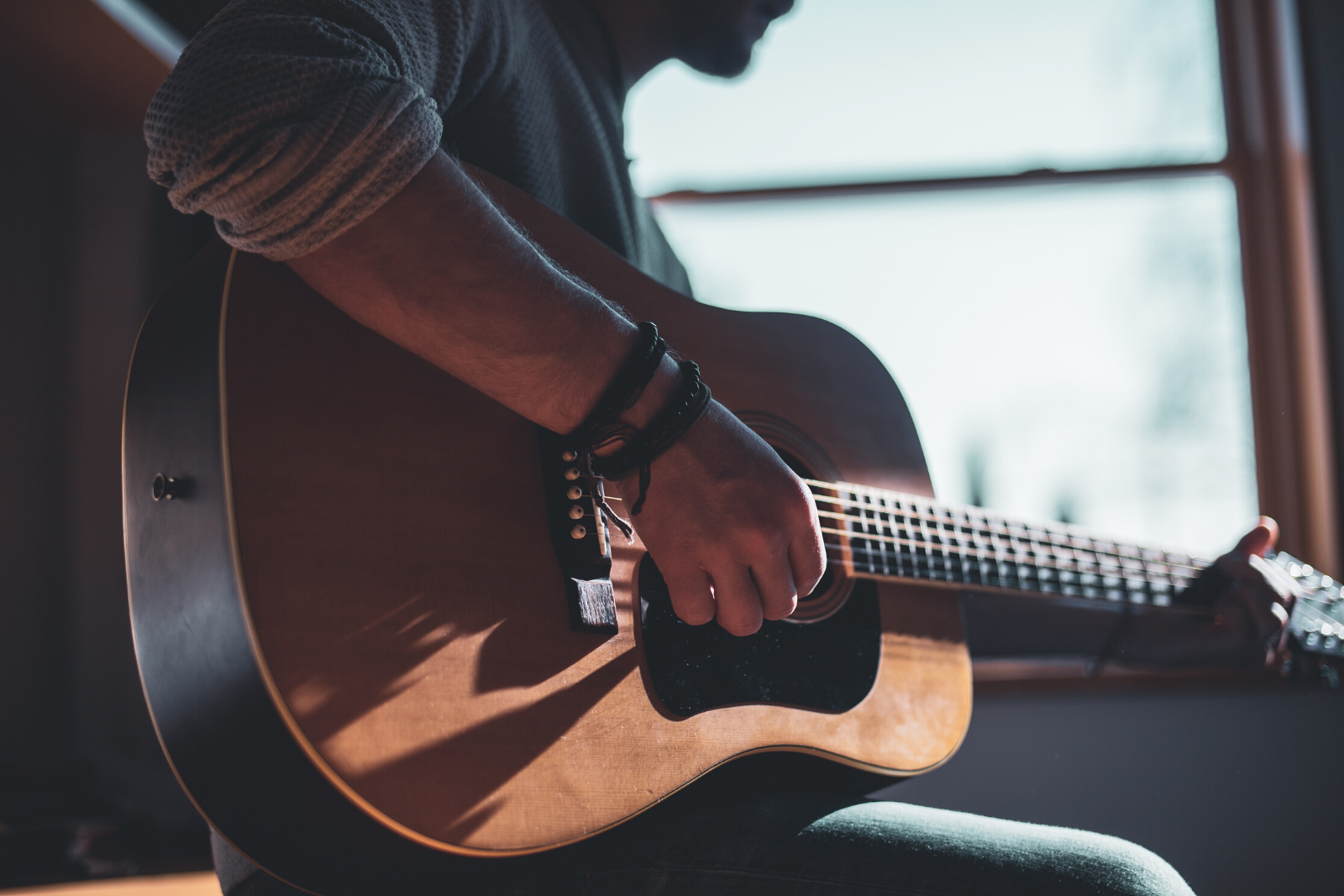 This contemporary Christian Rock anthem My Feet Are On The Rock by I Am They is a particularly memorable song that heavily features the acoustic guitar.
The song has some interesting chords that although slightly complex for a beginner will help you develop your musical vocabulary.
The basic My Feet Are On The Rock chords are F, C and G. These chords are the driving force of the chorus and are simple chords that can be played by any beginner.
The song's verse includes several variations of the G5 chord. Once you get the rhythm and strumming pattern memorized you will be rocking out to this song in no time.
As you can see the F, C and G chords form the basis of this song. As a beginner, you will find that many popular songs use the same four or five chords. Once you truly mastered these basic chords you will be able to play hundreds of popular songs with ease!
The best way to master these simple chords is to practice. Good musicians find time to practice every day. It also helps to play with other musicians because they can provide insights that may be difficult to hear on your own.

See also: Old for New chords by Bethel Music
You can't get more Rock'n'Roll than The Rolling Stones. Their classic tune (I Can't Get No) Satisfaction is a fantastic song to learn as a beginner. The song is comprised of simple chords arranged to a catchy rhythm.
Once again the chords E, A and D are put to good use. These are standard chords for any beginner. You should not have much difficulty remembering your finger placement for these chords.
This can be played on acoustic guitar but you will get more satisfaction if you plug in your electric guitar and start jamming. The lyrics are as simple and satisfying as the chords so it makes for a great sing-a-long as well.
(I Can't Get No) Satisfaction is a classic rock tune that is perfect for beginners.
This is a simple rock song from an established American rock band that will be particularly pleasing to play if you grew up in the '60s and '70s.
If you are learning guitar late in life it is a good idea to learn some of your favorite songs from that period. This will make your practice a more enjoyable and rewarding experience.
The song is in the key of E minor. It includes the Em, D6/9, and D major 9 chords. The song has a relatively simple chord progression and once you nail the three chords it is easy to play.
The It Ain't Me guitar chords are another set of basic guitar chords set to a progression that is useful for beginners to learn.
Like the previous song, It Ain't Me can be played in the key of E minor and the capo should go on the 5th fret.  The song is built on four simple chords: E minor, G, C, and D.
If you have already had a go at some of the other songs in the list this one should not be too difficult. The tune has a pre-chorus and some interesting lyrics but beyond that, it should be an accessible song for beginners.
Finally, as a beginner, you may find it useful to play around with the Leave the Pieces chords.
The song is comprised of four basic chords that have already featured heavily in the other songs: D, G, F, and Cadd9.
The modern country duo released this song in 2006 and probably deserve to be more successful. Incorporating this song into your regular practice as a beginner can help expand your playing into new genres.
It is an enjoyable country song to learn that will help you get a good feel for those familiar chords.
Hopefully, one of the songs here will help to develop your beginner guitar skills into something really special. With any of these songs, you can teach yourself from a chord or tab sheet and you can find useful online tutorials and Youtube playthroughs.
---

These Easy Beginner Guitar Songs Will Help Transform Your Playing
Most beginner guitarists try to pick up a guitar and play tough songs right away. They get discouraged and give up. With the proper building blocks and knowledge of guitar basics, you can play these songs like a pro after practicing.
You can start by playing songs with one chord and then move on to more complicated tunes. It will probably take a few tries to get the basics of a song down.
Start slow, learn the song in separate parts to help the memorization process. This will also help you train your ear which will be important as you become a more complete musician.

Once you have mastered a few beginner songs you can start to play with other musicians and you can even play for an audience. This is an important step for any beginner. You will become a better guitarist the sooner you begin to actively play and listen to other musicians.
It is important to remember that at the heart of any musical pursuit there should be a love for the music itself. Try not to get too bogged down in the technical or theoretical elements. Concentrate on having fun with music!
Before you step out onto the big stage try learning these 10 easy and popular beginner guitar songs.
How would you like to further your guitar skills?
Share with us in the comments below!