Oh, what a time to be alive! You can learn how to do just about anything through a limitless amount of resources found both in person and online.
Learning how to play the guitar has never been easier thanks to all of the high-quality platforms available. No matter how you would like to learn based on your preferences and learning styles, there is an option out there.
The best way to learn guitar really depends on you. There are plenty of ways to learn how to play the guitar on your own. Books, apps, software, and online lessons are all available to help aid in the guitar learning process. The best way to learn guitar differs from person to person.
The most effective way to learn guitar is whichever method suits your busy schedule and personal goals. If you are one for tradition and have time to spare, then perhaps seeking out a professional guitar instructor would work best for you.
When first starting out, it is crucial that you schedule a lesson at least once a week to both prevent falling behind and to allow the previous week's lesson material to still be fairly fresh in your head.
With a standard in-person approach, you need to be sure that you can carve out the time each week to venture out to the location of your instructor. For some people, this may be impractical. But for others, this may be integral to forming a good routine that will help you progress as a guitarist.
To prevent unnecessary stress and having to rearrange your schedule to fit in your new hobby, there are plenty of platforms available to teach yourself the guitar.
Nowadays there are many online resources that you can rely on as a beginner. You can seek free help on Youtube and other websites dedicated to guitar learning.
You can also pay for online tutorship that will be of the same standard as in-person tutoring. There are many fantastic resources for people who don't want to leave their house to learn the guitar.
If you are really daring, you can even choose to teach yourself guitar without the aid of an instructor. However, do not try to be a hero though, as the process of learning to play the guitar is no small feat. It is very easy to become disheartened when you are isolated. It is important to play with other musicians.
Picking up the guitar and trying to play it without any aids will be nearly impossible.
---

Can You Teach Yourself Guitar?
You absolutely can teach yourself the guitar. Many famous guitarists developed their skills on their own without any teacher. You can improve your guitar method and technique on your own but eventually, there will be a limit to your progress.
The best way to learn guitar really depends on you. There are plenty of ways to learn how to play the guitar on your own. Books, apps, software, and online lessons are all available to help aid in the guitar learning process.
In recent years the market for online tutoring has been flooded by a number of companies that offer quality teaching and resources. This is because they have recognized a demand. More and more people of all ages want to learn how to play the guitar.
Just like some people are able to teach themselves calculus without the help of an instructor, it is possible to learn to play the guitar on your own, but it takes a tremendous amount of dedication. There is no easy path to success when it comes to the guitar. It is all about practice, practice and more practice.
Without an instructor's aid, there is a great chance you will end up scratching your head throughout the process. Fortunately there is no shortage of learning aids available to help fill in some of the gaps, or to effectively avoid the shortcomings of not having access to an in-person instructor.
Teaching guitar can be difficult. A good guitarist doesn't necessarily make a good teacher. So it is important to know that there is plenty you can learn on your own.  You don't always have to pay and rely on other guitarists to improve.
The following tips will provide you with the fastest way to learn the guitar on your own.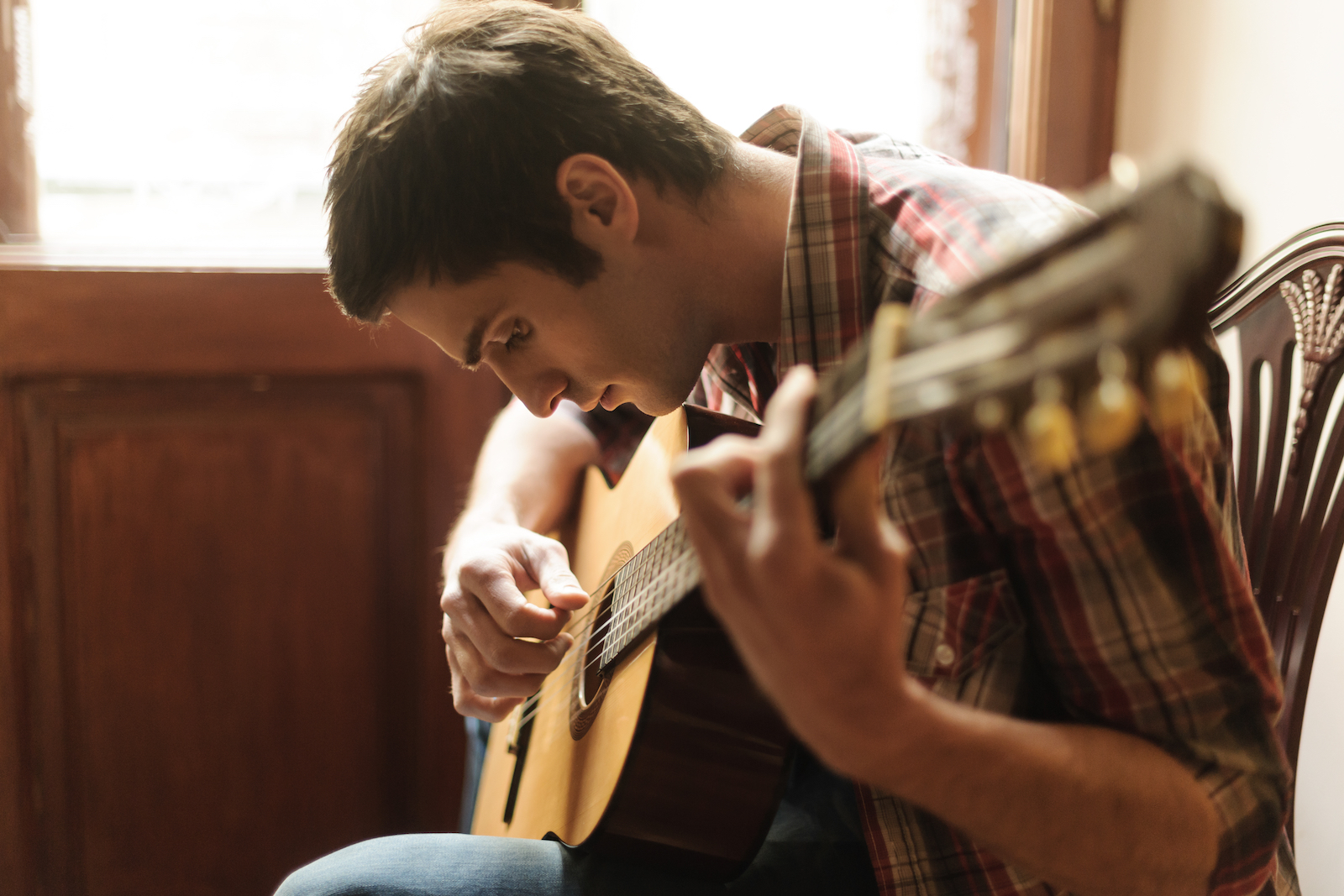 Tip 1: Familiarize Yourself with the Guitar
Even if you are a quick learner you should always learn the basics of playing the guitar. Jumping right into playing chords and eventually, songs, should not be your plan. Without the knowledge of the instrument you are playing, you will be limited in your guitar playing ability in the long run.
After you have purchased a guitar you are comfortable with, learn the strings, the fretboard, and where to place your fingers. Strengthening your fingers is also a must. Learning to play acoustic guitar will help increase your finger strength faster than learning on an electric guitar.
It can be difficult at the beginning and your fingers will hurt. It will take some time to build up calluses and improve your finger dexterity. But these are essential steps that do not require you to play anything that actually sounds nice. They are purely about becoming familiar with how to navigate the guitar.
Amazon has a wide array of guitar books that can help you understand the parts of the guitar and also how to start playing the guitar correctly. Do it yourself books can be very helpful at times, but with the advent of video sharing came much more practical modes of learning such as video and audio resources.


Tip 2: YouTube is a Guitar Lesson Goldmine
A simple search within the video sharing platform, YouTube, will show a virtually endless amount of videos featuring guitar players from all around the world. It's a great place to learn the basics of playing guitar, making it a highly-valued resource for any beginner player.
If you are progressing decently on your guitar learning, a slowed down video version of your favorite intermediate level song may be just what you need to get over the hump.
If you are an absolute beginner with no experience whatsoever, that is perfectly fine too. There are a tremendous amount of videos on YouTube intended for viewers in your exact same starting position.
YouTube can teach you how to start playing the guitar. From learning where to place your fingers on the frets, to even learning what exactly frets are— you can have all of your questions answered through informational YouTube videos.
Sometimes the sheer amount of videos on Youtube can be overwhelming. It can be difficult to know which YouTubers you can trust.
Generally, it is a good idea to trust the number of subscribers and views belonging to the channel. Those measurements are usually a good indication of the quality of the resource. Beyond this, it often comes down to personal preference.
The possibilities are truly endless with YouTube. The only potential shortcoming of this approach is that it can become fairly tough to find videos that fit the order to which you are learning. This can be frustrating for a beginner.
Unless you find a specific channel that follows a particular beginning guitar player's progression, it can be very difficult to figure out which video to watch next.
For a more regular and regimented learning schedule, it may be in your best interest to pair Youtube guitar lessons with the aforementioned do it yourself guitar books.

Tip 3: Use Apps such as Ultimate Guitar
Ultimate Guitar is the best way to learn the guitar via an app. Not only are there exercises to learn the basics, but also easy to follow playing lessons. This is also one of the fastest ways to learn guitar because you'll have access to these tools anywhere and at any time.
Ultimate Guitar provides beginner lessons for strings, chords, notes, tabs, tuning, as well as entire songs. It is a tried and tested resource that has helped thousands of people learn the guitar. It is suitable for beginners as well as more advanced guitarists.
If you want to learn to play the guitar fast, do not skip the basics. If you want to learn quickly, you have to do so efficiently. Trying to play a song before you learn the strings or chords will actually set back your learning. You want to avoid picking up any bad habits. If you follow the teaching properly this is the best way to advance at a steady and manageable pace.
Nobody becomes proficient in learning anything if they try to rush the process. This is especially true with the guitar. Using an app can help you develop the best guitar learning system possible. A good app can be something you can rely on as you develop your skills and become a proper musician.
Taking it slow and practicing is not only the best ways to teach yourself the guitar, but it is also the fastest and most efficient way to learn. It will also make learning a more enjoyable process. Playing music should be about joy.
If you rush these beginner steps it is unlikely that you will advance in a manageable fashion. Not all practice will be enjoyable but taking pleasure in the learning process is essential to making practice part of your regular schedule.
Thankfully there are now a variety of resources accessible to everybody. Along with a number of free resources, there are many apps like Ultimate Guitar. Now more than ever it is easy to get started on the guitar. The best way to learn guitar online is to find a good resource and start practicing. So go out there and start practicing!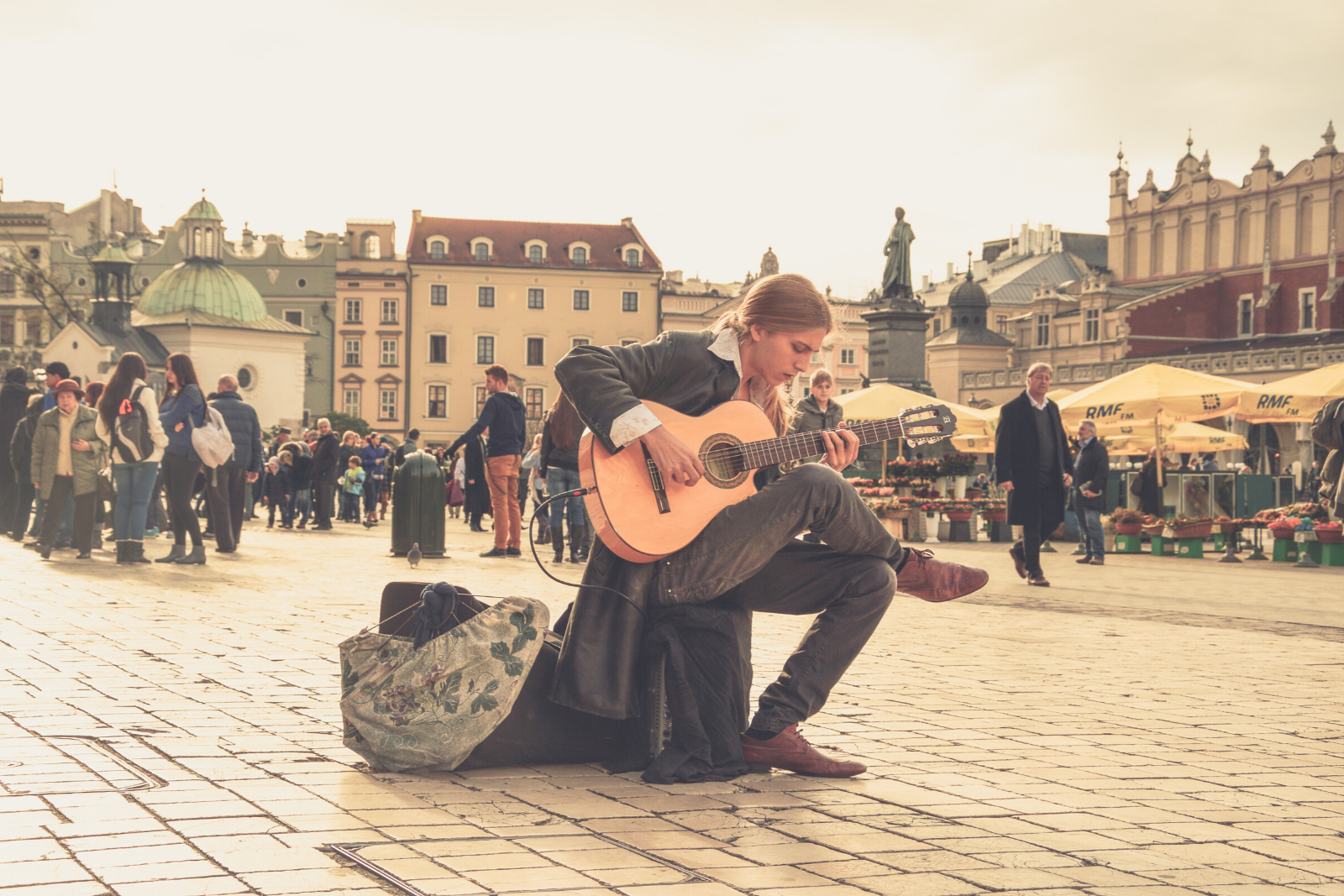 Tip 4: Train Your Ear
It is important to develop your overall musical sense as well as your guitar skills. Listening to a wide variety of music is a great way of broadening your horizons and learning more about music. Over time having a good ear will be as important as having good fingers. Being a good guitarist is about more than just shredding and playing all the notes. You need to become a conscientious musician.
As you begin to learn the guitar you will need to practice tunes over and over again. This can be tiresome but ultimately it is the only way to learn. Training your ear to pick up tunes quicker is a good way of making your practice more efficient.
A proficient musician will be able to clearly hear the key and rhythm of a piece of music. As a beginner, this will be difficult. Eventually, this will become second nature if you engage in active listening.
Training your ear involves intently listening to music. A good example of a natural way to train your ear is by learning a simple lick. If you want to learn a lick you will play it over and over again.
Training your ear also involves repetition. By listening to a particular song many times you will begin to get a feel for the key, the rhythm, the pitch of the notes and the dynamics. All this will help you learn your instrument.
Often this will involve playing the same 5-second clip of a song or piece of music over and over again. To a passerby, this may sound like madness. And if anyone is in earshot it can sound quite annoying. However, this is the best way to familiarize yourself with the nuances you need to develop as a guitarist.
Training your ear is one of the key beginner guitar practices. If you want to learn guitar in 30 days you need to spend time listening to music as well as practicing your guitar skills. This sort of practice will pay off in the long run and will also make you a more exciting musician to play with.
Tip 5: Read, Read and Read Some More
There is plenty of information out there for people starting out on the guitar. Reading about the guitar is a great way of feeling more comfortable with the instrument. It is a good way to ensure that you have a solid base of knowledge as you progress as a guitarist.
Learn about the guitar's history, read about great guitar players and learn about how the guitar fits into different genres. If you are truly interested in learning on your own it is useful to get some contextual information.
If you aren't fond of apps or Youtube videos you can turn instead to books. Thankfully, there are several lists compiling some of the best guitar books for beginners to purchase. Once you have found a style of learning that suits you, it is time to start practicing.

Reading can also be a productive way of breaking up the monotony of practice. If you practice for a couple of hours a day reading between each hour will you cement your knowledge?
There is a variety of literature about the guitar you can read. In the beginning, you may just want to learn how to play specific songs. Your reading can then expand from here to involve other aspects of the guitar and music in general.
As you dive deeper into your guitar education you may want to learn more about the overall history of stringed instruments. Undoubtedly reading everything you can about the guitar is one of the best ways to improve on your own.
Tip 6: Design Your Own Lesson Plan
It is easy to become complacent while learning an instrument. Once you have learned a few chords and licks on the guitar, it is easy to become comfortable playing them and not push yourself to try more complex things.
The best way to avoid complacency and learn efficiently is to design your lessons in advance. You should have in mind some specific techniques or songs you want to learn. You should also be working towards a goal. This will help you stay motivated and keep pushing you to progress your skillset.
It can be difficult to construct self taught guitar lessons on your own. When designing your lesson plan you can look for guidance from all the resources we have mentioned above. You should also look to some of your favorite guitarists and songs to help you stay motivated. Trying to learn one of your favorite songs is always a practical goal to set because it can be an enjoyable and rewarding experience.
Books, apps and YouTube videos are all valuable resources but you will learn best by adapting them to suit your own learning style.

If you are committed to learning the guitar on your own then you have to be disciplined.  There will always be a debate about what is the world's best guitar learning system. Often the cheapest and most effective teacher is yourself.
What If Your Left-Handed?
Don't worry! Some of the most legendary guitarists of all time are left-handed. However, many guitar learning resources are tailored for right-handed people and standard guitars. So it is important to find good resources and equipment that are reliable and specific to left-handed people.
Left handed guitar lessons for beginners can be hard to find. Your best bet is going to Youtube. Learning on your own as a left-handed guitarist will be slightly more difficult than being right-handed. You will require a bit more resilience than your standard guitarist.
You will also need to be aware of when purchasing a new guitar that most are made for right-handed people. Your local guitar store may not have many options. Once again looking online will probably get you the best results.

Jimi Hendrix is the most famous left-handed guitarist and a great source of inspiration for any left-handed beginners.  While you may struggle at first determination is key to becoming a successful guitarist.
Overall there is not much difference during the learning process for left-handed guitarists. There should be plenty of resources both online and in stores to help you develop. So do not despair if you are left-handed!

---
Key Takeaways for the Best Way to Learn the Guitar
The best way to learn the guitar is to use the tools you have at your disposal. As long as you have the right tools and practice efficiently your skills as guitarists should steadily develop.
Purchase a do it yourself book to help you with the basics of the guitar. Use YouTube as your own personal instructor. Try Ultimate Guitar to further your understanding of the instrument, while also bolstering your playing ability.

Try and introduce discipline into your practice. Design your lessons so that you can learn quickly and effectively.
At the same time as developing your guitar skills, you should be learning how to be a good musician. Training your ear by listening actively to a wide variety of music is a great way of becoming a better guitarist.
Use all 6 of our guitar learning tips comprehensively as a makeshift guitar instructor. Doing so will be the most effective way to learn the guitar. Over time these tips will also help you become a better bandmate and a more conscientious musician.
Remember to have fun and don't stress if you cannot grasp a certain aspect. Learning to play the guitar can be difficult, but it should not be stressful.
Each of these six easy tips will make you a better guitarist. Everyone needs plenty of practice. Stay dedicated, and you'll be playing your favorite songs in no time.
Do you have your own best ways to learn the guitar?
Share with us in the comments below!